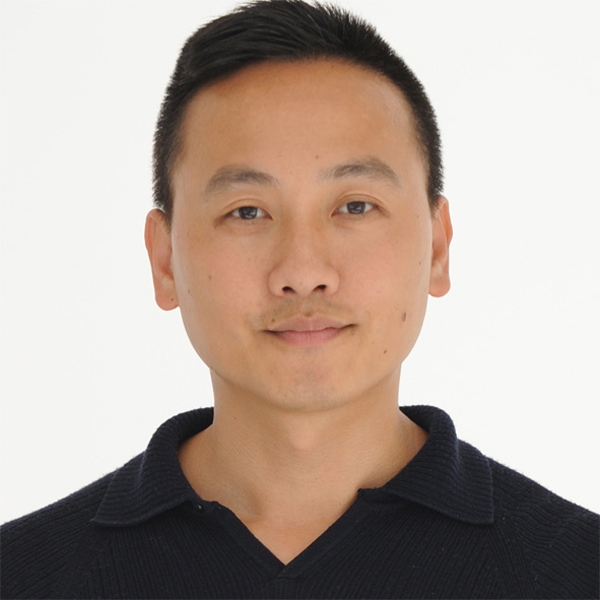 Sam Tho Duong has developed a very clever way of using yogurt containers to make elegant necklaces with surprising variations. His show is called lemitcA, and no I didn't make a mistake with the name. All the images in this article are of the same piece—how fascinating is that?
You can find the story of how Ornamentum Gallery came into being, Stefan and Laura's thinking about the jewelry market, and their favorite pieces on our website.
Susan Cummins: Sam, for a number of years you were working on a series called Frozen, which consisted of necklaces and brooches with branch-like forms covered in tiny pearls. This new work looks entirely different. Can you tell us how you started working on it?
Sam Tho Duong: My work is always very much influenced by the material I choose. In this case, I began collecting these little plastic yogurt drink containers. Of course, the look of white plastic is entirely different from more valuable materials. I became inspired by the form and material of the containers. Combining cheap, common plastic with precious stones and pearls elevated the plastic to a higher level.
This new work, called lemitcA, is so ingenious that you have to see it in person to believe it. One piece takes so many forms that it would take several images to understand it. Would you describe how it works?
Sam Tho Duong: lemitcA starts with a small 'l' and has a big 'A' at the end. If you read it backwards, it spells the brand name of the yogurt drink. The containers are manipulated through cutting, punching, and folding. An intricate yet straightforward system allows each part to be linked together to create diverse forms and shapes. The resulting pieces are both wearable jewelry and sculptural objects. The fact that a lemitcA necklace looks very much like the late medieval ruffs worn often by Dutch patricians is absolutely coincidental.
Sam Tho Duong: My whole family fled Vietnam after the communists took power. My two eldest brothers went to the United States, and the five younger children, including me, ended up in Germany. My family came to Pforzheim, which is called 'Gold City,' and so pearls, jewelry, design, etc. surrounded me. I have been interested in all types of design as long as I can remember. After my goldsmithing education and a few years of working for Wellendorff, I started my design studies at the Pforzheim University of Applied Sciences. I graduated in 2002 with the goal of being a self-employed designer.
What music do you listen to in your studio while you are working?
Sam Tho Duong: When I am working, I seldom listen to music. I need a quiet atmosphere. Otherwise, I love a great variety of music—English, German, Asian pop, classical—in fact, everything except heavy metal.
When you are not in your studio, what do you spend time doing?
Sam Tho Duong: I love traveling the world, especially tours to big cities with museums and interesting architecture, but I also spend a lot of time with my big family.