The large charcoal grey shapes lay camouflaged against the draped black fabric – their nebulous contours and flat surfaces absorbing the light around them.
From afar you struggle to assign something recognizable to the indeterminate shapes. Some appear as stark Rorschach tests – perfectly mirrored inkblots, others as corresponding outlines hovering close to one another, curling around an invisible center. As the distance closes you see that something is beyond that hard crisp edge. You begin to realize that the forms you are studying are split – cut into halves, sections and parts, with emphasis placed on the shapes created by cutting, exposing something we normally do not acknowledge – that which lies quiet beneath the exterior surface. Beyond the edge of this flat plane you know there is form and texture summoning you to discover it, as it coyly hides from view. Suddenly it becomes apparent that you are looking at the modeled crucified Christ figure. A scene which in-and-of itself arouses a spectrum of emotions from comfort to hatred. The iconic figure which has been a part of the language of jewelry since the middle ages has been dissected and reconfigured to compose a series of neckpieces, brooches and wall objects.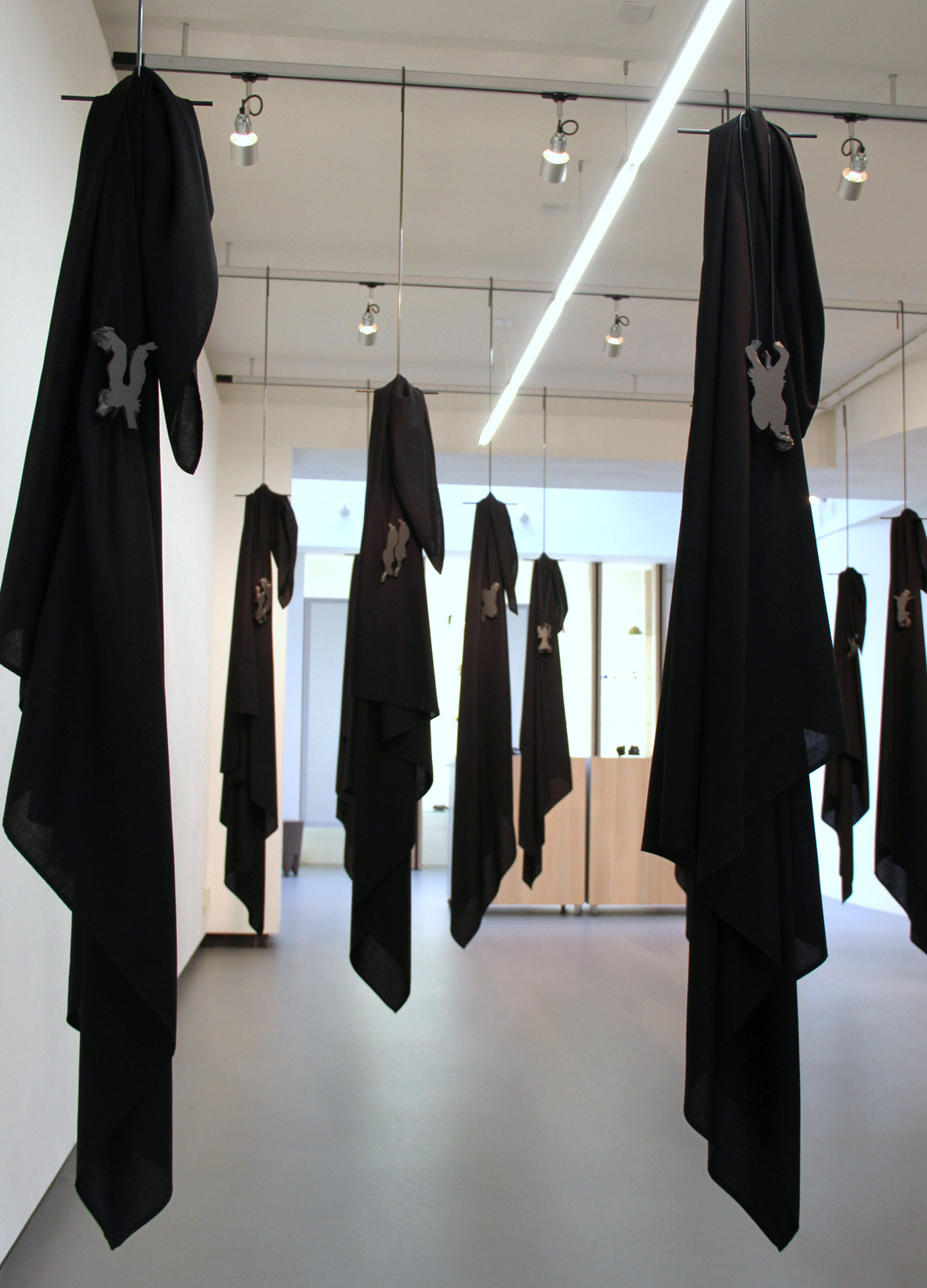 Corpus installation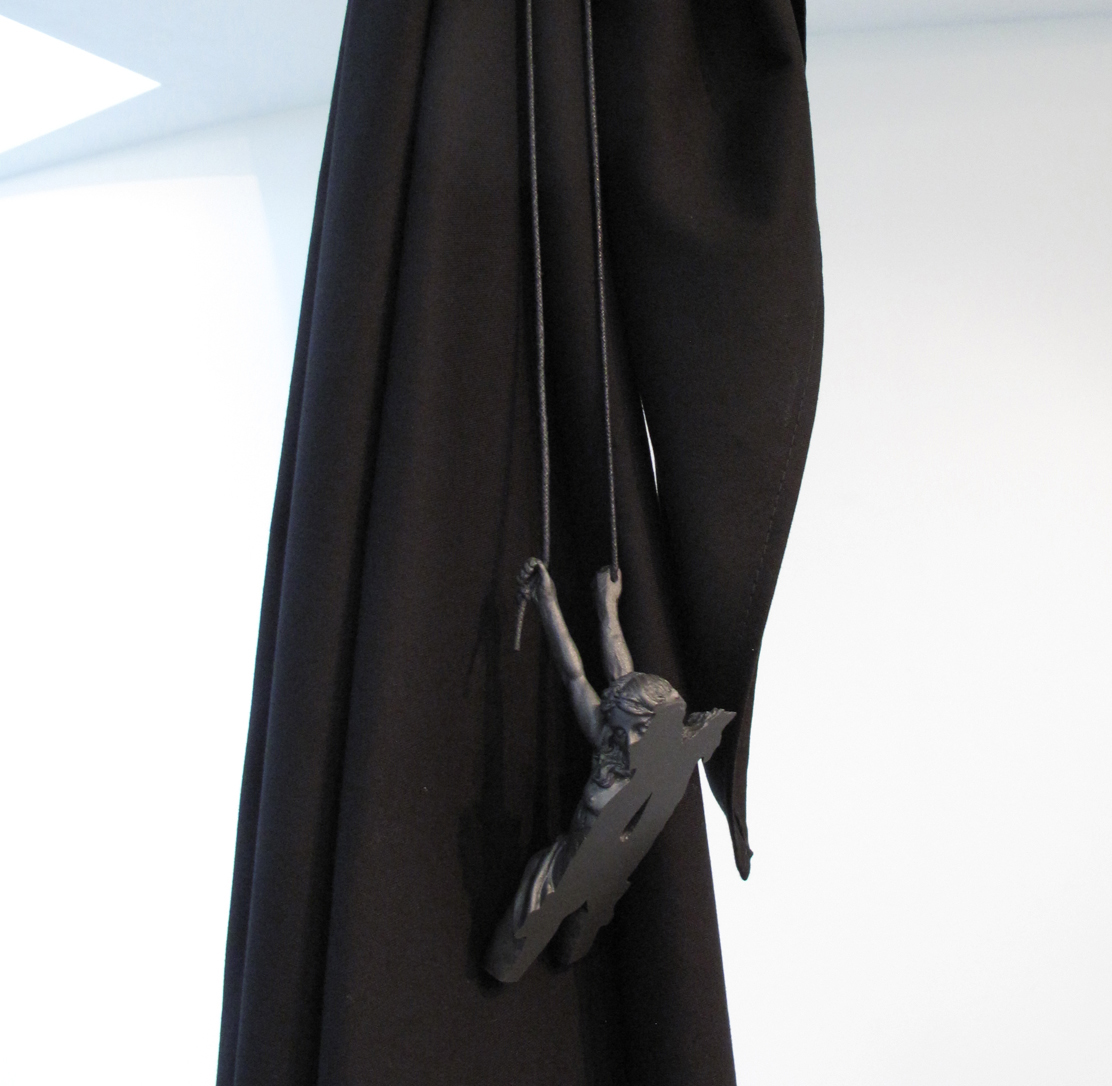 Renibus, 2011
From brooch to neckpiece to wall piece, an undeniable theme surfaces beyond the religious over and undertones. As he cuts away at the icon, Peters reveals the humanity of the image. The emaciated man, overcome with grief, is paired, cradled, comforted. Beyond the loaded symbol of the crucified Christ, Peters conjures tenderness. The figures gently hover near one another, others spoon, and still others are positioned in ways that can only be described as intimate or perhaps erotic. Peters destabilizes our expectations of the icon itself using the most recognizable symbol of Christianity (Christ dying for man's sins, the highest sacrifice and act of love) to evoke conversations about the physical body and intimacy. To press further, he harnesses the tenderness and eroticism of touch to transcend the physical and explore the deepest form of earthly love.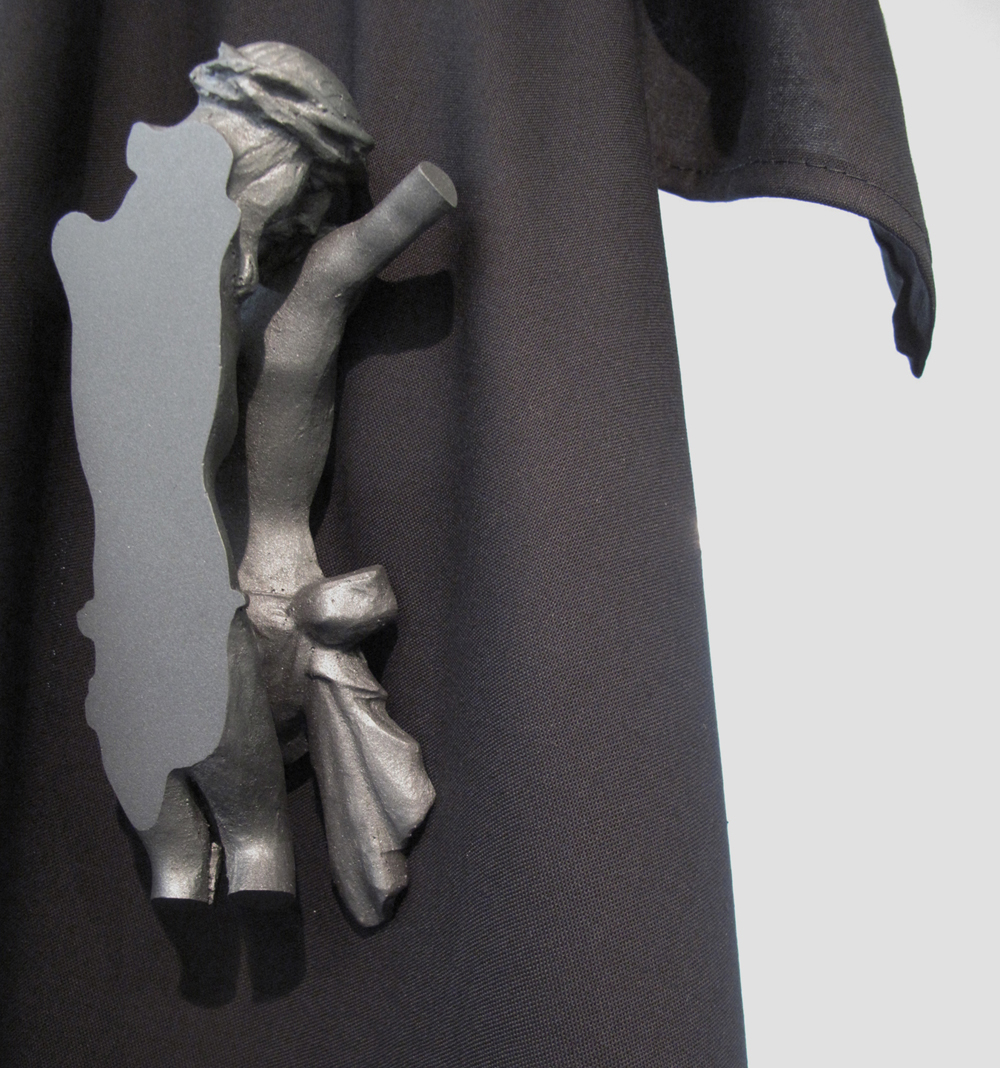 Corpus Scapula, 2011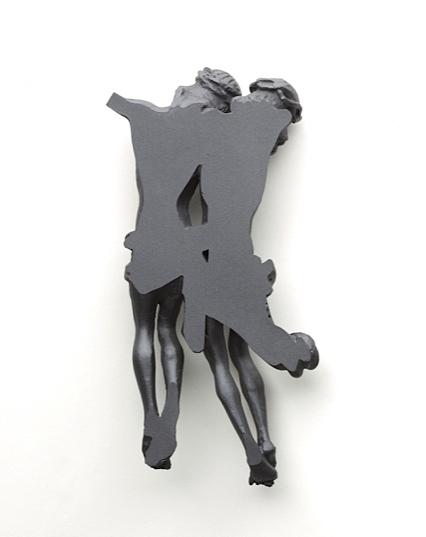 Coax, 2011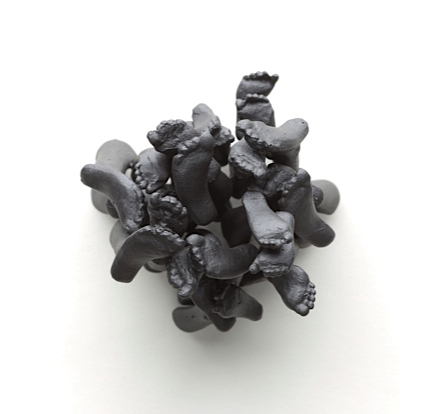 Crus, 2011
Constructed from pigment saturated polyurethane, anodized aluminum, rubber and silver Corpus is defiantly black. Surely black is not the color of love and tenderness. Western culture has associated the absence of all color with the negative, death, or evil for millennia. And certainly this literally light absorbing material can deliver and support a read of the work as such. But the tenderness that these works conjure by virtue of their composition makes the color mean something else. It is the color of shadows, of secrets, of something so complex that it remains mysterious even to the possessor of it; not empty, but simply unknown. It is the color of deep thought – of the subconscious, of the soul itself. It is unfathomable to our human minds, being bigger and deeper and stronger than anything we can imagine. Is this work a metaphor for an interior examination of ones own beliefs – or the beliefs of many? An attempt at deep understanding of religion, belief systems or icons?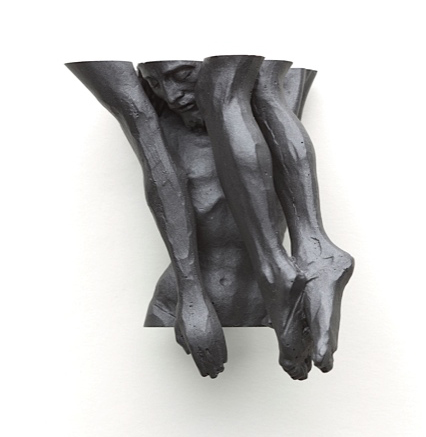 Oculus, 2011
Peters has walked this path before. His work is continually concerned with topics of spirituality, but never before have Christian themes been so candidly contemplated. As Ward Schrijver writes in his statement about Corpus, up to this point perhaps Christianity was too close to the artist's own experience and beliefs, too predictable. Corpus is Peters own interpretation, guided by not only his cognitive beliefs but his instincts. The work was literally put together intuitively which perhaps allowed the purest notions to come through. While Corpus is complex, emotionally charged, and somewhat confounding as religion itself can be, it has also a second life steeped in the demonstrative actions that make us human.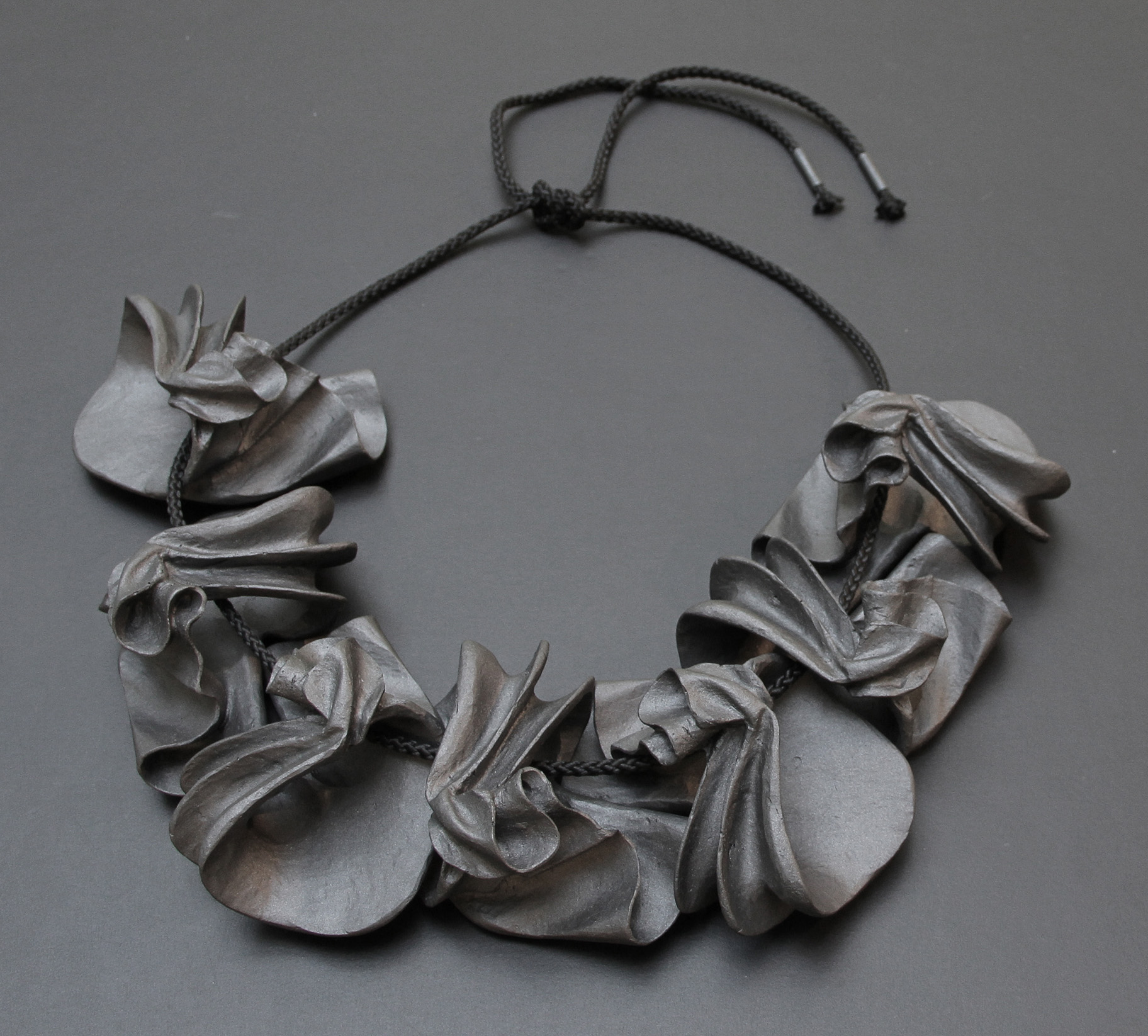 Lumbus, 2011
The gallery reported a variety of, mostly positive, reactions to the work – running the gamut from the presentation being representative of the burka (Islam) with the Christ figure nestled to it – a statement about peaceful co-existence, to a link with more sinister motifs like sadomasochism. Like the Rorschach inkblots, perhaps something can be gleaned from analyzing people's reactions to the shapes – personality characteristics can be defined and emotional function measured. But this is merely a bi-product of work which is both vague and specific. Although I will not presume to understand Peters' concept fully – it seems obvious that there are bigger topics being presented than those that reside on the surface. Like the exposed interiors of Corpus the true meaning lies within us but is immeasurable by any known standard.
Ruudt Peter's Corpus is on view at Galerie Rob Koudijs until October 15, 2011
Photos by Rob Versluys and Kerianne Quick
More info at galerierobkoudijs.nl.
Kerianne Quick is an American materialsmith and craft writer currently living in Amsterdam, The Netherlands.