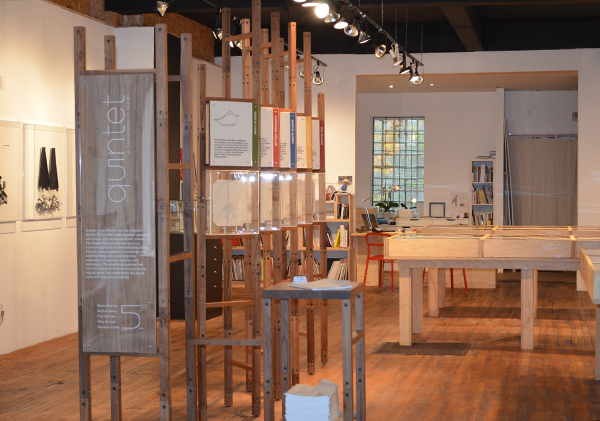 Quintet opened at St Mary's University Art Gallery in Halifax, Nova Scotia. It then traveled to L.A. Pai Gallery (a new AJF gallery member) in Ottawa, Ontario; the George Brown College School of Design in Toronto; and now Galerie Noel Guyomarc'h in Montreal. The exhibition's final stop will be at the Toronto Harbourfront's York Quay Centre.
Susan Cummins: Please explain the idea for this exhibit and who was the curator and the instigator?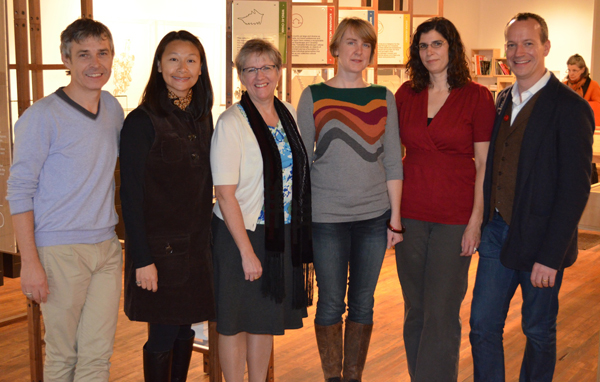 The gallery has represented Paul McClure for more than 10 years now. We communicate quite often. Two years ago, he talked to me about this traveling exhibition project in Canada. For a few years, the faculty of the George Brown College jewelry studies had it in mind. The SNAG Conference is being held in Toronto next spring and this created the opportunity. The George Brown College (represented by Paul McClure) and the Harbourfront Centre (represented by Melanie Egan, head of the craft department) will be the hosts of the conference.
I think it is also important to mention Robin Metcalfe's role as curator in the Quintet project. Metcalfe helped facilitate this project by meeting with the five artists to discuss their work-in-progress over a two-year period before the exhibition opened. Metcalfe also wrote the catalog essay.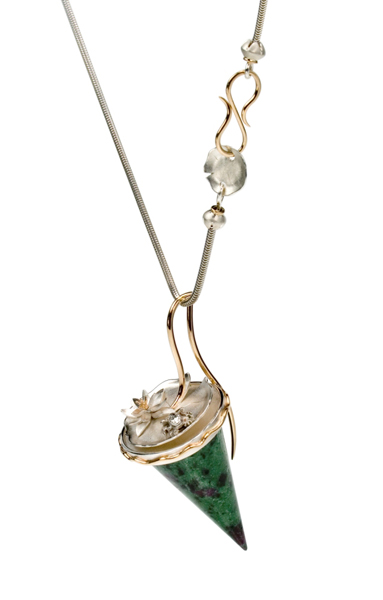 Noel Guyomarc'h: Wing-Ki Chan received her education in Hong Kong, the United States, and Canada. She earned a BFA from the University of Texas at Austin and an MFA in jewelry from Nova Scotia College of Art and Design University (NSCAD). She pursued her career as a self-employed jeweler, focusing on one-of-a-kind and limited productions. She has exhibited her work in the United States and Canada. Wing-Ki joined George Brown College as a full-time jewelry professor in 1997. She has been the program coordinator of jewelry studies since 2008. She was part of the exhibition 2010 Rings, curated by the late Lily Yung and presented in my gallery in March 2011.
Martha Glenny has been active professionally since 1974. She holds a diploma from George Brown College and a BFA from Nova Scotia College of Art and Design University. She has worked as a goldsmith in Toronto, Norway, and Halifax, and has taught jewelry and design at NSCAD University and at Nunavut Arctic College, Iqaluit, NU, Canada. Since 1996, Martha has been a professor at George Brown College.
Glenny's work has been included in international group and solo exhibitions and is represented in the permanent collections of the Nova Scotia Art Bank and the Kunstindustrimuseum in Trondheim, Norway. She has received awards from the Nova Scotia Designer Crafts Council, the Metal Arts Guild of Canada, and the Harbourfront Craft Studios. Recent publications include The Compendium Finale of Contemporary Jewellery Makers 2008 and Unity & Diversity.
Shona Kearney began her professional craft career in 1997. After completing the jewelry arts program at George Brown College, she worked with some of Toronto's top studio goldsmiths and designers. Concurrently, she opened her own studio where she created a range of custom and one-of-a-kind jewelry pieces. In 2002, Shona's enthusiasm for teaching brought her back to George Brown College as a full-time faculty member.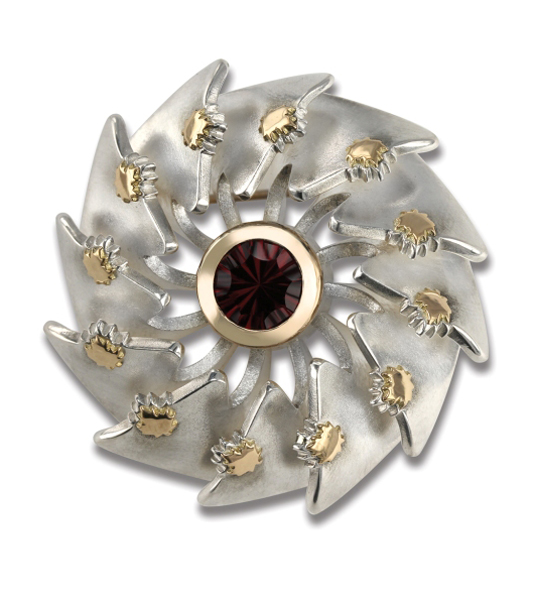 Katharina Möller has been working as a goldsmith since graduating with honors from George Brown College's jewelry arts and gemology programs. After working with some of the Toronto area's finest goldsmiths, she opened her own studio in 1996. Her work has been featured in numerous publications including The Toronto Star, Breakfast Television, and Canadian Jeweler. In recognition of her outstanding diamond jewelry designs, Katharina has received two prestigious De Beers Diamonds Today awards. She joined the full-time faculty at George Brown College in 2002.
You interviewed all of the artists in the show for the text in the catalog. In reading through your questions, you seemed to be wondering why this show was assembled? And why now? Was it for the students? For the reputation of the school? What did you learn?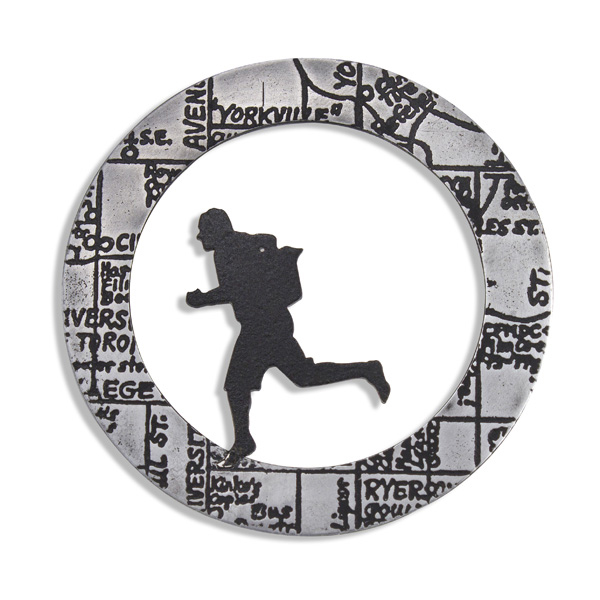 My first thought about this exhibition was the connections it could create between teachers/jewelers and students. Canada is a huge country and the opportunities to meet are rare. The upcoming SNAG conference has provided opportunities for more jewelers to share ideas, recommendations, and projects. At the same, we need to build a jewelry community here, no matter where the jewelers are working (design, art, fashion, etc.). I didn't feel the show was to promote George Brown College. I understand it as a chance to see work from other provinces as well as an introduction to possible partners.
When Paul McClure invited me to submit questions for the catalog, I was really enthusiastic. For a few years now, I have been on the board of École de joaillerie de Montréal (the Montreal Jewelry School). I am interested in all that is related to teaching—the way to transmit techniques, concepts, ideas, and knowledge. Their answers proved their real involvement as teachers, and their work demonstrates a high quality level. As full-time teachers, they succeed in producing relevant works and staying informed about the most recent technologies and about the current work produced in the field. Martha Glenny and Paul McClure gave a lecture at the Montreal Jewelry School to introduce their work, the program at George Brown College, and the events planned for the SNAG Conference. A number of teachers and students participated.
Noel Guyomarc'h: Contemporary jewelry is a young discipline, and there are not many places dedicated to promoting this work. Canadian jewelry is mostly conservative, especially as compared to fine and contemporary arts. But in the past few years, I have seen new interest from jewelers and from clientele. Jewelers need to explore and express new concepts, new ideas, and new aesthetics. As a gallery owner, I can see a change in my clientele as well. They are looking for innovative, unique work.
Do you think a show like Quintet helps to heighten the awareness of contemporary jewelry in Canada? Can you give a specific example of how this worked?
Noel Guyomarc'h: The work on display is exceptionally high quality, both in design and technique. Each artist explores themes such as identity, social concerns, the human body, and the natural world. This exhibition successfully combines workmanship and ideas. Most of the materials used are traditional, which was the purpose of the exhibition. Even if new technologies have been employed, the result is aesthetically approachable. When we think of contemporary jewelry—which I usually display in my gallery—we have another type of work in mind, one that experiments with materials, ideas, and concepts. In the Quintet collection, we have to take time to look closely at each piece.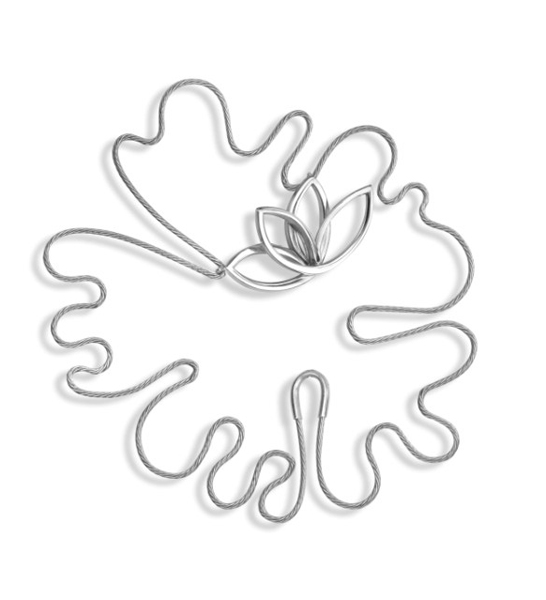 George Brown College was very supportive of this project and wanted there to be some representation of the faculty's work at the conference and festival. However, it was the five jewelers themselves who felt that there was very little representation of mid-career jewelry work in Canada. They wanted to present their work as leaders in the community and raise the bar in terms of quality and professionalism of presentation (installation and catalog) for the younger generation.
The Quintet catalogue will heighten awareness of contemporary Canadian jewelry. There is very little published documentation. In addition, the Quintet group has toured with the exhibition, presenting public talks on their work at a number of schools and galleries in Canada—this too helps to heighten awareness.
Thank you.