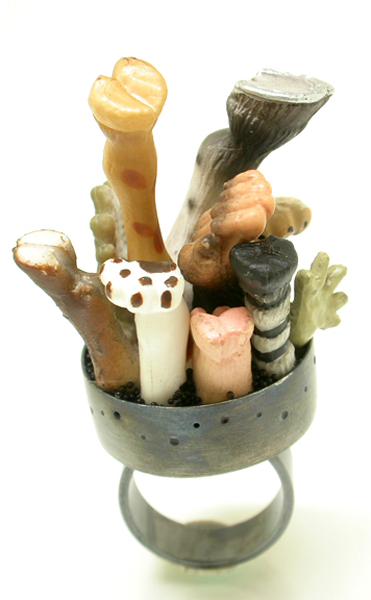 Susan Cummins: Can you talk about the title of the show and why you chose the idea of a ring exhibition?
Jane Groover: A lot of our business involves clients who are getting married, and having an assortment of wedding and engagement rings is crucial to satisfying that demand. We wanted to host an exhibition that would not only expose our marrying clients to the exciting variety of traditional wedding rings but also entice our non-marrying clients to dress up their digits. My assistant chose the title Put a Ring on It from the lyrics of Beyonce Knowles's hit song Single Ladies. The show's title invites the buyer to consider the ring in all its manifestations as a personal form of adornment and expression.
What were your criteria for inviting these particular 24 jewelers? Can you give examples of the rings that meet these criteria?
Jane Groover: We wanted to exhibit traditional and nontraditional rings that are celebratory, fashionable, glamorous, entertaining, symbolic, personal, and even powerful. The range of perspectives in our exhibition is expansive. There are 150 rings using a variety of materials, including silver, gold, enamel, carbon fiber, plastic, beach rocks, coins, cement, silk, wood, and gemstones. In her book The Ring, Sylvie Lambert says that "the ring is a work of reflection and personal research by every artist-jeweler." Jewelers Barbara Heinrich, April Higashi, and Ananda Khalsa make rings in gold, platinum, and gemstones, using sophisticated designs for commitment and ceremony. Jim Cotter and Kristin Lora approach their work with humor to entertain both the wearer and the viewer. Cotter's Ring with a Note has a binder clip for attaching a grocery list or a love letter. Lora's Standing People Ring can be worn on the finger or around the neck with its accompanying chain, making the people stand on their heads. Donna Veverka's powerful rings are based on classical and Renaissance architecture. Her Gothic Vault ring is a dramatic, wearable bit of history in miniature. Sydney Lynch and Steven Brixner both make rings that are always colorful, glamorous, and fashionable one-of-a-kind statements, usually incorporating bold gemstones and pearls.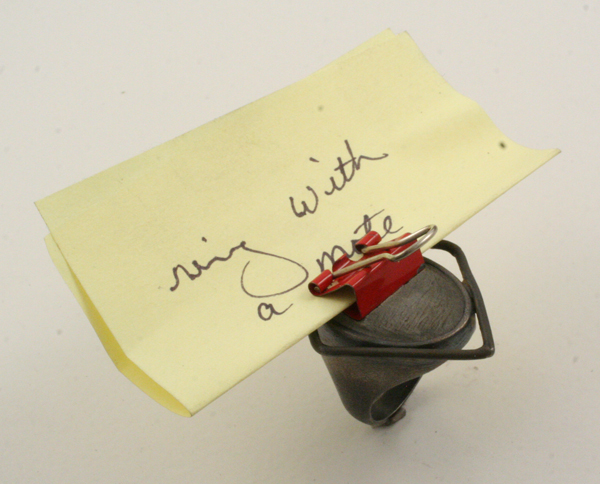 Have these jewelers been part of the gallery's lineup in the past?
Jane Groover: Diana Hall, Dahlia Kanner, Kristin Lora, Rebecca Myers, Myung Urso, Donna Veverka, and Jeff and Susan Wise are all new to the gallery. The remaining 16 artists have previously shown with Taboo Studio.
Jane Groover: Historically, rings are the most widely sold and worn piece of jewelry. Although rings are not our main interest, they have always been a big part of our inventory. In addition, we produce a fair amount of custom wedding rings. We all love a great ring, but then again, we all love a great brooch or necklace.
What is currently going on in San Diego in the contemporary jewelry scene?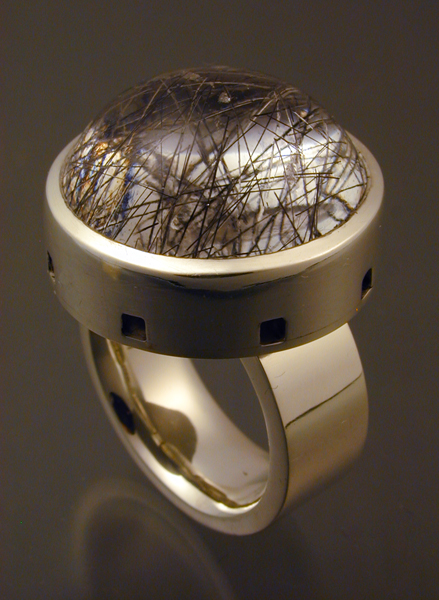 What is currently your favorite jewelry book?
Jane Groover: I just finished reading The Look of Love: Eye Miniatures from the Skier Collection by Graham C. Boettcher. It is a beautiful catalog for an exhibition at the Birmingham Museum of Art. Nan and David Skier's collection of "lover's eye" jewelry and objects is breathtaking. I fell in love with these late-Georgian and early-Victorian keepsakes when I lived in England in the 1970s and only wish I had purchased one before they became so collectable. A watercolor eye surrounded by seed pearls and gold. Yum.
Thank you.