January 2023, Part 1
There are so many reasons to purchase art jewelry…
Celebrate that hard-earned promotion
Honor a once-in-a-lifetime occasion
Pay tribute to a major accomplishment
Commemorate the beginning of a new relationship, or the end of one
Pounce on the perfect piece to round out an aspect of your collection
Or invest in a treat for yourself—just because
Art Jewelry Forum's international gallery supporters celebrate and exhibit art jewelry. Our monthly On Offer series allows this extensive network of international galleries to showcase extraordinary pieces personally selected to tempt and inspire you. Take a look. You're bound to find a fantastic piece you simply can't live without! (Please contact the gallery directly for inquiries.)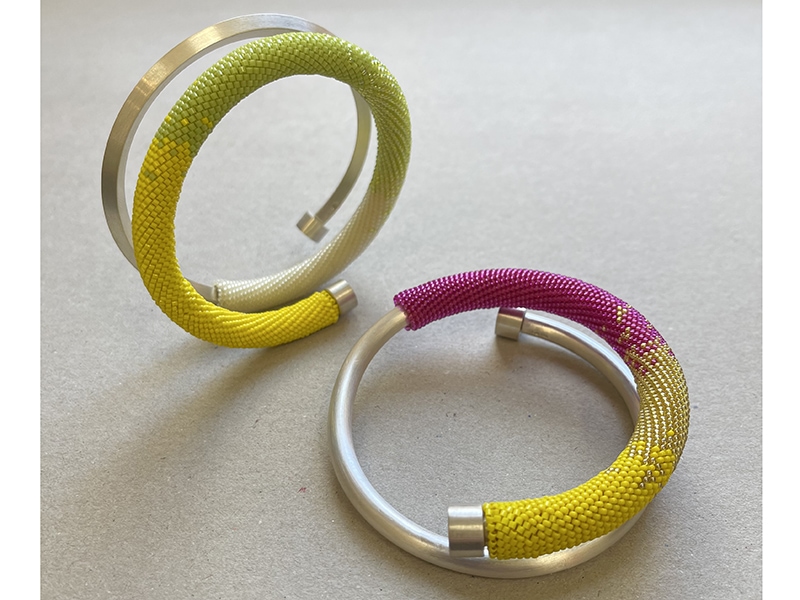 Gallery: Zu design
Contact: Jane Bowden
Artist: Jane Bowden
Retail price: (Left) AUS$3,340, (right) AUS$2,435
"In between running Zu design and representing many makers, I create my own work," says Jane Bowden. "The bangles are my latest pieces, inspired by my love of handcrafts and textile techniques. I select the small Japanese glass beads and crochet them on a fine cotton thread, playing with color and texture."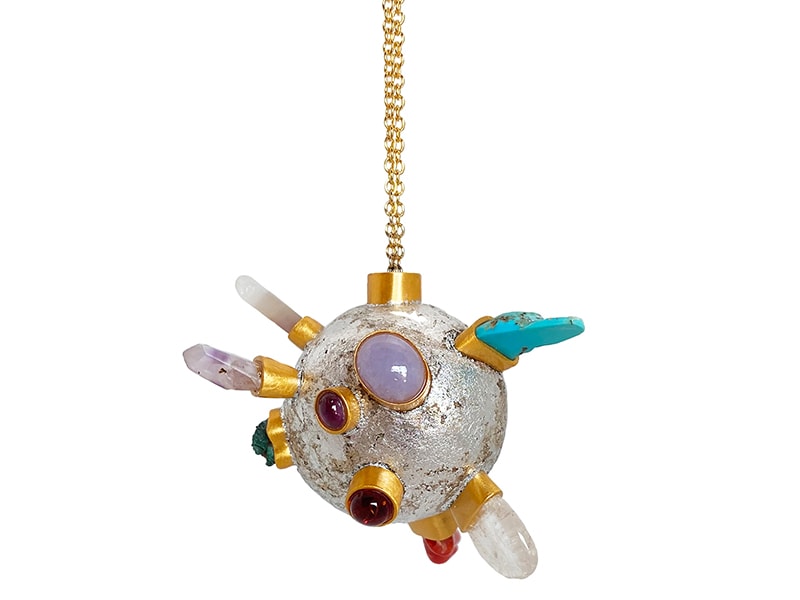 Gallery: ATTA Gallery
Contact: Atty Tantivit
Artist: Yuki Sumiya
Retail price: US$1,750
This one-of-a-kind piece, by Yuki Sumiya, was made using the traditional Japanese hollow dry-lacquer technique combined with jewelry-making techniques. There are 12 different gemstones in this piece, signifying the 12 zodiac signs. This pendant necklace was made for ATTA Gallery's 12th anniversary exhibition, currently on show. Yuki Sumiya (b. 1971) received her training in Japan and in Italy (at Alchimia). She now lives and works in Kamakura, Japan.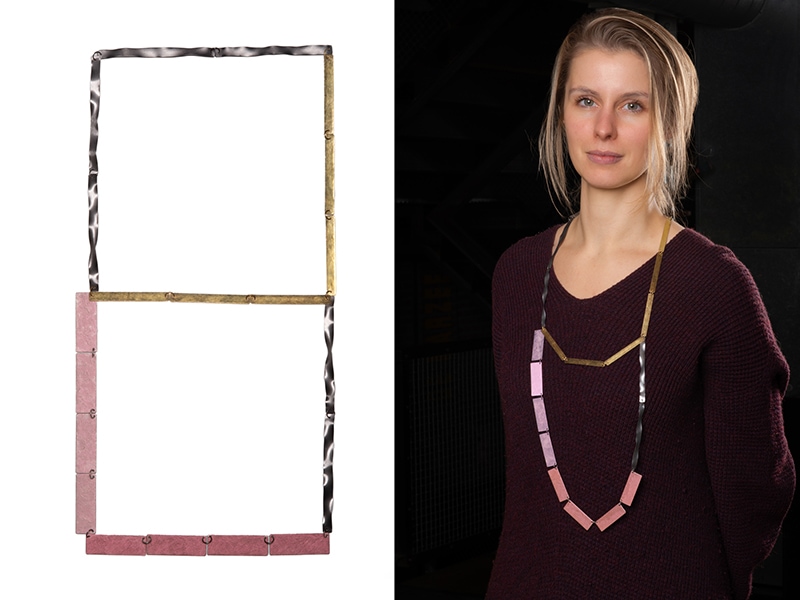 Gallery: Galerie Marzee
Contact: Marie-José van den Hout
Artist: Annelies Planteijdt
Retail price: €8,100
Annelies Planteijdt's jewelry investigates the ideas and esthetics of floor plans and maps. Composed of gold and other precious metals, some colored with pigment, others hung with pearls or glass beads, her necklaces reflect her thinking. Designed to be experienced both on and off the body, they represent two fundamental elements that inform the Dutch artist's practice: time and space. Unworn, they are geometric, structured, two-dimensional—jewelry for the mind—but on the body the map disappears and they become more three-dimensional, arranging themselves naturally on the wearer, the structure becoming all but invisible.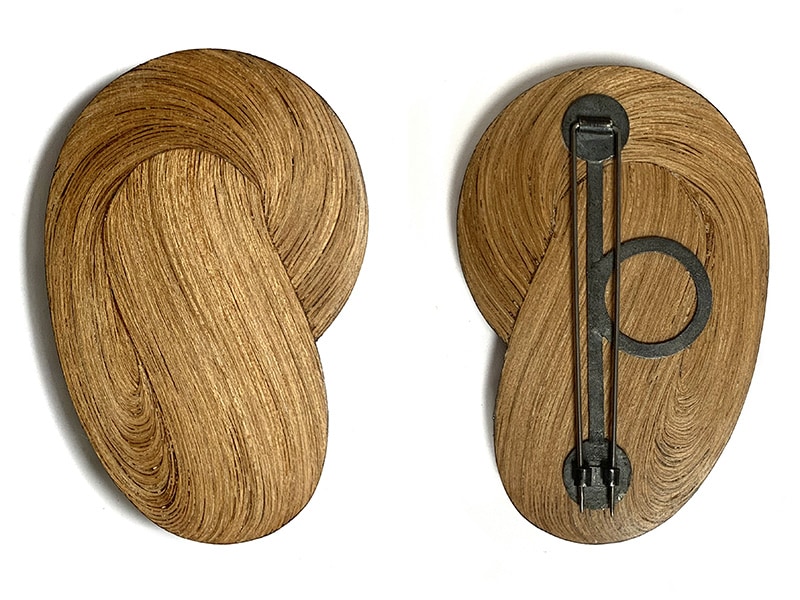 Gallery: Four Gallery
Contact: Karin Roy Andersson
Artist: Åsa Christensson
Retail price: US$1,150
Mathematics, physics, and chemistry are always present in the studio of a jeweler—with calculations, processes, and reactions. But science can also be a source of inspiration on another level. The work of Åsa Christensson is colored by the esthetics of science—a world where old discoveries are challenged by new ideas, where the present rapidly transforms into history, and where the future moves closer every nanosecond.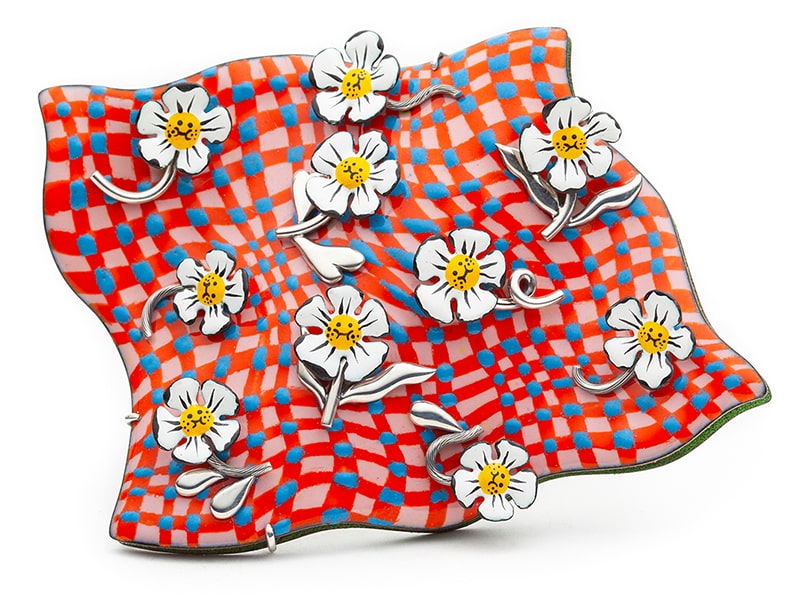 Gallery: Galerie Noel Guyomarc'h
Contact: Noel Guyomarc'h
Artist: Aurélie Guillaume
Retail price: CAN$7,000
Born in Montreal, Aurélie Guillaume is a French-Canadian jeweler, enamelist, and illustrator. Enameling has a long tradition of storytelling, dating back as far as the Byzantine era, when vitreous enamel was used in the depiction of religious icons. Using this traditional technique, Guillaume is reviving the idea of narrative in enameling through a contemporary context fueled by street art, comics, pop art, and counterculture. This piece, Il Ne Manque Plus Que Toi (The Only Thing Missing Is You), is included in a series titled Le Poème.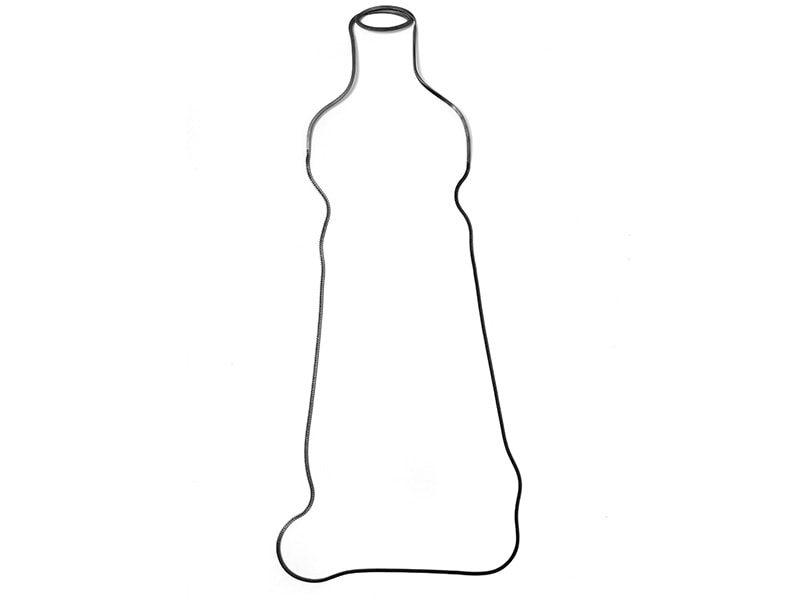 Gallery: Galeria Reverso
Contact: Paula Crespo
Artist: Gésine Hackenberg
Retail price: €400
When worn, the metal lines of these Bottle necklaces come to life. The necklaces are part of the Drawings collection, and each design was produced in a limited edition of 10.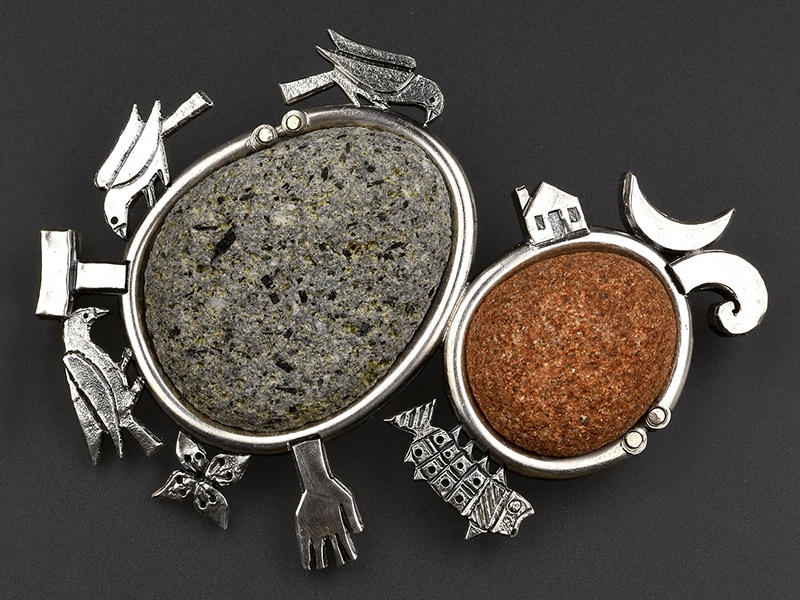 Gallery: Fingers Gallery
Contact: Lisa Higgins
Artist: Peter McKay
Retail price: NZ$1,400
Peter McKay began his career as an apprentice to Kobi Bosshard on Banks Peninsula in the late 1960s, training in the techniques and aesthetics of European goldsmithing. Armed with those early skills, McKay's interest turned to European Modernism and Medieval and Renaissance art before he developed the strong and very distinctive New Zealand voice that imbues his work today. McKay is a story-telling jeweler based in Akaroa, New Zealand. He has exhibited extensively during his time as a maker.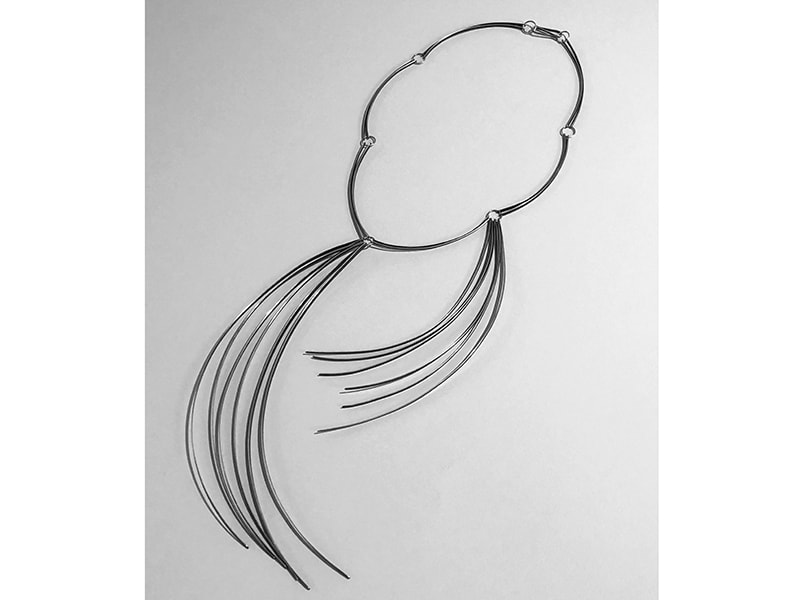 Gallery: Galeria Tereza Seabra
Contact: Tereza Seabra
Artist: Doris Betz
Retail price: €1,850, plus shipping
Winner of the prestigious Herbert Hofmann Prize and of the Bavarian State Prize, Munich jeweler Doris Betz creates organic jewelry that appears spontaneous—linear drawings in metal that grow like the plant forms that often inspire them. Whether colorfully lacquered or blackened, the silver structures are sturdy but diaphanous, with the negative space created within the intervals adding another dimension.
Gallery: Thereza Pedrosa Gallery
Contact: Thereza Pedrosa
Artist: Judy McCaig
Retail price: €1,220
In Judy McCaig's Night's Black Star brooch, as in all her work, there is a very close relationship between the design of the piece and the emotions and ideas she wants to encapsulate in it. Each of her works is a setting, a story that stimulates you to reflect, feel, and remember.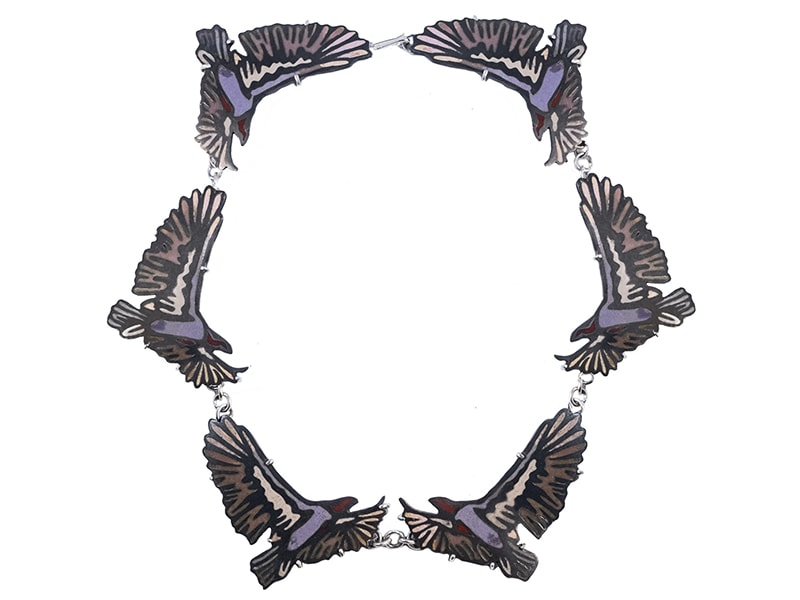 Gallery: Baltimore Jewelry Center
Contact: Allison Gulick
Artist: Korey Burns
Retail price: US$980
Korey Burns is a full-time jewelry artist living and working in NYC. She graduated from Stephen F. Austin State University, in Texas, with an MFA, concentrating in jewelry and metalsmithing techniques. Featured in the Signs, Signals, + Symbols exhibition at the Baltimore Jewelry Center, Korey noted this about her piece, titled Mortality: "Turkey vultures have always been a sign that either directed you to the area or scared you away from what you might find. To me they were a symbol of mortality. A circling reminder that we all succumb to death in the end."