Art Jewelry Forum's network of
gallery supporters
has increased to more than 60 international galleries focused on art jewelry. On Offer is a monthly series that allows AJF galleries to showcase a piece that they've personally selected to tempt and inspire you. Please contact the gallery directly for inquiries. Enjoy!
MUSEUM WORTHY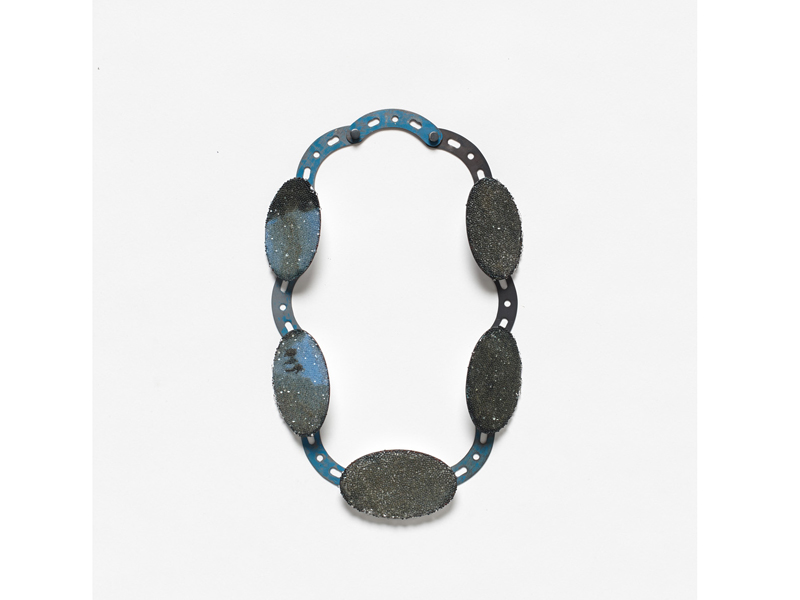 Gallery Funaki—Kirsten Haydon's 2013 Ice Crevasse necklace is from a body of work informed by an artist's residency in Antarctica. Haydon has distilled her experience of the vast Antarctic landscape into a captivating souvenir object using enameling techniques unique to her practice. This piece has been exhibited at the 2014 Kete: Art Fair and Symposium, Wellington, and Haydon's solo exhibition Ice Storeroom, Craft Victoria (2014). It has also toured through England, Scotland, and Germany as part of Heat Exchange II, curated by Beate Gegenwart and Elizabeth Turrell.
RETAIL: AU$3,500
CONTACT: Katie Scott
---
Gallery Loupe—Israeli artist Vered Kaminski delights in meticulous, painstaking detail and often follows a mathematical approach to the process of jewelry-making. She employs the meditative aspects of repetition to create delicately intricate structures that feature meandering wire lines, often with architectural associations, such as fencing or ornamental connections. In this series of silver wire works, the "end" often connects to the "beginning" in order to create a continuous, uninterrupted flow–always maintaining the rules of weaving, one wire above and one below. In addition to myriad prizes and international recognition, Kaminski was the recipient of the 2015 Andy Prize, for which she was granted a solo exhibition at the Tel Aviv Museum.
RETAIL: US$4,600
CONTACT: Eileen David
---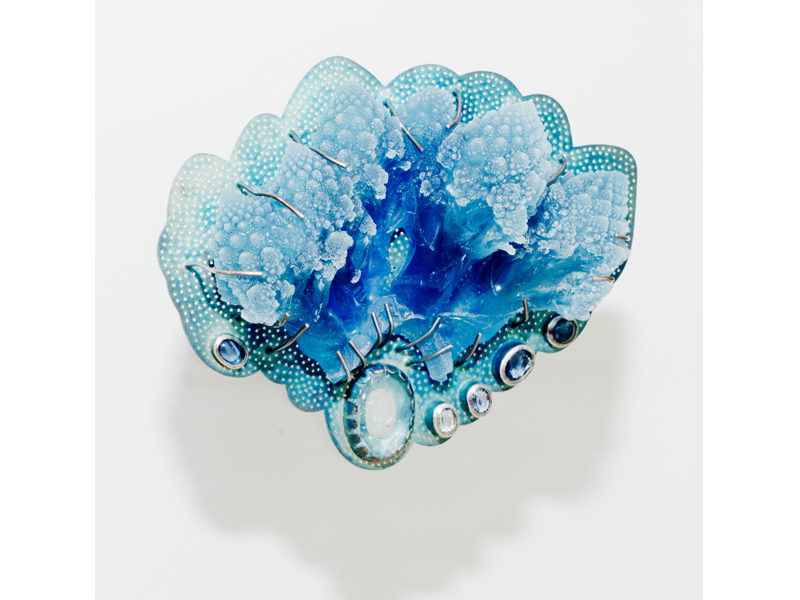 OHMYBLUE—Barbara Paganin is a contemporary jewelry master. Her work investigates the themes of nature, memory, and beauty, often by focusing on small details and fixing them in shapes that are refined, elegant, and powerful.
Blue Branches was shown in the last solo show that Paganin had in Italy, From the Vegetable Garden to the Attic (which took place in Padua in 2015).
Against a silver background, blue cabbage branches appear. Experimenting with materials like polymethyl methacrylate, Paganin gives birth to compositions where the precious material is left as support or frame.
RETAIL: €7,550
CONTACT: Elena Rizzi
---
OONA Gallery—This work is part of Jiro Kamata's cycle, Ghost, which is currently on view at OONA Gallery. It demonstrates in a natural way the high potential of studio jewelry. It can be considered as a wearable piece of jewelry and at the same time as a piece of art. Worn as a brooch on the human body, this work gives a fascinating reflection–the viewer will discover parts of himself, watching the opposite person. As a wall object, the brooch is set on mirror ground. It creates disruptive, self-reflexive moments to the viewer, playing with invisibility and visibility. A fascinating piece of art jewelry!
RETAIL: €2,800
CONTACT: Anna Schetelich
---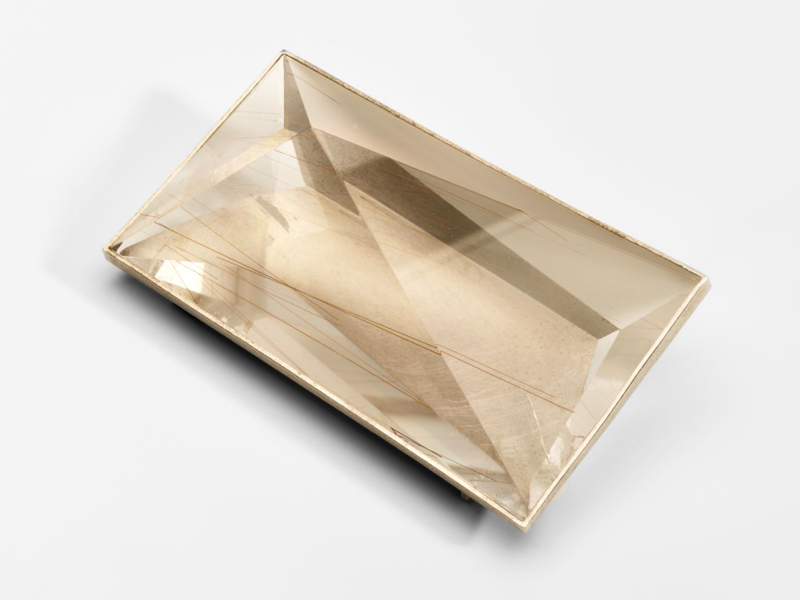 Slavik Gallery—Renzo Pasquale represents high artistic and technical quality. A casual encounter with a master gemologist and precious stone cutter sets him off on his personal journey of exploration in the art of working stones and metals. The transition and change in the Paduan artist's most recent works are evident.
RETAIL: €10,800
CONTACT: Renate Slavik
---
ESTABLISHED ARTIST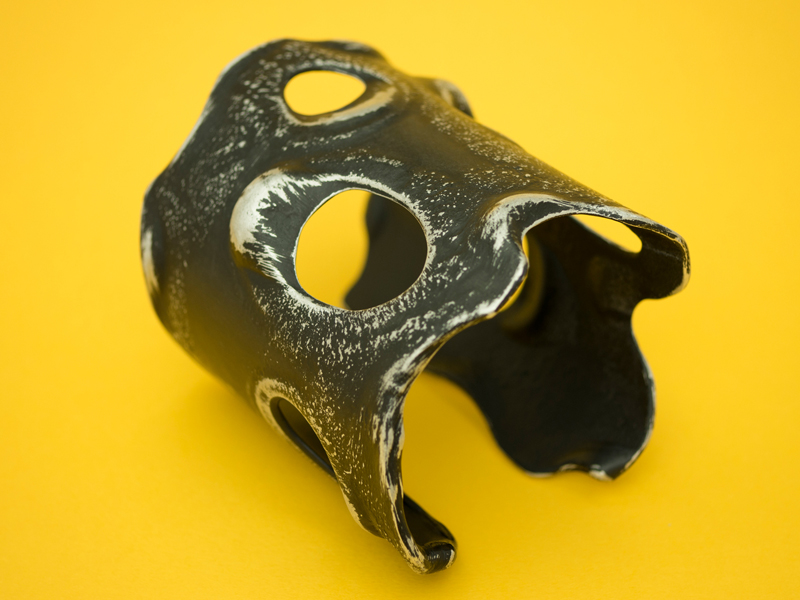 QUOIL Gallery—Sarah Walker-Holt is interested in the tactile qualities of wearable objects through wood and mechanisms. From questioning the value bestowed in the materiality of everyday minimal and functional wooden objects, made from precious and nonprecious timbers, she alters them into something complex and decorative for the body.
Deconstruction, construction, and engineering shape her approach. Sarah is also intrigued by how things work/function, questioning how she can make them work within a jewelry context. To achieve this in some pieces she integrates existing mechanisms like nuts and bolts, while also constructing her own mechanistic adaptations. This has allowed Sarah to investigate different degrees of changeability that can be transferred to the wearer.
RETAIL: NZ$650
CONTACT: Hortense Rothery
---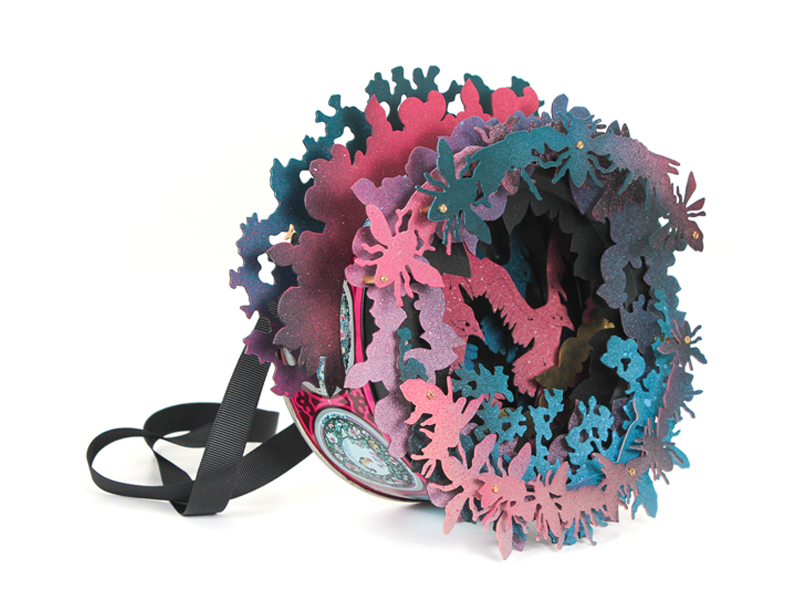 The Gallery at Reinstein | Ross—Part of our exhibition called Once upon a Time…, Anna Talbot's jewelry is inspired by fairy tales. Her most recent body of work focuses on the landscape and creatures that surround beloved characters, removing famous figures like Little Red Riding Hood or Sleeping Beauty entirely and leaving just the birds and the bees.
Talbot works in layers, building up forms from anodized aluminum and brass. After sawing each piece by hand, she spray paints the pieces to give them her unique, bold signature look. She also repurposes chocolate tins, cook boxes, and pillboxes for her large dimensional necklaces.
Since 2009, Talbot has been working as a jewelry artist with exhibitions both in Norway and around the world. She was previously the head of the metal and jewelry department at Oslo National Academy. The artist was selected for Schmuck in 2014 and in 2016. In 2015 she had her first solo exhibition at KRAFT-Rom For Kunsthåndverk, in Bergen, Norway. Talbot has been the recipient of several grants from the Norwegian government, and in 2015 was given a 10-year artist grant which allows her to focus on her art. In 2017 she was awarded the Scheibler Foundations Grant for Crafts.
RETAIL: US$3,200
CONTACT: Bella Neyman
---
MID-CAREER ARTIST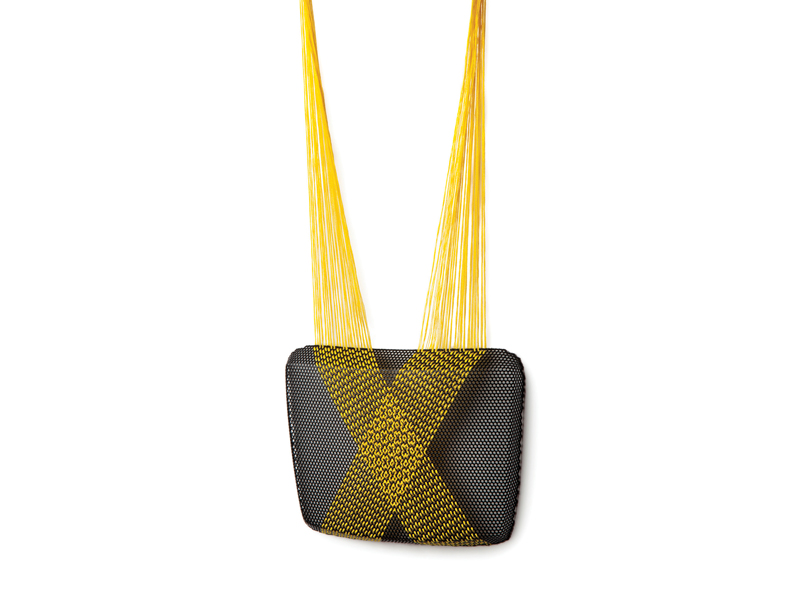 Galerie Marzee—There is a certain connection between the traditional use of amulets offering metaphysical protection from irrational fears such as the evil eye, spirits, and ghosts, and the way our post-modern era deals with its anxiety. The iconic, human-made, yellow and black signs that warn the public against radioactive danger, poison, and the like seem to try to ward off the demons which frighten us today. In color and shape, symmetry, and patterning, these signs bear a close resemblance to bees and wasps, and in particular to their wings and eyes.
This necklace by Dana Hakim is made from painted wire mesh taken from stereo systems and old speakers. The original shape is preserved, with minimal intervention. Through meticulous labor and manipulation of the surface of the net, a one-of-a-kind jewel is created.
RETAIL: €3,400
CONTACT: Jade Kerste
---
EMERGING ARTIST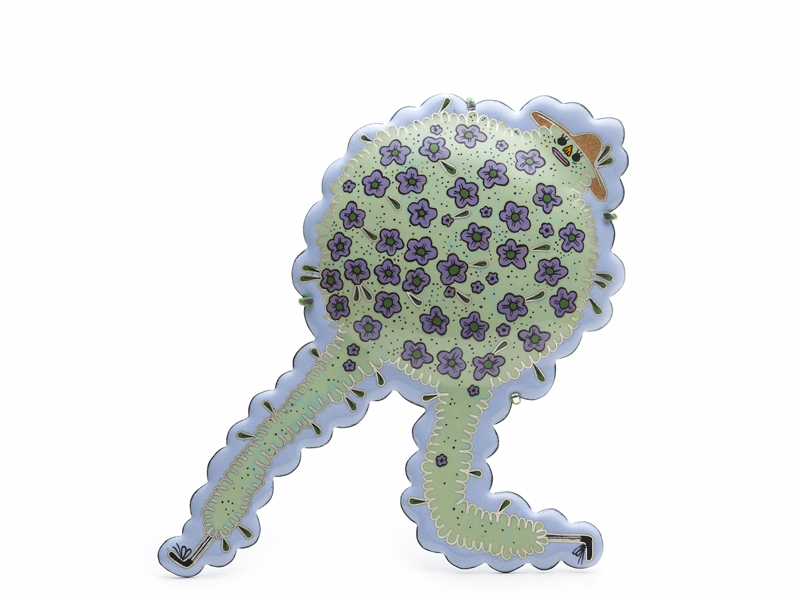 Galerie Noel Guyomarc'h—Aurélie Guillaume is a French-Canadian jeweler, enamelist, and illustrator currently living and working in Chicago. After completing her diploma at École de Joaillerie de Montréal, she went on to pursue her BFA at NSCAD University, where she majored in jewelry design and metalsmithing. Upon graduating, her work was selected as the winner of L.A. Pai Gallery's 12th national student jewelry competition in Canada and was shortlisted for the BKV Prize in Germany. Her work has been exhibited both nationally and internationally throughout North America and Europe and has been acquired by the Enamel Arts Foundation in Los Angeles; the Museum of Arts and Design, NYC; and the Iowa Museum of Art.
Aurélie's work celebrates the history of enameling and its longstanding tradition of storytelling. Using traditional techniques, she is reviving the medium through a contemporary context fueled by street art, comics, pop art, and counterculture. Through the process of enameling, her work mixes high and low art while transporting viewers into a world more colorful and dreamlike than our own.
RETAIL: CAN$3,900
CONTACT: Noel Guyomarc'h
---
Koumei Art Gallery—The agate on this ring has two natural patterns in each side. While one side has the Chinese character for king (王), the other has the head of a tiger on it. To highlight the two sides of the agate, Emily Zhu, the designer, used the Chinese metaphor 天王盖地虎 (literally translated as "heaven king blessing the tiger king") as the inspiration for the design.
RETAIL: Price upon request
CONTACT: Eko Sukoco
---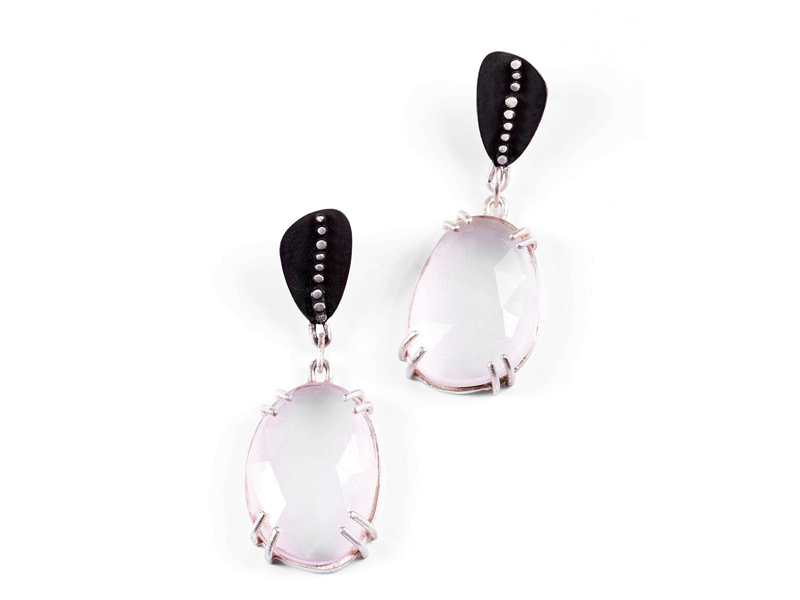 Lillstreet Gallery—Emerging artist Ella Calas received her BFA in metalsmithing and jewelry design from the College for Creative Studies in Detroit, Michigan, in May 2016. These Faceted Rose Quartz Earrings are one-of-a-kind and will be at Lillstreet Gallery for a limited time as part of Ella's August Artist Feature.
RETAIL: US$185
CONTACT: Nora McCarthy
---
GALLERY CHOICE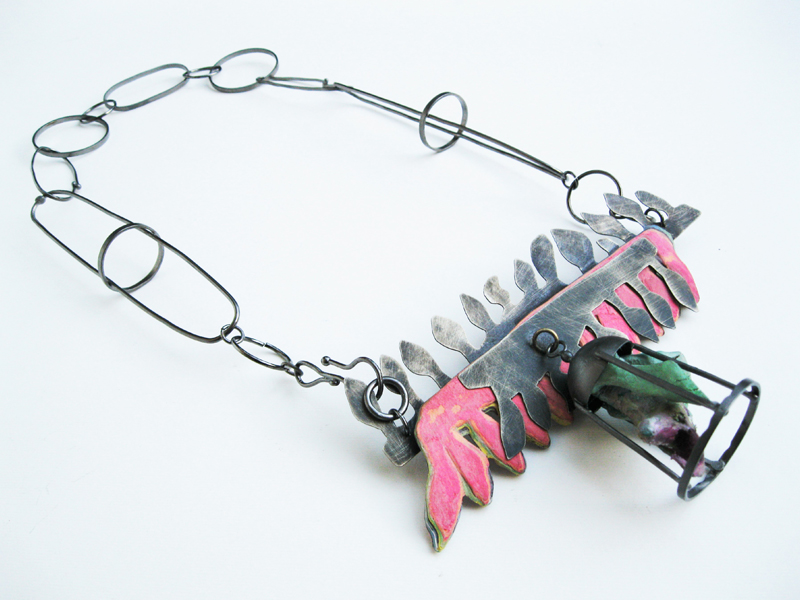 AS GALLERY—This piece is part of the Shadows collection by the visual artist Yiota Vogli. The works in the Shadows series are the embodiment of a fantasy world populated with shadows, exotic birds, grotesque demons, and fairies, an exploration of the aesthetic and literary values of such creatures and the real and symbolic nature of the shadow as an image and a figure.
We are aware of a tiny fraction of the thinking process that goes on in our minds, and we can control only a tiny part of our conscious thoughts. The vast majority of our thinking efforts go on subconsciously.
Thoughts, like birds, will always hover high in the sky, but is our responsibility to prevent the "birds" from landing on our minds.
RETAIL: €700
CONTACT: Agapi Smpokou
---
galerie beyond— Carolina Apolonia says, "My most recent works show a change in shape and form. From making objects and jewelry that resemble small buildings and shelters, I've moved to creating pieces that represent movement. Or rather, the ability to fly.
This collection mirrors my thoughts and hopes about my personal life and the world we live in. To let go of fear, to never give up, and to be able to be free."
RETAIL: €575
CONTACT: Rene Darmont
---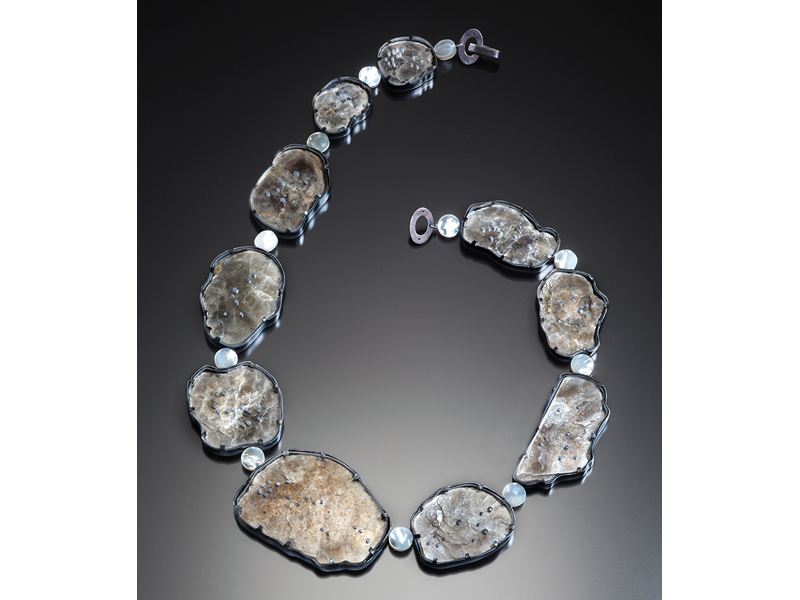 Facèré Jewelry Art Gallery—With close attention to detail, Nancy Mēgan Corwin reimagines the natural world through her jewelry. Southern Constellations is a masterful composition that balances simplicity of form with nuanced layers, textures, and surfaces.
Corwin is a jeweler, metalsmith, curator, and writer. Her work is included in private collections, and in the permanent collections of the Tacoma Art Museum and the Victoria and Albert Museum in London. She teaches and lectures internationally.
RETAIL: US$1,860
CONTACT: Madeline Courtney
---
In the Gallery at Brooklyn Metal Works—In Amelia Toelke's recent body of work, she continues to explore the various paths of human communication. By using gouache on paper and images of jewelry, she playfully examines the succinctness of emojis and their ability to perform more accurately than language. Toelke says, "Emojis are wonderful things. Sitting quietly at our fingertips, they express that which cannot be said in words alone. They add emotion, humor, and sometimes-cryptic meaning to our flat, digital words. Through visually representing an action or physical expression, they capture something incommunicable no matter how many words, exclamations, question marks, or dot, dot, dots we type."
These paintings also continue her exploration of jewelry and its deep connection with people. By using a traditional gouache painting technique, she sheds light on the strong connection between people and their jewelry, the jewelry wearer and their admirers, and even the designer and the maker."
RETAIL: US$550
CONTACT: Brian Weissman
---
Patina Gallery—This ring is from Tonal Elegance, a collection that Peter Schmid of Atelier Zobel unveils August 11, 2017. Schmid breathes passion into this ring through his signature artistry that combines precious metals and gems with sophisticated use of color: bold strokes, perfect lines, and tonal progressions. Schmid's lifelong curiosity drives him to travel the world discovering rich patterns, stories, and tastes. He returns to his studio in Germany inspired to isolate a feeling, a story or a moment in human history, and draw it into a one-of-a-kind piece. This ring typifies Schmid's daring, ultramodern designs, representing the lushness of many lands and the opulence of exquisitely rare materials.
RETAIL: US$4,550
CONTACT: Linda Childers
---