Art Jewelry Forum's extensive network of international
gallery supporters
is dedicated to celebrating and showing art jewelry. On Offer is a monthly series that allows AJF galleries to showcase a piece that they've personally selected to tempt and inspire you. Please contact the gallery directly for inquiries. Enjoy!

MUSEUM WORTHY
Artist: Ralph Bakker
Gallery: Galerie Rob Koudijs
Contact: Rob Koudijs
Retail: €2,650
Frankly, the materials employed by the goldsmith are almost too beautiful… The way they shine, the light reflecting on their surface, the titillating options for numerous alloys. In addition there is a multitude of ways to process them, and that is of course also the snag. It's only through time-honored and laborious craft that precious metals can be made to blossom.
MUSEUM WORTHY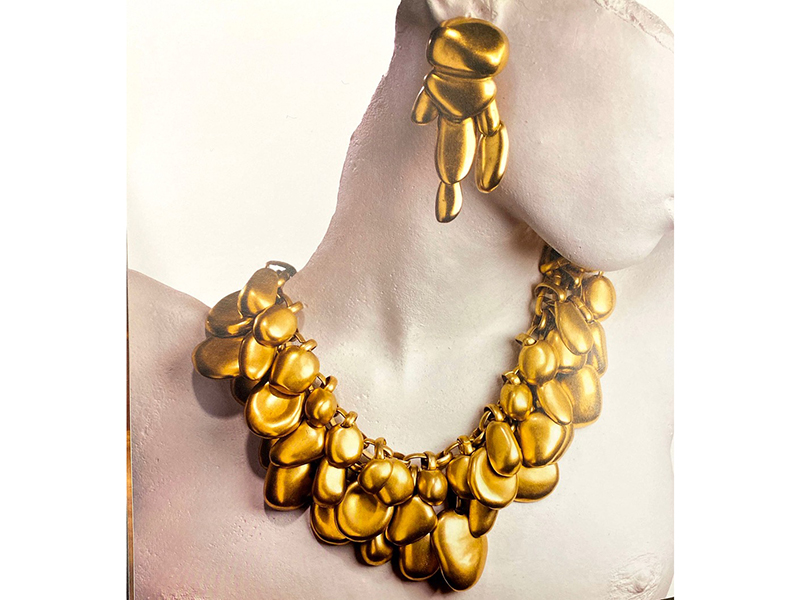 Artist: Robert Lee Morris
Gallery: Sculpture To Wear
Contact: Lisa M. Berman
Retail: US$6,500
One of the most iconic statements of big, bold gold—a look that drives a brand. In celebration of Pebbles: individually hand-sculpted wax carvings both convex and concave (hollow) like a historical worry stone. "The clusters of soft stones were a look that Donna Karan loved and pushed me to develop for her 1987 fall collection," says Robert Lee Morris. This is the original, one-of-a-kind, archival piece used to develop the limited-edition series. A copy of the book The Power of Jewelry, signed by Morris, is included with purchase. (The necklace is photographed on a body cast from ARTWEAR gallery, also available, for US$800 [gold US$850]. The single Large Pebble cluster earring in the photo is not included in the price. Other complementary earrings are available for purchase from Sculpture to Wear gallery.)
ESTABLISHED ARTIST
Artist: Fabiana Gadano
Gallery: Galerie Elsa Vanier
Contact: Elsa Vanier
Retail: €670
"The Wounded collection points to environmental issues related to our excessive use of plastics," says Fabiana Gadano. "Today, only a small amount of plastics is reused and a great part is dumped, reaching the oceans. Wounded refers in its configuration to the organic world, although presenting a different nature that enhances the PET plastic paradox: a synthetic material becomes protagonist of a universe that is a mirror of life. Still, it is a wounded breath. Nature and especially marine life are gasping their lasts efforts, striving to survive. It is high time to take care of this side of the mirror. Life is ticking out."
ESTABLISHED ARTIST
Artist: Iris Bodemer
Gallery: Jewelers'werk Galerie
Contact: Ellen Reiben
Retail: US$5,040
This is an outstanding piece from Iris Bodemer's newest exhibition, at Jewelers'werk Galerie. Reminiscent of past work, yet very new indeed.
ESTABLISHED ARTIST
Artist: Alena Willroth
Gallery: Galeria Tereza Seabra
Contact: Tereza Seabra
Retail: €3,200
Kármán lines are an attempt to define an imaginary boundary between earth's atmosphere and outer space. The interlocking lines patiently hand cut in Alena Willroth's work, and the gaps that, in her own words, she associates with precious silence, give birth to weightlessness patterns. Alena's work is full of poetical meaning, and the result of her beautiful pieces is amazing.
MID-CAREER ARTIST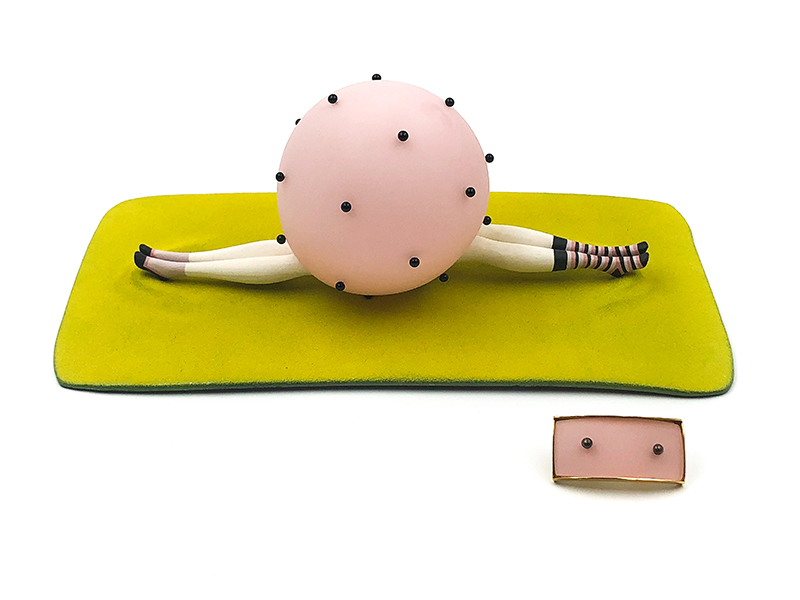 Artist: Jessica Calderwood
Gallery: Ombré Gallery
Contact: Jenna Shaifer
Retail: US$700
The Dig Study brooch was finished during the start of the COVID-19 pandemic. Made of etched-glass elements that create an interesting foil for the overall mood of the work, it is an expansion of Jessica Calderwood's visual library, using new materials. Dig Study is paired with the Digging In sculpture in the exhibition What Lies Beneath, on display at Ombré Gallery through October 11. The show features Calderwood's sculptures and brooches, shown together as conversational pairings. Calderwood's most recent work uses forms, such as drapery and stylized botanicals, to block out, cover, and hide parts of the human form. These compositions become a negation, a censoring or denial of what lies beneath. These fragmented beings appear at once powerful and powerless, beautiful and absurd, inflated and amputated. Trained as a metalsmith and enamelist, Calderwood creates objects and images that make statements about contemporary life. Since receiving her MFA from Arizona State University, her work has been exhibited extensively throughout the US and internationally. She has participated in numerous artist residencies and is currently an associate professor of art at Ball State University.
MID-CAREER ARTIST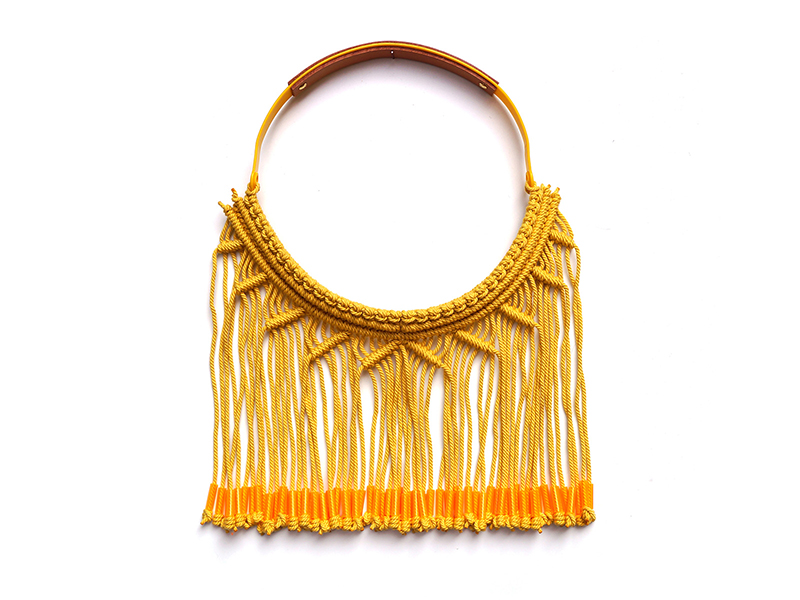 Artist: Helena Johansson Lindell
Gallery: Platina Stockholm
Contact: Sofia Björkman
Retail: US$1,700
Stockholm-based artist Helena Johansson Lindell works with hierarchical structures and embraces materials and methods that, from an art and societal perspective, are considered to have low status but are frequently used in pop culture. Colorful plastic, wood, and ready-mades have been recurring materials, and in her new works Lindell has used macramé. Recognizable elements meet in wonderful, surprising combinations.
MID-CAREER ARTIST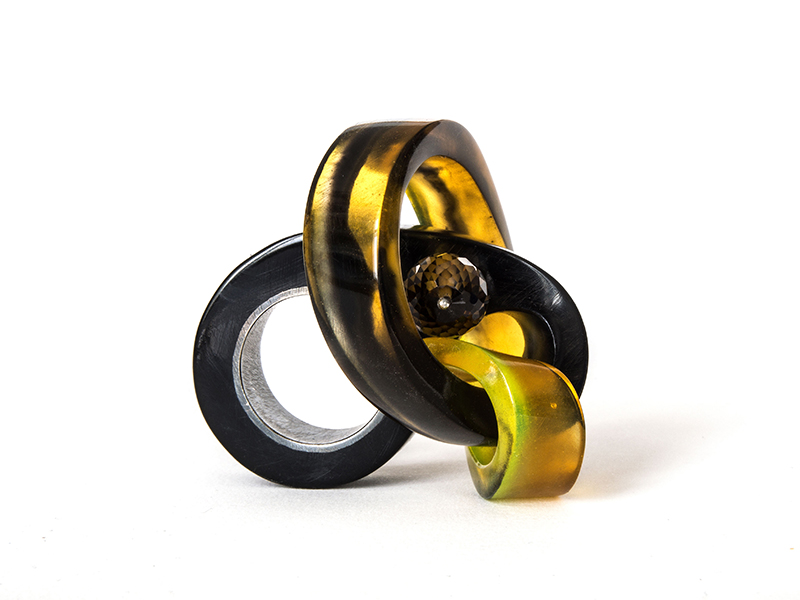 Artist: Petra Zimmermann
Gallery: Ornamentum
Contact: Stefan Friedemann
Retail: US$1,700
The newest works by Austrian jeweler Petra Zimmermann find her forgoing the stone-encrusted surfaces of her past works for voluptuous twists of acrylic—a take on the art nouveau, contemporary in both form and materiality. This ring is just one stunning example from Zimmermann's current exhibition, Vanity Vague, at Ornamentum.
EMERGING ARTIST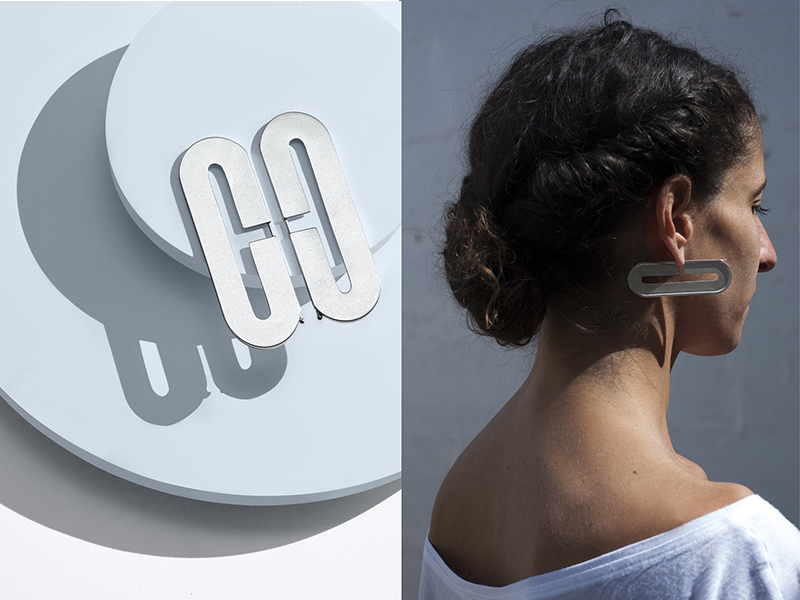 Artist: Suna Bonometti
Gallery: In the Gallery at Brooklyn Metal Works
Contact: Brian Weissman
Retail: US$300
Suna Bonometti's jewelry is a composition of primary forms carefully assembled to create enduring designs. Each piece will catch your attention in pleasantly surprising ways—all the while remaining simple and bold in appearance. True to Bonometti's attention to fine details, these Capital C earrings are reversible, with one side highlighting a square edge that can be worn to the inside or outside of the ear. A pin slides in and out of the tubing at the top of the earring for an innovative and sophisticated closure. These stunning earrings are lightweight and demand attention.
EMERGING ARTIST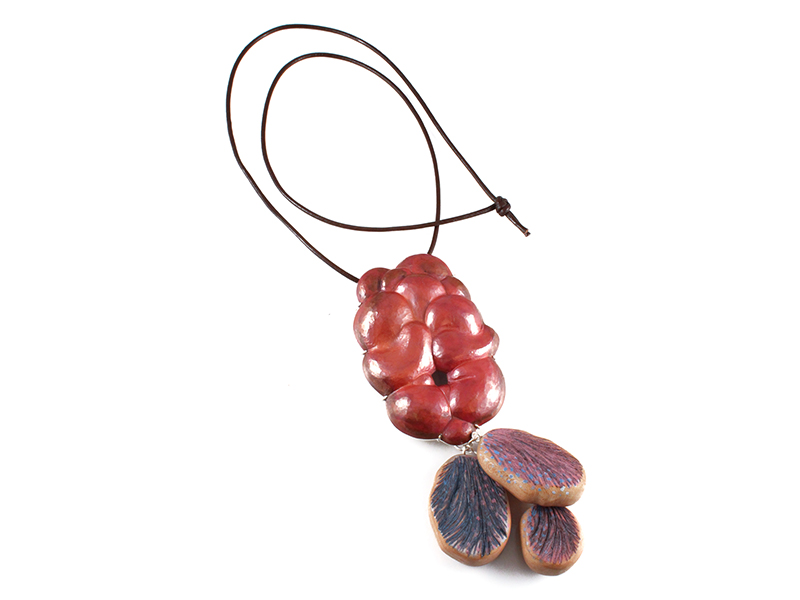 Artist: Adam Atkinson
Gallery: Baltimore Jewelry Center
Contact: Shane Prada
Retail: US$650
Adam Atkinson is a craft artist currently residing in Richmond, VA, US, who recently completed a one-month residency at the Baltimore Jewelry Center. He received an MFA in metal design at East Carolina University in 2019, and a BFA in interdisciplinary studio practices from Boise State University in 2013. Atkinson's work documents relationships between gender and the body using adornment and small-scale sculpture as formats for exploration. His work has been exhibited nationally and internationally. He's currently an adjunct instructor at Virginia Commonwealth University in the Craft/Material Studies department.
GALLERY CHOICE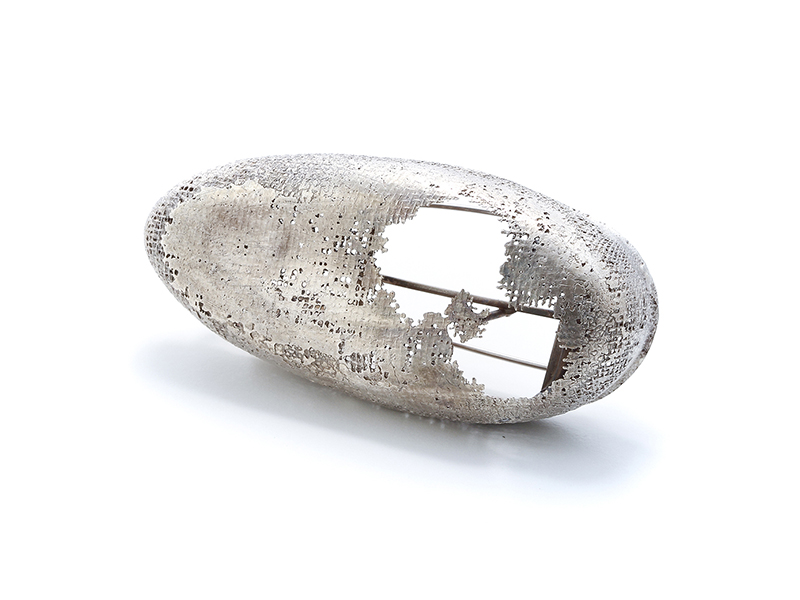 Artist: Yasuko Kanno
Gallery: Archivio Negroni
Contact: Eliana Negroni
Retail: €588
The appearance is momentary and changes constantly. It's a temporary and partial reflection of the real entity, and the object will never show the same look again. It is frail, ephemeral, and imperfect, giving the impression that it could break easily under pressure. However, the momentary appearance provides hints to approach the object, which allows us not only to know the outer form but also to feel and appreciate the inner truth, richness, and satisfaction. As the recipient of the Gioielli in Fermento Award in 2019, Kanno presented her works during Joya Art Jewellery and Objects at the Barcelona Design Museum.
GALLERY CHOICE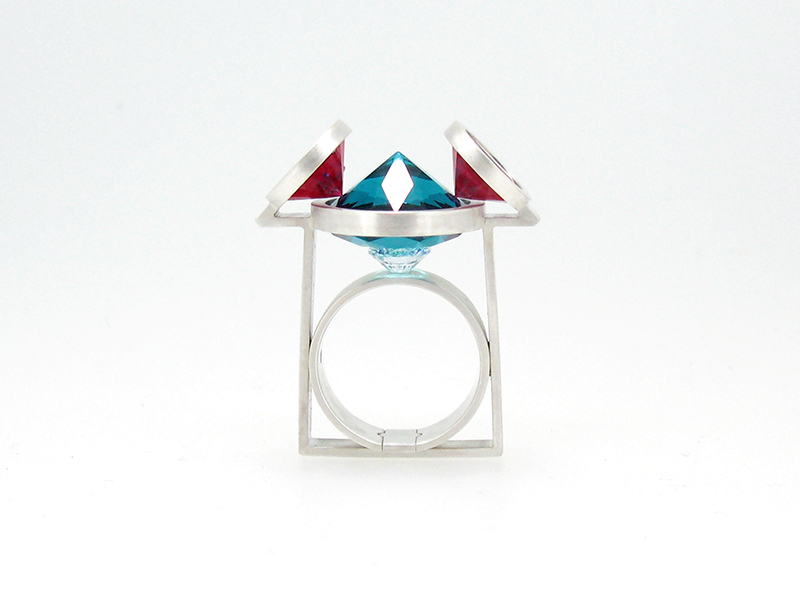 Artist: Takashi Kojima
Gallery: Galerie Biró
Contact: Kinga Zobel
Retail: €1,700
Takashi Kojima lives and works in Japan. His jewelry is characterized by a unique geometric order. His clear, precise shapes are absolutely unmistakable. Nevertheless, Kojima is not yet established on the international scene. Galerie Biró has been working with him for a few years now. The gallery is absolutely fascinated by his skills and aesthetics and will dedicate itself to him in a first major exhibition in March 2021. Here is a small taste, ahead of time.
GALLERY CHOICE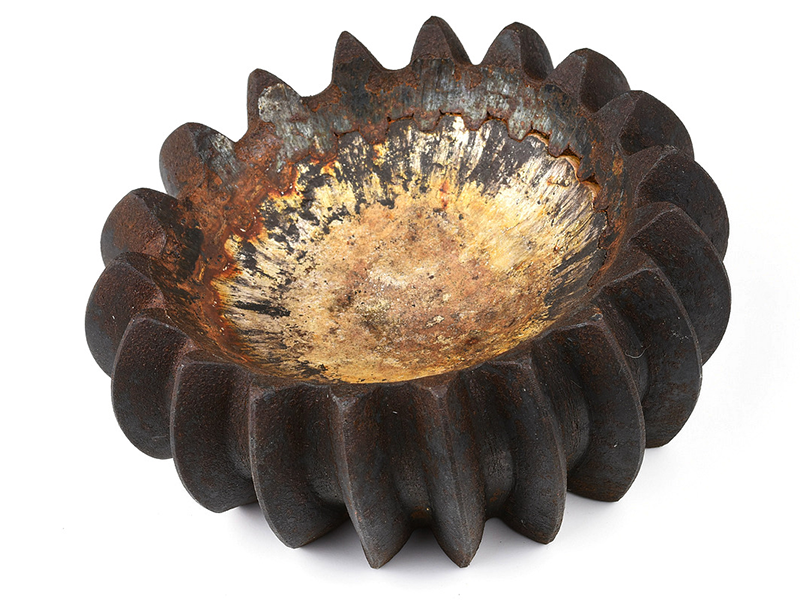 Artist: Karl Fritsch and Jon Hall
Gallery: Fingers
Contact: Lisa Higgins
Retail: NZ$5,170
In this exciting new collaboration, the jeweler Karl Fritsch and the blacksmith Jon Hall—both masters in their fields—meld their respective skills to bring us Smashtrays, an exhibition of brutal beauty. "A piece of either pure silver, copper, or aluminum is fitted into the center hole of a steel cog. A stamp is pressed into the heated metals with a hydraulic press, animating both materials. They move slowly into each other, brutally smooth, absorbing the other's character." See http://fingers.co.nz/exhibitors/fritsch_ex20.htm for full exhibition details.
GALLERY CHOICE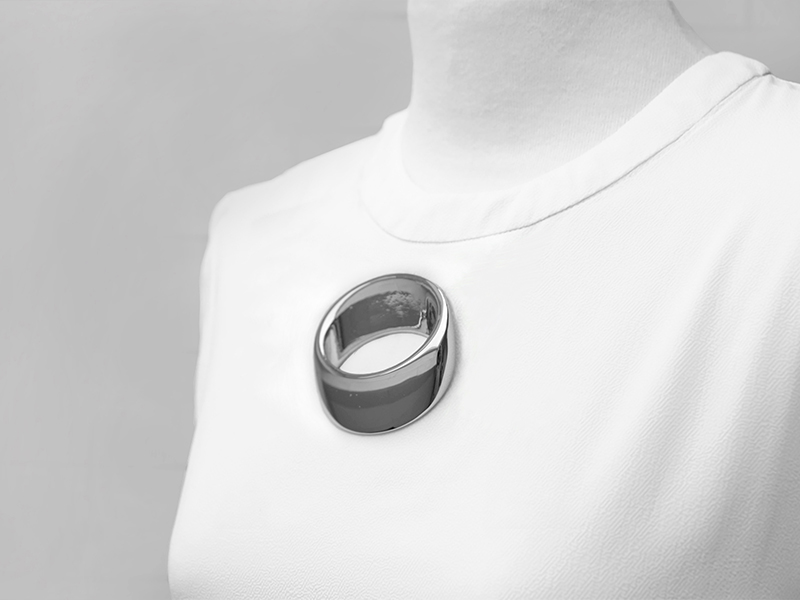 Artist: Hartog & Henneman
Gallery: Galerie Door
Contact: Doreen Timmers
Retail: €330
The best way to characterize Hartog & Henneman's art jewelry pieces is as follows: an irresistible fun-factor to well-made contemporary jewelry design. A good example is this brooch, a limited edition titled 2½ D, which is exactly what it is. This art object is flat, but not entirely. The brooch resembles a ring, a circle, but it's not a perfect circle with a perfect and equal diameter. The artistic duo managed to make a perfect and wearable optical illusion, an irresistible eye-catcher.
GALLERY CHOICE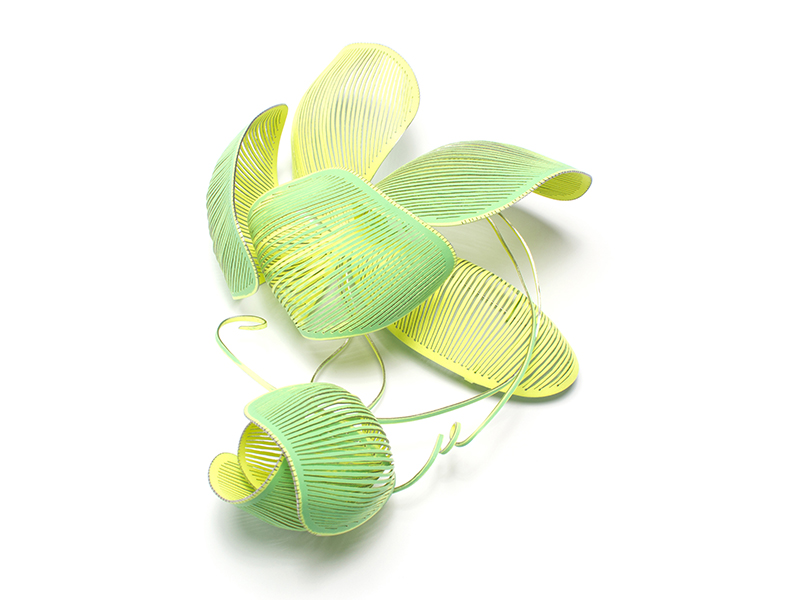 Artist: Mirjam Hiller
Gallery: Galeria Reverso
Contact: Paula Crespo
Retail: €2,200
One could say Mirjam Hiller's work is contemporary and classic at the same time, since it sends us to nature—themes somewhere between the vegetable and animal world. With a unique technique, Hiller develops all her pieces on a flat, previously colored steel plate. After sawing the object in minute detail, the various parts are bent and the three-dimensional piece is mounted. This results in extremely light pieces like this one, almost volatile, but resistant and elastic, which gives it some movement when worn on the body. An explosion of freshness and joy to cherish, body and soul.
GALLERY CHOICE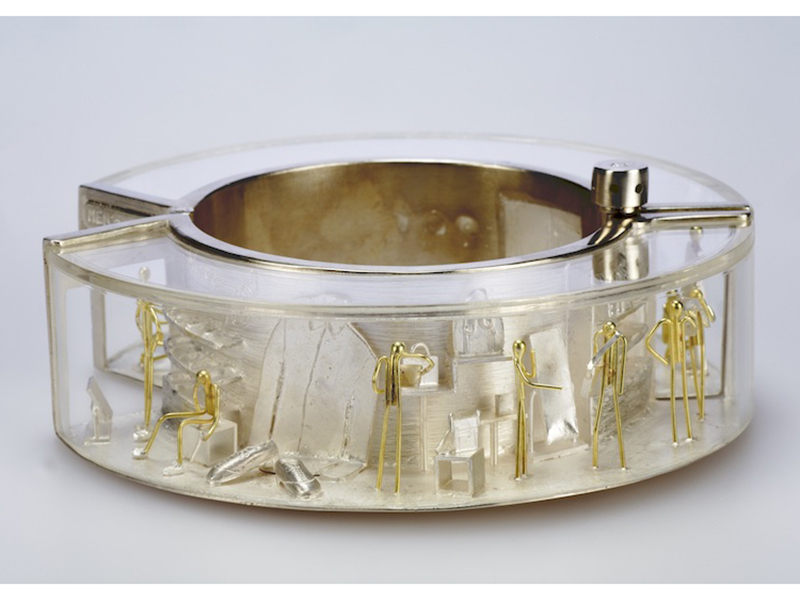 Artist: Asagi Maeda
Gallery: MydayByday
Contact: Laura Helena Aureli
Retail: €7,700
Japanese artist Asagi Maeda presents Department Store of Dreams / 4F—Men's Apparel Bracelet at MydayByday Gallery, in Rome. This bracelet is the fourth floor of Department Store of Dreams that Maeda has created. "My favorite motif is a box, or more specifically, a box as a container," she says. "It contains a world inside that is separated from the outside world. The possibilities of the inside world are unlimited. I like that the box can overflow with my imagination."