Art Jewelry Forum's network of gallery supporters has increased to more than 60 international galleries focused on featuring art jewelry. On Offer is a monthly series that allows AJF galleries to showcase a piece that they've personally selected to tempt and inspire you. Please contact the gallery directly for inquiries. Enjoy!
MUSEUM WORTHY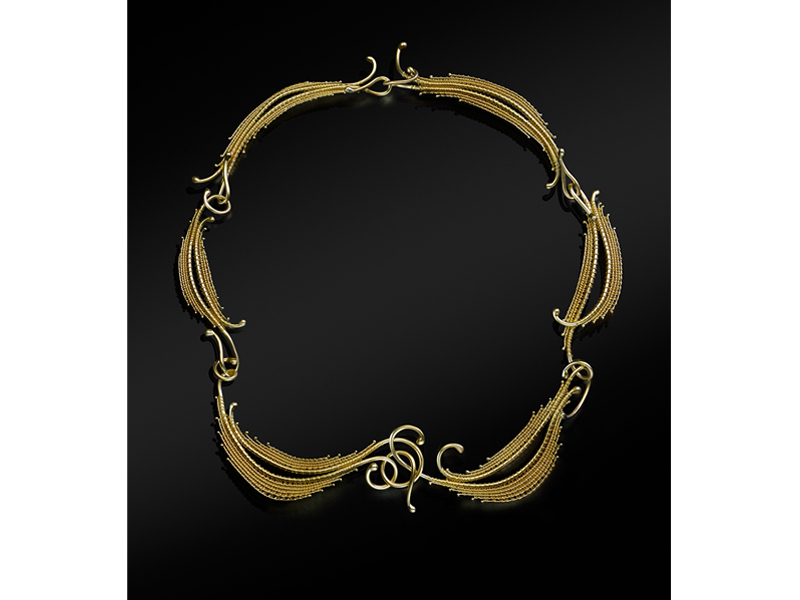 Facèré Jewelry Art Gallery—"Pattern does not explain … its beauty is determined by the freedom it gives to the viewer's imagination." —Mary Lee Hu in Ornament 6:3, 1983
Known for her finely crafted and elegant woven gold and silver jewelry, Mary Lee Hu twines, twists, and knots high-karat gold wire by hand, incorporating handweaving and textile techniques into her metalworking. These techniques and materials have been central to Hu's investigation of form and adornment for over 50 years.
Collected and shown internationally, Hu's work has been featured in over 100 publications. Her metalsmithing has been exhibited extensively in museums, including The Metropolitan Museum of Art, New York; the Victoria and Albert Museum, London; the Museum of Fine Arts, Boston; and the Renwick Gallery of the Smithsonian American Art Museum, in Washington, DC. She is the recipient of three National Endowment for the Arts Fellowships; was inducted into the National Metalsmiths Hall of Fame, Artist/Arts Educator category in 2008; and received the 2008 Twining Humber Award for Lifetime Artistic Achievement.
Choker #91 is a rare and highly wearable example of Mary Lee Hu's work. The curves and shapes of the necklace reflect her interest in botanically influenced pattern and form.
RETAIL: US$38,700
CONTACT: Madeline Courtney
---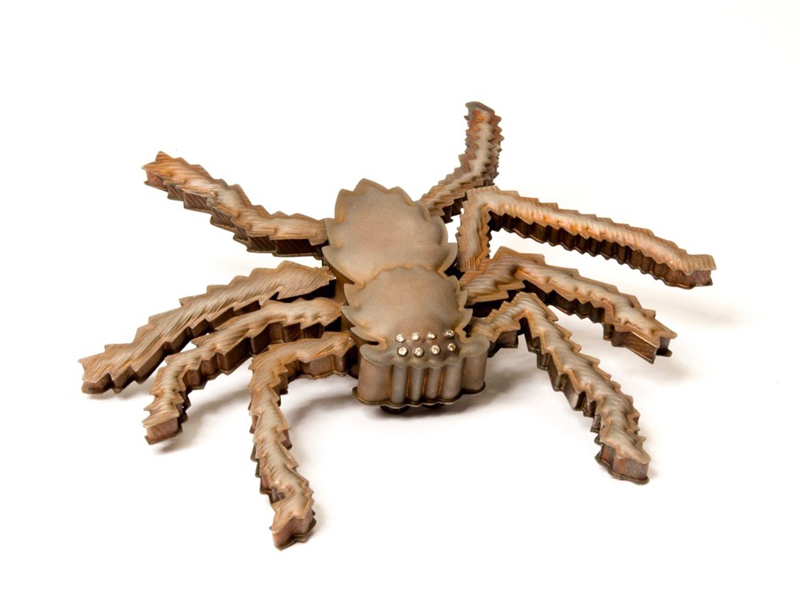 Galerie Rob Koudijs—This brooch is one of the 5 'masterpieces' Helen Britton made for the 10th Anniversary of Galerie Rob Koudijs. It's an absolutely stunning piece with movable legs as creepy as the real thing is…
RETAIL: 12,500€
CONTACT: Rob Koudijs
---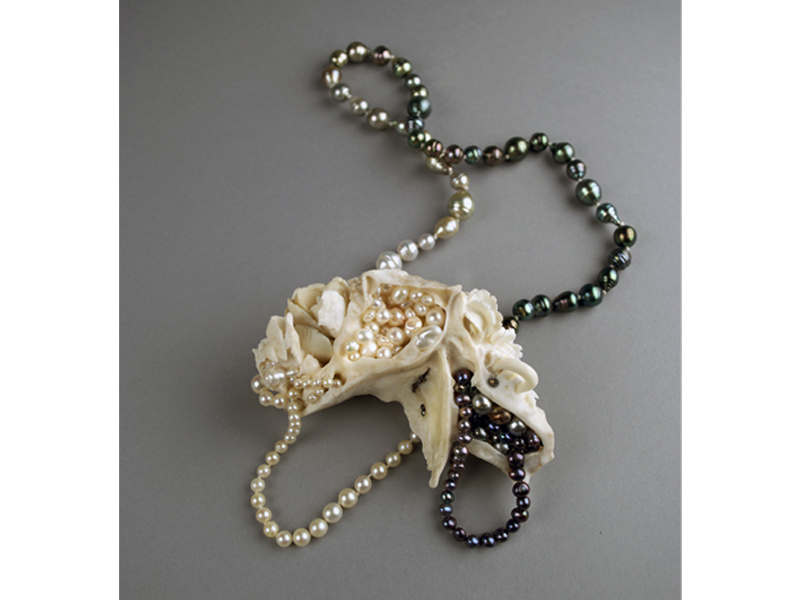 Gallery Loupe—Jennifer Trask's newest works are her most personal to date. Entitled Accretions, they focus on the heart—romantically as well as literally. This pendant, suggested by the natural curvature of a deer skull, coincidentally in the shape of a human heart, emphasizes the sentimental aspects of jewelry by its placement at the end of a long necklace of white, black, and gray pearls. The pearls attract Trask not only for their beauty and nostalgic associations but because pearl breaks down to calcium carbonate, the way bone does.
RETAIL: US$9,500
CONTACT: Eileen David
---
Gallery S O—The piece is part of Bernhard Schobinger's current solo show at Gallery S O, After Nature, which will be on display until June 25. The works in the show are pieces of rock crystal and mineral/artifact hybrids which have been domesticated into wearable objects in a way that makes it difficult to determine where the raw material ends and the artistic gesture starts, where the stone ends and the ring starts. The power and pleasure in these pieces dwells in this fine balance.
In the exhibition there is a video titled Self-portrait (1996) in which the artist is filmed while climbing onto roofs of soon-to-be-demolished houses to rescue an antique lightning conductor, like the one used in this work. Lightning conductors would absorb electricity during thunderstorms and protect the safety of the house, as a sort of amulet for buildings. In Schobinger's words, "an old lightning rod is partially a device to ward off evil, pointing back into a mythical, animistic world." The ring resembles a portable obelisk celebrating the connection between sky and earth through a symbolic transmission of energy.
In 2014, Shane Enright said, "With a lesser talent, these compositions would be little more than shocking one-liners, but Schobinger's fascination with the symbolism and history of an object, as well as its formal properties, infuses his discoveries with poignant beauty, meaning, and value."
RETAIL: Price upon request
CONTACT: Felix Flury
---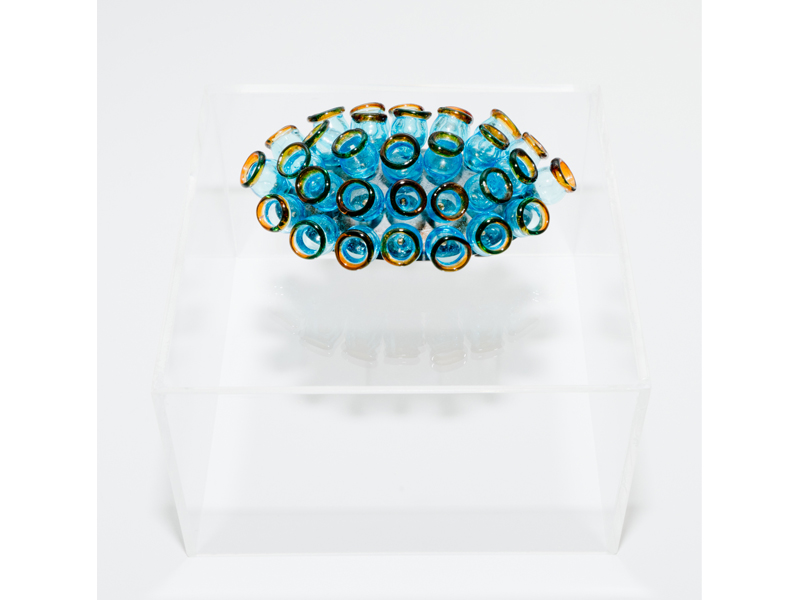 OHMYBLUE—Barbara Paganin is a master.
Her work investigates the themes of nature, memory, and beauty, often by focusing on small details and fixing them in shapes that are refined, elegant, and powerful.
Fiore di Luce (Flower of Light) is an outstanding piece of design. The oval silver body holds 31 small glass cups that the artist herself blew in Murano. They move, gently, and they make a little sound, the sound of the currents of the floating city, Venice, where the artist was born.
RETAIL: €12,000
CONTACT: Elena Rizzi
---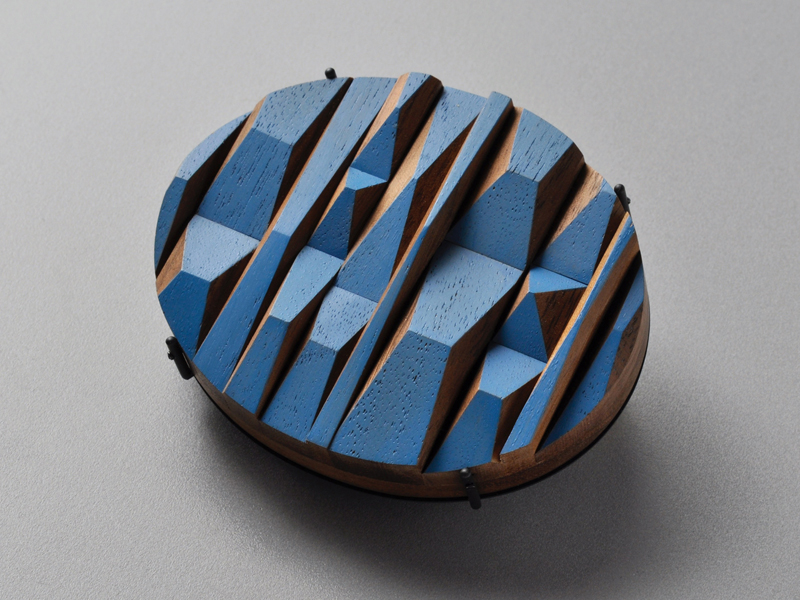 Velvet da Vinci—Julia Turner freely combines everything that interests her. She mixes hot and cold connections, carving and fabricating, wood and gold, traditional enamel and industrial paint. Her work reflects a fascination with the boundary between the human-built and natural worlds, the beauty of accidental collaborations between them, and our often funny ideas about what we can and can't control.
Turner writes, "I watch the wood transform, break, absorb color, smooth down, or splinter off, showing its structure and its weak points. Everything changes, and everything that falls away makes room for something new."
RETAIL: US$1,500
CONTACT: Mike Holmes
---
ESTABLISHED ARTIST
QUOIL Gallery—This statement piece by Phillipa Gee has been achieved by carefully heating aluminum sheet to the melting point, which produces holes in places. It's lightweight and comfortable to wear; it may be worn around the wrist or pushed up onto the forearm. The surface has been sprayed with high-quality paint, then rubbed back to allow the metal to show through.
Phillipa recently completed a graduate diploma at Whitireia, New Zealand, where she experimented widely with many materials. This piece is part of a new collection in which she's building on those experiments.
RETAIL: NZ$300
CONTACT: Hortense Rothery
---
EMERGING ARTIST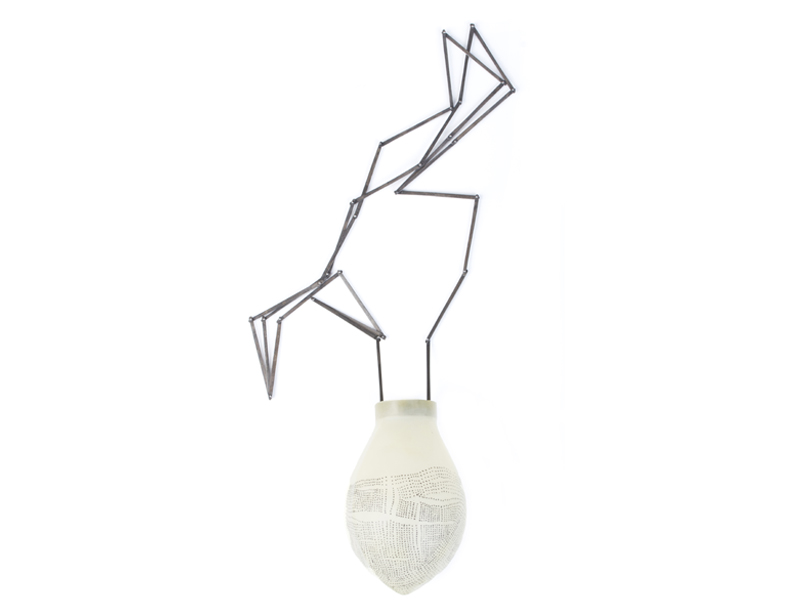 Baltimore Jewelry Center—Jolynn Santiago's piece, Tension, is at once elegant and playful. She has taken a balloon, an everyday, easily overlooked object, and created an elegant pendant with it using only a permanent marker. The viewer can manipulate the pendant in a variety of ways. The articulated chain is simple, elegant, and well-crafted and is nicely juxtaposed with the delicate balloon.
This necklace is featured in our current exhibition, Touchy/Feely. The show explores the tactile nature of jewelry, inviting viewers to engage with the work on display by touching and holding each piece. Jewelry is an intimate and sensual art form, providing a tactile experience for both the wearer and the observer. It's an excellent medium for exploring the unsung sense of touch.
RETAIL: US$400
CONTACT: Shane Prada
---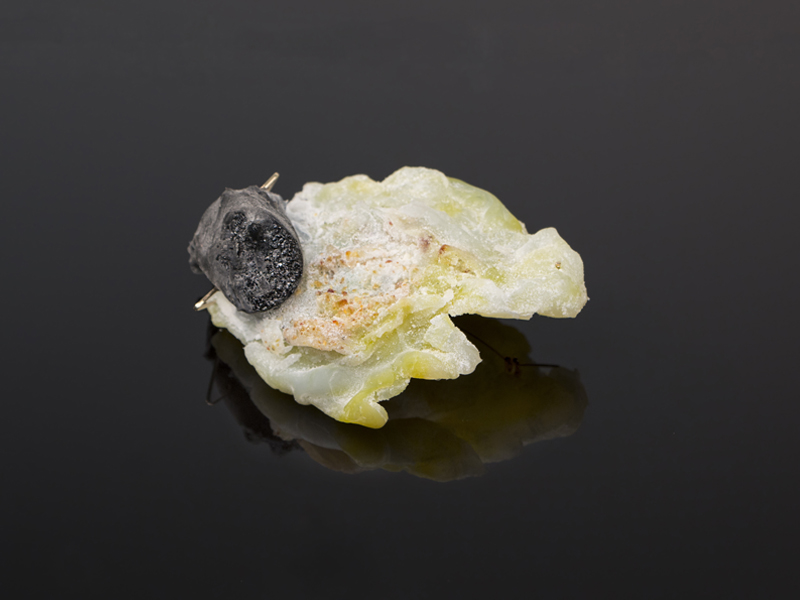 The Gallery at Reinstein|Ross—Jelizaveta Suska won the Herbert Hofmann Prize in 2016 for this body of work. By combining natural and artificial materials, like crushed marble with polymer, she has created an ultra-lightweight substance that she shapes to resemble minerals. The series of Night brooches are meant to evoke a feeling of mystery and darkness.
RETAIL: US$880
CONTACT: Bella Neyman
---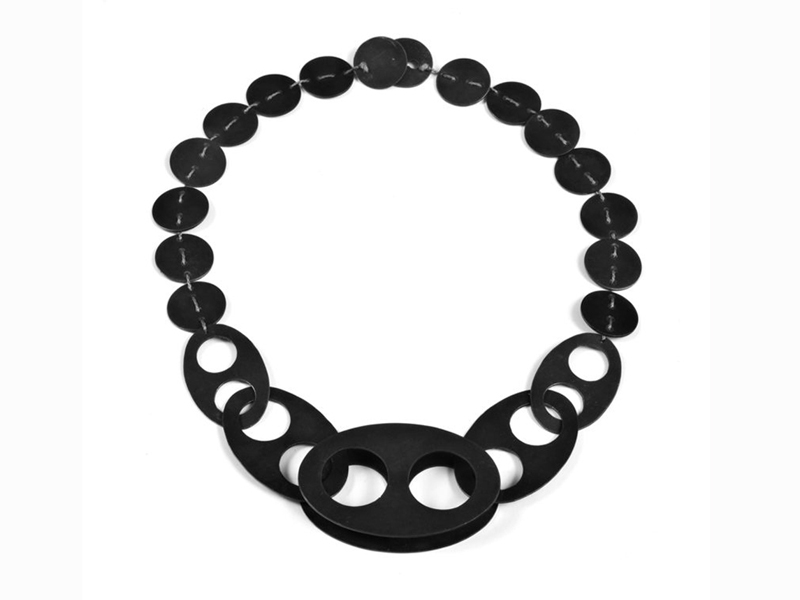 Lillstreet Gallery—Lindsey Snell is an emerging artist whose work is often the convergence of two things that feel very separate. In this piece you can see the influence of the shipping docks adjacent to her studio, as well as her love for 1960s costume jewelry. The shipping docks' heavy chains and cords serve as an awesome visual resource for Lindsey as she flattens and reduces them to their most basic qualities. Lindsey's grandmother was the buyer for the makeup and jewelry counter at their family-owned pharmacy, instilling in Lindsey her appreciation for costume jewelry. Linkage combines these seemingly disparate ideas in the form of blackened steel sheet that has been hand-pierced, soldered, and hand-stitched together.
Lindsey studied metalsmithing and jewelry at the University of Illinois at Urbana-Champaign, where she received her BFA and MFA. Her contemporary jewelry has been exhibited across the US, including the nationally noted exhibition Craft Forms. In addition to her studio practice, Snell teaches metalsmithing classes and tutors students of all ages in Portland, Oregon, where she currently resides.
RETAIL: US$600
CONTACT: Nora McCarthy
---
GALLERY CHOICE
Brooklyn Metal Works—Samuel Guillén is an accomplished jeweler who conceives, designs, and fabricates all of his work in limited editions. His pieces feature repetitive patterns created by using hollow construction techniques in sterling silver.
Guillén's most recent work takes inspiration from the entanglements of metallic elements that constitute urban and industrial landscapes: rough steel, cabling, scaffolding, tubing, etc. By transforming these structures, he creates arresting visual elements that play recurring themes in his jewelry.
His work has been shown at the Centro Cultural Secaderos in Caracas, Venezuela, and at the Instituto Tomie Ohtake design store in São Paulo, Brazil. His last solo exhibition, titled Samuel Guillén: Recent Jewelry 2015, took place at Davis & Langdale Company in New York. Guillén lives and works in New York.
This bracelet is part of a series in our current exhibit, Ping-Pong: David Hardcastle & Samuel Guillén 2 Jewelers in Conversation.
RETAIL: US$4,400
CONTACT: Brian Weissman
---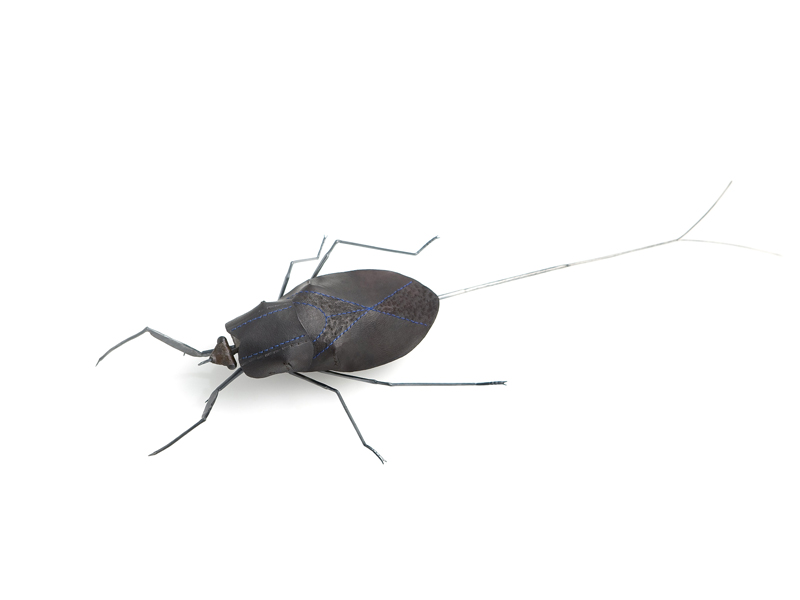 Four—Insects are a classic motif throughout the history of jewelry. Scarabs, butterflies, and dragonflies in precious metals covered in diamonds, emeralds, and sapphires swarm everywhere. Insects are also a reccurring theme in the contemporary jewelry world: Georg Doblers' beetles in silver, Marta Mattsson's cicada pieces, and the brooches by Karin Johansson that form an impressive collection of butterflies. The insects made by South Korean artist Lee Yojae have a size that changes the relationship to the wearer. By mixing different types of metals and leather, Lee creates artwork that will capture you both figuratively and literally.
RETAIL: 30,000 SEK
CONTACT: Karin Roy Andersson
---
galerie beyond—For this piece, Florian Milker combined shapes, materials, and techniques trying to interpret our multicultural habitat. With the contrast of transparency, flexibility, color, and the different characteristics of the materials, he wanted to find a relationship between them. In the formal aspect, he was inspired by the grotesque ornaments he often saw on old buildings. The idea was to transform them into a new meaning by using modern technologies and their possibilities for generating shapes, and to fake multiple aesthetics of precious by using (nonprecious) less expensive materials.
RETAIL: €790
CONTACT: Rene Darmont
---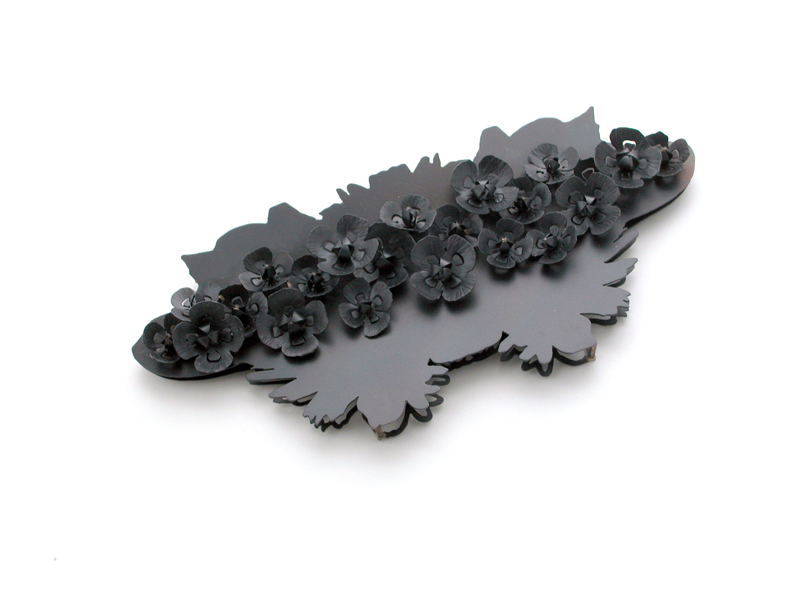 Galerie Noel Guyomarc'h—Initially a painter, Sondra Sherman became drawn to jewelry when she recognized adornments as a medium for empathically reaching out to the social and personal self of individuals.
Her brooches, whose silhouettes evoke traditional elaborated corsages, include shapes and forms from botanical psychopharmica, that is to say botanicals used for treating social anxiety and depression, such as opium (poppy), belladonna, and nicotine. By combining the two, she aims at expressing psychological states in social relations, at questioning the increasing need for medicinal treatments, and at examining the social conditions which created so much anxiety. Her preoccupation for psychopharmica also came from her familial background, her mother being a therapist and her father a pharmacist. "FTD," a common acronym for Florist's Transworld Delivery, is also the acronym for "Formal Thought Disorder," a term used in psychiatry to describe a pattern of disordered language. Rorschach Corsages evolved from her two previous series: the brooches are now bilaterally symmetrical forms, the front surface presenting the public persona while the elaborate back sides are inspired by the emotional states we do not proclaim in public.
RETAIL: US$6,000
CONTACT: Noel Guyomarc'h
---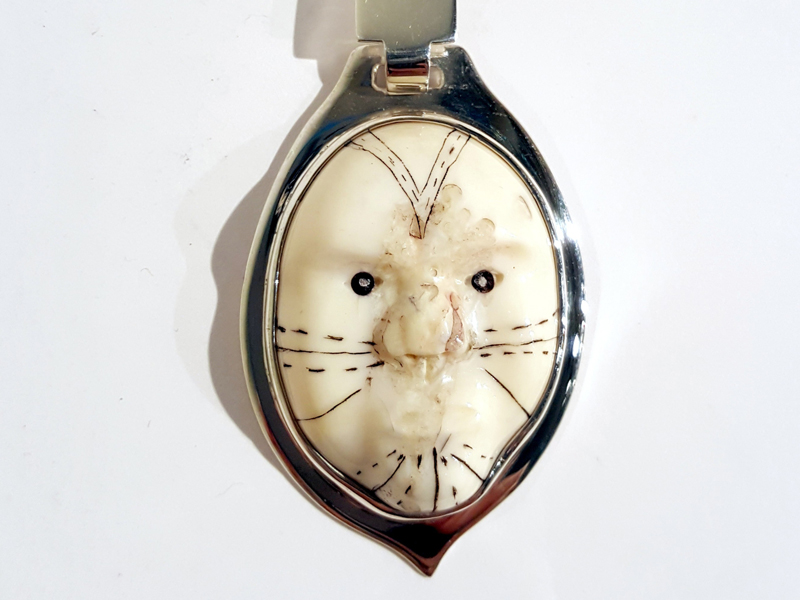 L.A. Pai Gallery—Gregory Morgan is an artist who lives in Iqaluit, Nunavut. A recognized carver of soapstone, bone, ivory, and antler who participated in the 2014 Venice Biennale, he has recently won the commission for the Iqaluit airport permanent installation. Gregory has just graduated from the Nunavut Arctic College's two-year jewelry and metalwork program. In Inuit culture, the tattoos on a woman's face signify different experiences in a woman's life; the lines on the chin signify the number of children she has, for example. The tattoos were achieved by drawing the finest caribou bone needle and sinew thread through soot and then running it under the skin.
RETAIL: CAN$975
CONTACT: Lisa A. Pai
---
OONA Gallery—Helen Friesacher chose the most harmonic and perfect shape to achieve her splendid and powerful collaret. By folding the single circles right in the middle, she creates a sculptural volume that always leads to different sights. Helen is very experienced in dealing with enamel coloring. For this work she chose dark garnet red. The color is spirited, changing between very dark and lighter red, especially in the folds. This piece has an additional quality as well—it is a beautiful piece of jewelry that needs to be worn.
RETAIL: €1,800
CONTACT: Anna Schetelich
---
Patina Gallery—To create this pendant, Sandra Enterline drills thin sheets of silver to create tiny perforations, making the metal delicate and mysterious. This pendant makes a statement on the neck. A deep oxidized surface, made lighter by the tiny holes piercing the surface, allows soft light to accentuate the dark exterior. In this classic piece, the maker exploits a simple sculptural object that over time reveals what at first is not obvious—layering and complexity that animate the piece with the tension between the erotic and the mechanical.
RETAIL: US$890
CONTACT: Linda Childers
---