Art Jewelry Forum's extensive network of international
gallery supporters
is dedicated to celebrating and showing art jewelry. On Offer is a monthly series that allows AJF galleries to showcase a piece that they've personally selected to tempt and inspire you. Please contact the gallery directly for inquiries. Enjoy!
MUSEUM WORTHY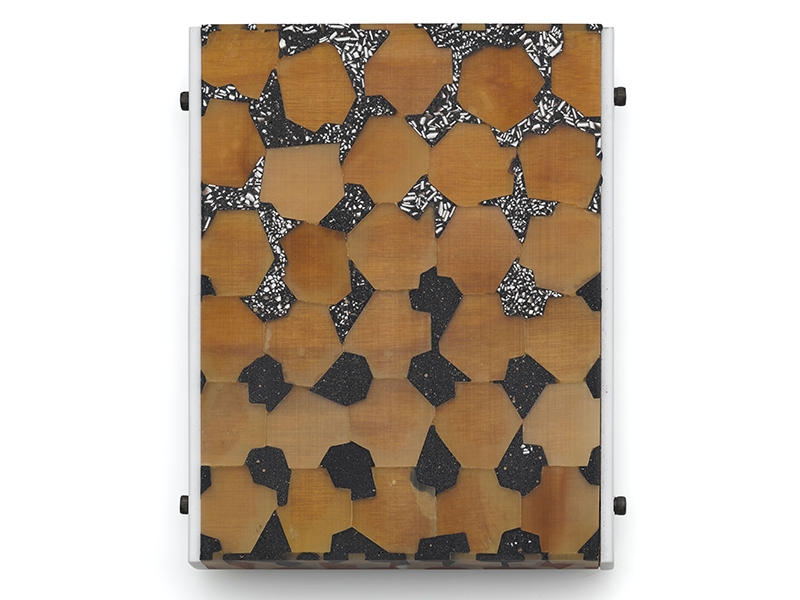 Artist: Thomas Gentille
Gallery: Gallery Loupe
Contact: Patti Bleicher
Retail: US$9,500
This contemplative work by Thomas Gentille exemplifies his consideration of materials and his meticulous attention to detail. To quote Bruce Metcalf's Metalsmith review of the exhibition Color Light Air, in which this piece appeared, "Here is a jeweler at the height of his powers…"
MUSEUM WORTHY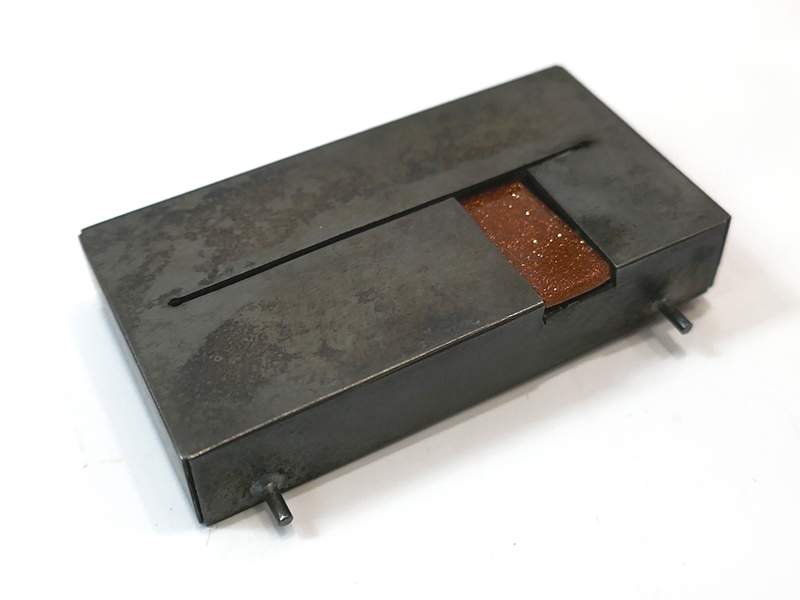 Artist: Winfried Krüger
Gallery: Galerie Spektrum
Contact: Jürgen Eickhoff
Retail: €1,900
Winfried Krüger, German, born in 1944, was for a long time an important teacher in Pforzheim, which made for a very good influence on the young generation. He always took his works a step further than most of his colleagues. He's one of the classics and should be included in important collections. This brooch is a typical piece representing the way he worked in the first decade of the 21st century.
MUSEUM WORTHY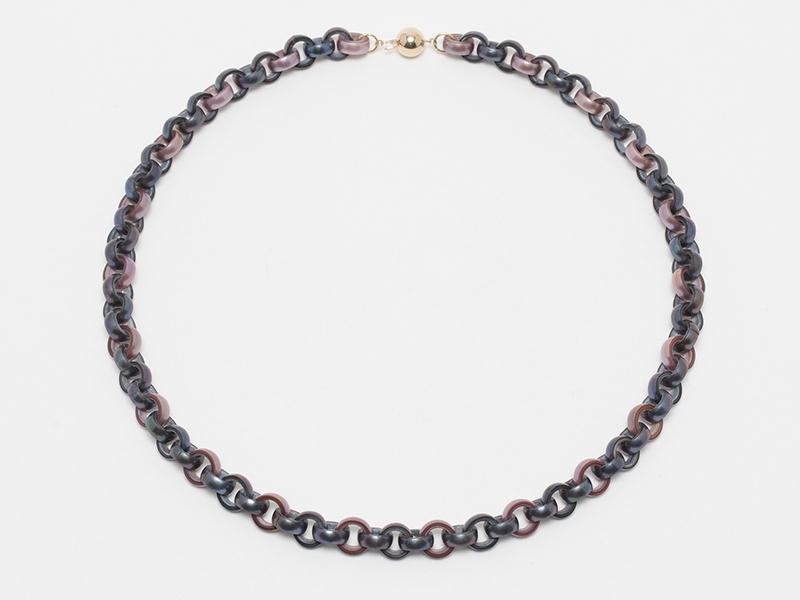 Artist: Lin Cheung
Gallery: Gallery S O
Contact: Katharina Dettar
Retail: £6,000
Virginity, girlhood, marriage, dowry, wisdom, femininity, fertility—a string of pearls is too overloaded with cultural and symbolic meaning for many women to wear comfortably, proclaimed feminist or not. Feeling exactly such reservations, Lin Cheung wanted to accommodate her mother's gift of a string of pearls, but rework it in a way that suited her taste and skills. Subtle, rhythmic, and elegant, Cheung's Mauve & Peacock Pearl Chain Necklace has thrown away the gendered overtones of pearls and instead highlights them for their essential and iridescent beauty. They're no longer weighed down, but are instead elevated and liberated, refined.
MUSEUM WORTHY
Artist: Kim Buck
Gallery: Galerie Elsa Vanier
Contact: Elsa Vanier
Retail: €4,100
It's easy to overlook the ingenuity and humor behind this design when the surface looks like a simple, clear, geometric figure. This is a feature characteristic of much of Kim Buck's work. Born in 1957, Buck has been a goldsmith since 1982. The Danish artist has taught in Sweden and is a guest teacher in Nanjing, China. The series Inflated, from 2011–2017, is a commentary to his craft that blends both message and technique. The Puffed Up pendant is made of fine gold sheets that have been welded together then inflated, so—true to metaphor—they are filled with hot air.
MUSEUM WORTHY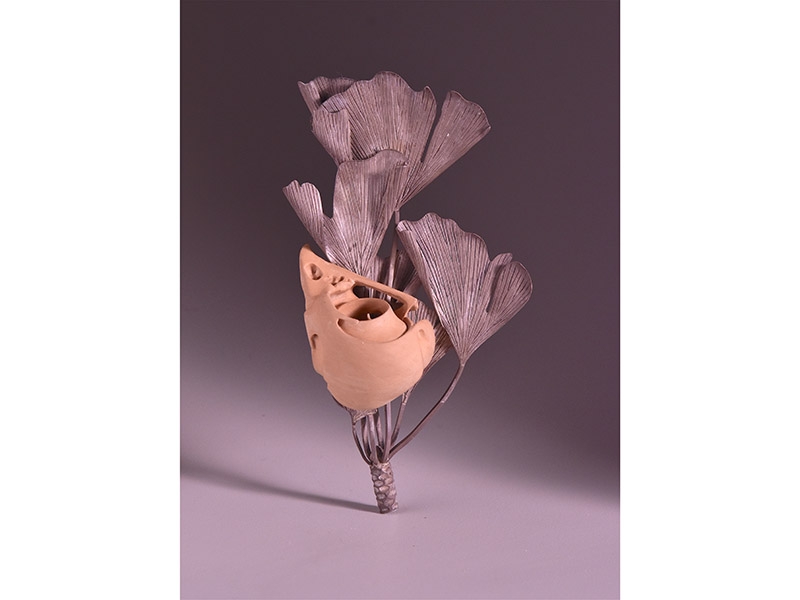 Artist: Bruce Metcalf
Gallery: Galerie Rob Koudijs
Contact: Rob Koudijs
Retail: €4,000
Bruce Metcalf has developed a highly personal visual language in which the emphasis has shifted from critical and anecdotic to a prominence on shape and the expressiveness of the surface. That doesn't mean that his work is nowadays merely decorative. Nearly always, associative layers support the visual image.
ESTABLISHED ARTIST
Artist: Jamie Bennett
Gallery: Galerie LA Joaillerie par Mazlo
Contact: Céline Robin (curator)
Retail: €5,800
One of the most prominent and influential contemporary jewelers, Jamie Bennett is mostly known for his exceptional mastery of enamel technique. It's a discipline rooted in an ancestral tradition but which he nevertheless still contributes to renewing, by creating new forms as well as by inventing original techniques and textures. He has been exploring his medium for 40 years, building an impressive body of work now featured in the permanent collections of over 25 museums internationally, including the Metropolitan Museum of Art, New York; the Victoria and Albert Museum, London; the Musée des Arts Decoratifs, Paris; and the Hermitage Museum, in St. Petersburg, Russia. This brooch is part of his latest series, Taken Place, and stands out with its intricate composition in three panels while showing characteristics of its author's style: fluid lines, reproducing all the freshness of a freehand drawing, combined with bold color and a network of geometric and abstract patterns, all displayed on an opaque enamel background.
ESTABLISHED ARTIST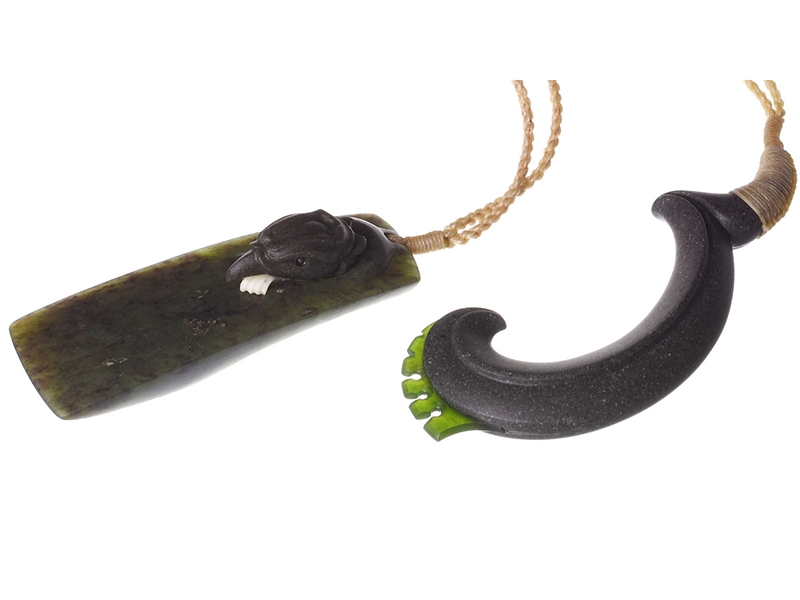 Artist: Johnathan Percy
Gallery: Fingers Gallery
Contact: Lisa Higgins
Retail: Each NZ$1,060
Johnathan Percy is originally from Christchurch but is now based in the Waikato. He strives to create high-quality contemporary carvings from a range of different materials using the skills he learned while studying for his diploma in jade and hard stone carving at Tai Poutini Polytechnic. His influences and interests in stone stem from the long-standing use of stone by mankind and the role this technology has played in our evolution throughout the ages. Nature is also a heavily influential contributor to his work, especially New Zealand's rich bird life.
ESTABLISHED ARTIST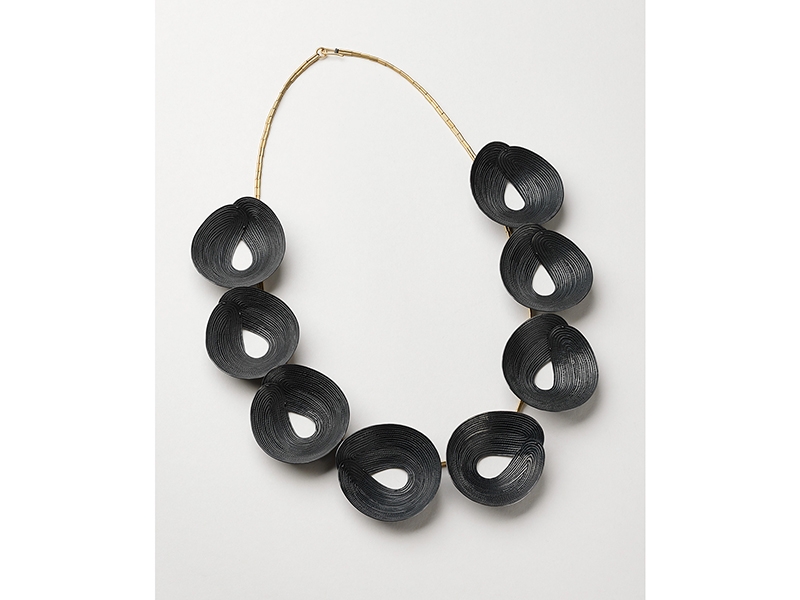 Artist: Julie Blyfield
Gallery: Gallery Funaki
Contact: Katie Scott
Retail: AUS$5,200
Julie Blyfield is a South Australian artist renowned for her work inspired by collected botanical specimens and forms. Using the traditional metalsmithing techniques of chasing and repoussé, Blyfield creates intricately textured pieces that capture the essence of the natural Australian landscape. She exhibits her work internationally and has pieces in the permanent collections of the Musée des Arts Decoratifs, in Paris, and Victoria and Albert Museum, in London. Black Pea Necklace was featured in Rare Collection, an exhibition of works Blyfield developed in response to the 1861 book of plant illustrations Wild Flowers of South Australia, by Fanny de Mole.
MID-CAREER ARTIST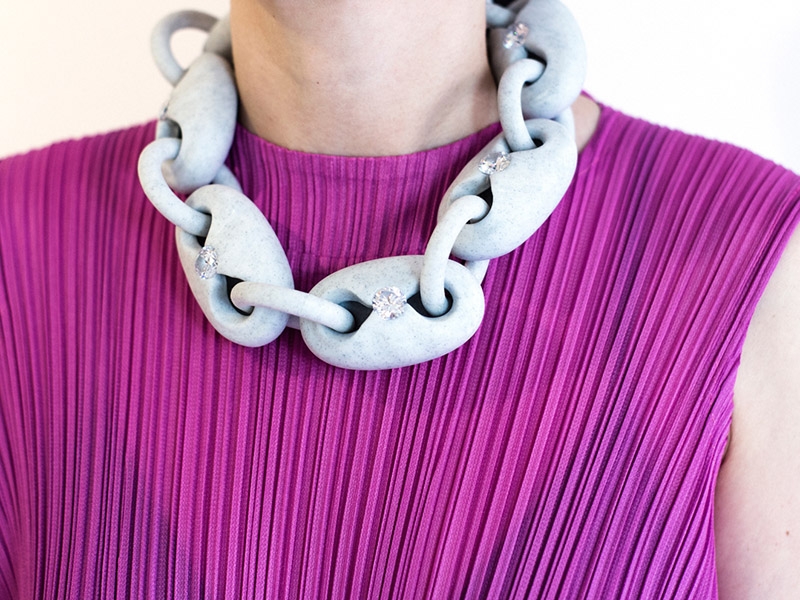 Artist: Adam Grinovich
Gallery: OHMYBLUE
Contact: Elena Rizzi
Retail: €1,776
Using one of the most basic home 3D printers, this piece was created exclusively for Fotocopy Season 3—hosted at OHMYBLUE—and is made of synthetic marble. The works in this series, made with consumer-grade tools, are elevated to the state of fine jewelry via references to high-fashion brands and classical sculpture.
MID-CAREER ARTIST
Artist: Sang-deok Han
Gallery: Irene Belfi
Contact: Irene Belfi
Retail: €600
Sang-deok Han, from Korea, addresses sociopolitical issues, talking about the connections and contrasts between human beings and nature. The artist creates surreal jewels and sculptures that resemble abstracted organic shapes. Han uses materials such as iron, steel, wood, and resin to create brooches, which are often accompanied by drawings and illustrations. His pieces possess an ambiguous and highly sarcastic character.
MID-CAREER ARTIST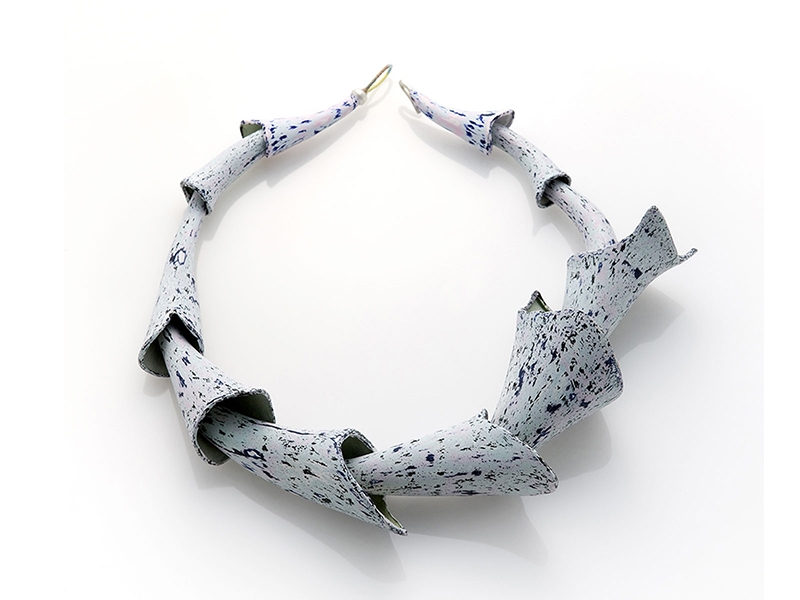 Artist: Heejoo Kim
Gallery: Galerie Noel Guyomarc'h
Contact: Noel Guyomarc'h
Retail: CAN$2,800
Heejoo Kim uses the technique of layered enamel on electroformed organic forms. However, it reveals the different colors as traces of time, of life, of our experiences. Nested conical shapes can evoke steps that build us.
EMERGING ARTIST
Artist: Kristy Bujanic
Gallery: Baltimore Jewelry Center
Contact: Shane Prada
Retail: $250
Kristy Bujanic graduated as a jewelry designer from the PXL-MAD School of Arts with her master's project, The Cabinet of Love for a Bit of Fluff. Since graduating in 2017, and particularly during her time as a resident artist at the Baltimore Jewelry Center this year, the Belgian artist has continued to research the possibilities of communicating her childhood memories and feelings through jewelry and objects. These feelings are personal but still very recognizable. Her focus lies in balancing a simultaneous duality between love and disgust. The materials she uses enhance these feelings and evoke recognition. In this piece, Bujanic places recycled bailing twine within the context of jewelry. By pairing the twine with pearls, she juxtaposes valueless materials with precious materials.
EMERGING ARTIST
Artist: Dana C. Fear
Gallery: Gallery 2052
Contact: Nora McCarthy
Retail: US$275
Dana C. Fear has a BFA in metals from Ball State University and lives in Leelanau County, MI, USA, with her three young kids. She employs the use of repetition, the stability of geometric structures, and the playfulness of kinetic elements to create wearable works of art and engineering. The sophisticated aesthetic of Fear's design is appealing even when static, but many wearers find a sense of comfort and control as the jewelry responds to the movement of their body.
EMERGING ARTIST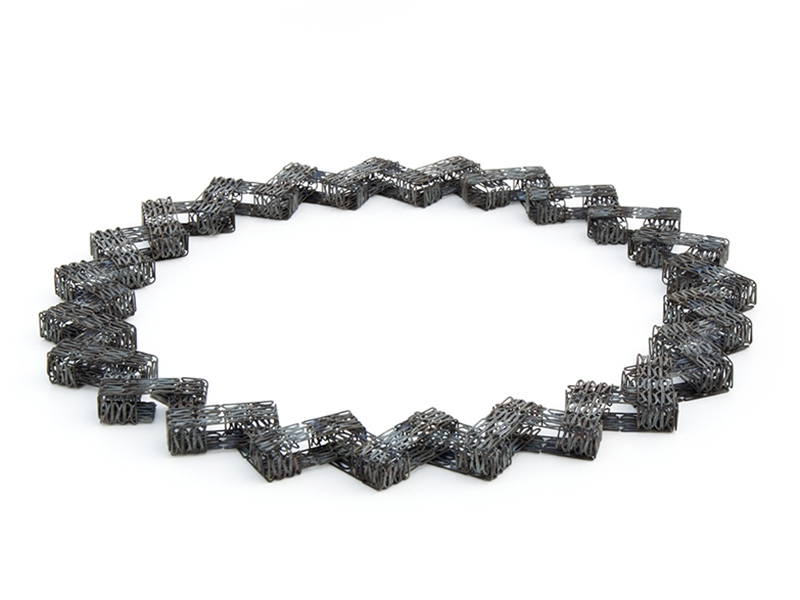 Artist: Jess Tolbert
Gallery: In the Gallery at Brooklyn Metal Works
Contact: Brian Weissman
Retail: US$1,100
Jess Tolbert's work explores and reconsiders the commonplace, where everyday mass-produced materials become personal, intimate objects. Here Tolbert's jewelry builds a tangible link between the repetitive actions that create the humble staple to the pattern and rhythm of the staple's daily use. With this process, Tolbert produces complex, elaborate, and ultimately beautiful pieces of wearable art.
GALLERY CHOICE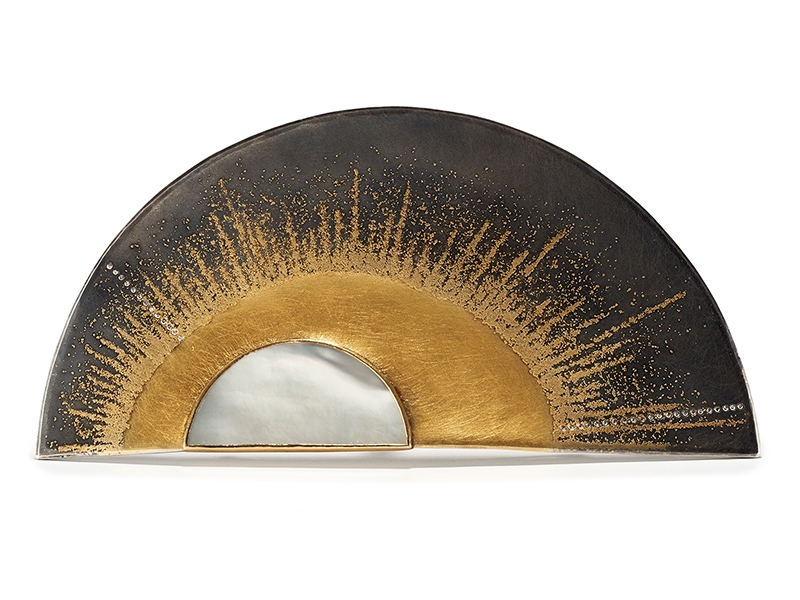 Artist: Peter Schmid, Atelier Zobel
Gallery: Patina Gallery
Contact: Allison Barnett
Retail: US$10,180
Passion burns ablaze in this exquisite composition by none other than the brilliant jeweler Peter Schmid, of Atelier Zobel. Upon a hemisphere of oxidized sterling silver, Schmid fuses the terrain with touches of high-karat gold. Spires of dust, dancing upon its textured surface, billow to the gloriously saturated pool of gold in the core of the piece. Harbored at the heart of Schmid's work is opalescent mother-of-pearl. With the mere meet of the light, its gleaming reflection echoes the soft tones of blush and blue that travel across its glowing complexion. Twinkling rays of diamonds balance the work, just the brilliance needed to complete the piece. With minimal effort, the brooch is fitted by the seamless collection of a pin catch, adhered to its back. In addition to this, Schmid has masterfully included two silver bails, so the piece may be worn as a pendant. As dynamic and versatile as its skillful maker, this piece will fulfill one's most soul-stirring engagement.
GALLERY CHOICE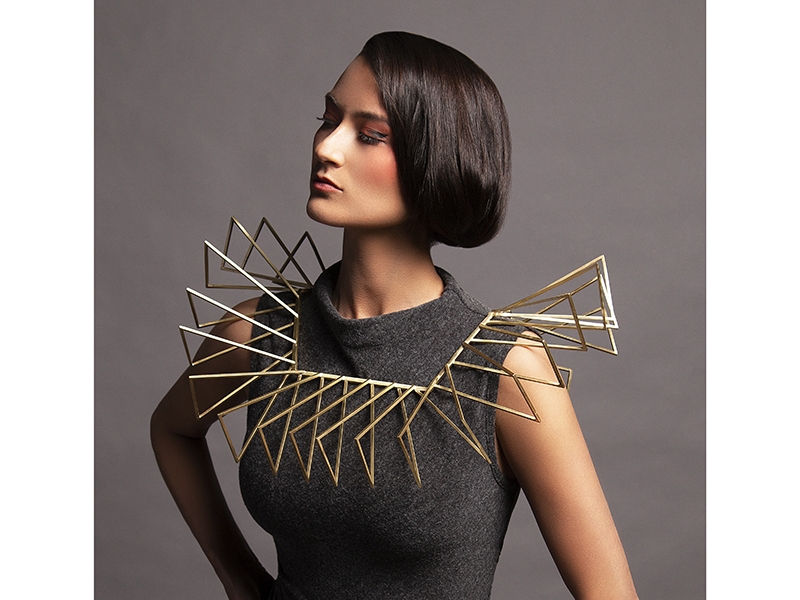 Artist: Jesse Mathes
Gallery: Taboo Studio
Contact: Jane Groover
Retail: US$5,200
Jesse Mathes's dramatic neckpieces incorporate geometry and architecture to reflect the extravagant collars of Elizabeth I, and are suggestive of the defensive posture of animals. They allude to a woman's need to establish personal space and empower herself through adornment.
GALLERY CHOICE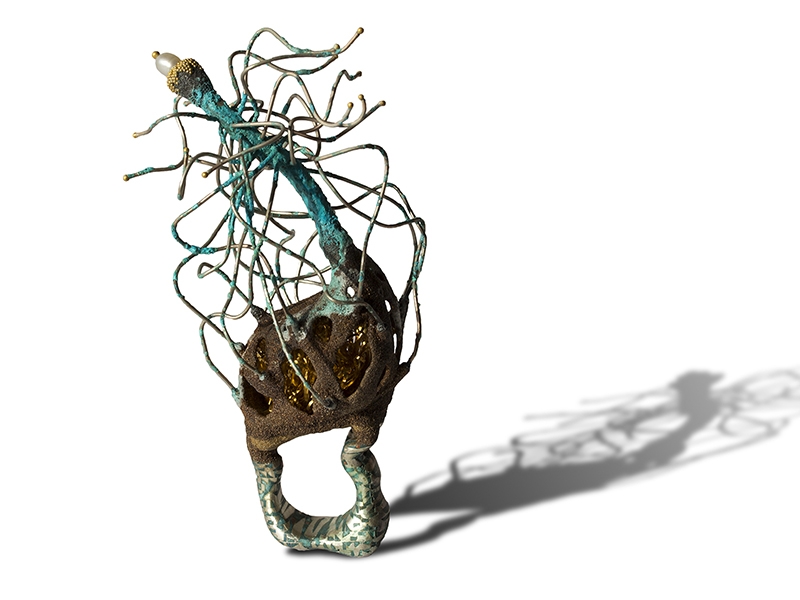 Artist: Arata Fuchi
Gallery: Aaron Faber Gallery
Contact: Patricia Kiley Faber
Retail: US$2,450
Arata Fuchi creates hand-fabricated jewelry-as-sculpture, his organic forms often appearing outsize or overgrown. The works are intimate in their detail, with miniscule granules of pure gold set in silver, or tiny granules embedded in large forms, all of which Fuchi fabricates by hand, working with microscopic-level magnification. Fuchi notes, "Artificial shape doesn't exist in organic life, mysterious power operates, and beautiful shape comes. And it's full of vital energies. I think that I can give the life to jewelry that uses only an inorganic material by receiving the inspiration from organic life." Fuchi graduated from the industrial design department of Tokyo Zokei University, and the Le Arti Orafe school for goldsmiths in Florence, Italy, and has been creating his own jewelry since 2006 in both Japan and Italy.
GALLERY CHOICE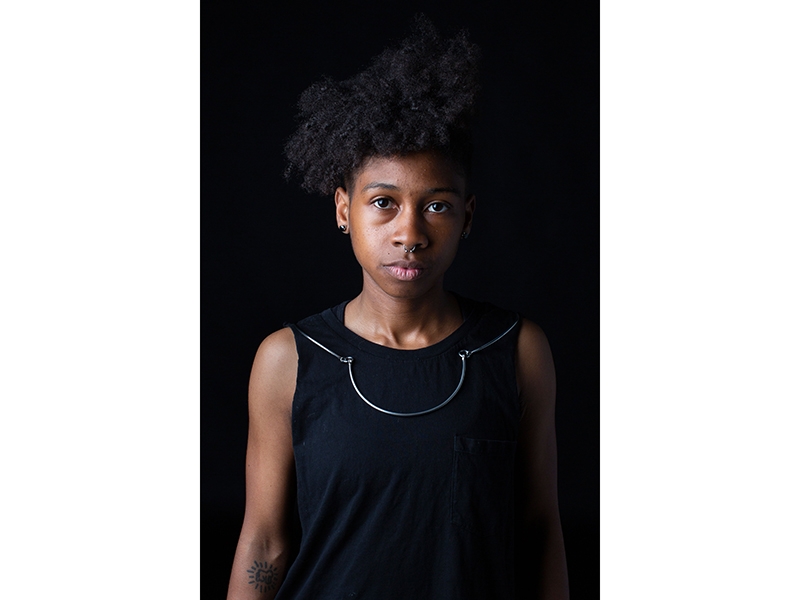 Artist: Rebekah Frank
Gallery: Ornamentum
Contact: Stefan Friedemann
Retail: US$1,300
Clear, simple, seductive designs that transform when placed on the body, Rebekah Frank's new necklaces create a confident graphic on the torso. This is just one of the pieces in her summer exhibition, Just Add Flesh, at Ornamentum.