There are so many reasons to purchase art jewelry: You received that hard-earned promotion—celebrate! You're experiencing a once-in-a-lifetime occasion and want to honor it. You wrapped up a major accomplishment and it's time to commemorate it, or you want to mark the beginning of a new relationship (or the end of one). Perhaps it's an investment, or the perfect piece to round out an aspect of your collection. Or maybe it's just to treat yourself—just because.
Art Jewelry Forum's international gallery supporters celebrate and exhibit art jewelry. Our monthly On Offer series allows this extensive network of international galleries to showcase extraordinary pieces personally selected to tempt and inspire you. Take a look. You're bound to find a fantastic piece you simply have to add to your collection! (Please contact the gallery directly for inquiries.)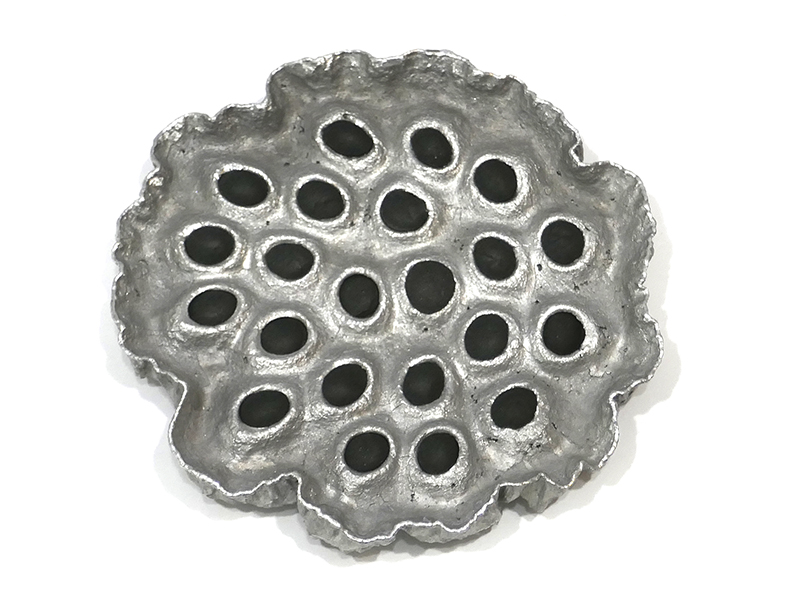 Artist: Georg Dobler
Gallery: Galerie Spektrum
Contact: Jürgen Eickhoff
Retail: €1,100
This is a wonderful, light, and easy-to-wear brooch—a real Georg Dobler cast from nature.
Artist: Sarah Perkins
Gallery: Metal Museum
Contact: Alicia George
Retail: US$525
Sarah Perkins is an accomplished artist and enamelist with a career spanning more than three decades. She's best known for her hand-formed and enameled metal vessels and containers. Her colorful, detailed metalwork has been shown in the United States, India, Canada, Europe, Korea, and Taiwan, and in over 300 competitive and invitational exhibitions. In 2019 she was chosen as the Metal Museum's Master Metalsmith. Perkins is now Professor Emerita at Missouri State University (Springfield, MO), where she taught from 1994 to 2017. Invoking the dangerous beauty of sea creatures and plant forms, this enameled pendant is one-of-a-kind.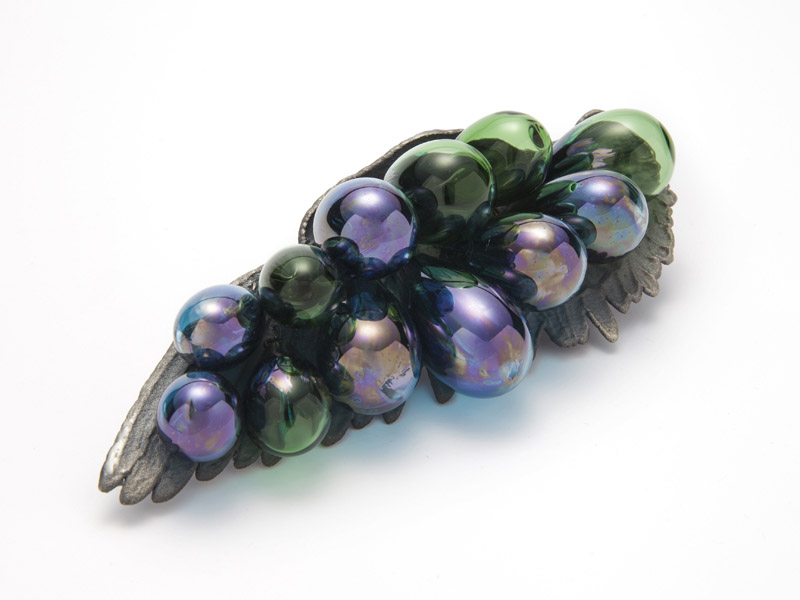 Artist: Evert Nijland
Gallery: Galerie Rob Koudijs
Contact: Rob Koudijs
Retail: €3,900
Wings have often been depicted in art: on angels or mythological animals (Michelangelo's drawing of Zeus in the guise of an eagle) and in nature studies (for instance by the 16th-century artist Adriaan Collaert, or Dürer's wing of a Blue Roller, quite a remarkable picture, by the way: world renowned, but the actual piece of parchment measures barely 20 cm square, while the wing belongs to a relatively small bird. Yet the image has a monumental expressiveness—a fitting analogy with the often-surprising potential of art jewelry). Evert Nijland copied, adapted, and expanded several drawings and etchings. Even the subtlest hatching on the original sheets remained intact on the silver casts that were the result of his endeavors. The next phase was the addition of generous, associative enrichments, to make each piece take flight. They can be specific visual quotes, or intended as images representing abundance or strength. In addition, there's always a focus on how light can bring a piece to life, on the effect of a shiny or perhaps matte finish. The artist isn't aiming to produce a realistic, recognizable result. Rather, he wants us to be seduced and intrigued, enticed and stimulated.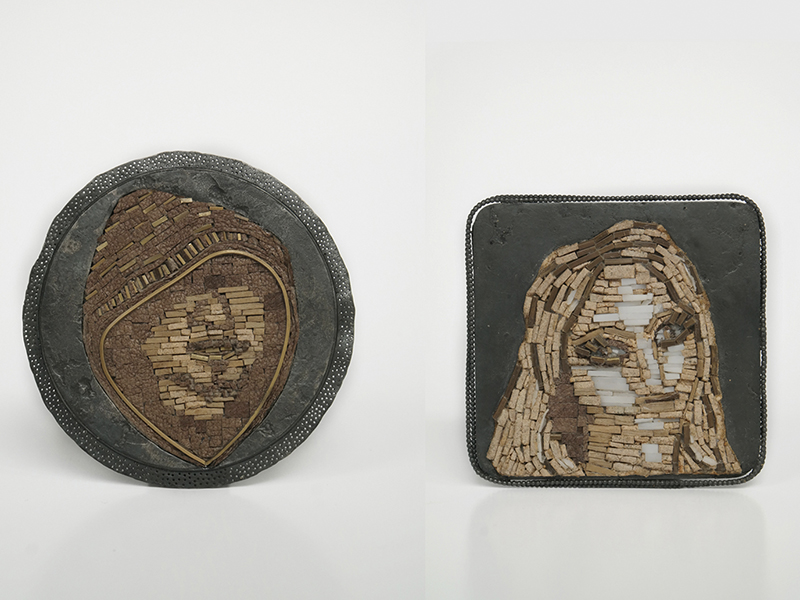 Artist: Elwy Schutten
Gallery: Galerie Door
Contact: Doreen Timmers
Retail: (Left) €1,200, (right) €1,350
Zoom in, zoom out. Zoom out and see a mass of people—each one of whom could be viewed under the lens of some stereotype or another. Zoom in and find a unique human being, each with his or her own individual story. Elwy Schutten's brooches in micro mosaic reveal outstanding Dutch craftmanship: hundreds of micro stones, handcut, stacked, and framed into tiny tantalizing mosaics the size of medallions. Schutten "paints" her portraits using five elements: leather, wood, brass, soapstone, and Plexiglas. "They show the similarities between us all. But every stone is unique and handmade." A feast for the eye, a teaser for the mind … See more of Elwy Schutten's work in her current exhibition, Zooming In or Zooming Out?, at Galerie Door.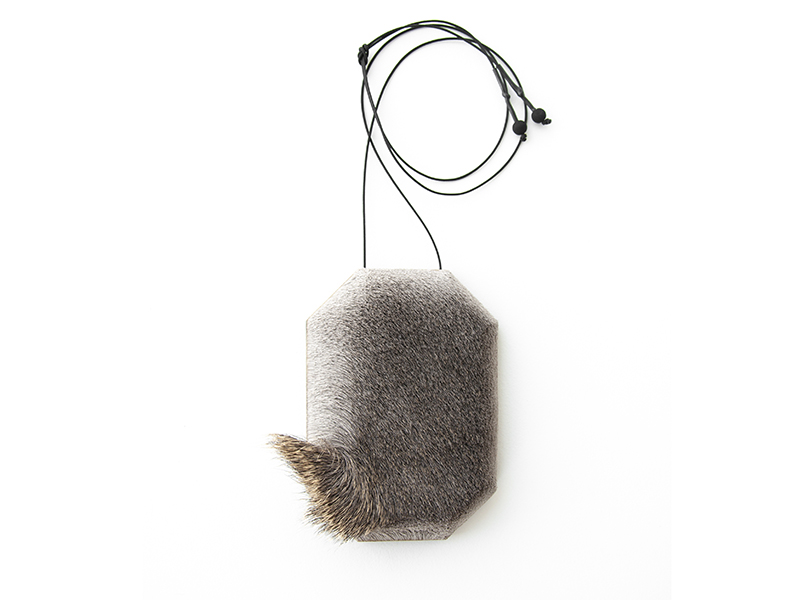 Artist: Lore Langendries
Gallery: Galeria Tereza Seabra
Contact: Tereza Seabra
Retail: €560 plus shipping
In Haptic stones, Lore wishes to arouse curiosity by displaying hairs—fine imagery and a visual illusion. The pieces look like solid rocks rounded by the action of nature, but they feel like soft cushions. In her words: "The hairy pieces, worn on the body, create different feelings. On the one hand, it is unattractive wearing a hairy object, on the other hand it is tempting, and stroking becomes an automatic reaction. Our human instinct to stroke, touch, and care for hairy things is in danger. To embrace touch and carefulness, every piece is accompanied by a comb tool to cherish and to cuddle without apps or upgrades."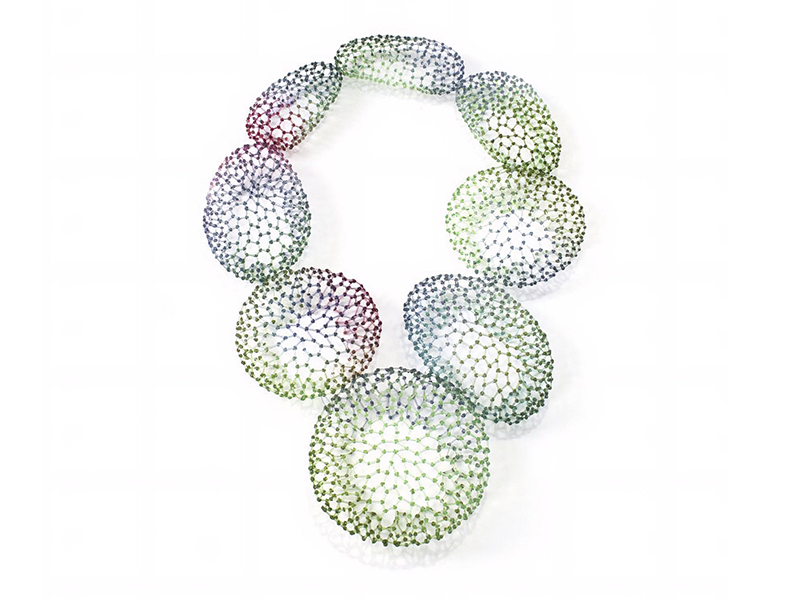 Artist: Floor Mommerteeg
Gallery: Galeria Reverso
Contact: Paula Crespo
Retail: €1,985
Floor Mommersteeg's collections feature nylon thread. She transforms this straightforward material into intricate, flamboyant pieces which spark the imagination. A wide range of techniques, from melting to connecting and flattening, result in artfully detailed networks. Poetic, with organic leaf shapes or all cubist angles, these delicate structures translate into robust, eye-catching forms when worn.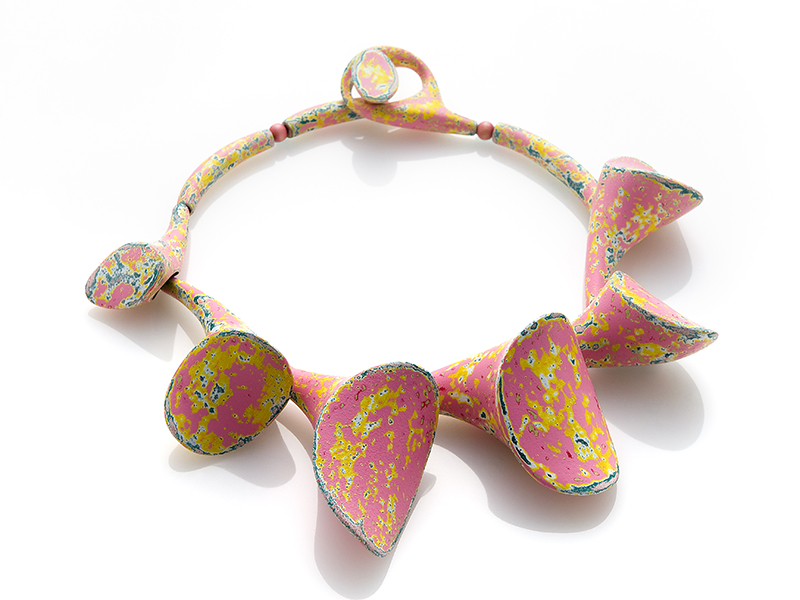 Artist: Heejoo Kim
Gallery: Yun Gee Park Gallery
Contact: Scott Duerstock
Retail: US$2,700
From Heejoo Kim's UniverShell series, this electroformed copper necklace has a surface color and texture created through the meticulous and painstaking application and reduction of layers and layers of enameling. Kim notes, "The growth of life is a universal and neutral phenomenon that radiates intense energy. My visual language began by recording my tactile experience of it. Based on the technique of electroforming, this work endeavors to make the flow of time visible, though it is highly unreliable, yet certainly exists in our world. Through these pieces we know that numerous fragile things around us come together and end up being solid and strong, as particles of electrolyzed metal pile up to create a firm metal structure. Also, we become implicitly aware that the process is a part of the loop of extinction and rebirth."
Artist: Helena Lehtinen
Gallery: Galerie Noel Guyomarc'h, bijoux et objets contemporains
Contact: Noel Guyomarc'h
Retail: CAN$2,670
What drives the artistic practice of Helena Lehtinen? Her interest toward everyday objects and forms. Practical in use, imperceptible, common: all this raises her interest. In the series produced, traces of individualism are absent. These ordinary forms or objects are the material for Lehtinen's work. They give the freedom to play, to change the size, to change the function. Ordinary is transformed into unique, but the origin is still revealed.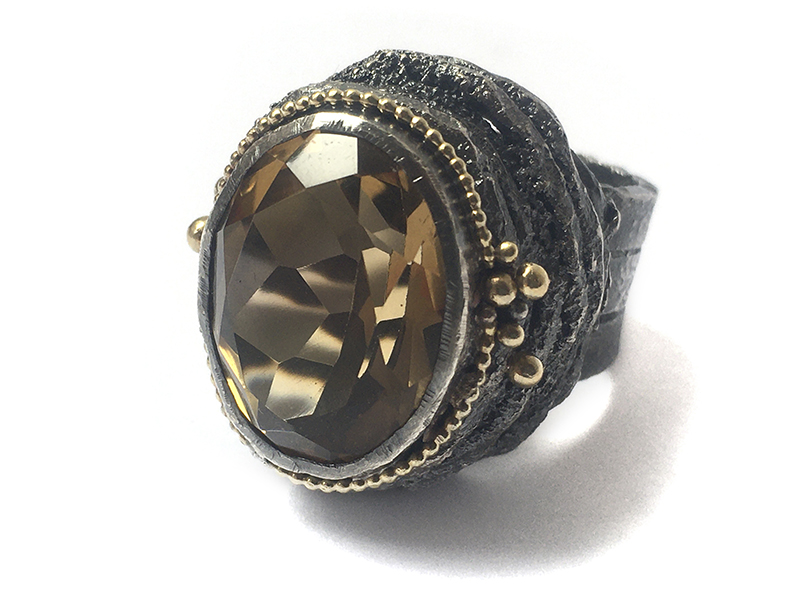 Artist: Jenny Edlund
Gallery: Four Gallery
Contact: Karin Roy Andersson
Retail: €1,250
Jewelry art is a collaboration between brain and body. Ideas create nerve impulses that initiate a complex series of movements, which in turn are affected by the qualities of the materials and tools. New signals are sent back, leaving their imprint and moving the process forward. For Jenny Edlund, art jewelry making is a way of processing impressions. Big questions and small problems are handled through her creative process.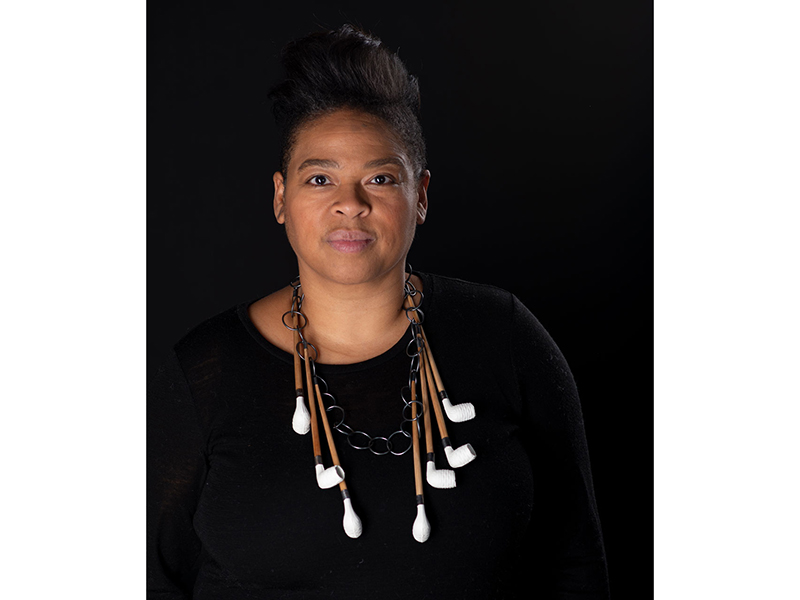 Artist: Chequita Nahar
Gallery: Galerie Marzee
Contact: Marie-José van den Hout
Retail: €2,385 plus VAT
Chequita Nahar's jewelry reflects a fusion of influences from an artist who grew up between two cultures: Suriname and the Netherlands. Ethnicity, symbolism, and visual language have always fascinated her. Her materials are porcelain, wood, silver, cotton, string—priceless not because of their material value but their symbolic power. The forms are primal, emblematic without becoming folkloric. They speak of customs and community, stories, and the power of jewelry as a communicator.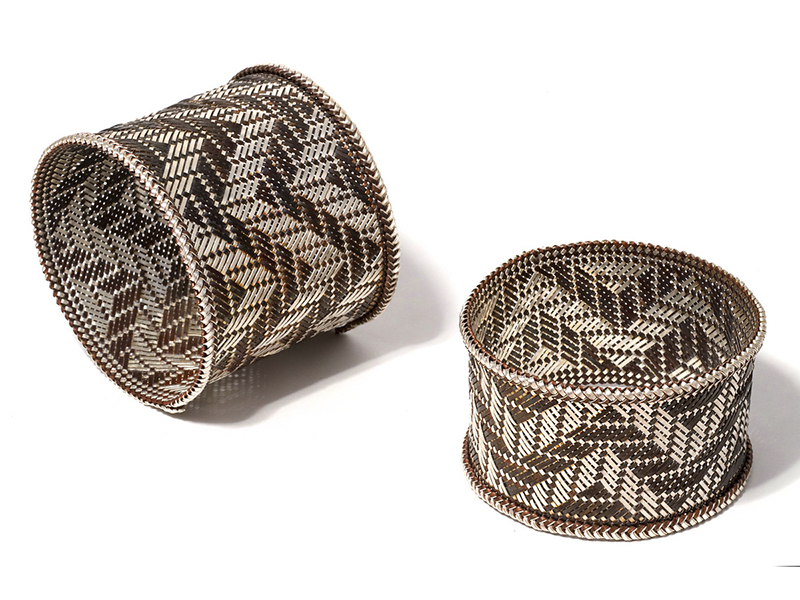 Artist: Matthew McIntyre-Wilson
Gallery: Fingers Gallery
Contact: Lisa Higgins
Retail: (Left) NZ$1,300, (right) NZ$1,200
Matthew McIntyre-Wilson learned traditional Maori weaving techniques from master weaver and friend Rangi Kiu. He works across the disciplines of jewelry, craft, and object and provides an indigenous response to museological practice. "My practice of weaving in copper, silver, and now gold originated from an interest in the form and pattern of raranga whakairo. Combined with my formal training as a jeweler, I produce finely woven kete (woven baskets), arms bands, kakahu (cloaks), and tatua (belts). Research based in museum storerooms and library archives provides the opportunity to examine the technical making of Taonga Maori; of particular interest is the creation and variation of complex woven patterns. The variation of pattern in my work is a reflection of a continuing investigation and exploration of the whakapapa of weaving." These limited editions include pen drawing on paper and a Matthew McIntyre-Wilson catalog.
Artist: Francesca Mazzotta
Gallery: Mydaybyday Gallery in Rome
Contact: Laura Helena Aureli
Retail: €2,150
This month, MydayByday Gallery in Rome is featuring Italian artist Francesca Mazzotta with her Natus jewelry collection, winner of the 3rd Prize Fashion Jewels at the Florence Biennale in 2019. As Mazzotta explains, Natus represents humankind immersed in modern society, measuring itself every day with reality, with a defensive mechanism that prevents it from seeing the hidden messages that life puts in front of it. Thus people acquire the appearance of a chameleon, camouflaging themselves, adapting themselves to the environment and defending themselves against hostilities. The collection's teaching is to go beyond appearances, encouraging us to change, to introspection, and to the expansion of consciousness, in order to find our own identity and to affirm our own personality.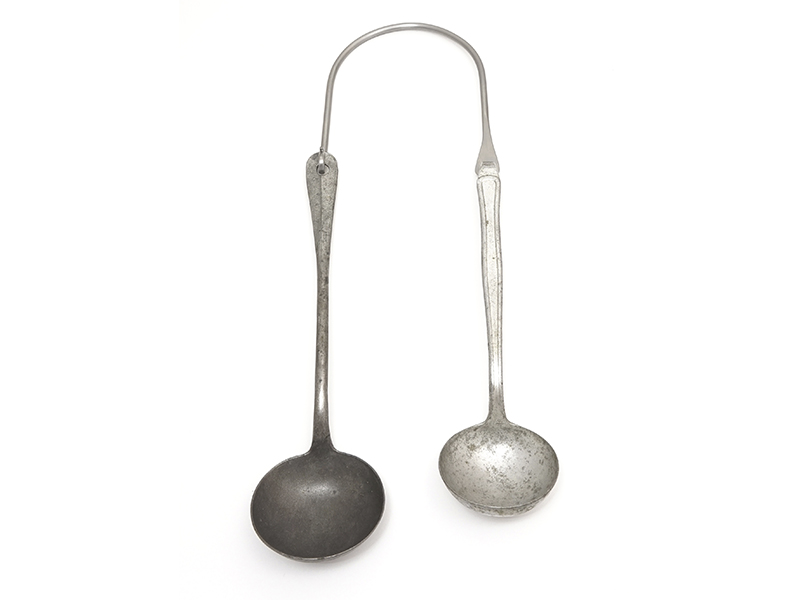 Artist: Jessica Andersen
Gallery: Baltimore Jewelry Center
Contact: Shane Prada
Retail: US$1,000
Jessica Andersen completed her MFA in jewelry and metalwork at San Diego State University in 2014. Andersen was raised in a small farming community in Iowa. She received a BFA in jewelry and metal arts from the University of Iowa in 2009. Her interests address "Thing Theory," a study of the world of material things, their functions, semiotics, and their symbolic and commercial value in regards to their current cultural understanding. In her work, she attempts to showcase the form and appeal of everyday detritus in the construction and presentation of jewelry. She hopes to generate new interactions between the wearer and object, and between the viewer and cultural predispositions. Currently, her exhibition I Found You is on view at the Baltimore Jewelry Center.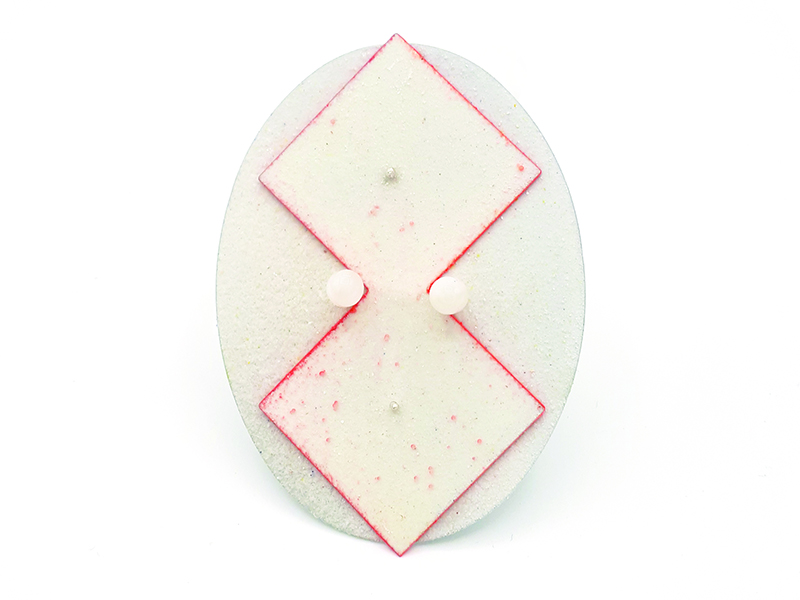 Artist: Nevin Arig
Gallery: Jewelers'werk Galerie
Contact: Ellen Reiben
Retail: US$525
"Rives Cosmiques is a collection of brooches and necklaces that are related to the universe," says Nevin Arig. "Although cloistered in matter, the shapes and symbols drawn belong to the world and are in communication with the cosmos. Crosses unite the horizontal space and the vertical time, a meeting point between heaven and earth. The star, the alchemical gold, symbolizes our action in the world. Finally, the moon, cosmic mother, and the sun, cosmic father, are among the oldest symbols of humanity. Symbols that appeal to the world of dreams, the imagination, the unconscious, symbol of life and love, master of the heavens, source of all heat and all light."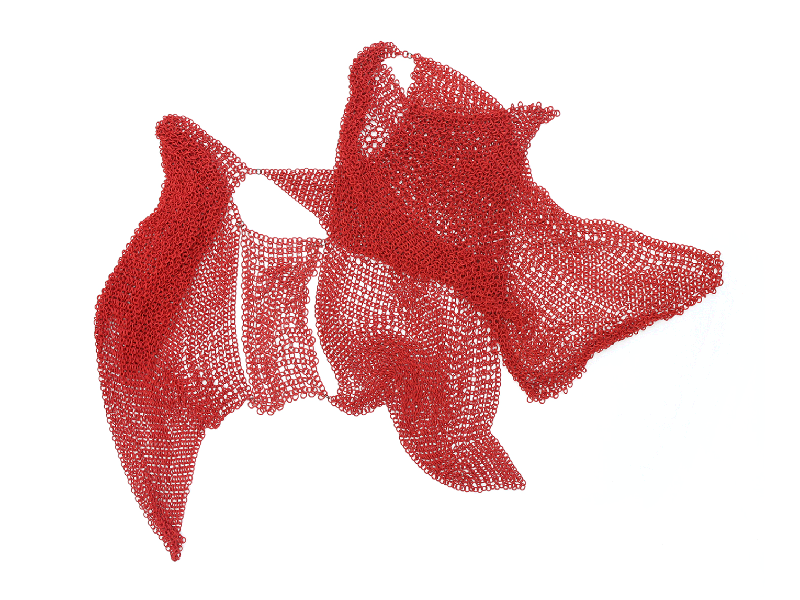 Artist: Renata Meirelles
Gallery: Galeria Alice Floriano
Contact: Alice Floriano
Retail: €650
A malleable fabric formed combines links, reinterpreting the use of chain mail. Delicate and flexible thanks to the material used, the mail can be manually joined together with metal connections. The elements employed in the manufacture of the pieces are created in 3D printing out of high-resistance polymer, and the connections allow the piece to come in contact with the body of those who use it, acquiring new contours.