Art Jewelry Forum's extensive network of international
gallery supporters
is dedicated to celebrating and showing art jewelry. On Offer is a monthly series that allows AJF galleries to showcase a piece that they've personally selected to tempt and inspire you. Please contact the gallery directly for inquiries. Enjoy!
MUSEUM WORTHY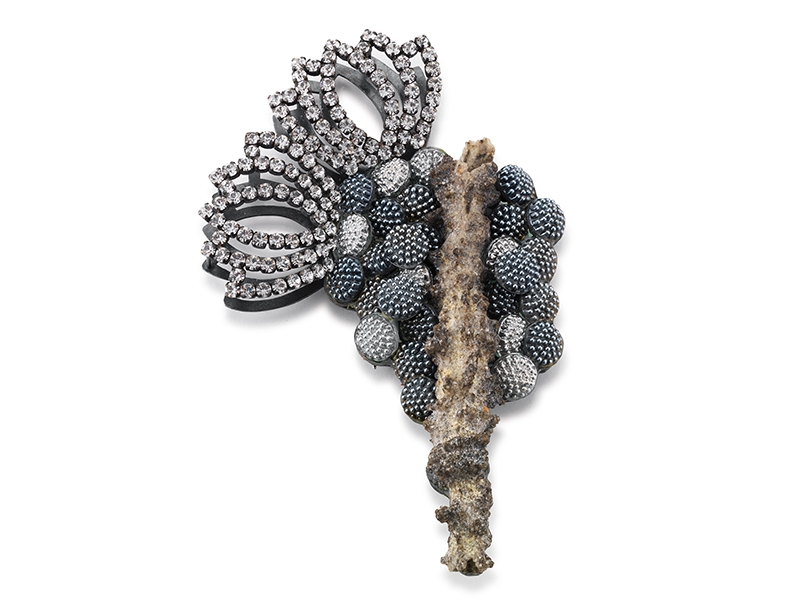 Four–Pieces by Tamara Grüner sparkle with color from stones, pearls, and shiny metals. At first they might seem to have a kitschy expression, but Grüner's well-balanced compositions and thoroughly executed craft calms the noisy image and turns the objects into jewels. This brooch is a contemporary Fabergé egg flaunting facets and a wealth of details.
CONTACT: Karin Roy Andersson
RETAIL: €1,900
MUSEUM WORTHY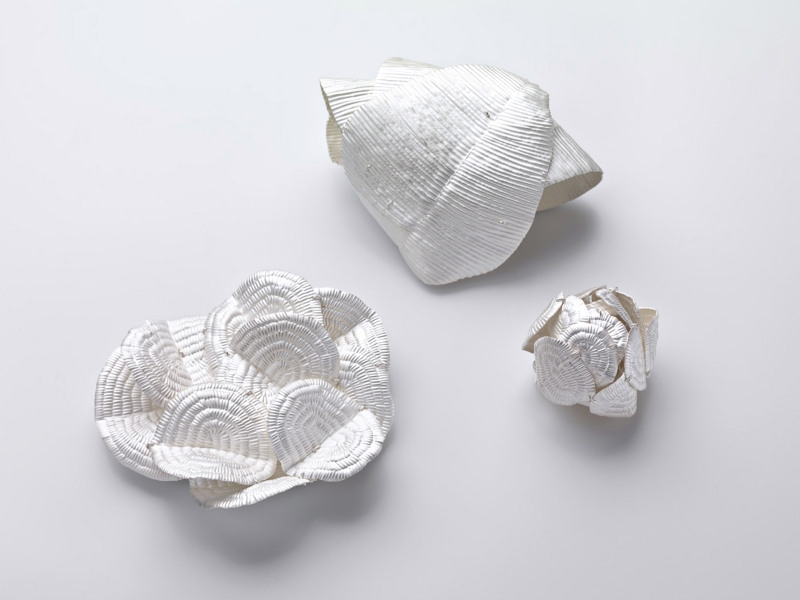 Irene Belfi Gallery— The gallery is pleased to present the artist Julie Blyfield with a solo show opening on October 4.
"My jewellery and vessel work is inspired by collections of botanical specimens and historic collections of embroidery which include floral motifs in their design," says Blyfield. "I see my work as an extension of the 19th-century Australian gold and silversmithing tradition in which our natural history became the subject of elaborate tableware and jewellery."
CONTACT: Irene Belfi
RETAIL: €1,240
MUSEUM WORTHY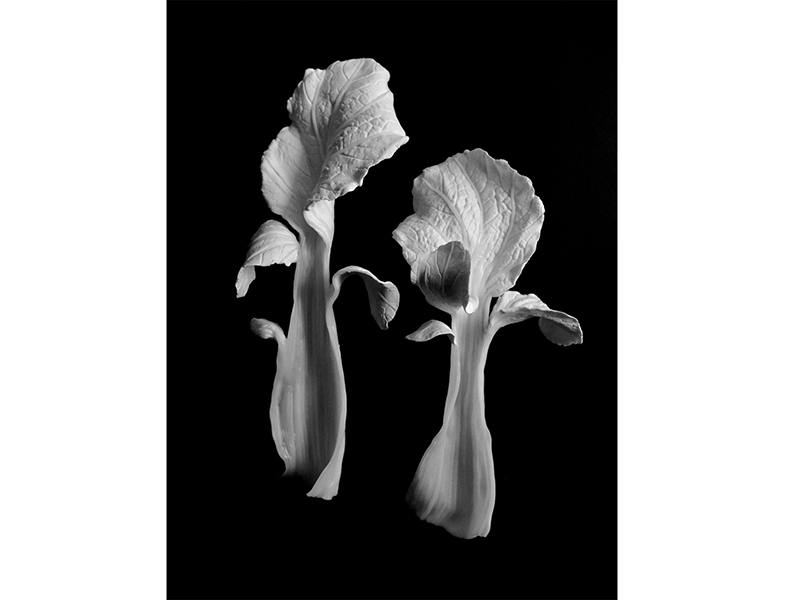 Gallery Funaki—Retinal Plants are major new works from Catherine Truman, one of Australia's most notable artists. Truman staged a major retrospective at the Art Gallery of South Australia in 2017. Her practice involves intense collaborative research with scientists in various fields of biology; she is currently artist in residence at the Ophthalmology Department at Flinders Uni, SA. These pieces investigate the nexus between the eye, vision, and perception as they reference the vascular networks of plants and the retinal trees of the human eye.
CONTACT: Katie Scott
RETAIL: AUS$4,160
MUSEUM WORTHY
Gallery S O–When you look at this brooch, a window opens into the past–into something unknown yet familiar. The brisk white paint strokes accompanied by the flicker and glow of set diamonds resurrect this still-life capture. Not only does it evoke the universal sense of belonging and lives not lived which are common to Bettina Speckner's pieces, but it also presents a window into the artist's past.
After having studied painting at the Academy of Fine Arts in Munich and moved later to the academy's jewelry department, Bettina has received various prizes, such as the Herbert Hofmann Prize and The Prize of the State of Bavaria, as well as commendations for the Danner Prize. Her work is currently on display in international public and private collections around the world.
CONTACT: Katharina Dettar
RETAIL: £3,200
MUSEUM WORTHY
Galerie LA Joaillerie par Mazlo–At the beginning of the 20th century, the assemblage emerges as a strong artistic trend, but only around the 60s does this practice durably colonize the imagination of art jewelers. Gladly confessing the influence of Joseph Cornell (among others), Robin Kranitzky and Kim Overstreet inscribe their works in this movement. Since the beginning of their collaboration, they have devoted themselves almost exclusively to the creation of brooches, conceived as miniature dioramas and exclusively composed of found objects. Reflecting on the Emotion is currently part of Le Génie des Images, a group show dedicated to the repurposing of ancient imagery and photography in art. This piece stands out for its many references: the miniature "eye portrait" also know as the "Georgian eye," which appeared in the 18th century; the mirror from the Vanité pictoral genre; and the absurd visions of the Surrealists. The seated character holds an eye (with teardrop) portrait on his chest. This may allude to a type of photographic portrait, popular in the second part of the 19th century, which showed the subject looking at or displaying a photograph of a loved one—the living ostensibly demonstrating that they were actively prolonging the memory of loved ones.
CONTACT: Céline Robin
RETAIL: US$6,400
ESTABLISHED ARTIST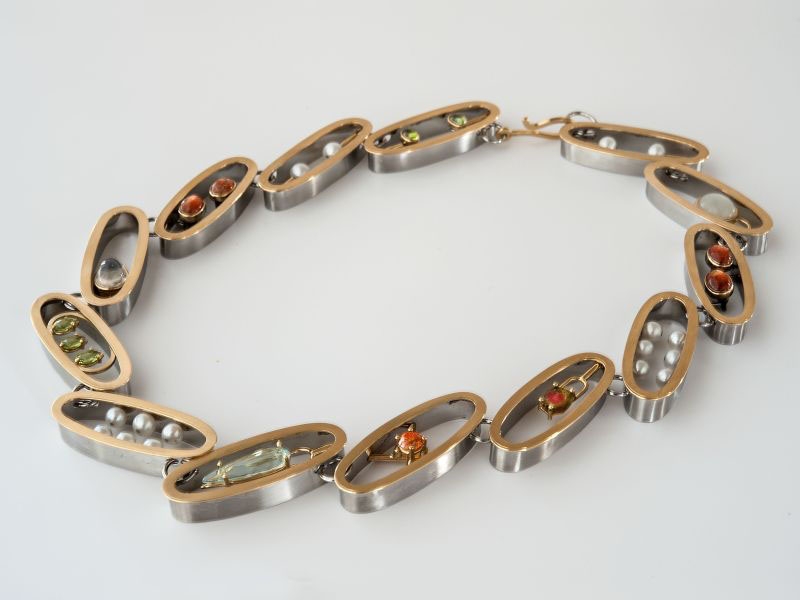 Slavik Gallery–Anna Heindl, a long-standing and important representative of the Austrian contemporary jewelry scene, presents works whose entrancingly intensive colors and luminosity are additionally accentuated by clear and simple settings. In a pleasantly natural and organic fashion, her works radiate from within. They transcend themselves, yet at the same time preserve an energetic and earthy touch thanks to their partly amorphous settings. It's the artist's ability to reconcile and integrate these contrasts that is key to the beauty and refinement of her works.
CONTACT: Renate Slavik
RETAIL: €14,900
ESTABLISHED ARTIST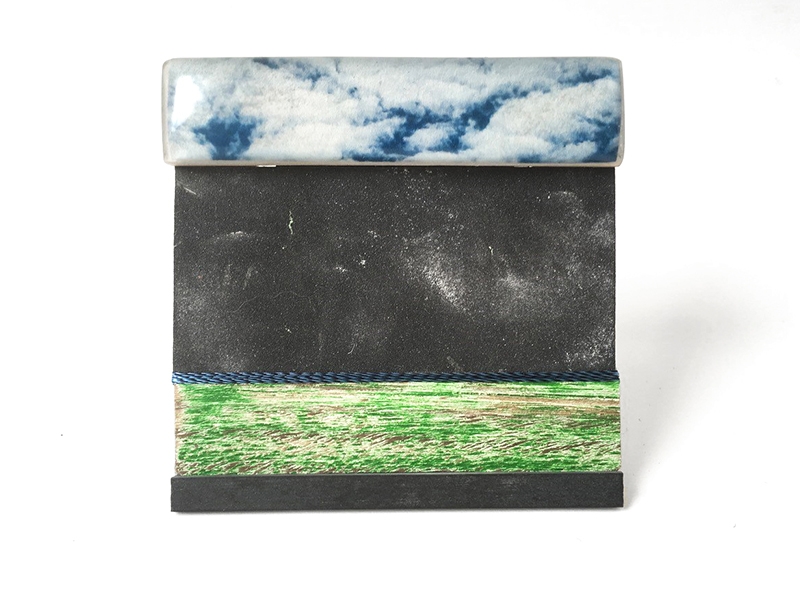 PLATINA–In Beppe Kessler's work, there's a strong interaction between drawings, paintings, and jewelry. A painting can be the starting point of a brooch, and vice versa. Kessler gives plain materials of low value new meanings to enter a rhythmic line play together. There's a search for the most minimal form and at the same time a material feast that calls out for the viewer to touch.
Kessler graduated from Gerrit Rietveld Academy in 1979. She works in Amsterdam. Her award-winning work has been exhibited worldwide, and is part of a number of collections.
Contact's Name: Sofia Björkman
RETAIL: US$2,100
ESTABLISHED ARTIST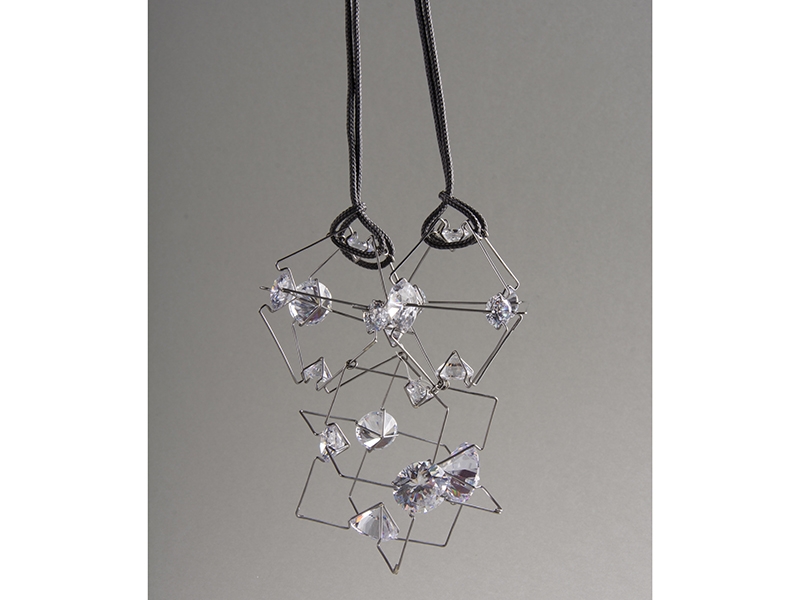 OHMYBLUE–The aspect that strikes us the most in the work of Adam Grinovich is the way in which he dematerializes the tangible object in relation to space and light.
CONTACT: Elena Rizzi
RETAIL: €1,350
MID-CAREER ARTIST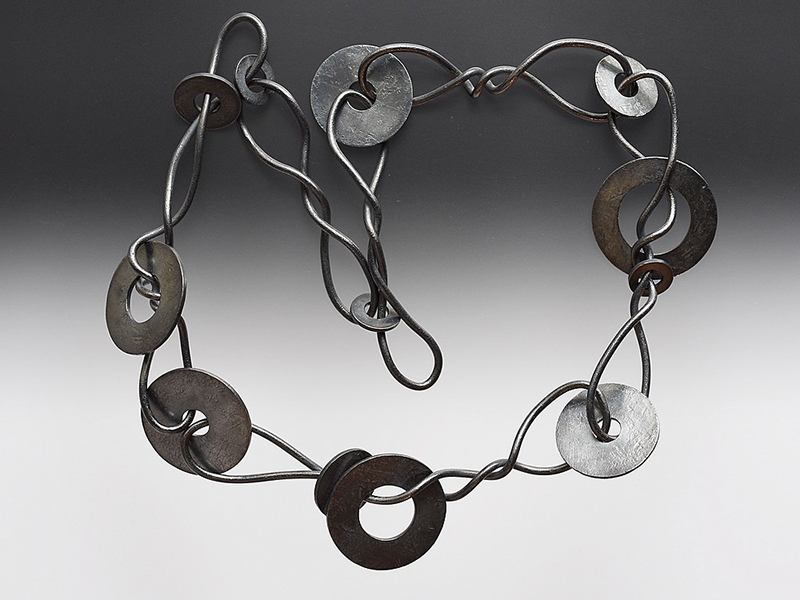 Fingers Gallery–"If I had to describe the drive behind my practice in one sentence," says Debbie Adamson, "I would borrow this quote: 'I make things so that I can see what they look like.' (Kobi Bosshard) It may sound superficial, but I guess the reason it appeals to me is because regardless of what I am trying to achieve, I generally make things to try and find out. I'm curious–curious about our culture. The things we call craft, the things we call art, and the things that influence our sense of identity–these ideas all interest me. I'm also interested in the idea of not knowing, the way you can stumble across something obvious you never thought of completely by accident, or go in a direction that takes you somewhere you didn't expect."
Adamson has collaborated with Swedish artist Hanna Hedman as part of a three-year mentoring program and also spent time as an apprentice to renowned goldsmith Kobi Bosshard.
CONTACT: Lisa Higgins
RETAIL: NZ$1,500
MID-CAREER ARTIST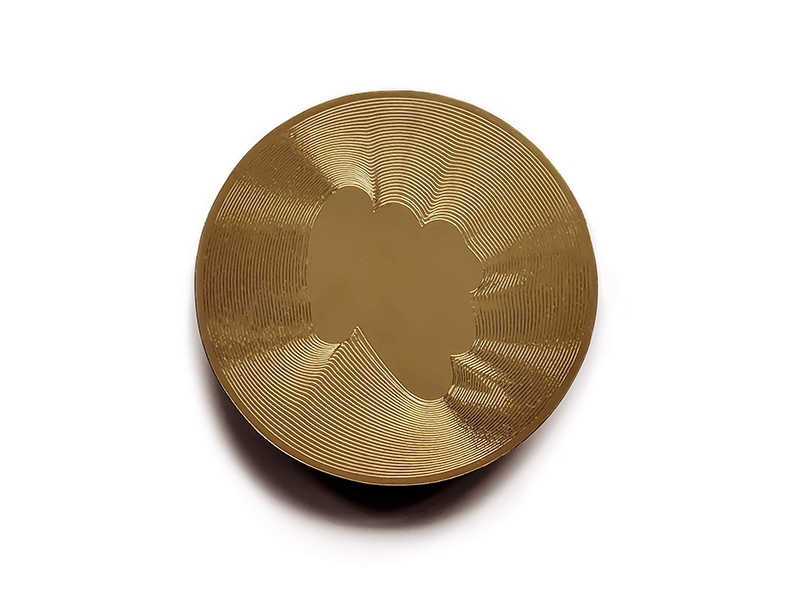 Gallery Loupe–American artist Timothy Veske-McMahon consistently challenges the body, the heart, and the mind with profound concepts, using jewelry as a vehicle. His newest series, Soft Spot, probes the human dilemma still further by addressing memory rather than presence. To Veske-McMahon, a soft spot is "a fondness, predilection, and bias. The sore and tender weaknesses that define us. An obscuring blur in vision, memory, or ability." Perception is one of Veske-McMahon's key precepts. How do we view people in the world around us–our family, friends, colleagues, and strangers? How do we relate to the objects that surround us–both physically and symbolically? When, and why, do things sometimes appear distorted to us, and how can we process these aberrations? With Soft Spot, Veske-McMahon ponders the question of what is real, what we know to be false, what we wish to remember, and how our rapidly advancing technology affects it all.
CONTACT: Eileen David
RETAIL: US$1,400
MID-CAREER ARTIST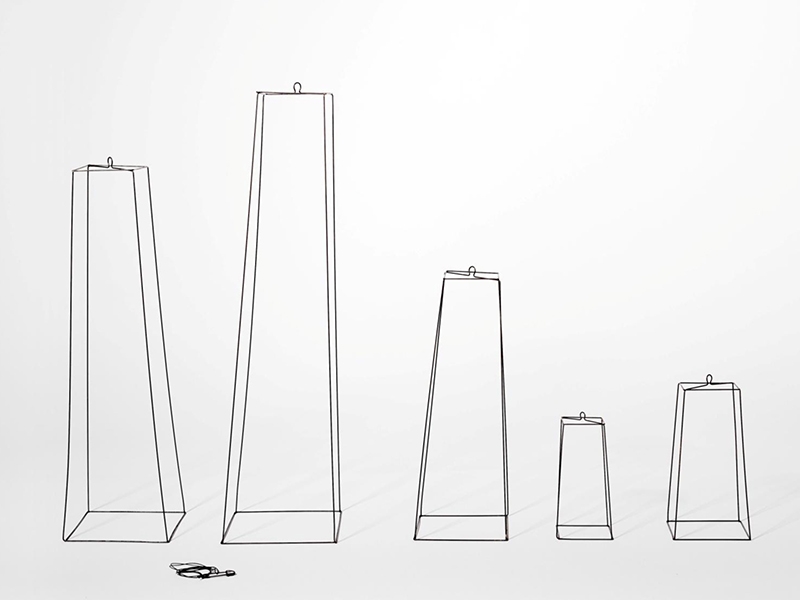 Galerie Elsa Vanier–Following a goldsmith's apprenticeship in Lyon, Céline Sylvestre studied contemporary jewelry in Paris. Since 2003, she has been offering singular jewels that question our relationship to time and the memory of bodies. She was recently selected for Schmuck 2017 (Munich), the Mary Funaki Award in 2016, and Koru 5 in 2015. Laureate of the Villa Kujoyama artist residency in 2015, she spent five months in Japan, an experience that still nourishes her work. In the Silhouette brooch series, she focuses on what our body "carries" in terms of memory. She believes that the weight of our story is essential to our construction.
Contact's Name: Elsa Vanier
RETAIL: €500
MID-CAREER ARTIST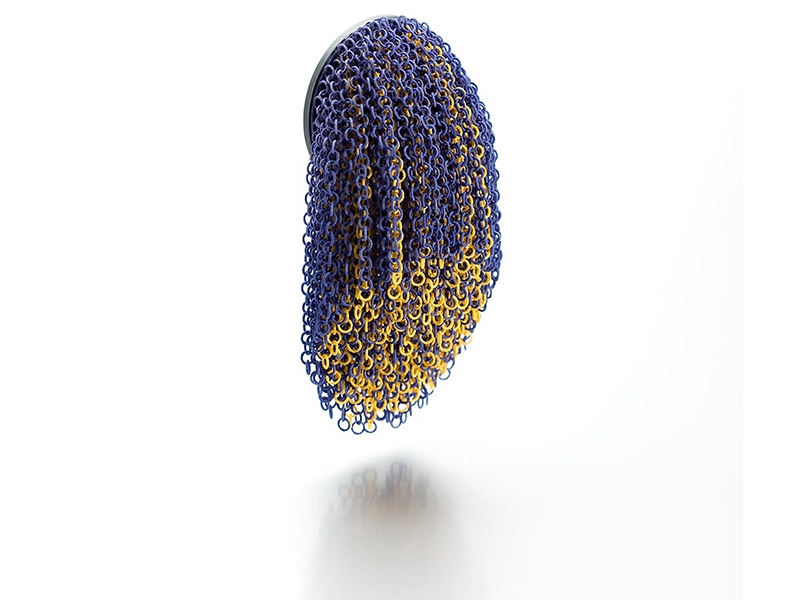 Gioielli in Fermento–"The direction of my work is to produce 'moving jewellery' that is motivated by human movements," says Ryungjae Jung. "I feel it is alive in the movement of the person and feel the beauty in the movement of the living." 3D printing, fine structure, and harmonic composition made the work significant in the synthesis of "fermentation" in jewelry, meant as experimentation and research, and leading to a final lively result. A Gioielli in Fermento 2018 Awarded artist.
CONTACT: Eliana Negroni
RETAIL: €700
EMERGING ARTIST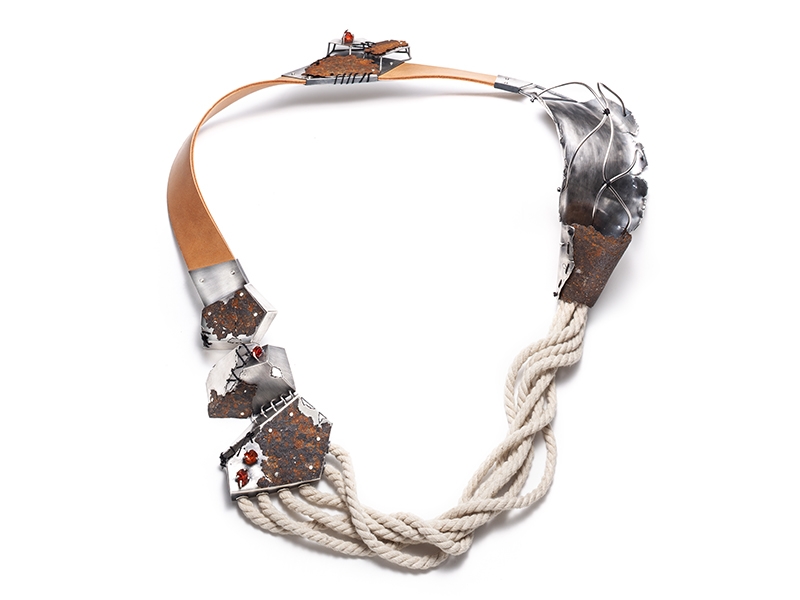 L. A. Pai Gallery–Justine Bonnin is a recent graduate from École de Joaillerie de Montréal and the winner of the L.A. Pai's 15th National Jewellery Student Competition. This neckpiece perfectly fits the wearer's shoulder, creating an equally exquisite front and back view. Bonnin highlights common materials such as rope and rust, resulting in an industrial yet soft appearance.
CONTACT: Lisa A. Pai
RETAIL: CAN$2,648
EMERGING ARTIST
Metal Museum–Benjamin Dory is the current artist-in-residence and metalsmithing and jewelry instructor at the Windgate Center of Art + Design in Little Rock, AR. Benjamin specializes in combining steel and titanium with traditional jewelry techniques. His work incorporates the ancient technique of granulation, but Dory puts his own spin on it by using machine-formed steel bearing balls and micro-welding the spheres to pieces of jewelry or to each other. He is an MFA graduate of Southern Illinois University Carbondale.
CONTACT: Eva Langsdon
RETAIL: US$500
EMERGING ARTIST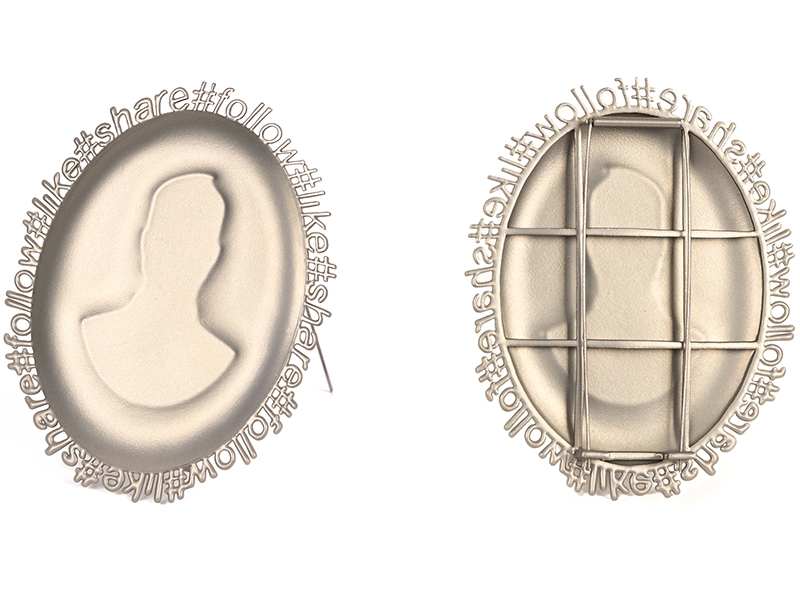 Baltimore Jewelry Center–While Victor Beckmann's studio practice is rooted in traditional practices, he has recently been utilizing more modern techniques to explore contemporary ideas. Beckmann looks at traditional adornment and ritual objects and the moments where they overlap with contemporary society. He is specifically interested in social media and the way it affects the ways in which we behave. This piece, titled #followme, investigates the seam where our digital lives and our physical lives become compatible and merges the two to find the disconnect between them.
CONTACT: Shane Prada
RETAIL: US$350
GALLERY CHOICE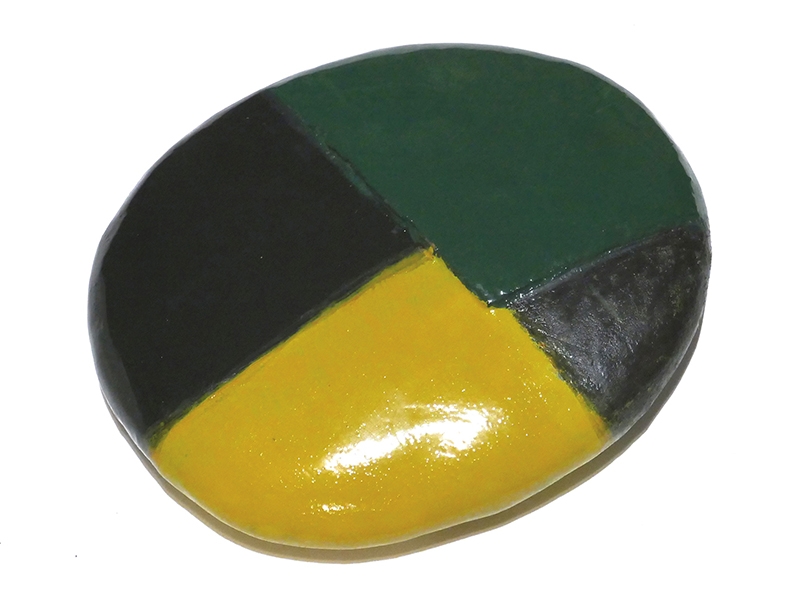 Galerie Spektrum–This is a wonderful four-color brooch from Kyoko Fukuchi, very sensitive, which has an affinity to the works of the Abstract Expressionists.
CONTACT: Jürgen Eickhoff
RETAIL: €1,950
GALLERY CHOICE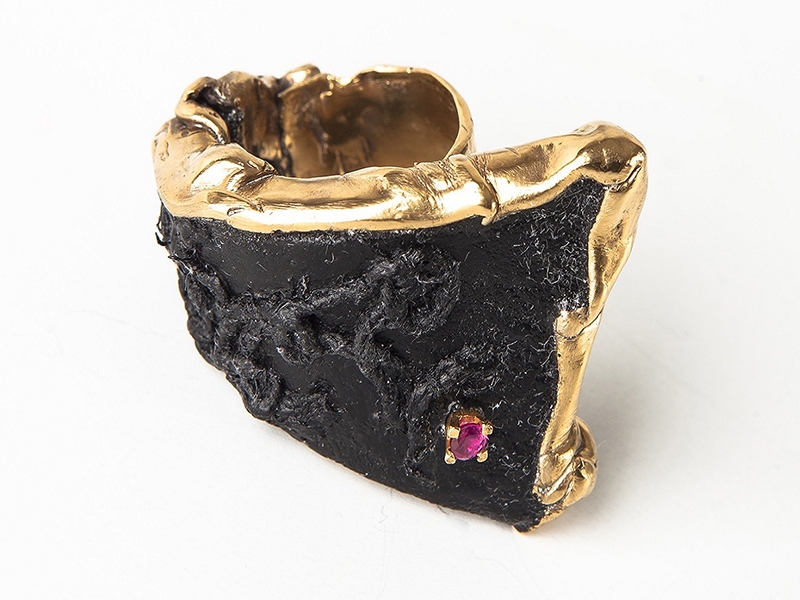 myday-byday–Francesca Mazzotta, in the representation of everyday life of the space of origin where she lives, recovers and reworks the preciousness of ancient embroideries and boldly aims to present culture by creating new masterpieces of our time. A short "frame" takes us back to a small part of reality and takes as absolute truth the memory of a tradition. A frame, fixed image of a culture on a medium white, pure as the whitening of lime walls.
CONTACT: Laura Helena Aureli
RETAIL: €200
GALLERY CHOICE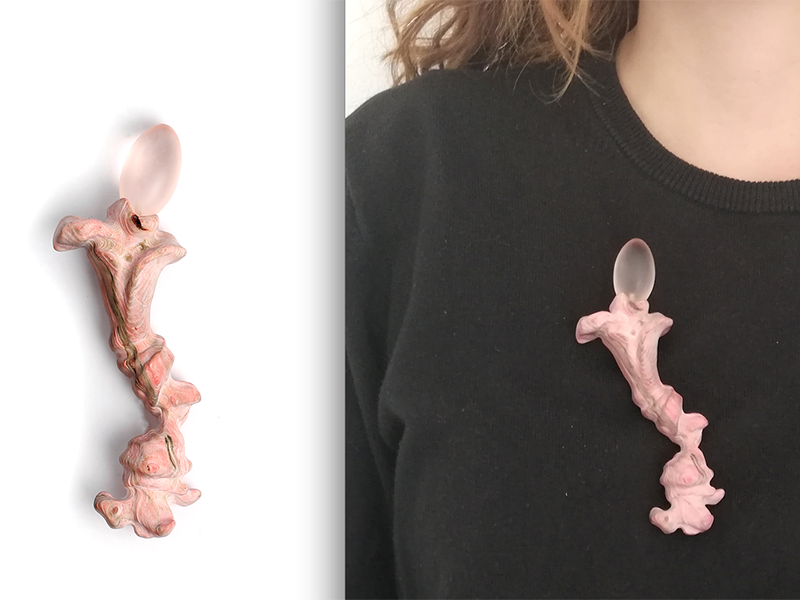 galerie beyond—"A strong piece of jewelry is an essence," states Darja Popolitova. "It results from a fusion of humility and desire. The fusion is a quality that comes only while controlling its richest saturation–poisonous in big doses. The artist is a perfumer whose fragrance takes physical form only when created by previously written recipe. It's all somehow intimate. Artist and jewelry become shy lovers allured by unsaid words of love."
CONTACT: René Darmont
RETAIL: €1,150
GALLERY CHOICE
Galerie Noel Guyomarc'h, bijoux et objets contemporains–The work of Christopher Thompson Royds is concept-driven; each theme informs the techniques used. He grew up in the Oxfordshire countryside in England, studying jewelry at London Metropolitan University before completing his studies with an MA at the Royal College of Art, in London. His work is included in numerous international private and public collections in Europe and the United States.
After discovering hundreds of pressed flowers preserved as species identifiers in the archive at the Natural History Museum, Thompson Royds was inspired to create Natura Morta, a series exploring the tradition of flowers as a decorative motif in jewelry. Fragile Thracian crowns of gold laurel leaves have survived millennia, yet the wreaths that inspired the form wouldn't last even one person's lifetime. The permanence of jewelry and the impermanence of flora influenced him to create this collection of hand-pierced and hand-painted flower necklaces and earrings in silver and gold.
CONTACT: Noel Guyomarc'h
RETAIL: US$12,600
GALLERY CHOICE
Patina Gallery–Extraordinary varying surfaces etched with beautiful poignant markings are part of what makes this brooch by Alexandra Watkins spectacular. Both Watkins's attention to detail and the beauty of her designs show in the composition of her work. Ruby spinels dance across the multi-leveled surface in a circular design. Four transparent spaces, which complete the spiral trail, leave the wearer interested at its subtle complexity. In use, the intriguing dimensionality of the brooch in fact attributes to how it sits organically with the wearer. An alluring mix of high-karat gold and spinel, this piece is sure to brightly adorn your every day.
Contact's Name: Patina Gallery
RETAIL: US$5,500
GALLERY CHOICE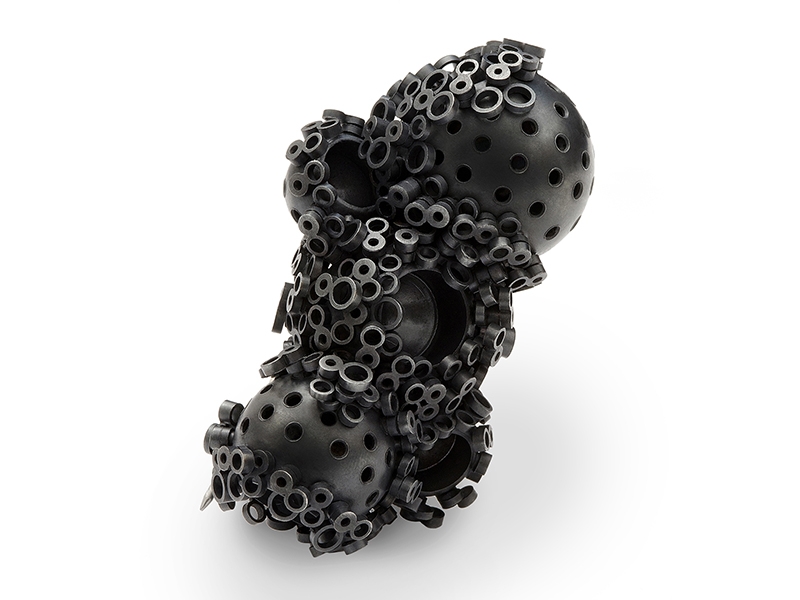 In the Gallery at Brooklyn Metal Works–This brooch by Samuel Guillén is from a series of work inspired by travel to Cordoba and Granada. The artesonados mudéjares, the rich coffered ceilings found in mosques and other buildings, were specifically influential. These overwhelming ornaments from Spanish Arabic culture in the Middle Ages brought to mind mineral formations, corals, and embroideries, which became the foundation of this new investigation. Guillén constructs each piece out of minute elements that grow by accumulation, like a drawing made of points, in a repetitive way. This is jewelry as embroidery, but instead of thread and needle applied to fabric, he uses a torch and metal to make a piece of jewelry with thousands of soldered points. Guillén is an accomplished jeweler who conceives, designs, and fabricates all of his work in limited editions. His pieces feature repetitive patterns created by using hollow construction techniques in sterling silver.
Contact's Name: Brian Weissman
RETAIL: US$4,000
GALLERY CHOICE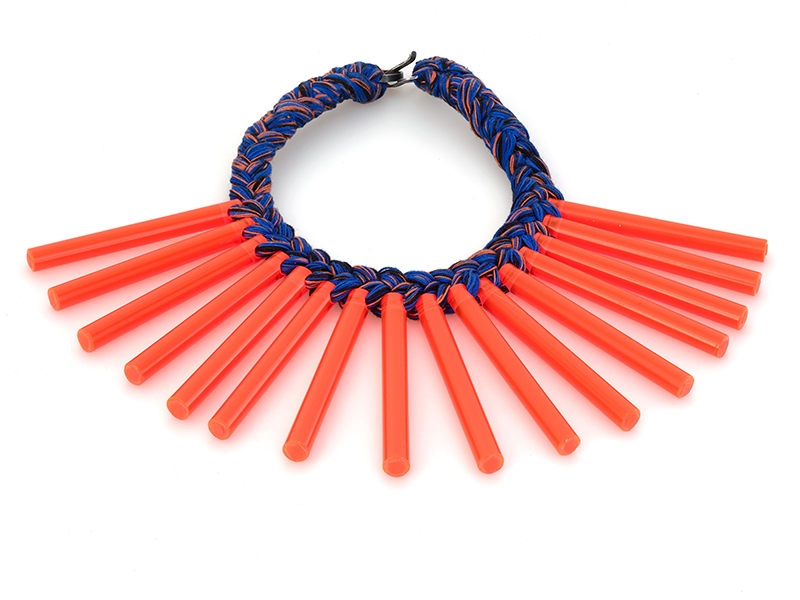 Ornamentum–Contemporary yet tribal, lightweight, and easy to wear, this stunning neckpiece by German artist Silke Spitzer is also affordably priced and guaranteed to attract attention.
CONTACT: Stefan Friedemann
RETAIL: US$1,800
GALLERY CHOICE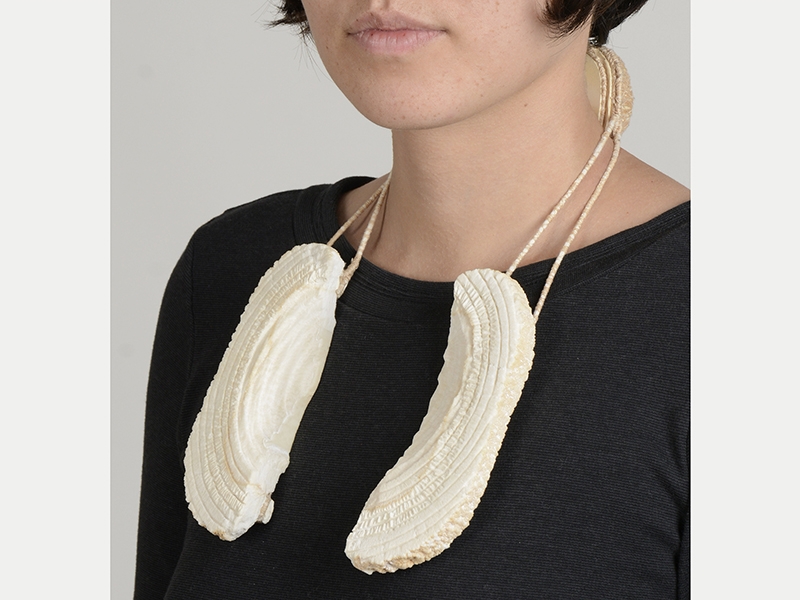 Galerie Door–Valérie Wagner (1992, France) is an extremely talented young artist who makes beautiful pieces with strong ideas. This great neckpiece is hand carved from "dripstone." There are many interesting sides to this work. First of all, Wagner waited for the chalk to grow. She lets nature do its bit to her work of art. This is typical for an artist who combines organic growth with craftsmanship. The second striking aspect of this necklace is the title. The piece is called Temps, which in French may refer to time but can also refer to weather. The double meaning challenged Valérie to relate time and climate, two concepts that can be as confusing and complex as they are common in our society. The third noteworthy aspect takes us back to craftsmanship. Wagner did not drill any holes to fix the stones to the (organic) cotton strings. She combined the inherent qualities of the material with her great imaginative power to mingle it with other materials and create a truly unique masterpiece. Find out more about this marvelous piece and many other outstanding art jewelry pieces by Valérie Wagner at Galerie Door.
CONTACT: Doreen Timmers
RETAIL: €2,250