Art Jewelry Forum's network of gallery supporters has increased to more than 60 international galleries focused on featuring art jewelry. On Offer is a monthly series that allows AJF galleries to showcase a piece that they've personally selected to tempt and inspire you. Please contact the gallery directly for inquiries. Enjoy!
MUSEUM WORTHY
Bilk Gallery—This collectable piece by Julie Blyfield, called Street Pods, was part of her recent major solo exhibition. In 2013, Blyfield, a celebrated luminary of Australian metalsmithing, was awarded an Australia Council "Creative Australia" grant to develop and present a new body of work for a solo exhibition. The resulting show, Panorama, opened at Ruthin Crafts Centre in Wales, UK, in 2015, and toured to The Scottish Gallery in Edinburgh, Scotland, in 2016.
Bilk Gallery is delighted to have presented a selection of this exhibition in March 2017.
RETAIL: AU$5,500
CONTACT: Mio Kuhnen
---
Facèré Jewelry Art Gallery—The reversal of fortune and "shades" of meaning in Akira Kurawa's films and the sunglasses motif lend the title of this piece by Kiff Slemmons. Slemmons's work incorporates intellectual and layered narratives, fine metalworking, and thoughtfully collected objects from around the world. She's an internationally known art jeweler whose works feature in numerous private collections, as well as in museums such as the Victoria and Albert Museum in London and the Museum of Arts and Design in New York.
RETAIL: US$4,300
CONTACT: Madeline Courtney
---
Galerie Noel Guyomarc'h—Pamela Ritchie, recipient of the prestigious Saidye Bronfman Award, the foremost distinction for excellence in fine craft in Canada, creates jewelry that links past and present and personal identity. Her work celebrates the concentrating effect of detail, and the paradox that an abundance of ideas, forms, and patterns can be encapsulated in very small objects. A retrospective exhibition on the artist's exceptional career will be presented at the gallery in April 2017.
RETAIL: CAN$850
CONTACT: Noel Guyomarc'h
---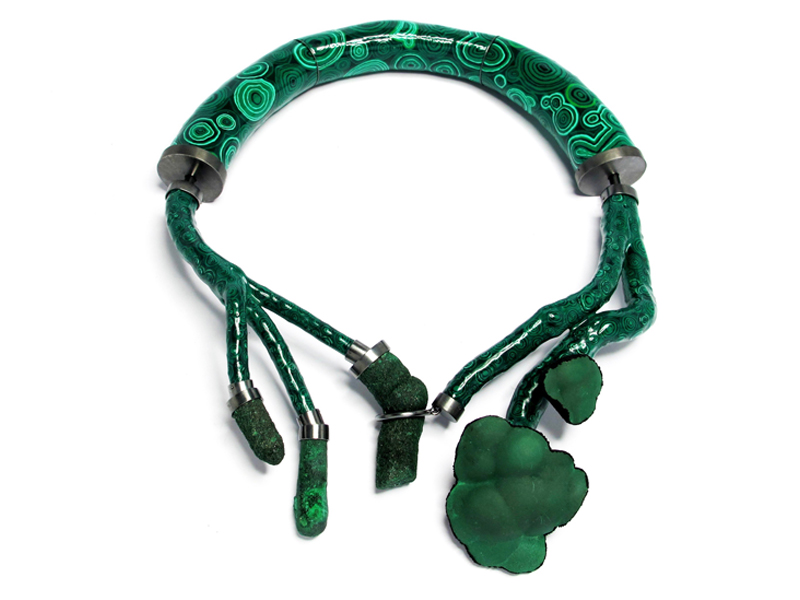 Galerie Rob Koudijs—Terhi Tolvanen's new collection is about stones—stones worthy of being worn as adornment, mostly in necklaces. It's a starting point that has its consequences: How to handle their sometimes unusual size and subsequent weight?
First of all, Tolvanen decided to make the fittings and construction of her pieces bold in character—to balance her audacious pieces of rock. Secondly, she started to develop stones of her own making… This may sound bizarre, but in the past Tolvanen made jewelry employing plants she had invented herself, contrasting the natural with the artificial. So now she chooses to make her own malachite and pyrite: This way she's able to alter their usual shape, surface, and, above all, their heaviness.
RETAIL: €6,950
CONTACT: Rob Koudijs
---
Gallery S O—Kimiaki Kageyama made this ring from lacquer fragments stripped from an antique portable Yasaka shrine from Kyoto which is restored once every 300 years. Kageyama (born 1948) ornamented the cracks of these lacquered chips with cinnabar and fine gold pigments. He then selected the most beautiful Akoya pearl from his extensive personal collection.
Kageyama feels that this piece retains a divine presence, reminiscent of the power of religious festivals and heightened by the current scarcity of the material, yet imbued with harmony and tranquility.
"Among many pieces of jewelry, there are a few that look to unfold a part of the secret of why people wear jewelry. For me, Kimiaki Kageyama's jewelry is one of these works. His realistically made plants and use of urushi lacquer fragments … remind me of fundamental affection for something ephemeral as well as human desire for eternity—both are primary sentiments people project onto jewelry in general. Furthermore, his work indicates that the real significance of being timeless lies not in the object's immortality but in its ability to stir up sympathy within the viewer from any period of time." —Makiko Akiyama, Klimt02, 2017
RETAIL: Price upon request
CONTACT: Felix Flury
---
Velvet da Vinci—Pierce Healy describes his work as follows: "Within his practice there is no 'master plan,' each piece is an experiment, a study that informs the next piece. He is fascinated by the capacity of jewelry to develop into our most personal of vessels for our stories and storytelling. In addition he is interested in the idea that jewelry is our second skin and when worn becomes something bigger, something otherworldly, as it takes on the scratches, dings, and stories of the wearer's adventures. Healy combines his craze for the everyday, drawing, storytelling, mark making, and hand engraving to create truly handmade raw jewelry."
RETAIL: US$4,000
CONTACT: Mike Holmes
---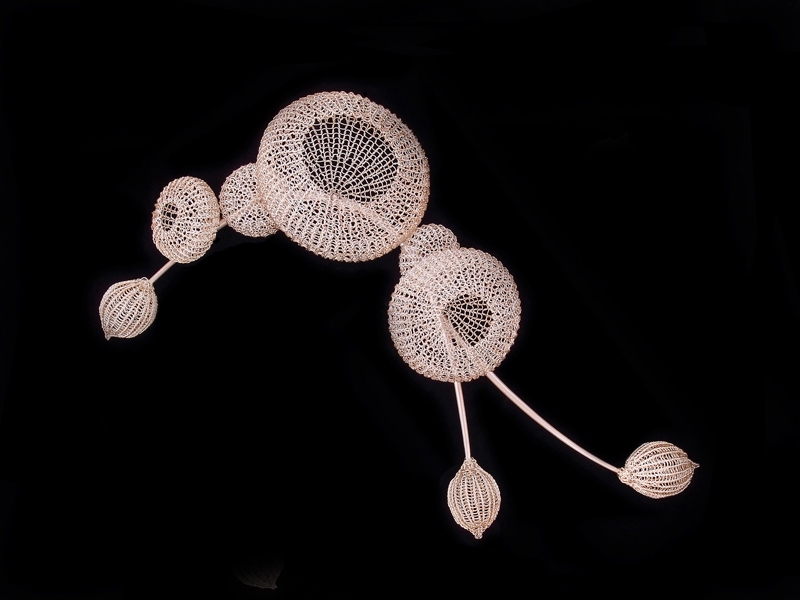 De Novo—When talking about her work, Sowon Joo says, "a lot [of it], especially after I became a mother, came from reflections on motherhood and contemplation on birth and growth. Such thoughts manifested themselves in the forms of plants and their different stages, such as seeds, buds, and fruits. They each reveal the miraculousness and wonder I experience when I observe their transformation and development." This brooch, hand woven of silver wire, is a stunning example of Joo's work. It's like a small three-dimensional sculpture for the body. It's light and airy and curved to lie against the contour of the body when worn.
RETAIL: US$1,800
CONTACT: Cherry LeBrun
---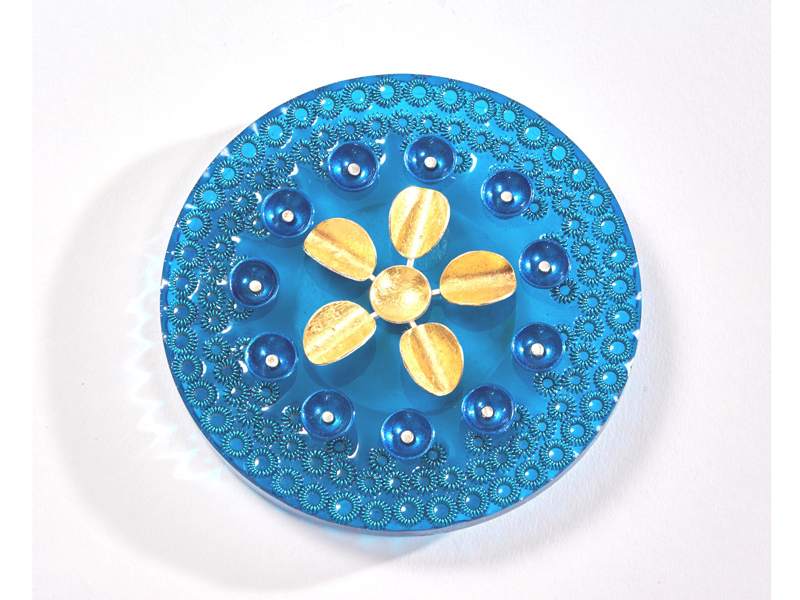 L.A. Pai Gallery—Pamela Ritchie is an artist and jeweler based in Halifax, Nova Scotia. She is the winner of the 2017 Saidye Bronfman award for excellence in fine craft. She has influenced numerous generations of students at the Nova Scotia College of Art and Design. Major institutional collectors include the Canadian Museum of Civilization; the Kunstindustrimuseum, Norway; and the Nova Scotia Art Bank.
RETAIL: CAN$880
CONTACT: Lisa Pai or Brenda Dunn
---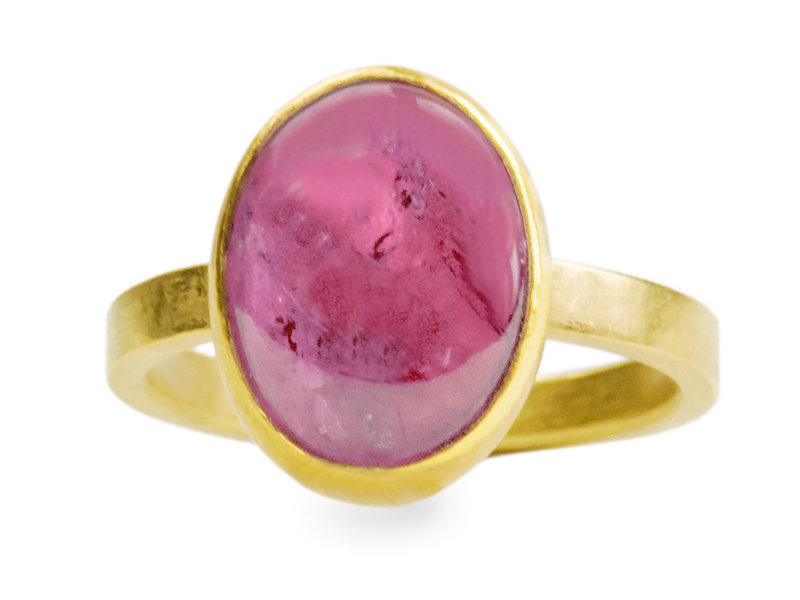 Patina Gallery—Petra Class honors materials by not overworking them, always elevating the central mission of her work. "It is gratifying to contribute beauty to the human experience," she says. For this ring, a pink tourmaline set in high-karat gold sits atop a graceful shank, inviting the wearer to view, hold, and cherish the elegant, delicate piece. Class uses the colors of gems the way painters use pigment, creating juxtapositions that are delightful to wear. She finds that the process of creating can be free-flowing, but the rhythm and pattern always emerge in the design. She combines precious materials and gemstones, creating contemporary designs while applying the goldsmith's traditional techniques.
RETAIL: US$1,780
CONTACT: Linda Childers
---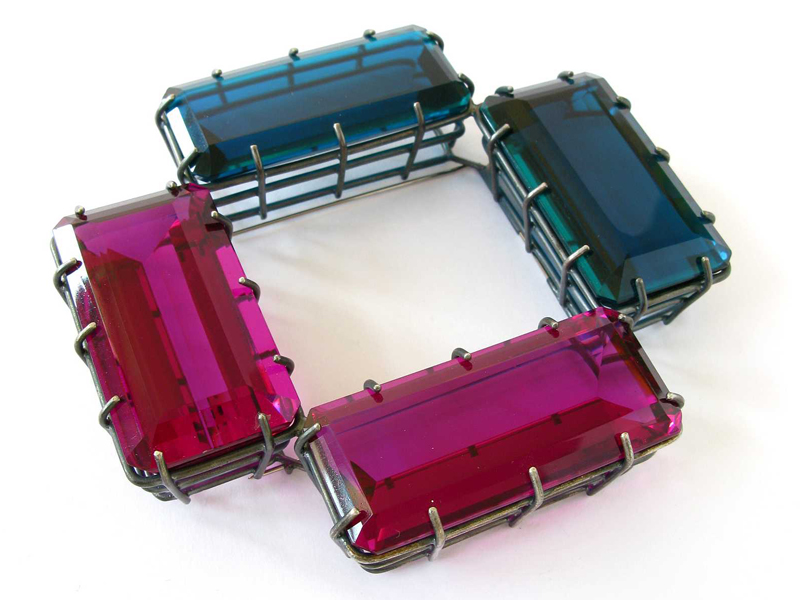 Slavik—Readymade à la Georg Dobler. He places big, colorful artificial stones into light geometric frames, thus creating bittersweet still-lives of jewelry. His style can be described as that of an artist working in the tradition of Art Deco and Jugendstil, but using stylistic elements that are definitely products of the 21st century. This contrast makes his works so attractive and unique.
RETAIL: €2,900
CONTACT: Renate Slavik
---
EMERGING ARTIST
Galerie Elsa Vanier—Extremely light, perfectly hand-crafted, this necklace by John Moore looks as if produced industrially when actually the aluminum sheets are hand-dyed then hand-painted and manually assembled piece by piece. Each necklace is a one-off.
RETAIL: €1,400
CONTACT: Elsa Vanier
---
Gallery at Reinstein|Ross—Lynn Batchelder is the winner of the 2016 Art Jewelry Forum Artist Award. Nonlinear is an exhibition of her new work. The two-dimensional and the three-dimensional carry equal weight in her practice. This new work explores the processes and tools that are shared by printmakers and jewelers. Nonlinear will feature drawings, prints, and four mini-series of jewelry pieces each inspired by modes of drawing expressed through a wide range of techniques. Batchelder says that her work is "rooted in the drawing process," whether she's etching lines on steel or applying conductive paint with a brush onto wax prior to electroforming it. She sees similarities between the way a burin, a small chisel-like tool, is used to engrave the lines on a plate and the way a jeweler's saw can make delicate incisions on a piece of steel.
A Line in Space is a series of brooches and necklaces made from electroformed copper, an entirely new direction for the artist.
RETAIL: $945
CONTACT: Bella Neyman
---
GALLERY CHOICE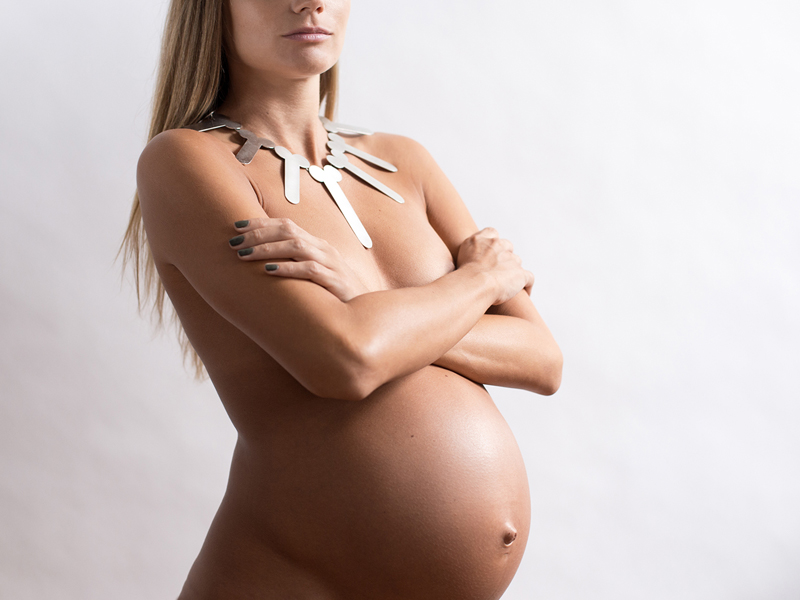 Brooklyn Metal Works—Pinocchio, by Edgar Mosa, is a necklace of lasting impressions. Talismanic in its repetitive shapes that increase in scale as the forms move across the wearer, this piece has many vantage points: an amulet for fecundity, the iconography of the phallus, the reminder of a hidden knowledge that continues to grow. The artist welcomes the many references that can be drawn from this seminal work. Mosa's work is grounded in material and method while exploring temporal symbolism, his environment, and fashion. His interest in jewelry lies in its ability to invoke emotions, create dialogues, and build relationships. These connections are created collaboratively with friends and loved ones who become part of and live with the work. Mosa's exhibition, Highlights, at Brooklyn Metal Works, brings together pieces from the past 10 years that represent milestones in the making.
RETAIL: US$650
CONTACT: Brian Weissman
---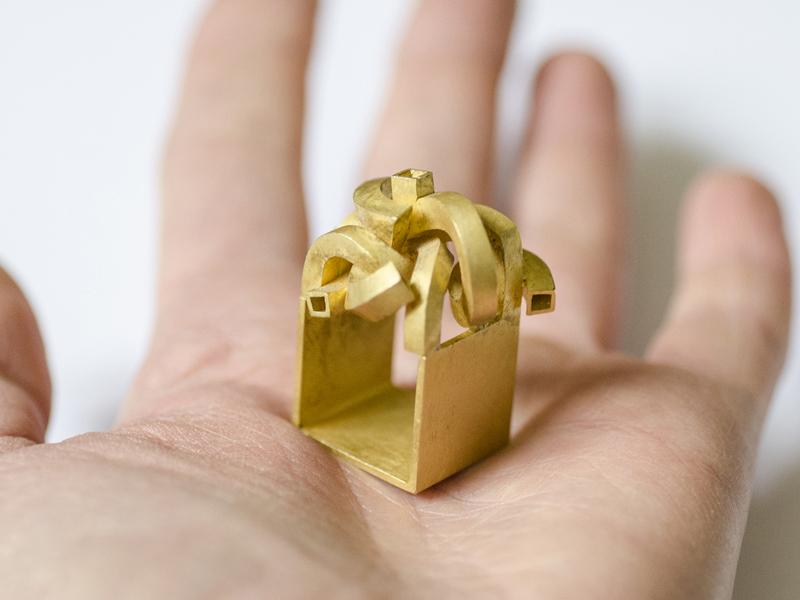 Four—Stefano Zanini lives in the northeast of Italy, in Udine. His workshop used to belong to his grandfather and some of the tools he uses are more than a hundred years old. In his contemporary works, a long tradition of goldsmithing is mixed with new visions and creativity. This golden ring is a heavy piece made with impressive craftsman skills—an indulgence in material and technique. A piece like this could become a vulgar power demonstration but instead Zanini's ring carries a fine elegance, making it somewhat playful and highly attractive.
RETAIL: 40,000SEK
CONTACT: Karin Roy Andersson
---
Galerie beyond— Swedish artist Hanna Liljenberg's Vanitas pieces are inspired by Dutch still-life paintings from the 18th century, with decaying flowers and dark undertones. Her jewelry becomes a floral painting made out of brooches in the shape of flowers and small houseflies. Bright colored on the front but with blackened backs to represent transience. This brooch is light and strong and easy to wear.
RETAIL: €670
CONTACT: René Darmont
---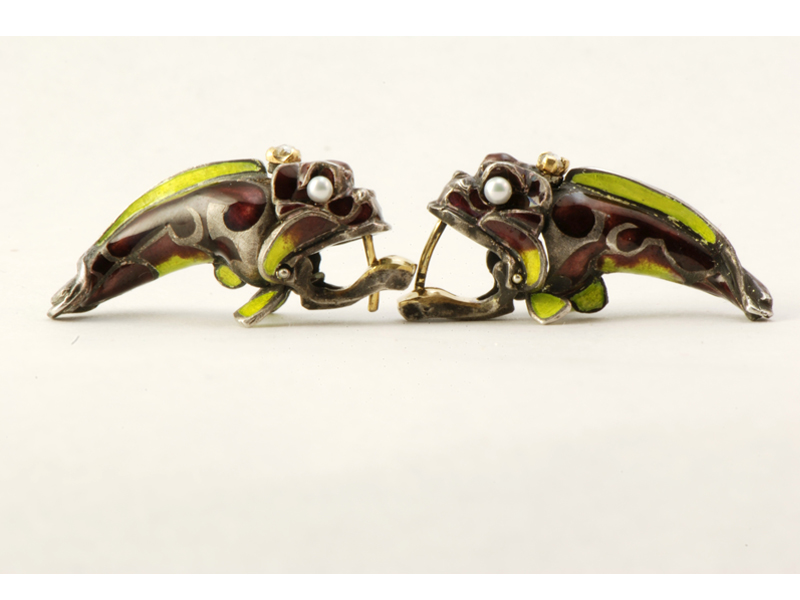 Galerie Katrin Eitner—Sculptor and jewelry artist Karl Wunderlich is known for his miniature sculptures, his wearable objects—like these earrings, "biting" (comfortably) into the wearer's ears. Alisakkat is Greenlandic and means fish.
Wunderlich says about his work, "Like oils on a canvas: gems, enamel, and the metals themselves are part of artistic expression (to me)." He studied fine arts (sculpture and metalwork) at the Weißensee Academy of Art Berlin and the Royal Academy of Fine Arts Antwerp until 2005. With a lightness of touch and apparent ease, he challenges the viewer's expectations through an amalgamation of the traditions of jewelry, sculpture, and color. Wunderlich's fascination for and exploration of the almost forgotten legacy of Renaissance metalwork and of Japanese metalworking techniques inform this distinctive approach. In this he follows an old and rare tradition.
RETAIL: Price upon request
CONTACT: Katrin Eitner
---
Gallery SOWYEN—Yong Joo Kim is an artist uniquely focused on a single material of choice: hook-and-loop fasteners. She wanted to limit herself to a single material in order to minimize the number of variables while exploring the relationships among survival, variety, and mastery. As a composite material combining both fabric and nylon, hook-and-loop fasteners are light, durable, and can be easily attached/detached, rolled/bent with the hand, and cut or woven with hand tools. While interacting with her material in such diverse ways, Kim says it's important for her to invite and integrate the unexpected ways in which the material responds to her actions as this is what empowers her to create forms that transcend the limitation of her own imagination. The form of her work, having emerged from such simple acts as cutting, twisting, bending, stacking, and combining, compels the viewer to reflect on the basic significance of the hand not only in its place in the history of the creative process, but also in the meaning of craft. Her work appears in the permanent collection of the Museum of Arts and Design, the Victoria and Albert Museum, and Velcro Group.
RETAIL: $3,200
CONTACT: Maro Park
---
Lillstreet Gallery—The rare Medusa quartz in this necklace by Aimee Petkus owes its gorgeous blue inclusions to the presence of the mineral Gilalite, and its singular red streak to the presence of manganese oxide. Under magnification, some of these Gilalite inclusions resemble the shape of a floating jellyfish, the top of which is called the Medusa. The Medusa quartz cabochon alongside the faceted tourmalinated quartz make quite the dynamic duo set in 14-karat yellow gold.
RETAIL: $875
CONTACT: Nora McCarthy
---
OONA Gallery for Contemporary Jewellery—Petra Zimmermann, known for her amazing work that includes vintage costume jewelry, created her recent work using the frames of antique evening purses. The result is brooches in geometrical shapes reminiscent of the Wiener Werkstätte. Carefully decorated with tiny stones and pearls, these brooches make up a new balance compared with the artist's splendid bracelets and rings.
RETAIL: €2,500
CONTACT: Anna Schetelich
---