Art Jewelry Forum's extensive network of international
gallery supporters
is dedicated to celebrating and showing art jewelry. On Offer is a monthly series that allows AJF galleries to showcase a piece that they've personally selected to tempt and inspire you. Please contact the gallery directly for inquiries. Enjoy!
MUSEUM WORTHY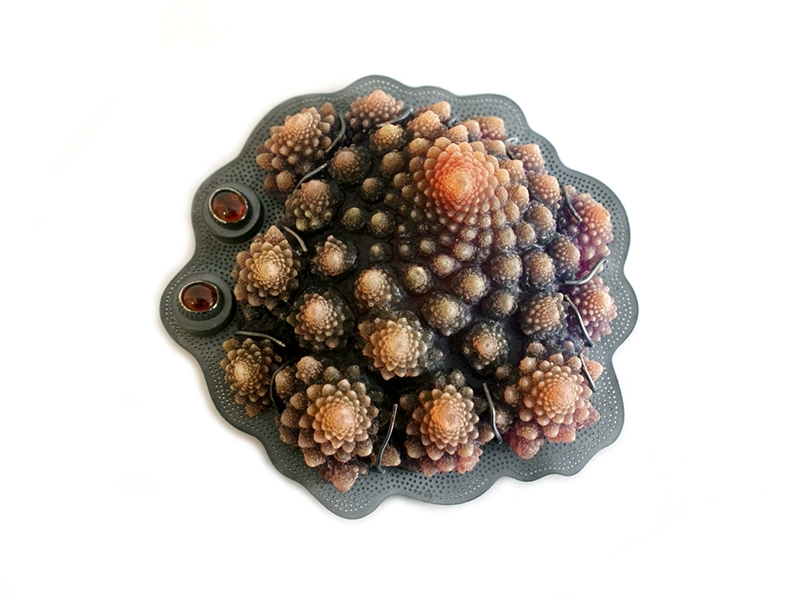 OHMYBLUE—Barbara Paganin is a contemporary jewelry master. Her work investigates the themes of nature, memory, and beauty, often by focusing on small details and fixing them in shapes that are refined, elegant, and powerful. This piece was shown in the last solo show that she had in Italy, From the Vegetable Garden to the Attic, which took place in Padua in 2015. Against a silver background, the violet cabbage appears. Experimenting with materials like polymethyl methacrylate, Paganin gives birth to compositions where the precious material is left as support or frame.
RETAIL: Price upon request
CONTACT: Elena Rizzi
MUSEUM WORTHY
Taboo Studio—Helen Shirk describes the neckpieces in this series as commemorative, celebrating the resilience and infinite variation of the natural world. She says she finds the process of hand-piercing intricate shapes to be a meditative experience that allows her time to think and freely explore different possibilities. She used mild steel in these pieces for its strength, lightness, and the freedom of scale it allows. Sometimes color is added to the blackened steel to heighten a particular rhythm or character in the piece. Helen's work is found in the collections of museums throughout the world, including the Hermitage in St. Petersburg, the Victoria and Albert in London, the Smithsonian, and the Los Angeles County Museum of Art.
RETAIL: US$3,400
CONTACT: Jane Groover
MUSEUM WORTHY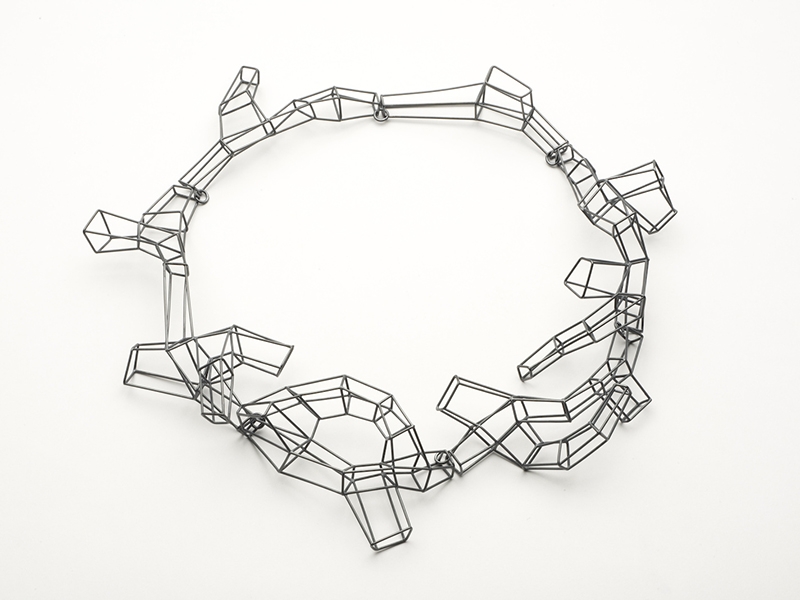 Galerie Noel Guyomarc'h—Born in 1952, Carlier Makigawa is one of Australia's most respected metalsmiths, working with silver and gold to create meticulously crafted frameworks which hold a dynamic and expressive energy. She graduated in 1980 from Curtin University with a BFA, later going on to complete her MFA at RMIT University in 1987. Since 1982, Makigawa has exhibited internationally and has her work in public collections such as the National Gallery of Australia in Canberra, the Victoria and Albert Museum, London, and the Kyoto Museum of Modern Art. Inspired by her environment, she creates fascinating architectural pieces playing with geometry, lines, movement, and space, with references to nature. Impressive, dynamic work! She is among 16 Australian artists in the current exhibition Aurora Australis, an event curated by Katie Scott and on display at the gallery from June 1 to July 15, 2018. A great opportunity to discover the current contemporary jewelry scene in Australia.
RETAIL: Price upon request
CONTACT: Noel Guyomarc'h
ESTABLISHED ARTIST
Four—Christian Hoedl tells about a woman who made a strong impression during his childhood in the Tyrolean Alps—Johanna Maier. She started and still runs a well-renowned restaurant in Austria where everything—from the selection of meats and vegetables and how they're prepared to the display of the dishes, the interior of the restaurant, the menus, and even the clothes of the staff—is carefully handled down to the smallest detail. The striving for all-covering perfection is significant for Hoedl's work. Without tipping over to sterile minimalism, the artist uses sharp needles and exact stitches to create an impeccable finish with a nerve and a tone that cuts through the surface.
RETAIL: 12,500 SEK (Swedish kronor)
CONTACT: Karin Roy Andersson
ESTABLISHED ARTIST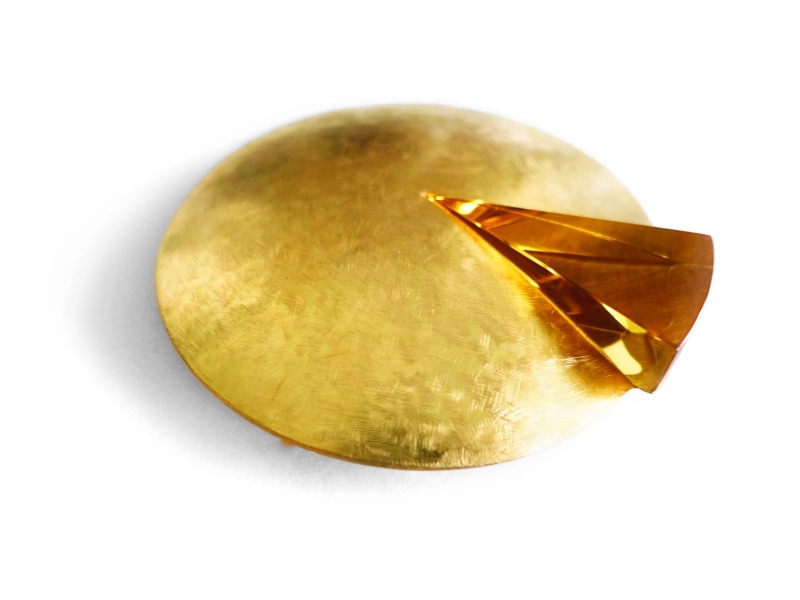 Slavik Gallery—Gold brings us to the divinely shining brooch Aton, by Renzo Pasquale. A stone-cutter and gemologist as well as an artist, Pasquale crowned his work with a yellowish-gold wedge of quartz that seems to carve through the surface.
RETAIL: €14,000
CONTACT: Renate Slavik
ESTABLISHED ARTIST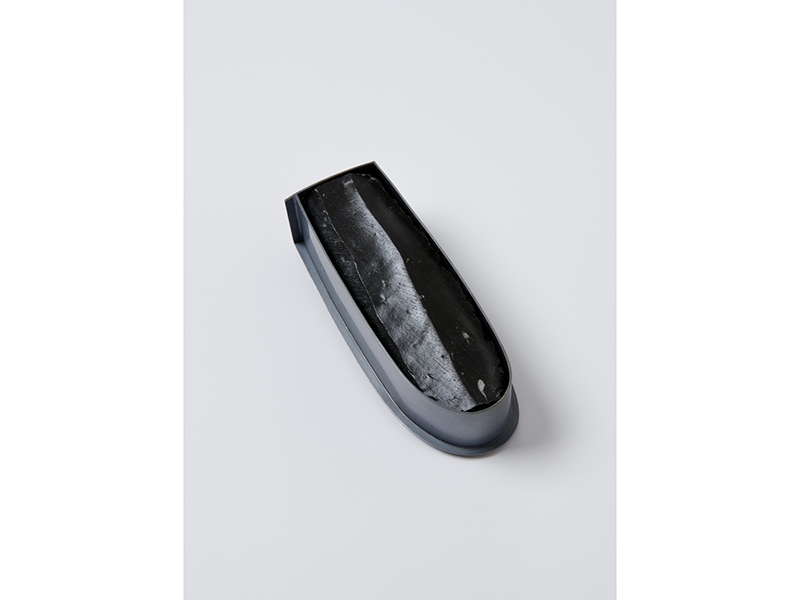 Ra Gallery—"Volcanoes are deeply fascinating to Therese Hilbert, because of their specific cloak-like shape that enfolds deep unruly craters, and because of their dangerous unpredictability and irrepressibility. They are connected to the colors red, for fire; yellow, for sulfur; and the black of congealed lava, embedded in many shades of gray. Over the years, Hilbert has visited many volcanoes. She brought rocks she found back home with her, especially obsidian (volcanic glass), to work them into jewelry. Rough remnants from the dynamic interior of the Earth, they contrast with her strict, smooth jewelry pieces and the soft sheen of patinated silver. Like metaphors for the powers and energies that accompany, push, and control us." —Paul Derrez
RETAIL: €1,560
CONTACT: Paul Derrez
ESTABLISHED ARTIST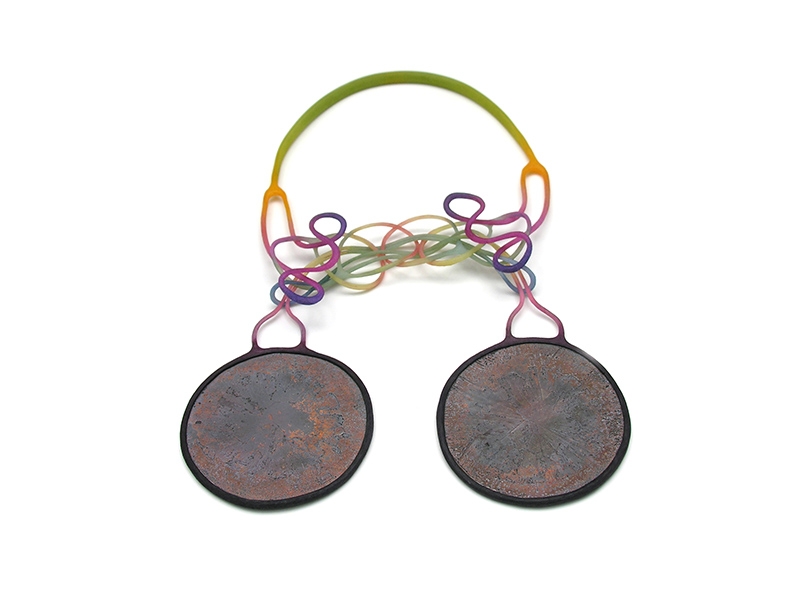 Gallery S O—This piece stems from a collaboration between Andi Gut and Peter Bauhuis. It's a colorful necklace made of carved nylon and recycled copper disks. The necklace resembles a retro-futuristic astronomical device, some sort of parabolic "dish" antenna. Once worn, it hangs gently around the wearer's neck as a collar of shapes. Gut and Bauhuis are interested in the idea of transmitting and receiving, in the interaction between the viewers and the wearers. Jewelry is a vessel receiving information but also able to "emit diverse signals."
RETAIL: Price upon request
CONTACT: Felix Flury
ESTABLISHED ARTIST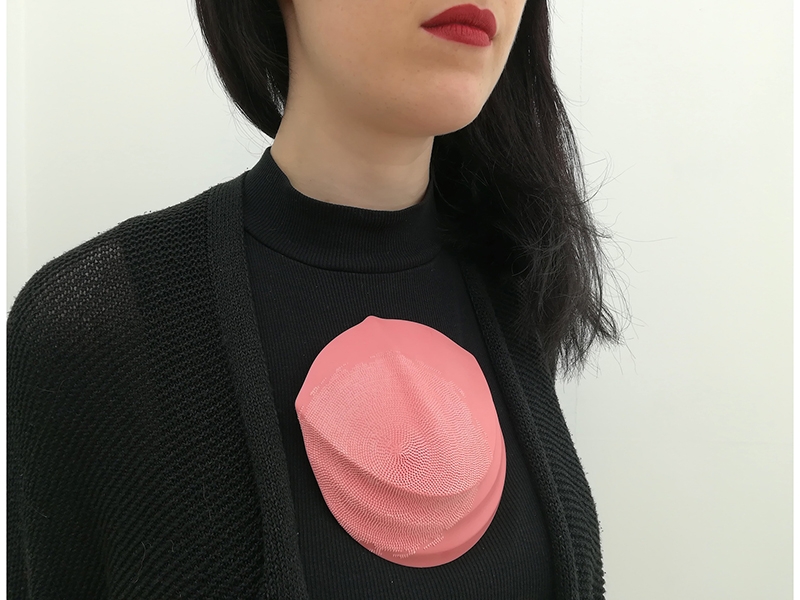 galerie beyond—In his maker's statement, Benedikt Fischer says, "As a starting point for my work, I researched the phenomena of protection in jewelry. The first piece of jewelry I owned was a guardian angel on a golden chain. I remember wearing it in challenging situations. My process led me to work with objects that were given the task of protecting someone physically before. I treated the surface of the pieces in order to make it appear as though it was grown naturally: like fur, skin, scales… In this work I tried to translate the primal need to wear jewelry as a mental and physical protection to the present."
RETAIL: €1,200
CONTACT: René Darmont
MID-CAREER ARTIST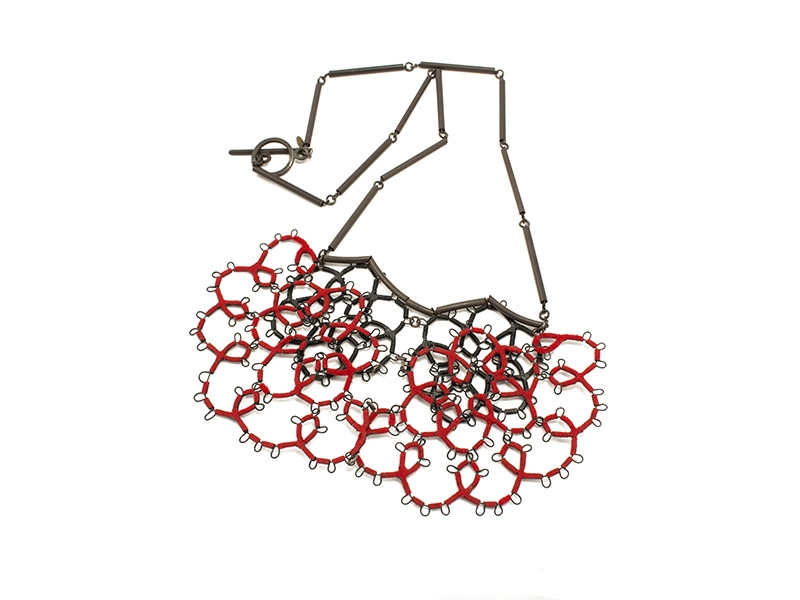 Baltimore Jewelry Center—Sarah Holden's work investigates how female identity is constructed and performed through the body. She celebrates imagery and histories of women who rebel against cultural expectations of how women are supposed to act. Holden uses both traditional and non-traditional craft techniques to create her work. Her jewelry combines steel and fiber, and she plays with the masculine and feminine notions of these materials. In this necklace, Sarah has created steel lace through the handwork technique of tatting, and then used flocking to incorporate fiber into the piece.
RETAIL: US$450
CONTACT: Shane Prada
EMERGING ARTIST
Gallery Loupe—Zachery Lechtenberg is an illustrator who has been influenced by contemporary cartoon imagery, particularly the work of animator Matt Groening—best known for The Simpsons and Futurama—as well as the timely works of Japanese artist/designer Takashi Murakami, American illustrator/sculptor KAWS, and hip-hop musicians Wu-Tang Clan. He invents his own goofy but lovable characters that inhabit a world populated with artifacts from contemporary pop culture, transferring his original, highly detailed drawings onto brooches and necklaces through the technique of champlevé enameling. Related imagery is often engraved on the reverse. For his latest body of work, Lechtenberg has derived inspiration from a common tool used in graphic design and printing—non-photo blue, a shade of blue that cannot be detected by cameras or copiers, thereby allowing the artist to sketch lines without the need to erase them after inking. Functionally invisible, drawings made with non-photo blue can be read as metaphors for the drawings that precede the final version, representative of the thought process and labor that came before. Somewhat saddened by what must remain unseen, Lechtenberg titled the exhibition Non-Photo Blues; it's on view through June 9.
RETAIL: US$1,800
CONTACT: Eileen David
EMERGING ARTIST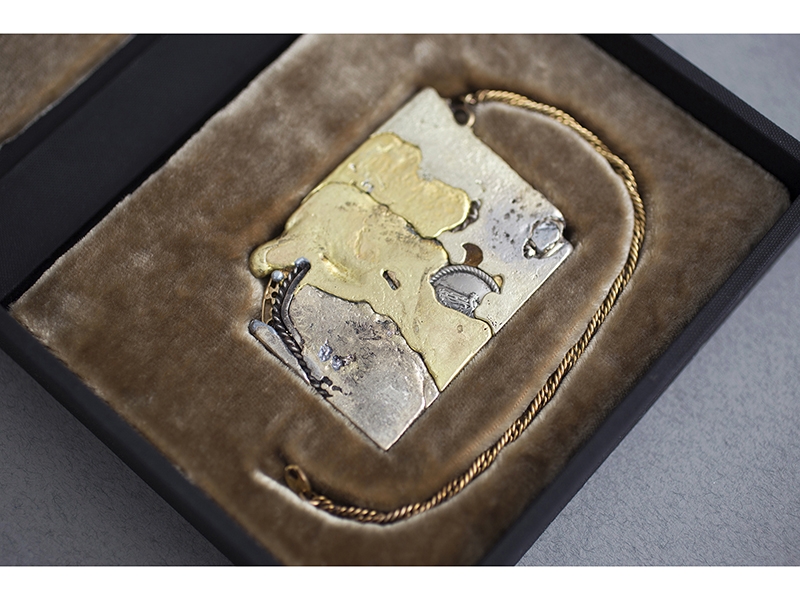 In the Gallery at Brooklyn Metal Works—"Embracing the destructive side of creation, MJ Tyson practices the reincarnation of personal objects. The resulting jewelry and vessels hold evidence of their past lives within their new forms. These are messy situations in neat packages, ready to go back into circulation. The last objects will become the next. All material carries a past. Whether we acknowledge this lineage or not, it exists. It may be to our advantage—as a way of orienting ourselves in our world—to consider the cycles of creation and destruction intrinsic to the objects that surround us. Our individual lives are fleeting. We use objects to extend ourselves beyond the boundaries of our bodies and lifespans. We ask these objects to lend us immortality, and we practice collection, conservation, and restoration to that end. In reality, nothing is immune to change. Objects also die." —MJ Tyson
Inheritance 10 is part of the exhibition The Last Objects, by MJ Tyson, and will be on view through June 29, 2018.
RETAIL: US$620
CONTACT: Brian Weissman
EMERGING ARTIST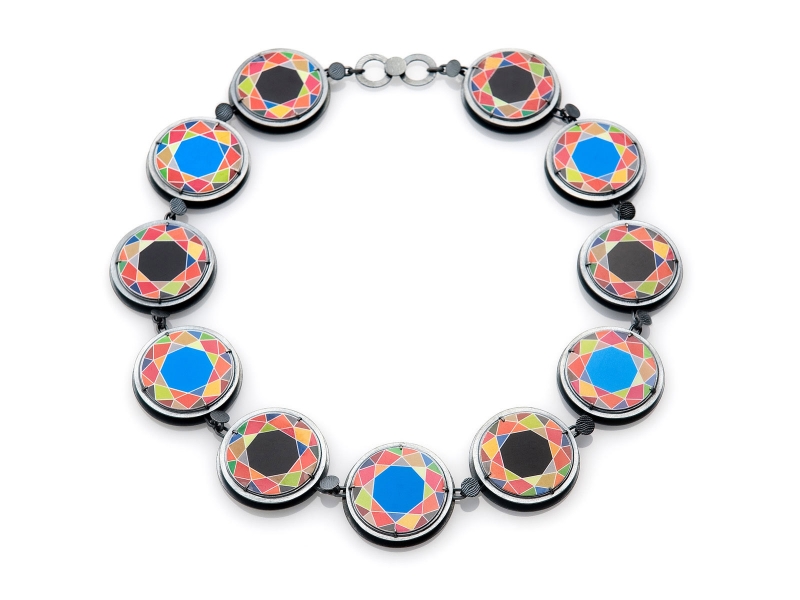 Galerie Rob Koudijs—Next to the almost obvious choice for metal—in Sungho Cho's case, mostly silver—this jewelry artist likes to apply other materials that may inspire him or even add an unexpected extra significance to his work. Some years ago, credit cards—once expired—played for the first time a role in his jewelry pieces. In the new necklaces Cho is now displaying, their application has become even more abstract. With a refined choice of contours and sizes, he produced almost classically shaped necklaces. Only the colors and decorations betray a past in which these very pieces of plastic guarded all sorts of secrets.
RETAIL: €2,950
CONTACT: Rob Koudijs
EMERGING ARTIST
Irene Belfi—The pieces made by Tatjana Giorgadse are transformations of her perception of the world, an integral part of her realities. Using materials such as wood, stones, and sponges, she creates stunning combinations and textures that reflect her Georgian roots. These particular earrings hide on the back two small secrets … who wants to find out what they are?
RETAIL: €700
CONTACT: Irene Belfi
GALLERY CHOICE
Patina Gallery—Petra Class presents long, rough, tourmalines and small, round, faceted tourmalines, which are encased in 22- and 18-karat yellow gold wire. This brooch exudes a cacophony of color and rhythm. Working with uncut gemstones and setting them into high-karat gold, Class welcomes the juxtaposition to offer pieces that are complex, yet complimentary. The mosaic brooch comprised of long uncut and round green tourmalines sets the stage for a piece of true excitement and beauty.
RETAIL: US$9,890
CONTACT: Allison Barnett
GALLERY CHOICE
Galerie Door—This fabulous necklace by the South Korean artist Coco Sung is a pleasure for the eye. The mask-like necklace is composed of puzzle-shaped wooden forms, carved, painted, and abundantly decorated with copper sequins and spangles, glass beads, and muhansa seeds. Each form represents an image; a human figure, a landscape, a flower, a butterfly. Together they resemble a face, a mask. All over the world, masks are used to protect, to disguise, to perform, to play. Masks refer to identity. Once you wear this necklace, it will embrace, surround, and protect you.
RETAIL: €3,500
CONTACT: Doreen Timmers
GALLERY CHOICE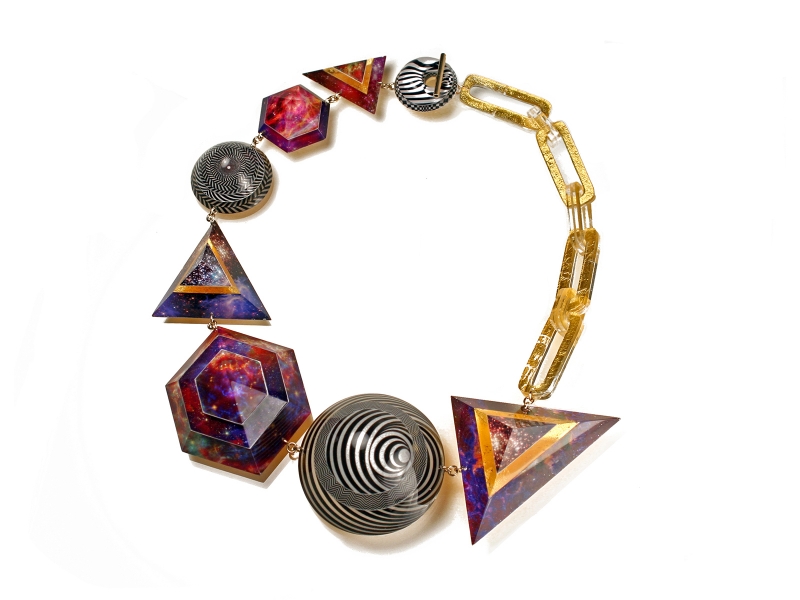 Facèré Jewelry Art Gallery--The Night/Dazed Statement Necklace by Jennifer Merchant combines graphic black and white op-art prints with images from NASA's Hubble Space Telescope and layers them between solid acrylic. The layered acrylic is hand sculpted into various geometric forms, creating pieces that are graphic and colorful from one angle and transparent from the other. Wonderfully dimensional, the necklace changes as it's viewed from different angles. This necklace is part of Jennifer Merchant's exhibition Night/Dazed, a collection of layered acrylic jewelry and small sculpture that invites viewers to explore illusions of time and space, on view June 6–26, 2018.
RETAIL: US$3,995
CONTACT: Madeline Courtney
GALLERY CHOICE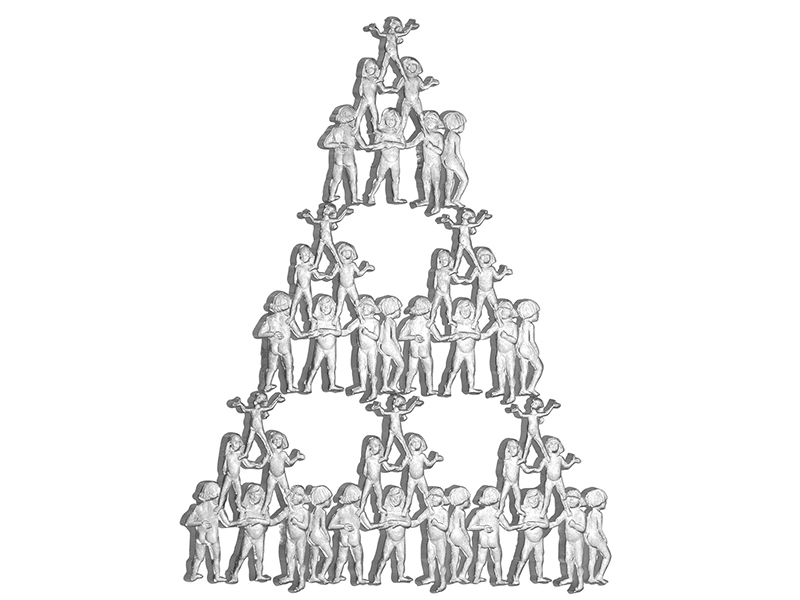 L. A. Pai Gallery--Micah Adams, for his exhibition Keepsake, meticulously altered found coins and other objects into jewelry and small-scale sculptures. Hand-sawn motifs are cut from the coins and combined to create new compositions and narratives.
RETAIL: CAN$1,200
CONTACT: Lisa A. Pai
GALLERY CHOICE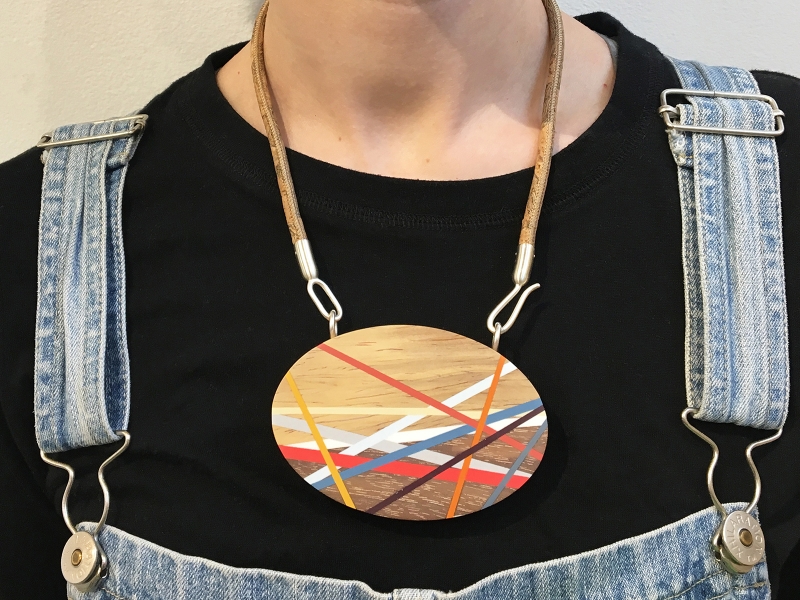 Lillstreet Gallery--Laura Jaklitsch states, "My work is made from an experimental inlay process involving wood and polyurethane. I begin by making a mold around pieces of wood, and pour the dyed polyurethane into the mold. I then cut into the resulting block, and repeat the process, one color at a time. I let the process direct the work, while making deliberate color and composition choices. The color palette evolves organically as I am making each piece, often to represent landscape, place, or feeling.
"The resulting pieces are a delicate balance of both experiment and precision, and the wood and plastic abstractions begin to take on a precious, symbolic feeling. To maximize sustainability, the woods I use in my work are cutoffs sourced from other woodworkers or companies that use responsible forestry practices."
RETAIL: US$980
CONTACT:Nora McCarthy
GALLERY CHOICE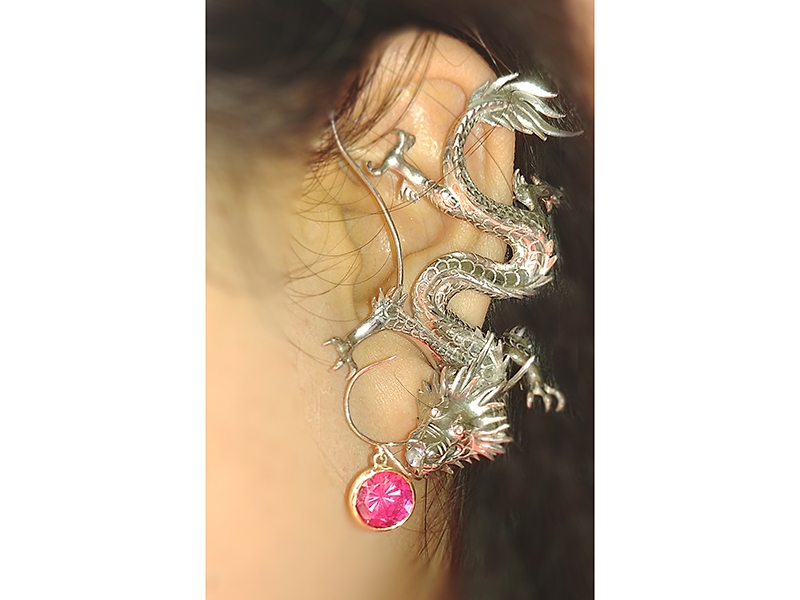 Koumei Art Gallery--This right earring is made to honor the previous owner of the synthetic pink sapphire, a Kapitan Cina official in Indonesia. Emily Zhu designed the jewelry piece at the request of her grandchildren, highlighting the gemstone, which is capable of changing its color under UV light. The design of the earring is inspired by 龙 (Lóng), a character that represents change and life. This piece was shaped into an earring because the designer believes a life-changing experience begins with an encounter.
RETAIL: 93,000,000 IDR (Indonesian rupiah)
CONTACT: Eko Sukoco
GALLERY CHOICE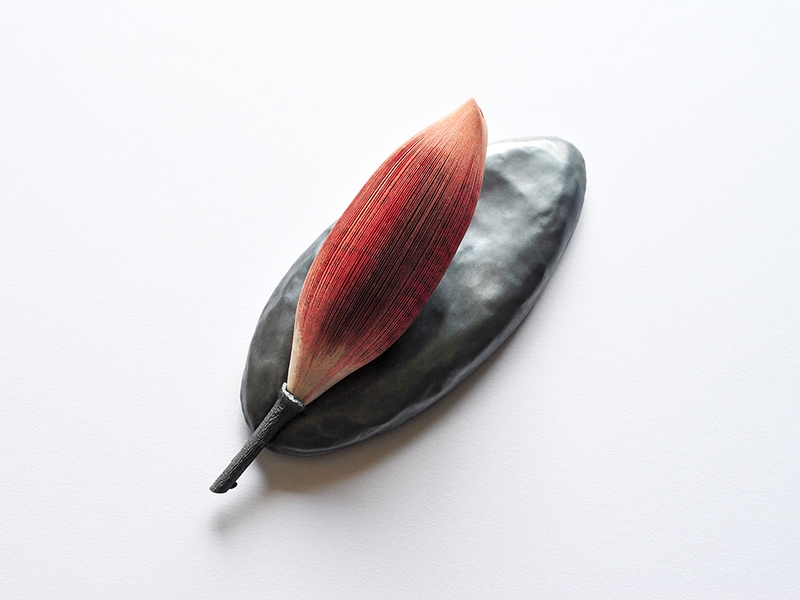 Gallery Funaki-–Possession is an unabashedly beautiful new work by one of contemporary jewelry's underrated heroes. Michihiro Sato works quietly, intently, wielding traditional Japanese materials like paper and lacquer with a deft and skillful touch. His works have a refined stillness and formality that locate them in the rich traditions of Japanese art, yet they are rooted in a contemporary sensibility.
RETAIL: AUS$1,350
CONTACT: Katie Scott
GALLERY CHOICE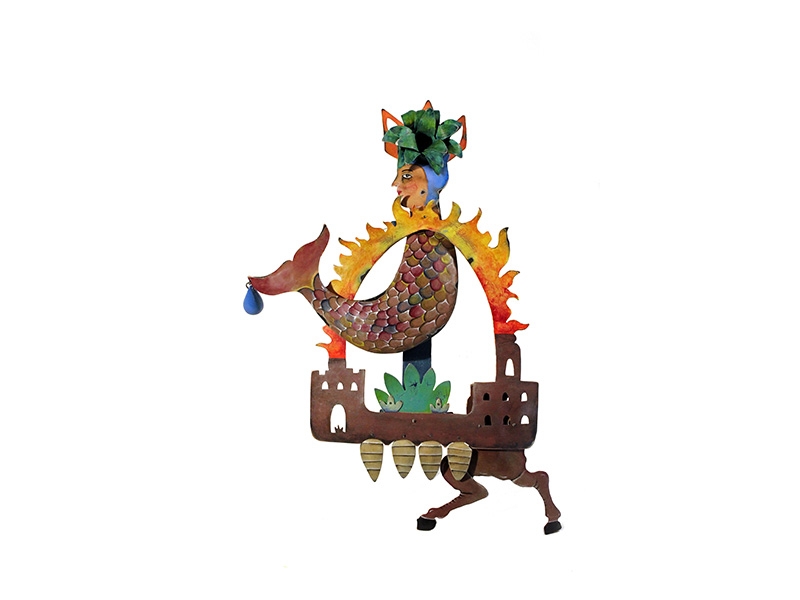 PLATINA--Artemis Valsamaki is a jewelry artist from Athens, Greece. All her works are unique, large-size, hand-painted pieces, and they attract all kinds of art enthusiasts. Her rich language describes people's search to understand life and crucial mysteries about the soul's immortality. References to ancient Greek philosophy, combined with a great variety of symbols in colorful visual expressions, tell fable-like stories of human dreams, longing, fear, and madness. The title of this piece, Sleep Like an Angel, refers to grandparents' bed-time stories when kissing a child good night.
RETAIL: US$1,800
CONTACT: Sofia Björkman
GALLERY CHOICE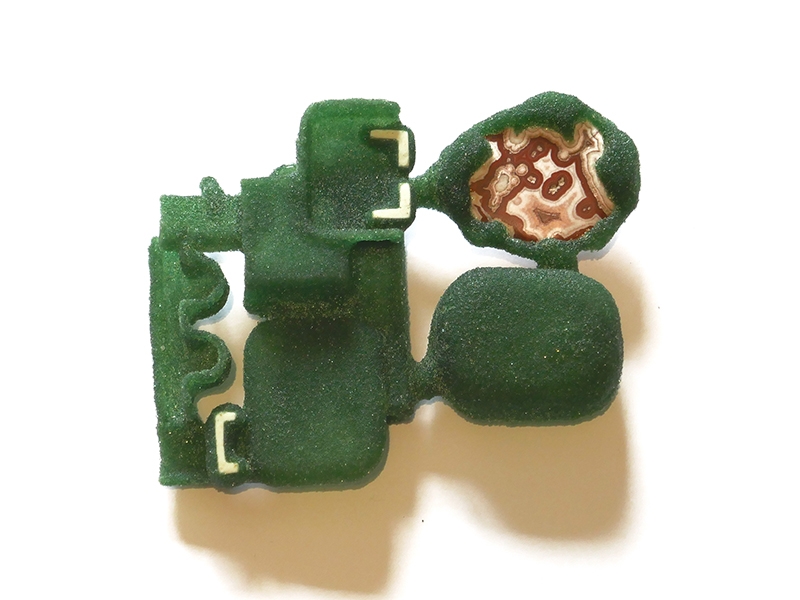 Galerie Spektrum--A wonderful and fantastic piece of jewelry by Andrea Wagner, which reminds us how sensitive ecological systems in the sea can be.
RETAIL: US$2,600
CONTACT: Juergen Eickhoff
GALLERY CHOICE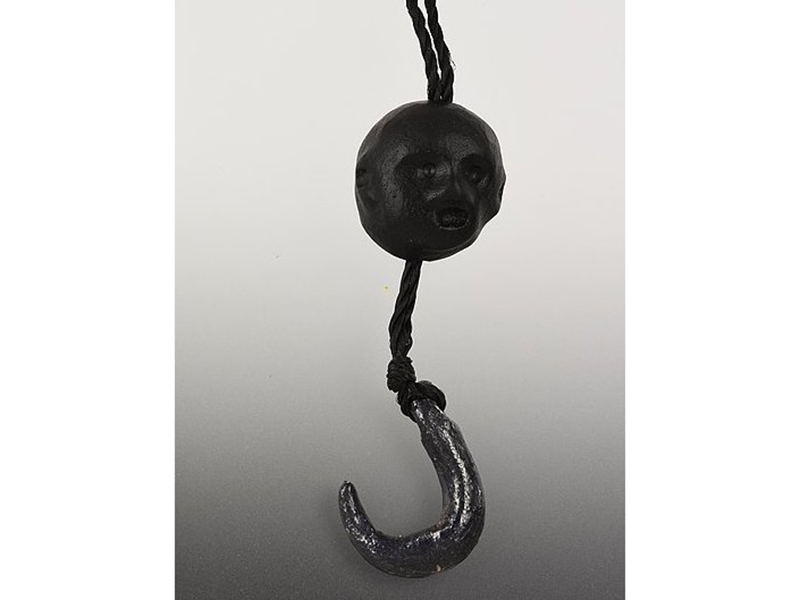 Fingers Gallery--Collaboration piece by contemporary jewelry heavyweights Karl Fritsch and Warwick Freeman in response to their curated show, Wunderrūma. Hook & Sinker/Drowner collection—LAST ONE LEFT!!
Warwick Freeman's work has played an elemental part in the cultivation and recognition of New Zealand contemporary jewelry. Through the use of materials collected from his immediate and wider natural environment, Freeman creates work that explores themes of national identity and place.
Karl Fritsch is a German-born, New Zealand-based artist renowned for his iconoclastic reinterpretations of jewelry tradition. Using precious materials, his forms yet challenge notions of materiality, value, and beauty.
RETAIL: NZ$2,000
CONTACT: Lisa Higgins
GALLERY CHOICE
Galerie LA Joaillerie par Mazlo--This obsidian pair of earrings entitled Black to Black IV, after Amy Winehouse's famous song, is part of the group show Sign of the Times, which runs at the Gallery LA Joaillerie par Mazlo until July 14, 2018. It is emblematic of the work of art jeweler Julia Maria Künnap, who has been widely acclaimed for her mastery of lapidary stonecutting. Through an obsessive and time-consuming process, she creates objects that visually defy and denature the material itself, capturing suspended time with gemstones that appear to be in an eternal state of melting, dripping, and splashing.
RETAIL: Price upon request
CONTACT: Céline Robin