Art Jewelry Forum's network of gallery supporters has increased to more than 60 international galleries focused on featuring art jewelry. On Offer is a monthly series that allows AJF galleries to showcase a piece that they've personally selected to tempt and inspire you. Please contact the gallery directly for inquiries. Enjoy!
MUSEUM WORTHY
Facèré Jewelry Art Gallery—The brooch and pendant Quicksilver is a collaboration between internationally renowned glass artist Cappy Thompson and metalsmith Jana Brevick. Known for her large glass vessels and installations featuring grisaille enamel, Thompson began collaborating on a limited series of small wearable works with Brevick in 2000. Quicksilver and its companion piece, Brimstone, are inspired by the 1617 etching of the Tree of Life in Philosophia Reformata, by Johann Daniel Mylius, in which two of the limbs are mercury (quicksilver) and sulfur (brimstone). RETAIL: $4,000
CONTACT: Madeline Courtney
---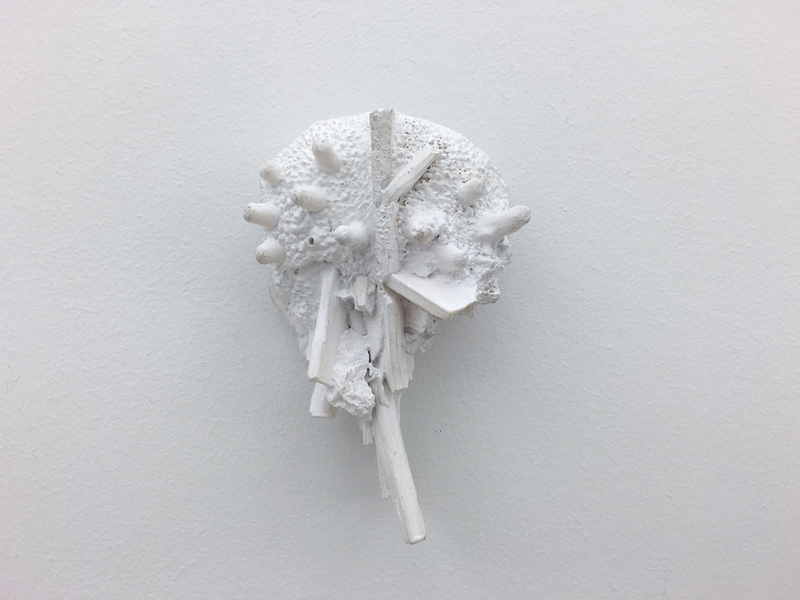 galerie beyond—With this new series, Arnaud Sprimont further pursues his creative research. Supported both by scientific and empirical observation of the cells and patterns of the living, he walks up and down an invisible, frightening universe where the strong ties that exist between human being and nature reveal themselves. The exploration of this network is precisely at the heart of his approach and of his will to define himself, in nature and in harmony with it, as microbiotes living in symbiosis with their host.
Initially, Sprimont draws his raw material from within nature. From elements harvested during his peregrinations, he generates a new alphabet of the living that will be the basis of a grammar intended to spin his own mankind. This opens the way to hybridization: A construction is achieved from multiple elements, creating a new biological makeup, fully fantastic and with baroque appearance, a crossbreed of improbable species. His interpretation of the material eventually tends to dematerialize the shapes so that they become a representation of his own universe. Their white appearance, neutral and close to a scientific picture, captures their reliefs and shadows. This brooch is light and easy to wear or perfect for hanging on your wall. RETAIL: €525
CONTACT: Rene Darmont
---
Sienna Patti—Jamie Bennett's Red Site series, his iconic group of eight pieces from the early 1980s, begins the foundation for his presence as one of the most influential and celebrated enamelists in contemporary jewelry. This piece, exhibited in the 1984 exhibition Contemporary Jewelry, the Americas, Australia, Europe and Japan, at the National Museum of Modern Arts Tokyo, Japan, is a rare find. All other pieces in the series are in private collections and museums. Bennett's work is in the collections of museums around the world, including the Metropolitan Museum of Art, Musée des Arts Decoratifs in Paris, the Smithsonian Institution, the Kunstsmuseum of Art in Oslo, Los Angeles County Museum of Art, and the Victoria and Albert Museum in London. For more extensive information about Jamie Bennett's work, please visit our website. RETAIL: Price upon request
CONTACT: Sienna Patti
---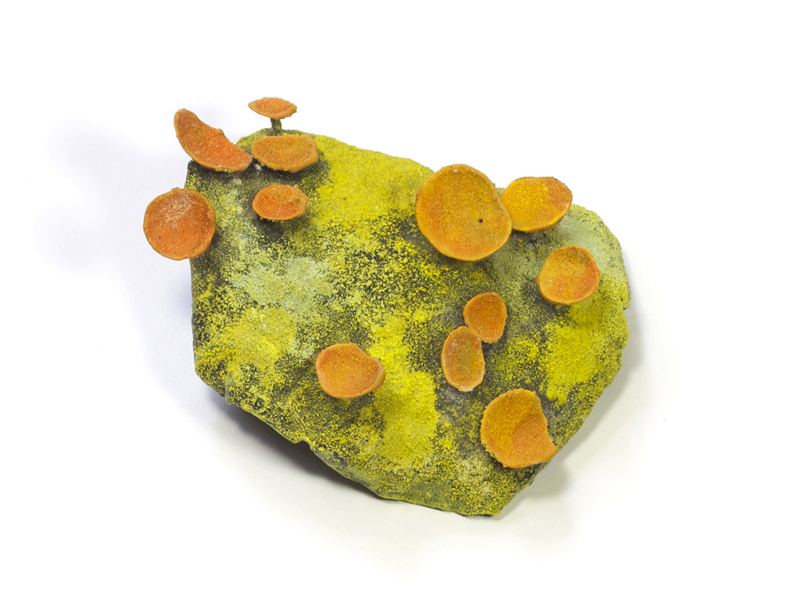 Velvet da Vinci—New work by Myung Urso, an important jewelry artist. RETAIL: $1,200
CONTACT: Mike Holmes
---
GALLERY CHOICE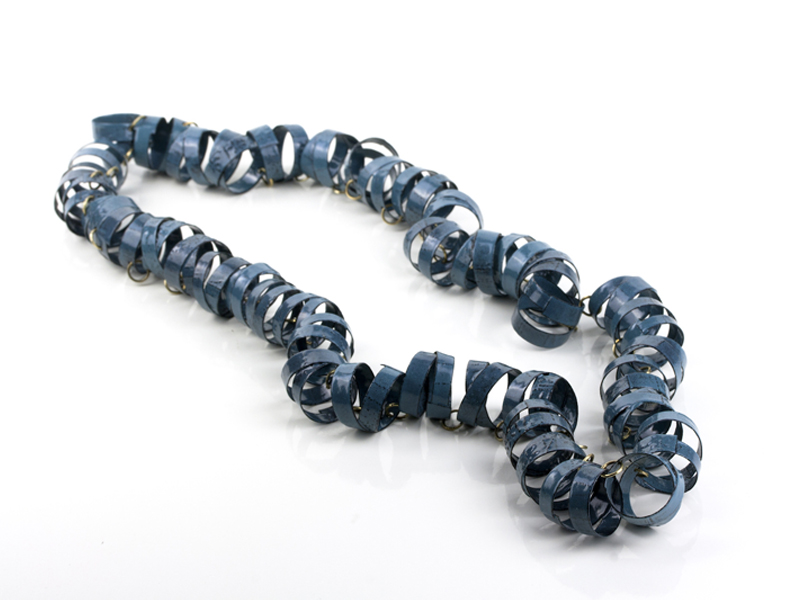 Alternatives Gallery—Silke Trekel takes on the challenge of creating complex structures from basic forms, compositions that grow into the surrounding space to form three-dimensional figures. The repetition of geometric shapes creates a cadence, a rhythm that is characterized by highs and lows. The artist is interested in forming irregularities within her structures, in what could seem to be a casual juxtaposition of forms, color, volume, and lightness. These contrasts create harmony and balance and become sculptures to be worn or simply to be admired. RETAIL: €3,995
CONTACT: Rita Marcangelo
---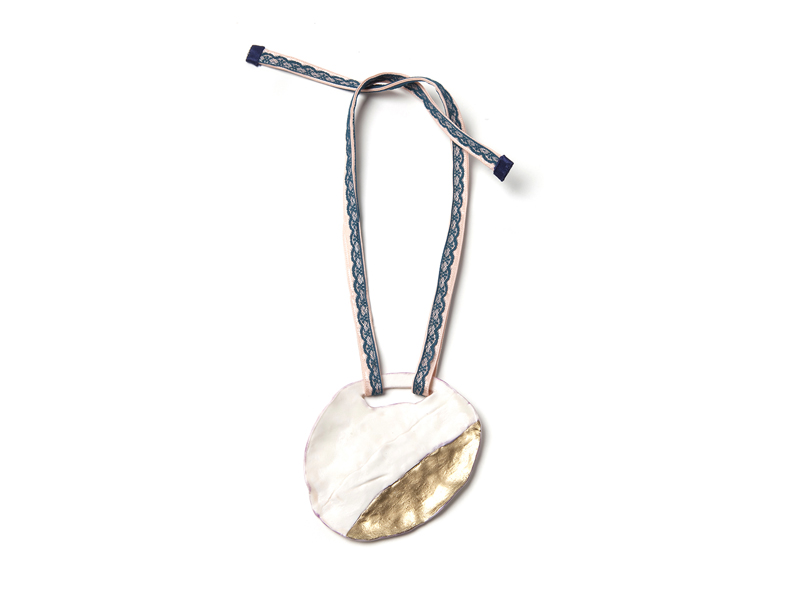 Four—There are things we have no words for. Flóra Vági works in a language that is understood without words. She describes her pieces as "newly dressed souls," and that is exactly what they are. Vági works mostly in natural materials like paper or wood, but in her hands the materials develop into something new. It's like she's giving water to a seed that grows to be a tree or a flower; covering a worm in silk, making it become a butterfly; or putting a log on a fire, turning it into a black piece of coal. She finds and brings out the soul of the material, a new identity that it has been longing to obtain. RETAIL: 8,000 SEK
CONTACT: Karin Roy Andersson
---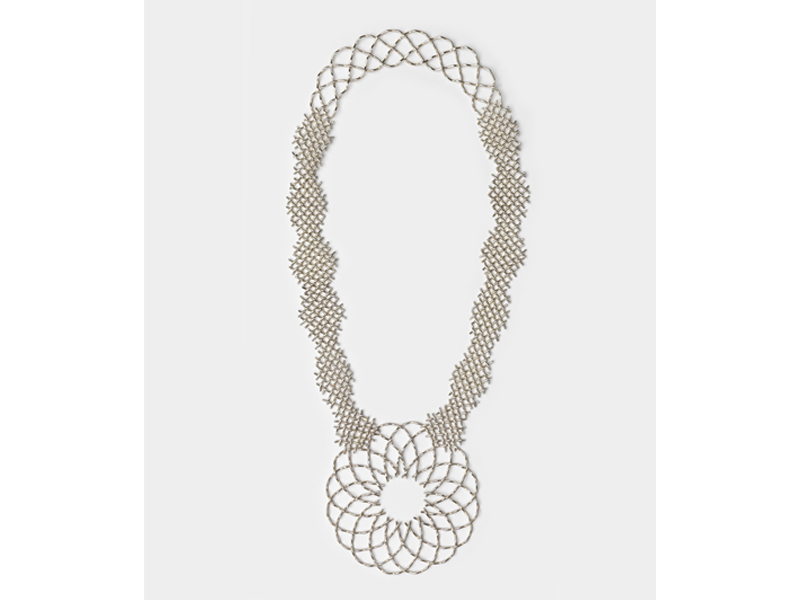 Gallery Loupe—Attai Chen's latest work focuses on perception. Matter of Perspective asks us to suspend judgment about what may constitute the physical. Chen questions the essence of objectivity, championing instead an ever-changing view of things, time, and space. Informed by the multiple perspectives used by pre-Renaissance painters, Chen offers their scenic fragmentation as a paradigm for numerous viewpoints. "We get the feeling," states Chen, "that we are looking at a body consisting of independent, self-contained, multidimensional entities in a process of bonding … This 'incorrect' representation is more realistic. It offers a humbler way of looking at the world around us and the place that we occupy in it."
A graduate of Bezalel Academy of Arts and Design, Chen also holds a graduate degree from the Academy of Fine Arts, Munich, where he studied under Otto Künzli. In 2010, Chen won the Herbert Hofmann Prize at Schmuck, and in 2011 the Oberbayerischer Prize for Applied Art. He has been the subject of several solo exhibitions and been included in many group shows around the world. Chen is represented in the collections of the Metropolitan Museum of Art; Die Neue Sammlung, Munich; Tel Aviv Museum of Art; and Rotasa Collection Trust. RETAIL: $2,900
CONTACT: Eileen David
---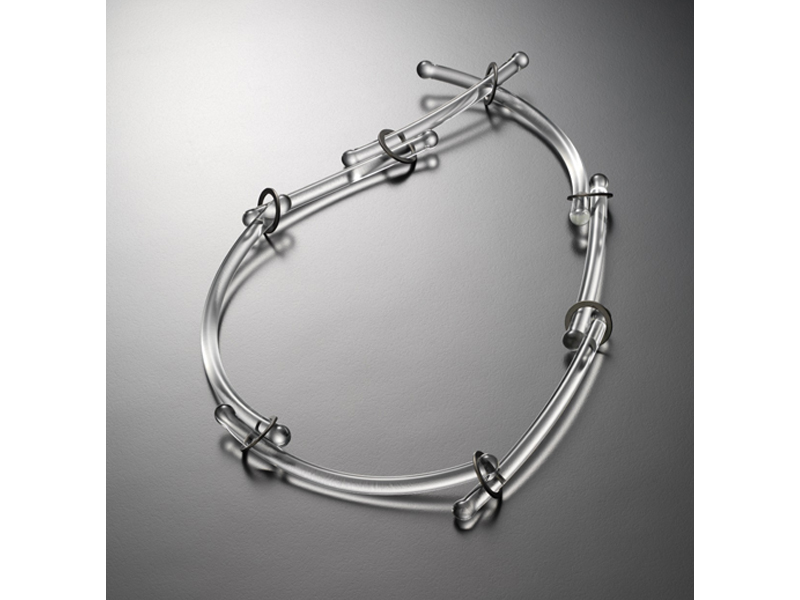 Hedone Gallery—Blanche Tilden has worked in both contemporary jewelry and glass for over 20 years. She lives in Melbourne, where she maintains a full-time practice designing and making pieces for exhibition and commission. Tilden has developed a unique approach to her materials, in particular glass, which she explores both as a material for jewelry making and as a universal metaphor. In the Flow necklace, part of a new direction in her work, the glass and metal become fluid, encircling the body in unexpected ways and shimmering with light and purity. It flows with the wearer, delicate yet strong at the same time. The Flow necklace was selected to appear in the May issue of the prestigious New Glass Review 38, a publication of the Corning Museum of Glass. It was one of only 100 pieces selected from over 2,400 entries in this highly selective competition.
Tilden graduated from the School of Art, Australian National University, Canberra, in 1995 with a BA in glass and a graduate diploma in gold and silversmithing. She is currently pursuing a PhD. Since 1997, her work has been held in international, national, and regional public collections, including the Musée des Arts Décoratifs, Paris; National Gallery of Australia; National Gallery of Victoria; the Powerhouse Museum, Sydney; and the Corning Museum in New York. She has also had nine solo exhibitions in Australia and participated in over 90 group exhibitions nationally and internationally. RETAIL: $1,500
CONTACT: Bonnie Levine
---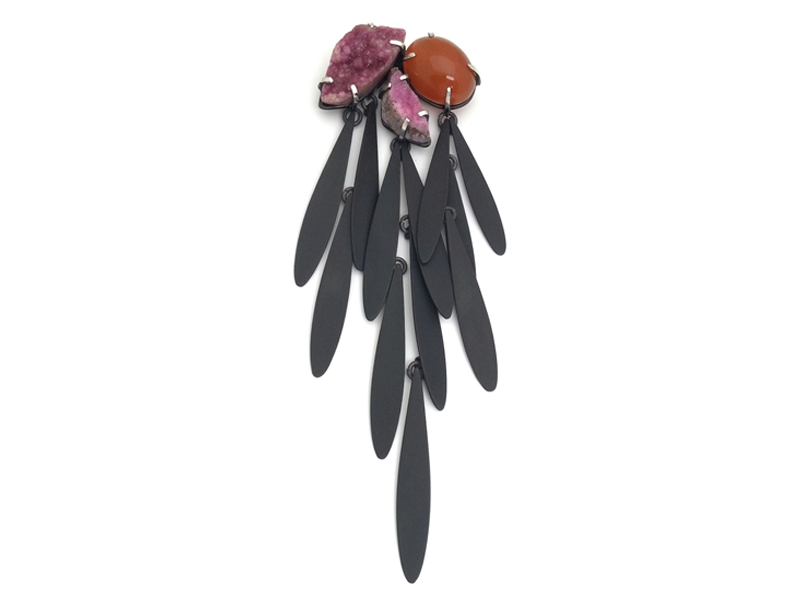 Lillstreet Gallery— Laura Wood, the Asheville-based contemporary jewelry artist and 2015 SNAG Emerging Jewelry Artist at SOFA Chicago, is one of the newest additions to the Lillstreet Gallery. We're excited to give this brooch a home for the month of February as part of Wood's February Feature at Lillstreet Gallery. Made in an intriguing combination of sterling silver, steel, gemstones, and powder coat, the Druzy Fringe Brooch is the perfect balance of statement, color, and movement. RETAIL: $650
CONTACT: Nora McCarthy
---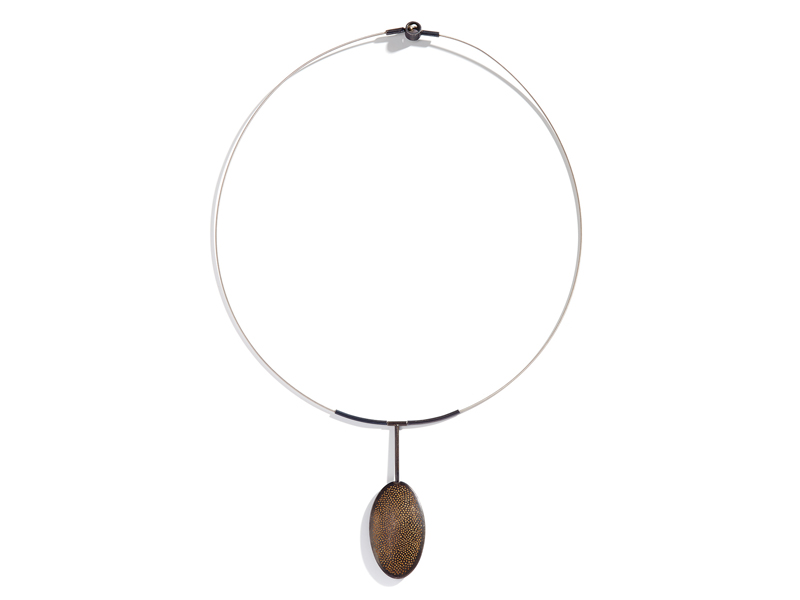 Patina Gallery—This Cleopatra necklace is glamour from another age, created for this one. With the appearance of ancient jewelry that might have adorned the Queen of the Nile, this necklace calls to mind the clean, symmetrical lines of Egypt. Exclusive to Patina Gallery, the oxidized silver necklace is part of Crafted Visions: The Tension of Opposite, an exhibition coming to Patina in July 2017. For the exhibition, Ivy Ross, an accomplished jewelry maker and the head of Google Glass, has agreed to serve as co-curator with gallery owners Ivan and Allison Barnett. Known for promoting collaborative environments, Ross and the Patina curatorial team are creating Crafted Visions as a complement to the world premiere of an opera based on the life work of Steve Jobs. Ross sees the defining quality of Jobs as the tension of opposites—the contrasts of simplicity and complexity, of art and technology. Ross's innovative metal work in jewelry is in the permanent collections of 12 international museums. Vogue magazine called Small Wonders, her New York City-based business in the 1980s, "one of the most influential stores of the decade." Since then, Ross has headed design teams at Gap, Calvin Klein, and Outlook Eyewear (Bausch & Lomb). RETAIL: US $1,585
CONTACT: Rob Dean
---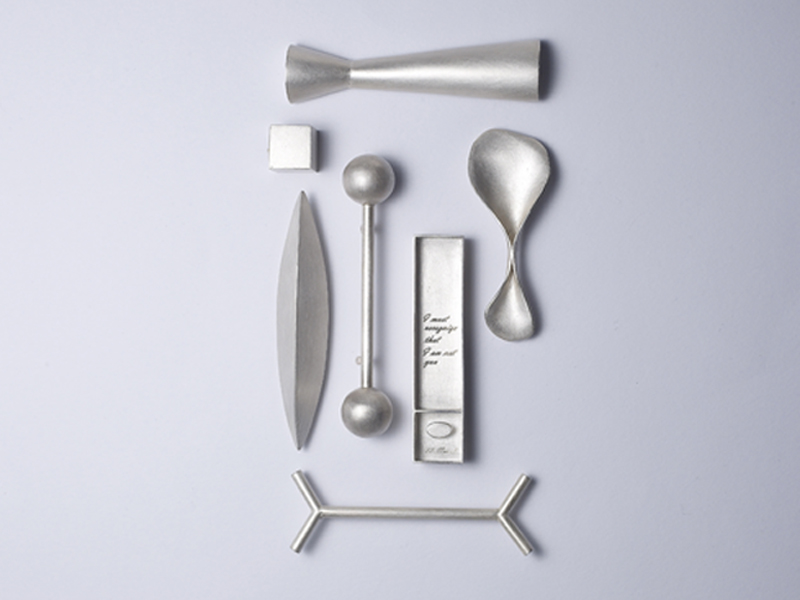 SOWYEN Gallery—The series of foundation thought about whether technique was used while ignoring or neglecting in previous works and can be said to be formative practice for myself together with the meaning of the basic modeling while looking back the meaning "foundation" once again. The foundation is basics, basis, and nature. The common base of things and life, everything is the power of the beginning for the foundation before decorative elements are added or the last power after discarding unnecessary elements. [Google Translation from Korean] RETAIL: Each $270
CONTACT: Maro Park
---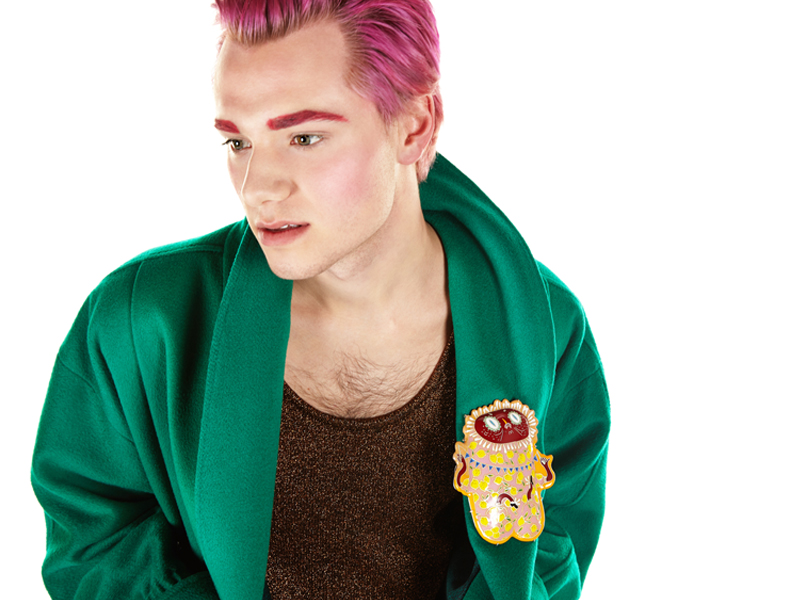 The Gallery at Reinstein/Ross—Mauricette is the title character in Aurélie Guillaume's first US solo show, Mauricette, the Giants, and Other Frivolous Tales: The Jewelry of Mlle. Guillaume, which opened January 26. The exhibition will feature jewelry, drawings, and the artist's first animation. Guillaume creates cloisonné personages who are amalgams of her personal stories, experiences, and emotions. Akin to each character's larger-than-life personality, the jewels are large and elaborate, brimming with meaning and detail that is visible on both the front and the back. Guillaume calls her characters "ridiculous" because of their flamboyance, but they are a celebration of individuality and the artist's hope that we, like her characters, stay true to ourselves. An emerging artist, Guillaume has gained recognition for mastering the traditional enamel technique of cloisonné and using it to create such distinct and fresh work. RETAIL: $4,500
CONTACT: Bella Neyman
---
ESTABLISHED ARTIST
Aaron Faber Gallery—Jewelry artist and sculptor Lola Brooks is primarily known for her overscale works inspired by Victorian jewelry, but here she shows off her bench skills with an oval brooch framed in wood depicting in miniature an NYC water tower and nearby building landscape. The work is finely inlaid, incorporating sterling silver, copper, 18-karat white and yellow golds, and 14-karat gold to create the painterly scene. Framed in wood, with a gold double pin back. RETAIL: $4,400
CONTACT: Patricia Kiley Faber
---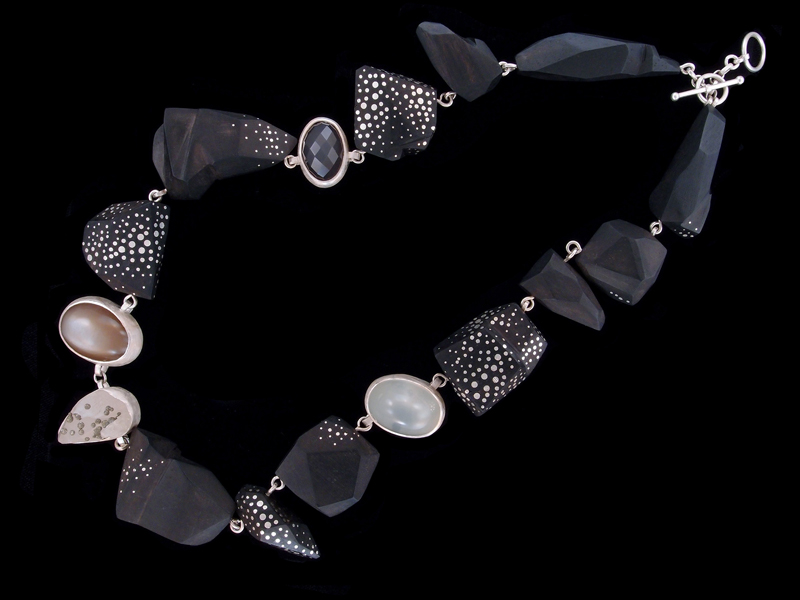 De Novo Fine Contemporary Jewelry—Susan Chin has been using the fascinating technique of inlay of metal into wood for many years. In this necklace, titled Rudolph, she has hand-carved pieces of ebony and then inlaid dots of sterling silver in undulating patterns across many of the wood elements. The colors of the ebony and silver are complemented by chocolate, gray, and white moonstone and one element of druzy quartz, creating a calming monochromatic winter color scheme. RETAIL: $3,800
CONTACT: Cherry LeBrun
---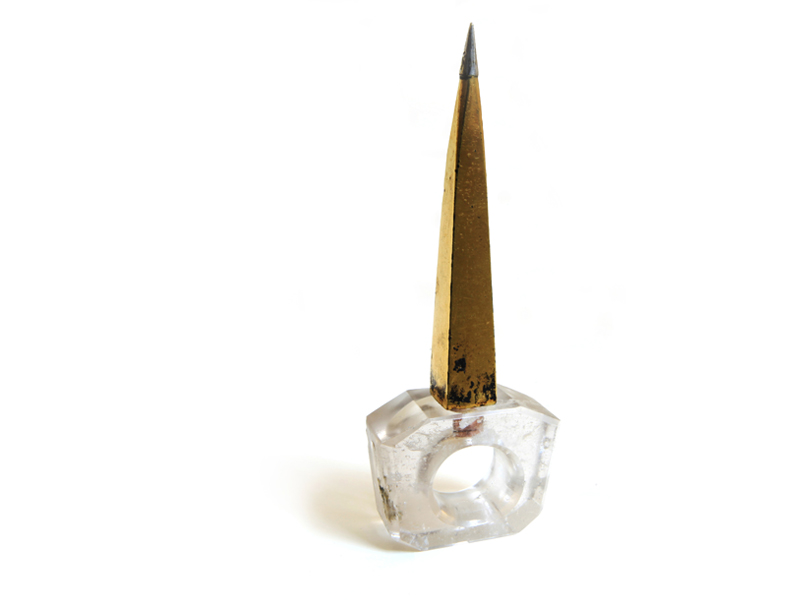 Gallery S O—Slugs are widely considered a plain, unsightly pest. By making them into jewelry, David Bielander (Switzerland, b. 1968) confronts our assumptions of what we value as pretty, right, appropriate. His figurative jewelry is a witty invitation to communicate, combining an irresistible cheerful clarity and a serious concern with the duality between sensory perception and conceptual knowledge. Bielander states, "I aim to walk that fine line between making something simple enough that one unavoidably recognizes, that simultaneously requires a fair conscious effort to get beyond the obvious, and at the same time to be abstract enough that it allows a shift to happen, that the piece becomes something altogether new when it unpredictably connects with you."
In 2013 Sara Roberts said, "Bielander makes beautifully crafted objects, but wishes the delight of recognising and connecting with them to be removed from ideas of workmanship or of effort, or of the value of craft. Thus the patinated surface treatment of the Slug belies the fact that it is formed of beaten sterling silver, a delicate cupped shape given a sluggish sheen."
We take this occasion to congratulate David on his upcoming solo exhibition at the prestigious MUDAC in Lausanne, opening on February 8. RETAIL: $1,050
CONTACT: Felix Flury
---
MID-CAREER ARTIST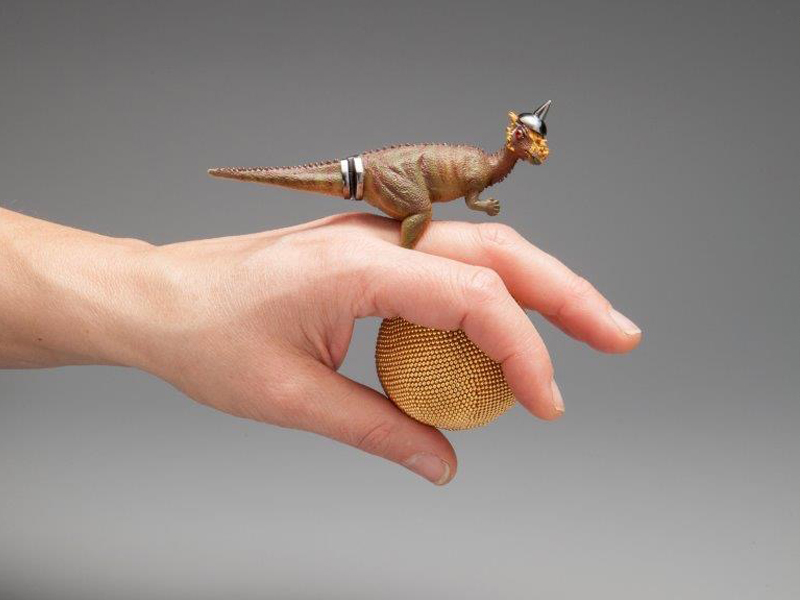 Galerie Rob Koudijs—This ring is one piece out of a new series of jewelry and objects in which Felieke van der Leest blends themes like environmental issues, rock music, drones, and emblems of love with materials such as silver, textile, meteorites, and mammoth ivory. The exhibition opened Saturday, January 7, 2017, at Galerie Rob Koudijs, Amsterdam. RETAIL: Price upon request
CONTACT: Rob Koudijs
---
EMERGING ARTIST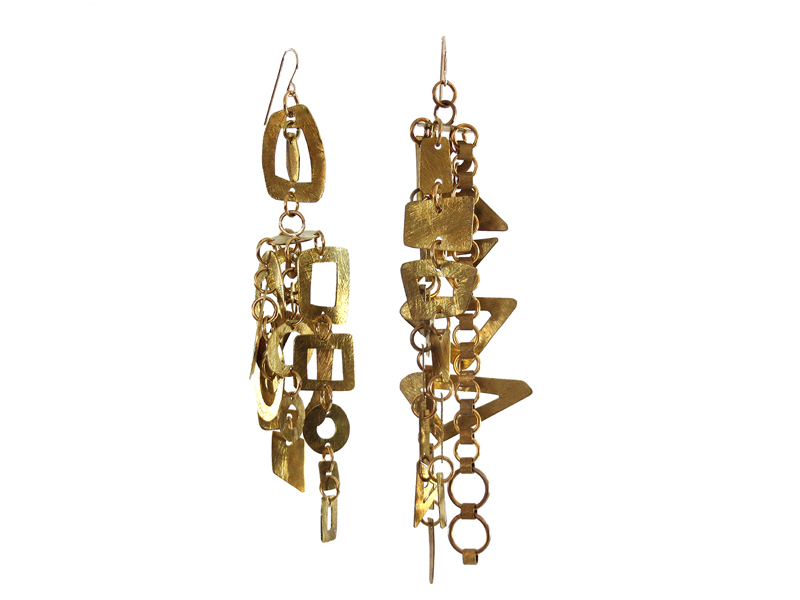 Brooklyn Metal Works—These Chandelier earrings, by Eve Singer, are part of a series that orchestrates a dialogue in shapes and movements. Thin, hand-pierced sheet allows for layering without weight, and finely tuned construction gives these dynamic shapes a range of motion that evolves into ever-changing rhythms and patterns while worn. The structure and textures present in this work are indicative of Singer's style, and can also been seen in her work in the field of textile printing and clothing design with her company, Norval Finkelstein. The hand-cut lines on the surface of the metal glimmer at every angle. These are statement earrings that are easy to wear, and that bears repeating. RETAIL: $350
CONTACT: Brian Weissman
---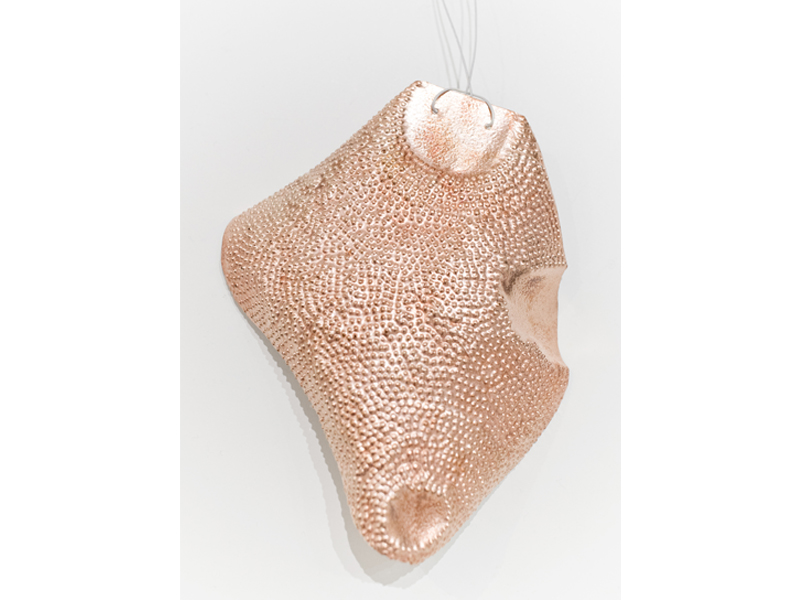 OHMYBLUE—Isabel Dammermann's works are like meditations trapped in an interior movement, in an instant, which resonate in us because they take place in our present. Dealing with the abstraction of language and representation by assembling, stratifying, juxtaposing, Dammermann creates physical presences that reflect no relief. Her work speaks about an absence that lies somewhere else, maybe in the attempt to grab the wonder of things themselves and to try to present them as if it were for the first time, opening them to the world. RETAIL: €1,300
CONTACT: Elena Rizzi
---