Noon Passama is a jeweler who truly reaches outside the boundaries of contemporary jewelry by working with other artists, photographers, and fashion designers. In Portraits, her current show at Galerie Ra, she works with the photography team called Severafrahm, consisting of Mirka Laura Severa and Michael Frahm. It is interesting to hear her thinking on her practice. Passama is a graduate of the Rietveld Academie in Amsterdam, where she earned a bachelor degree in design from the jewelry department. She also holds a bachelor of industrial design from Chulalongkorn University in Bangkok, Thailand.

Noon Passama has generously shared her book project Adorn & Portray with AJF blog readers. You can download a copy here.
Noon Passama: My main strategy is collaboration. I cannot do everything, and I cannot complete every part of a project on my own as well as I can with others. All the projects I have been working on are related to jewelry, and in almost all of them, I am the jewelry maker. Others are specialists of other fields, and parts of some projects are best done by them. In terms of making jewelry pieces, sometimes I have in mind ideas of something that I cannot make myself, and therefore, I go to the experts. For me, technical problems should not be the cause to compromise and to do something more easily.
In 2010, I was asked by Liesbeth den Besten to create a project for the Jewellery Unleashed exhibition she curated. For this, I decided to propose a collaboration with the fashion designers of Capara because I admire their works so much. Moreover, I felt the need to give the jewelry pieces a context. I had pictures in my mind of how the wearers would look with what they were wearing. In a practical sense, I wanted to work with someone I did not know to keep it purely professional. It can also be a way to train myself to be responsible for my part of the work in return for their trust of collaborating with me.
For many years, I have been doing lots of Internet browsing and sometimes shopping in online stores. Recently, many good sites have developed the way of showing products through images. Customers can zoom in to see every detail and can even see a 360-degree view or a video of a product. In a way, these experiences made me look back to how art jewelry is presented. I do make detailed shots of the works on a clear background because they are necessary for practical reasons, but I also prefer to have them photographed in contextualized sets.
In my recent exhibition at Klimt02 and the present one at Galerie Ra, the photographs are part of the Portraits series' presentation. Because the jewelry pieces are in the form of faces, it made sense for me to show portrait photographs of them next to the pieces. In this case, the photographs should present viewers a different point-of-view from the pieces they can see and touch in real life.
How does contemporary jewelry relate to fashion, traditional, or costume jewelry? How do you differentiate one from the other?
Noon Passama: For me, traditional jewelry has a clear meaning that it has to do with tradition and cultural heritage. The term "costume jewelry" reminds me of fashion jewelry in the period of Coco Chanel.
Contemporary jewelry and fashion jewelry—Content wise, it seems the two fields have jewelry pieces in common. I think the main thing that sets them apart is the professional structure of each field. By professional structure, I mean the combination of similarities and differences in content (for example, edition of the works produced and whether they are seasonal or not), the nature of the worker (as an individual maker or as a team), sales and pricing, distribution, promotion, and presentation. There are many more differences than similarities on these points between the two fields.
You have a reputation for being playful with your work. What led you to make these funny but strange and haunting pieces?
Noon Passama: Jewelry is very much connected to identity. Through this collection I want to present jewelry pieces as personalities.
An important rule I made for this collection was to avoid excessive decorative elements. My stance is that a piece of jewelry is already in itself an adornment to the wearer, and for that reason, there should not be adornments on top of the adornment. The diversity must come from altered associations of shape, position, and size of different factors of a face. I do not want to add things that are not part of it. There are several elements to work with, such as facial form, eyes, nose, ears, mouth, hair, and skin. The elements that shape a piece are unlike any others.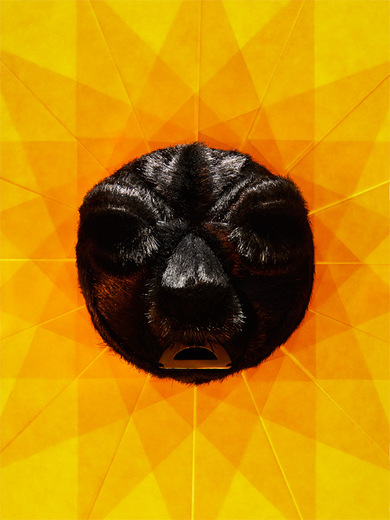 I thought that if I made them look realistic and/or like specific people, there would be less space left for imagination and interpretation. I want viewers to be free to connect the Portraits to anyone and to relate to the emotions they see on their faces.
I made drawings and patterns for the pieces, but the results were never as planned. I only got to see how they looked the moment I finished sewing and flipped the piece inside out. A slight change in the thickness of the material can make a difference in the shape. The use of fur and leather adds unique and tactile dimensions to the works. I carefully selected the natural details of these materials—the hair direction, the fur swirls, the skin textures, and the unexpected patterns that perhaps can only be found once—to recombine into various characters.
Are the heads in this Portraits collection based on real people you know?
Noon Passama: Only the first piece. It was meant to resemble Paul Derrez of Galerie Ra, because it was a gift to him.
Are there any intended references to Thailand, your native country, in these portraits?
Noon Passama: I did not have any intention of making a reference to Thailand. Thai people have a good sense of humor (and sometimes dark humor). I must have this sense in me, more or less. I haven't thought of it until recently.
Are there historical references for these works?
Noon Passama: At the very early beginning, I was thinking of the portrait miniatures, but later on, I only took the word "portrait" as a keyword and developed it further into something else. I often start a work with keywords because there is no restriction, and I can connect words with anything related.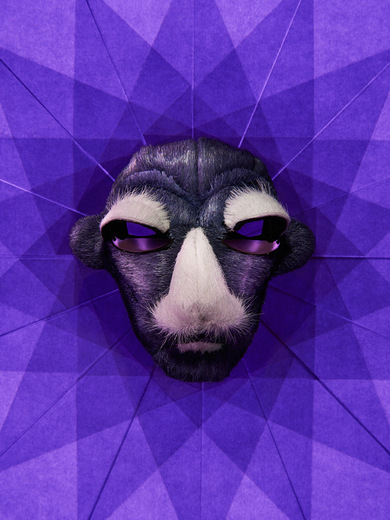 Part of the show is a series of portraits of the heads photographed by Severafrahm. Did the collaboration come after the heads were finished or while in process? How did you work with them?
Noon Passama: We planned the collaboration ahead of time. During the making process, I kept Severafrahm (Mirka Laura Severa and Michael Frahm) updated about what I was working on. They are photographers and art directors. Before the photo shoot, I showed them the real pieces, and then they proposed their concepts by illustrating with mood boards and sketches. Then, we discussed and agreed on the final idea.
I had the intention of exhibiting the Portraits pieces with their portrait photographs when I was working on a book project Adorn & Portray. (Readers can download it here). I interviewed 11 people and worked with six photographers on making portraits of the interviewees. I made an agreement with Severafrahm to have five interviewees in Amsterdam photographed by them, but in the end, I only had two people in the city for the project. To solve that, I asked them to shoot three Portraits brooches I made in 2011 instead. The pieces reminded the photographers of voodoo, so they developed a shoot inspired by that approach.
I was so impressed by the results that I wanted to continue the series for the 2013 shows—at Klimt02 in October and at Galerie Ra in December—and to exhibit the jewelry works with the photographs. There is something dramatic in the photos, and the pieces seem alive. I like that the jewelry pieces inspired the photographers, and the photos they made inspired me as well.
Can you name an underappreciated jeweler working today?
Noon Passama: Iradj Moini. I wouldn't say he is underappreciated because his name is very established in the high fashion field. I want to name him because maybe he isn't known much in the art jewelry field. I only got to know his works last year in the display case at Liberty of London. If you Google the name and see some images, they might not be that exciting. What impresses me most is the uncommon scale of the pieces in real life.
What are you reading?
Noon Passama: Online articles by Suzy Menkes on the New York Times website.
Thank you.