Galerie Specktrum in Munich, Germany, is having an exhibition this month with Nanna Melland. For the second interview in his series, Aaron Decker talks with Nanna and so, with a bit of synchronicity, we will post this interview to accompany her show. Nanna is a Norwegian jeweler of real intensity. And Aaron is a recent graduate who is using a CCCD (Center for Craft, Creativity and Design) grant to travel in Europe and interview artists.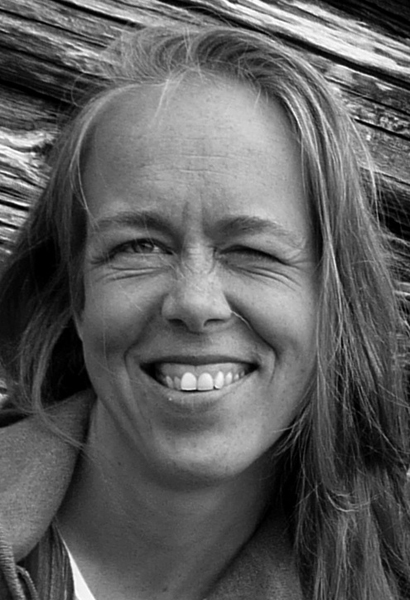 Nanna Melland: I grew up in Norway, Oslo, a country of natural extremes. From extreme cold and darkness to extreme brightness and almost extreme heat. As a child, I lived two years in Spain with my family.
Were you introduced to jewelry early on?
Where did you study?
Well, many places. Do you mean jewelry school?
Yes.
I first started in a craft school in Oslo and finished a journeyman exam. Then I continued with jewelry design at a school in Copenhagen, Denmark –which by the way I didn't finish. I only stayed for one year and discovered that I was not a designer. Finally I finished my studies at the Akademie der Bildenden Künste München, where I studied with Professor Otto Künzli for six and a half years.
Well it's difficult to answer, because while I was doing it I didn't think it was very specific at all. I . . . just did what interested me. I started out working with hearts, which is kind of a jewelry cliché. I wanted to explore and research what that cliché really is. And after that, the work process just went on, logical or accidental, it went on. I did not choose a new theme, but kept developing and developing something that started with these heart studies. In fact I believe I was working on something that I have been working on ever since: nature, life, death and last but not least, love.
Do you think the topic of 'cliché' is important in your work? Or even jewelry in total?
Yes. I like to question clichés, like the heart for example. For me it is important to learn something new, to hack out of the comfort box of a pretty ring, a pretty love bracelet. A wedding ceremony is a wonderful and important ritual and so full of clichés and bad taste! Jewelry accompanies human rituals and it is natural that jewelry also contains many clichés. I think it is good to be aware that life is full of many clichés and to question these. I use a direct language when working with clichés.
What do you mean by direct language?
I mean, when a chair is a chair . . . So, one work, a photo work called Heart Charm, there is nothing subtle about that. It is a real heart hung on a real charm bracelet. When jewelry is worn by a person, it becomes real and not a cliché. A person might say, 'My husband died three years ago and he gave me this pendant' and it is an ugly pendant, but the history behind it makes it valuable. As a maker it is hard for me to make that pendant, it is the story behind it I find inspiring and makes me think that jewelry is important!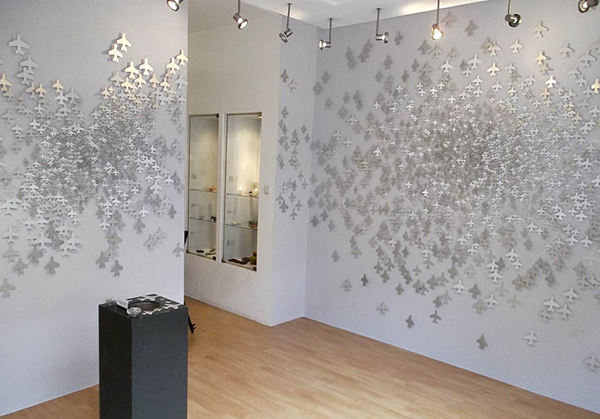 I guess its like boxes in a cupboard. People usually tend to think of it as one box, jewels as jewels, but today I think we're past that. There are so many artists working in so many different ways, that to put everyone into one box is not helpful anymore. On the other hand, there is also fashion, trends and the time you're living in. Each and every individual is unintentionally a part of a trend. We have streams of expressions, periods of time where change occurs and this one cannot see before some time has passed. I think we need jewelry categories in contemporary jewelry. Now there seems to be some confusion. Sometimes confusion is good, but order brings clarity. If contemporary jewelry was more organized I think it would be easier to see more people out there and not just the few who are famous and are representing our so-called contemporary jewelry scene. It is an incredibly difficult question to answer, which I believe and trust the art historians to answer.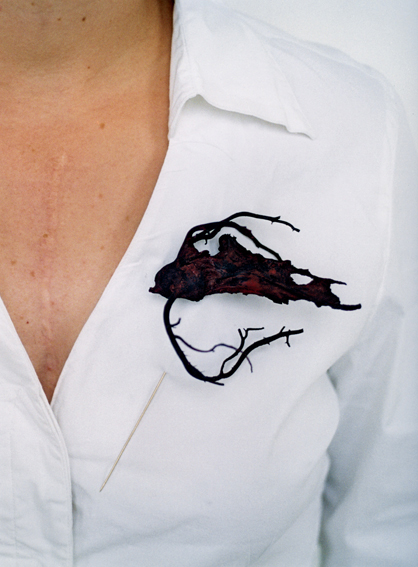 Oh yes indeed! I think we need to reflect upon our jewelry history. Today it seems that individual expression is more important. People are very involved with what they are making, selling and their own career, but 5000 years of human history contains very important jewelry history and many anonymous jewelers! Modern jewelry makers have fought an important battle to become acknowledged by the fine art establishment, as an art of its own. To me however, I think that jewelry's most interesting aspect is its ritualistic and archaic function rather than its individual artistic expression. Jewelry is emotional and socially connected with human life and culture. I think this aspect with jewelry is really interesting.
Which artists inspire you?
That is again difficult to answer. It would be very hard to pick a jeweler and say he or she is my inspiration, but that doesn't mean I don't like other jewelers. It is easier to pick someone from another medium. Francis Bacon and David Hockney are my big stars. What inspires me in their work is something more emotional. A good painting is often more inspiring to me, but inspiration is also connected with which life phase you are in. For example, when I started working with jewelry, I fell in love with art nouveau, but today I do not feel inspired by it and perhaps even a bit embarrassed that I did! So maybe if you ask me again in five years, I will answer differently.