When the Museum of Arts and Design (MAD) opens its doors in its new space on Columbus Circle in New York City in fall 2008, it will inaugurate the Tiffany & Co Foundation Jewelry Gallery. 'The opening jewelry exhibition, Elegant Armor, draws from the museum's entire jewelry collection, with works from the 1940s to the present,' says jewelry curator Ursula Ilse-Neuman. 'Half of the pieces will be on view in cases,' she explains, 'and the rest in drawers, allowing viewers to find unexpected treasures in the country's only gallery dedicated solely to contemporary jewelry.' She adds: 'The gallery also features a stimulating interactive computer screen with highlights of the collection juxtaposed with works in the collection including other media. We plan to work on this interactive project steadily, increasing the range of thematic propositions.'
Ursula looks forward to working with well-known exhibition designers, artists, and other innovators to install meaningful exhibitions that will promote this highly innovative art form. 'We have received many outright gifts as well as promised gifts, including entire collections, which we will present in their entirety with their respective catalogues in due time,' she says. 'We are also looking into the parallels (at least formal ones) of a collection of ethnic silver jewelry from around the world, which is a very exciting prospect. Since we already have a solid foundation in our jewelry collection, these new additions contribute to our goal of collecting the best in contemporary art jewelry from all over the globe.'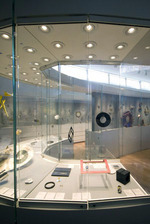 Born in southern Germany, and raised in and around Munich, Ursula points out that the city has a long jewelry tradition, including Bavarian folk jewelry, which she finds particularly interesting. She studied art history in Germany and the United States, with graduate studies at the Institute of Fine Art and at the Cooper-Hewitt/Parson's program where she earned her MA in Decorative Arts. She has also finished course work for a PhD at the Bard Graduate Center in New York.
When asked about her special interests, Ursula replies, 'Contemporary art and craft – and, of course, contemporary art jewelry – in Germany we call it autorenschmuck.' After almost seventeen years as a curator in all media, Ursula was named the jewelry curator at MAD just over a year ago. She works a three-day work week in the office, 'but a curator's work is never done!' Ursula laughs. More than ten years ago, Ursula began working with the museum's jewelry collection under the directorship of Janet Kardon. 'I fell in love with this jewelry,' she admits 'and I included it in many non-jewelry exhibitions, including the Garry Knox Bennett retrospective, highlighting his work as a metal sculptor. I also featured cutting-edge jewelry in Corporal Identity: Body Language: 9th Triennial Exhibition, which we presented jointly with the Museum of Applied Arts in Frankfurt, Germany.'
The jewelry exhibitions Ursula has curated include Radiant Geometries, where she featured sixteen international jewelry artists, including Eva Eisler, Thomas Gentille, Helfried Kodre and Peter Skubic, in an exhibition that explored the geometric/minimalist approach employed by these and other prominent artists. She also curated the exhibition celebrating Donna Schneier's gift of jewelry in non-precious materials, Zero Karat: Jewelry from the Donna Schneier Collection, as well as Treasures from the Vault, with pieces from the permanent collection.
Her most recent jewelry exhibition, GlassWear, was created in collaboration with the Pforzheim Jewelry Museum in Germany. The exhibition opened in the Glass Pavilion at the Toledo Museum of Art, traveled to Germany and Belgium and will be shown at MAD in summer, 2009. Ursula comments: 'Both the catalog and show have been extremely well received.' (The catalog has been reviewed on the AJF website.)
When asked about her personal preferences in jewelry, Ursula replies, 'It depends on my daily mood, but aside from a few family pieces dating back to my great-great grandmother's time, I prefer contemporary works where I connect with the artistic statement. I also appreciate excellent workmanship, which allows the artistic ideas to shine through.'