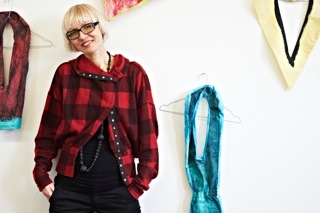 Susan Cummins: Can you tell me the story of how you became a jeweler, including where you lived and went to school?
Mia Maljojoki: In 1996, after working in fashion for several years in Helsinki, Finland, I went to work at a summer camp in western North Carolina, USA. That summer, in the middle of the woods near Asheville, I started to make jewelry by braiding twigs and lining up stones. Wanting to continue transforming materials into ornament, I attended the Massachusetts College of Art and Design in Boston, studying under Professor Joe Wood. In 2001, I graduated with a bachelor of fine arts in small metals.
A few years later, I went home to Finland to participate in a workshop that was a part of KORU1. That summer, in the woods of Lappenranta, I learned about European jewelry. Though I had returned to my homeland, it was eye opening to realize how little I knew about it from the perspective of jewelry art. I took a workshop with Karen Pontoppidan, who introduced me to the jewelry program the Akademie der Bildenden Künst in Munich, and later to Professor Otto Künzli. Upon my first visit to Munich in 2003, I immediately knew it was the right place for me to continue my studies. I completed my diploma in 2010, and I continue to work and live in Munich.
Your statement about the jewelry in this exhibit says it explores the marks that emotions leave on our flesh. What kind of marks are you referring to?
I am referring to any mark that permanently changes how the body looks. These include wrinkles, folds, scars, age spots, freckles, and more.
Is jewelry a good medium to carrying emotions? Why?
Jewelry is fundamentally a means of adorning the body. Emotions take place in the body and leave lasting effects on the body. Why not adorn our bodies with beautiful accentuations of our life-defining marks? These marks are often declared as ugly and undesirable. I believe that life is made juicy through our most fragile days: the days when we experience the full spectrum of joy, anger, sadness, fear, and tranquility; the days that leave our flesh marked with wrinkles, scars, and spots. These lasting physical effects are what I capture and celebrate in this exhibition.
Jewelry is a perfect medium for solidifying, carrying, and passing along emotion. My work displays these traces of emotion on the body.
Porcelain is fragile, but it is also very strong. That is why we use it for plates and cups, which typically undergo much more handling and wear than a piece of jewelry. Porcelain is a natural material that is soft and pliable, but after firing at high temperatures, it ends up hard and fragile. For this series, I have been exploring the transformation of our skin, from being flexible and supple when we are young to being rough and stiff as our life events cause emotional transformations.
You use a lot of different materials, such as rope, elastic, and string, in place of chain in your necklaces. What are your reasons for choosing one material over another?
I like opposites. Porcelain is hard and cold. Elastic band is soft and flexible. Also, I think about the comfort of the piece and how it feels when it is being worn. Even pieces that are mostly serious or heavy should always contain some aspect that brings a feeling of joy.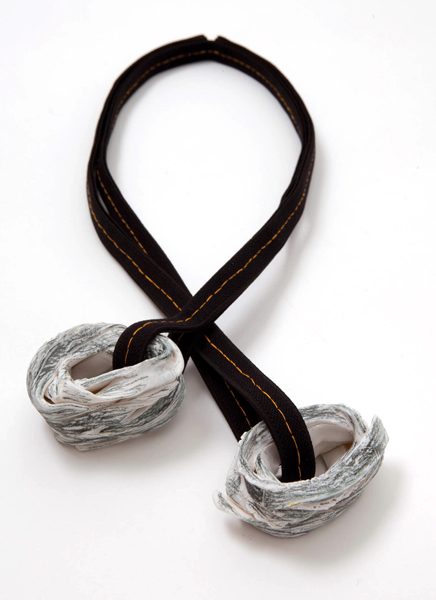 Appearing "dashed off" does not mean that the creation required no skill. Tree branches may appear to be spreading out from their trunk randomly, but in fact, they are following a series of very specific rules to optimize energy intake based on specific environmental conditions. The same goes for the creation of artwork. It requires a trained eye, a trained hand, and a trained mind to be able to capture the spontaneous without completely losing control of it. To make an object look complex, forced, or uncomfortable requires some basic skills, but to make an object look natural, relaxed, or intuitive requires a mastery of many techniques.
This show is accompanied by a video. Can you describe it and tell us about the process that lead to including video in the show?
When I present a large collection, it is important for me to place the work within the context of its inspiration and show the origin of the ideas. I consider each series a type of thesis that asks a specific question or explores a specific concept. In the future, the works will be seen out of context as photos or at conferences, but when I formally present the works, it is essential to communicate the entire depth of the investigation.
What are you currently reading?
Rosa Liksom Yhden Yön Pysäkki and Unohdettu Vartti
Laura Paloheimo Klaukkala
Yoshi Yamamoto My Dear Bomb
Any particular jewelry book you would like to recommend?
Everyone should own this book.
Thank you.