Marijke de Goey's exhibition Lines, Space, Illusion is on display at Fingers Gallery in Auckland, New Zealand, through February 28, 2014. In this interview, Marijke discusses the concept behind the body of work on display and some of her recent projects.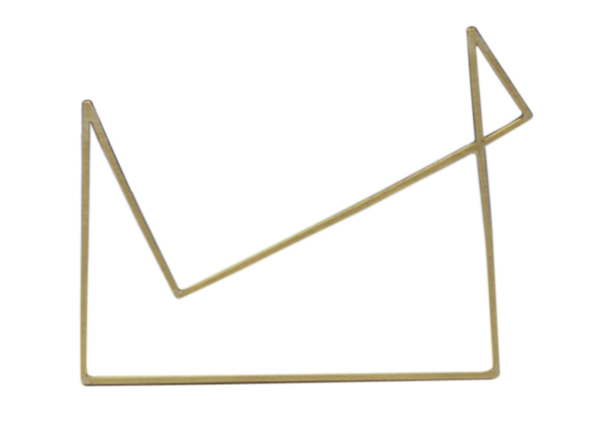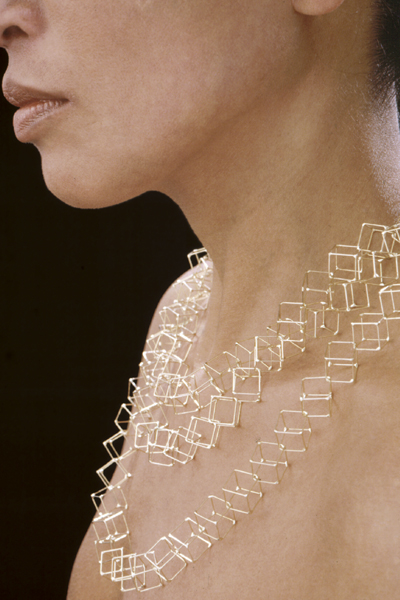 Marijke de Goey: I started designing jewelry right after graduating from the Rietveld Academie. Combined with my large monumental works, jewelry has always been an absolute necessity to make the leap from atelier to the outside world.
What artists have served as models for your work? For your career?
Marijke de Goey: Giampaolo Babetto has been a great inspiration for me.
Can you please describe the concept for your exhibition Lines, Space, Illusion at Fingers Gallery?
Marijke de Goey: Albert Einstein said, "Logic will get you from A to B. Imagination will take you everywhere." Imagination is the magic wand that changes everything. My lines describe transparent shapes in space. The sculptures suggest the illusion of space and cause a visual disorientation.
On your website you write, "My jewelry is sculpture for the body, my sculptures are jewelry for the landscape." Why is it important to you for your sculptures to be characterized as jewelry and vice versa?
Marijke de Goey: This is not so important since it is a natural consequence of my work and an aspiration I always strive for.
Do you see all sculptures as jewelry for the landscape or just the ones you make?
Marijke de Goey: I certainly do not regard all sculpture as jewelry for the landscape.
What are you currently working on in your studio?
Marijke de Goey: I am still working on my Tango Dancers sculpture for the Gibbs Farm, although I am more so managing the progress while preparing for my trip to New Zealand.
I recently worked with an architect to finish a design entry for a competition for a project here in the Netherlands.
From February 5–9, I participated with art gallery Het Kunstgemaal in the Raw Art Fair, which is an art fair encouraging young and upcoming galleries.
Do you find that your smaller-scale works sometimes become 3D sketches for your larger-scale pieces?
Marijke de Goey: Just like the well-known wisdom that a spider cannot be rescaled without penalty, since it would collapse through its legs, there is a huge penalty to pay when enlarging small scale works into bigger pieces. However, my small-scale works can be the inspiration for large works.
What are you reading right now?
Marijke de Goey: Right now I am reading Einstein: His Life and Universe by Walter Isaacson. I also read various poetry.
Thank you.