Susan Cummins: Nicole, what is your background and what led you to start a gallery?
Nicole Thienpont: My first degree was in chemistry at the University of Gent. In my language the degree is called 'licentiate in chemistry.' So for me the melting of metals and the experience in laboratories is very familiar. In 2002 I decided to start the gallery Pont & Plas in Gent, Belgium, with an emphasis on contemporary jewelry. My decision to begin the gallery was based on several things. In 1987 I graduated from the Academy of Art in Antwerp with a degree in art jewelry. In 2002 a dream space in Gent became free. It was just below my studio. I had been thinking that we urgently needed more places to exhibit the new jewelry young people were making. So it didn't take too long to come to the conclusion that I should grab the space.
I understand from your website that you show many different art forms. How does jewelry fit in?
Nicole Thienpont: The emphasis lies on jewelry. There are about 30 people showing contemporary jewelry, national and international. Four times a year there is a special exhibition of glass, ceramics, paintings, drawings, photography and mixed media, designed to interact with the permanent presence of jewelry.
How do you choose the artists you show?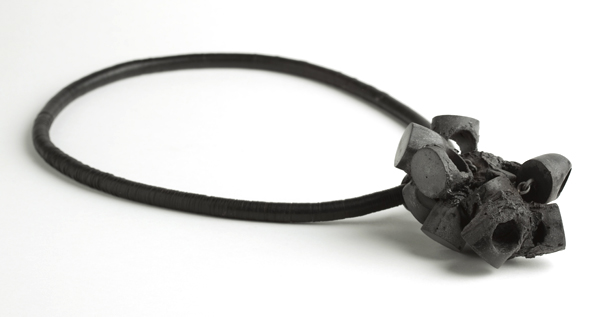 Thank you Nicole. Now I will ask Malvine Marichal some questions about herself and her show called Pro-Forma. Please describe the path that led you to become a jeweler.
Malvine Marichal: Before I became interested in jewels, I painted. I have always been intrigued by color and form. At one point health problems forced me to stay home, so having time on my hands I began to make some simple necklaces. After that, painting was no longer my passion and I stopped completely. Jewelry became my focus.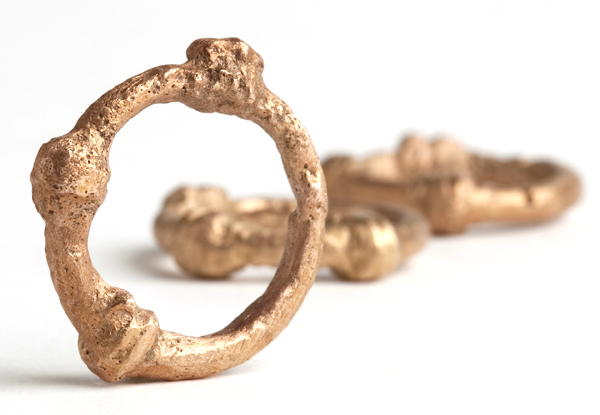 Malvine Marichal: I live in Belgium, in the countryside of Ghent. From September 2010 until May 2011, I studied with Jorge Manilla Navarette. Otherwise I'm self-taught. But I'm married to Philippe Timmermans, who is a sculptor. We have done many projects together for museums, designs and publicity. These experiences have given me a lot of technical knowledge. We learned to work together, so now I can discuss any problems I have with Philippe.
Can you describe your studio space?
Malvine Marichal: We live in an old restored farm with a huge, wild garden. We have our studios at home. One studio we use for the dirty work like doing things with polyester. The second studio was a former garage and that space is used for creating. We do our own work making jewels, objects and sculpture but in same space. The studio is full of light from windows and skylights, the ceilings are high and it has a very nice atmosphere. It is here that I hang everything up that I collect. These are the things that are inspiring to me.
Malvine Marichal: Every day in the studio I'm surrounded with things that inspire me: objects from nature, vegetable and animal parts as well as pictures, strange findings, pieces of stone, wire and ethnic objects. I like to contemplate on those objects. I am always in the process of creating a collection with various themes. That theme can be an idea, an emotion or a visual sensation. I never start with one piece but move from one to another. It is like a journey and I never know where it will end. During the process I can evaluate everything. Each new collection results in a clean up of the studio and ends with new objects in a new environment.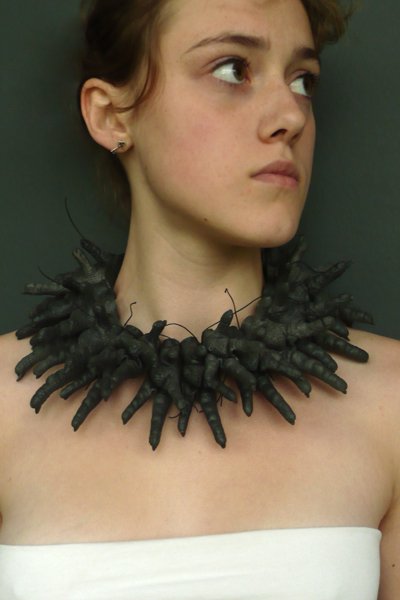 What tools are your favorites?
Malvine Marichal: Limes, saws, electric and non-electric, drilling machines . . .
What do you do to prepare yourself to work in the studio? Do you have any rituals?
Malvine Marichal: Half of the job happens in the night when I dream of new work and for the other half I have to be in good physical condition. When I work, I focus myself only on the piece I am working on. Normally I work in complete silence, but sometimes I put on Corsican polyphonic music. For me working in the studio is a meditation.
What have you been reading lately? Any jewelry books you can recommend?
Malvine Marichal: I don't have a television, so I read a lot. I always read several books at the same time. Some recent ones are Fountainhead by Ayn Rand, The Sense of an Ending by Julian Barnes, Suite Francaise by Iréne Nimérovsky and Louteringsberg by Marcel Möring. But I must admit that I almost never look in j ewelry books. I like to look at ethnic and botanical books and books about the incredible beauty of nature. I also like to look at the work of Alexander McQueen, Karl Blossfeldt and many other photographers.
Thanks. I found The Sense of an Ending to be a wonderful book too.