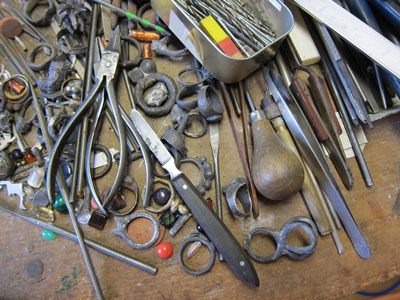 Amongst all the tools that I love there are two that are my most favorite. I can't work when either of them is missing.
One is the little knife in the middle of the photograph, which I have used for placing stones ever since I learned stone setting. With the knife and a little spit, I pick up the stones and place them into the open setting. It is just a moment in the setting process, done thousands of times, but crucial. It is a small step leading up to the moment where the metal is pushed over the stone and finally set.
My other favorite tool is the stainless steel tweezers (middle right in the photograph). I use them for all my work involving heat and soldering. Those tweezers have pretty much touched every piece I have made in the past 30 years.
Because I use them almost every day, these tools are like parts of my body. It hurts when I can't find them. It is their use, not their look, that makes them my favorites. The rings appear and then they go, but the tools stay. Sometimes they hide, as if saying, 'you are useless without us!'