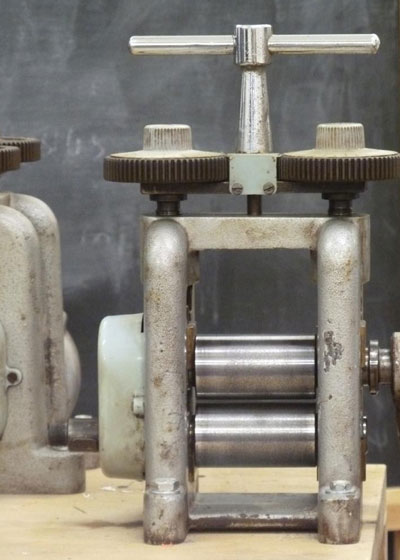 I often think about the tools around me and what they mean. I have many since I collect them as well as use them to make my work. It's really hard to pick out a particular favorite and my thoughts on this waver between a pencil and a scalpel. I do a great deal of drawing and so I have a bit of a thing about pencils and particularly like retractable ones with really fine leads. I also like to draw and scratch with a scalpel when I am making my enamel vessels: metal on metal has a wonderful scritchy, scratchy quality to it and I am drawn to the sound and feel of doing this.
When I was working on The Tool at Hand exhibition it reminded me that by being limited to one tool and repeating the task over and over I could push something in an unknown, exciting direction. I think that in my work I try to tell some sort of story . . . the story of where something has come from and particularly about the marks that have been left behind. I often use walking as a tool, to understand place, the stuff of a place and to wander and think and sometimes to collect things, which I make mark-making tools from. I guess the wandering is like drawing a line and as I am interested in the drawn line I would say that there is a connection to walking and making marks for me.
The furthest I got walking in this project, though, was around my studio when I decided to document a series of things found there (pins, staples, paper clips, etc.) by capturing their imprints on different papers by pushing, rolling and squashing them through the mill, finding new ways to represent them two dimensionally. Using this tool became compelling somehow, repeating the task over and over and never quite knowing what would result. I think that every project or piece of work is a continuation of a previous and rolls into the next and so something of The Tool at Hand work will be there in the next pieces I make and this particular tool, the rolling mill, has now become somewhat a favorite.
Helen Carnac is a maker, curator and academic who lives and works in London. She is member of the collaborative making project Intelligent Trouble, as well as a Fellow of the Royal Society of Arts. Her work is held in both National and International collections. She has taught extensively in the UK and USA including Virginia Commonwealth University, Penland School of Arts and Crafts, Strelka, Moscow and in 2011 as a Professor in Berlin. In 2012 she will undertake a residency with the Siobhan Davies Dance Company, London. She is a active member of AJF.