Taylor Swift's fans make bracelets that spell out her song titles and lyrics, then give them away them at concerts
The bracelets give fans a way to make a connection
They help people feel like they belong and realize they're not alone
Gabby and her mom went to a craft store to buy beads. It was two weeks before Taylor Swift was coming to Cincinnati. The aisle was filled with moms and daughters searching for the letters they needed for the friendship bracelets they planned to make. Gabby, home from college for the summer, and her mom, an immigrant who as a kid made bracelets of coconut leaves with her friends, set up a table in a spare room. They sat together for hours, playing Swift's music and making more bracelets than they could fit on their arms. Some nights Gabby would find her mom up late sitting in the room alone, listening to the music and making bracelets. She would join her.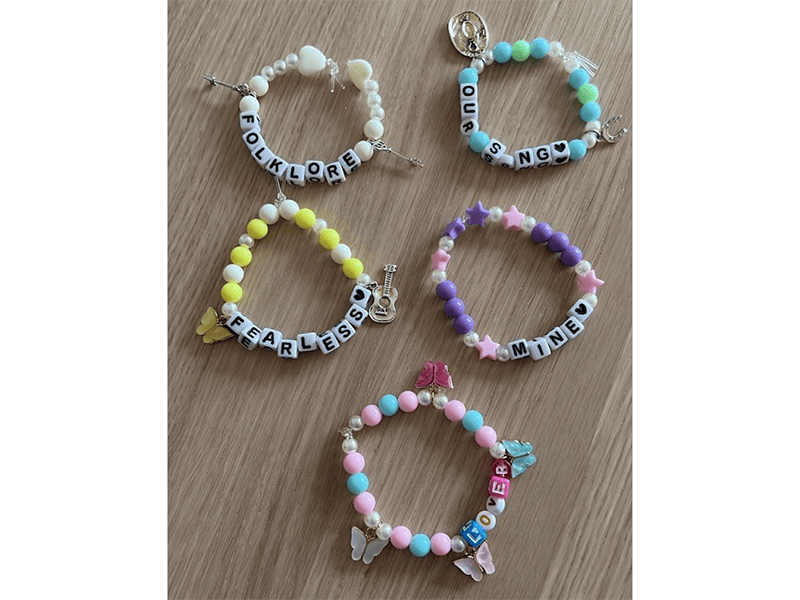 A month before the concert, Jess and eight of her friends spent the night in Pittsburgh making friendship bracelets, playing Swift's albums, and talking. They've been friends for more than a decade, but the bracelet-making gave them a reason to take time out of their now busy lives to be together. As her job and her passion, Jess is a third-grade teacher.[1] When her students found out she was going to see Taylor Swift, some of them, too young to attend the concert themselves, made bracelets at home and gave them to her to wear to the show. In that way, a small part of them would be there with her.
In a song about being strong enough to make it on your own, Taylor Swift sings the lyric, "So make the friendship bracelets." These five words sparked an enormous network of connections between people, facilitated by bracelets spelling out Swift's song titles and lyrics.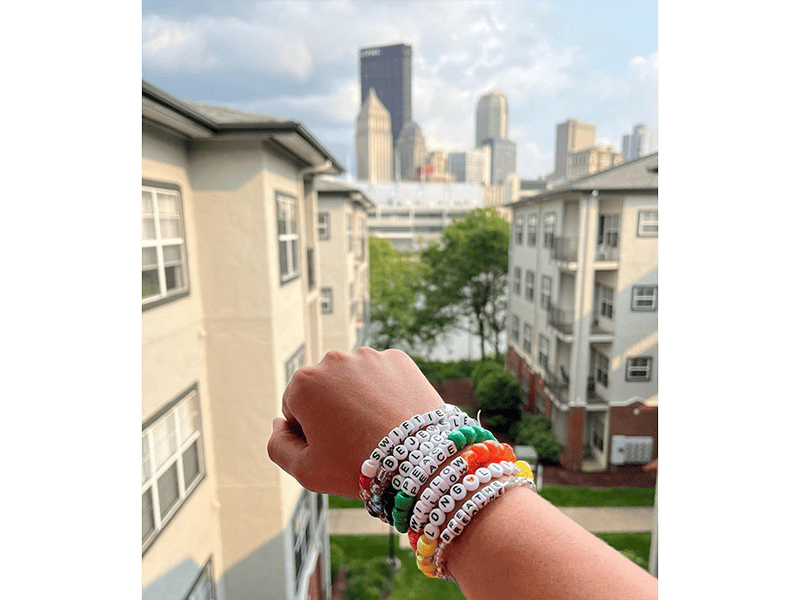 Friendship bracelets aren't new. Neither is the role of jewelry in linking people together.
For thousands of years, jewelry has connected us to people we care about. Moms give daughters milestone birthday presents, and life-long friends share broken heart necklaces in elementary school. Rings wed partners in marriage and heirlooms remind the living of loved ones who've passed on. I remember making a bracelet to give to my favorite teacher at the end of first grade. Jewelry's always tied us to those with whom we are close. Swift-inspired friendship bracelets are now connecting us to complete strangers—people we don't know at all.
Gabby describes herself as really shy. She says she would never just walk up to someone and talk to them. But at the concert, she held a baggie full of bracelets and people came right up to her. They traded and gave away their bracelets while talking about their favorite songs. Like many of us, for lots of reasons, Gabby says she doesn't always fit in. But at the concert, she did. "I was so happy there," she says.
The night of the concert, Jess and her friends met up, wearing their bracelets, and began trading them immediately upon entering the stadium. She went home with twice the number of bracelets she had brought. She described the exchanges as quick, filled with hellos, smiles, and compliments. For Jess, the energy was electric and contagious. She describes it as "my most joyful concert experience."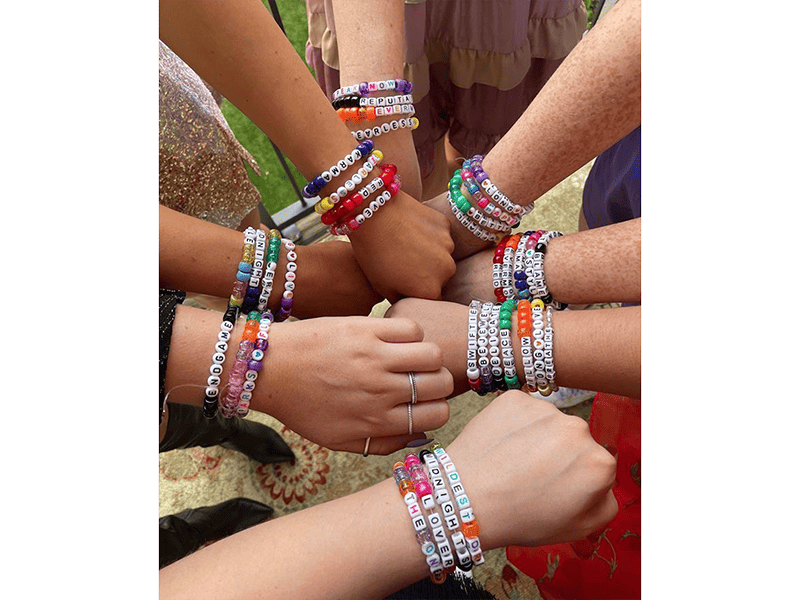 When you look at the people at Taylor Swift's concerts, wearing sequins, flowy dresses, and tour T-shirts, it's clear that they're fans of the same music. But as Sean Lauer, a sociologist who specializes in friendship, explains, the friendship bracelets add something more. They provide a prompt for contact, an acceptable and even expected opportunity to have a quick but meaningful connection with the people around us.
The bracelets come at a time when many of us feel alone even in a room full of people, when we're suspicious of each other, when we go over every word that we said to someone else, feeling more embarrassed each time we think about it. The bracelets reduce the risk of reaching out to someone, and they allow us to feel comfortable when someone approaches us. The bracelets make it totally normal, not strange, to walk up to someone and say, "Hi!" We know what's going to happen; we know what to do. Everyone is interacting, aided by the bracelets.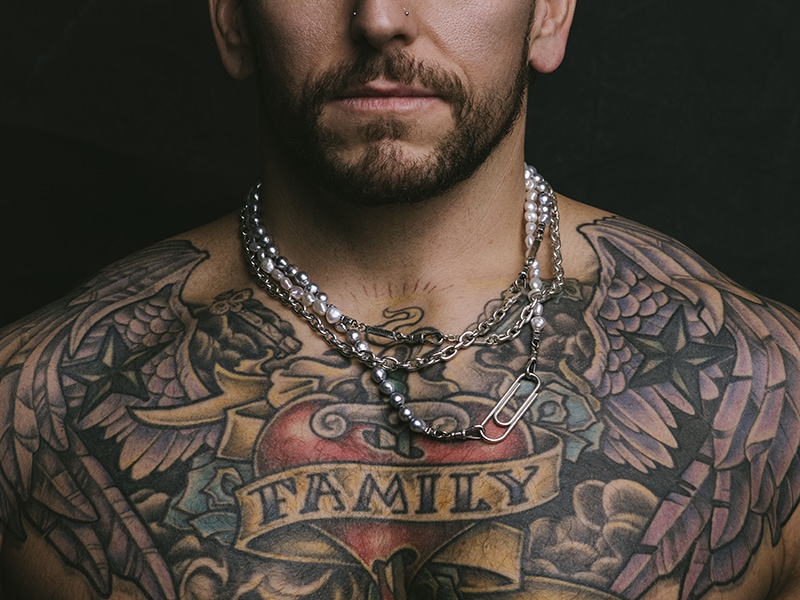 Jewelry is a connector that attaches people together. It makes me think of the gold paper clip Kolton Babych[2] uses in his necklaces. The paper clip doesn't serve as a clasp closing the circle off. Rather, it's a link bringing two sides of the necklace together. Sometimes the sides are quite similar and clearly belong together. Other times, the sides are so different that they don't seem to fit together at all, but the gold paper clip makes the connection.
News articles report on the many celebrities and powerful people who attend Swift's concerts and receive arm-fulls of bracelets from other fans. Security personnel and concession staff collect them, too. Little-known girls and Swiftie-famous influencers come together. A professional football player tried to use a friendship bracelet to share his phone number with Swift at her concert. She didn't get the bracelet, but the attempt got her attention. Like the pin swap among art jewelers,[3] the bracelets link people across similarities of interest and differences in status.
A survey measuring the demographics of Taylor Swift fans in the United States found that, with some exceptions, the "avid" fan base surprisingly reflects the makeup of the US population.[4] Bracelets recite, in beads, lyrics about being screwed, rejected, vengeful, wrong, awkward, and embarrassed, but also about finding love, strength, and memories of really good moments—stuff that everyone, no matter where they stand, can relate to.
The swapping of these bracelets is unlikely to lead to decades-long friendships. As the sociologist Lauer explains, science shows it would be impossible to have as many friends as we have friendship bracelets. We simply can't maintain that many relationships. The people we exchange with may not listen to a problem we have. We'll probably never go to a restaurant, an exhibition, or anywhere outside of the concert with them. We won't call on them for a favor when we're in a jam. But these fleeting interactions with strangers help us feel like we belong. They make us realize that we're not alone, and they therefore increase our happiness.
Coming off the pandemic years of no contact with strangers, staying at home, keeping six feet apart, not touching each other or something someone had touched without first sanitizing, the friendship bracelets feel quite intimate. People make the bracelets with their hands, wear them, then take them off their body and give them to someone else to put on theirs. And the scale of these interactions is massive. So far, millions of strangers have passed on tens of millions of friendship bracelets in a network of exchange that will continue to span the globe as Swift's tour continues over the next year. This reach extends far beyond the three-hour concert.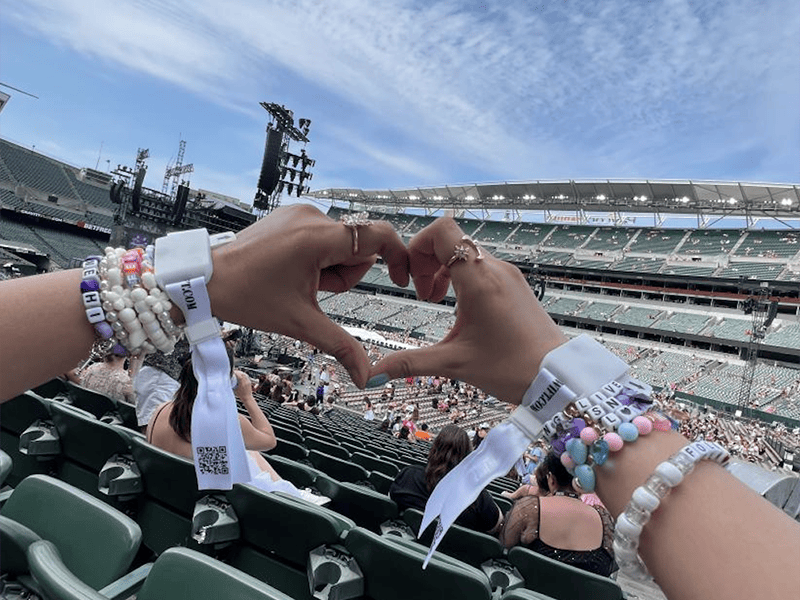 Back at college, Gabby still wears her bracelets and people keep coming up to her, commenting on them, talking about their favorite songs. A friend who couldn't attend the concert got a bracelet from another friend who went. "I felt like I was there," he told Gabby. Her study group, all of whom love Swift but not all of whom were able to attend the concert, listen to a Taylor Swift playlist as they study. They're going to hold a friendship bracelet-making session soon. When she goes to see Olivia Rodrigo later this year, Gabby and her friends are going to make bracelets for that concert, too.
Jess also continues to wear a few of her favorite bracelets months after the concert. They "hold so many good memories for me," she says. She and her friends went to see Swift's concert movie together and they took their bracelets with them.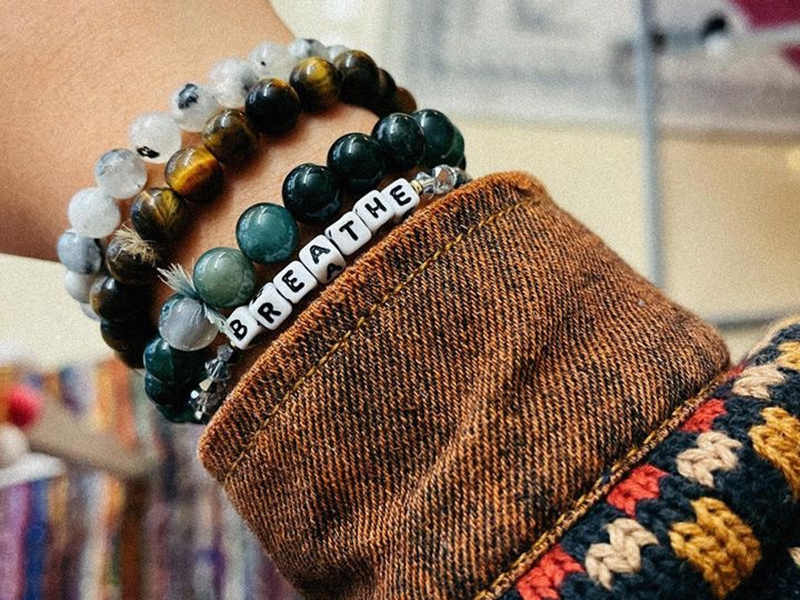 I went to see the movie on opening weekend. In the bathroom after the film, strangers gathered around the sinks holding Taylor Swift movie popcorn buckets filled with friendship bracelets. They squealed, laughed, and cried. "Do you want one?" "Oh my god, thank you!!" "I love that song!" "I'm going to cry. I always cry during that song." I was busy watching and listening to it all and only after I left did I realize that I didn't get a bracelet myself. I was kind of bummed.
On Monday when I got to my office, there was a friendship bracelet with a note. Gabby had made one for me. "Thank you for talking to me," she wrote. I, too, had been grateful that she took the time to talk with me.
As the months pass and the fuss over the bracelets fades, and as fans stop wearing them and journalists stop talking or writing about them, it won't matter. It really isn't about the Eras tour, or about Taylor Swift, or her music, or even the jewelry. The friendship bracelets just let us realize and experience what has long and always been true: we are all connected.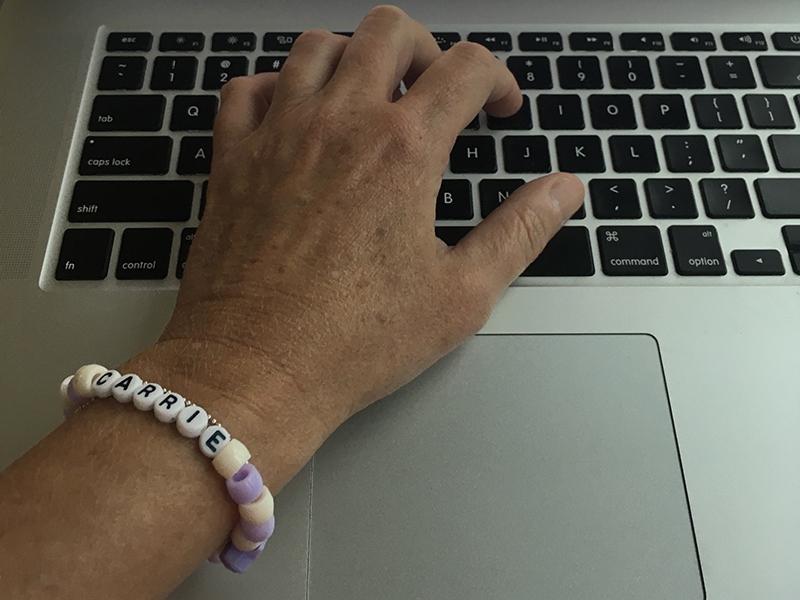 © 2023 Art Jewelry Forum. All rights reserved. Content may not be reproduced in whole or in part without permission. For reprint permission, contact info (at) artjewelryforum (dot) org
[1] @freethinkingteacher.
[2] @koltonbabychfinejewelry.
[3] https://artjewelryforum.org/articles/the-pin-swap-the-snag-conference-icebreaker/.
[4] https://pro.morningconsult.com/instant-intel/taylor-swift-fandom-demographic.