Susan Cummins: Lucy, I understand that you studied at the Gerrit Rietveld Academie in Amsterdam, that you taught there for many years, and now you are about to become the head of the department. Congratulations. Many incredible jewelers have come from that school. Can you tell me what is the secret to their success?
Lucy Sarneel: I have taught in the jewelry department of the Gerrit Rietveld Academie for almost four years with some short periods of guest teaching previously, so it's not that many years by my count. The secret to the school's success could be attributed to the emphasis on the working process rather than working toward the result. Developing ideas as a constant dialogue between the idea and the material. The attempts and the failures. The doing and reflecting. Thinking in possibilities and not in solutions. This way of working opens personal potential and ways of looking, thinking, and making that the student learns to rely on, making him or her an independent artist.
Lucy Sarneel: We ask students to approach an assignment as openly and freely as possible, to rely on the nature of making, and to convince themselves and others of the value of their work.
Because of the material, patterns, and forms in your jewelry, I have always thought it was inherently Dutch, and that you were representing traditions that were very much your own. Do you think this is true?
Lucy Sarneel: My use of zinc is probably the root of this association with the typical Dutch character. A lot of functional objects, such as buckets and bathtubs, as well as architectural elements, such as dormer windows or towers in Dutch cities, are made of zinc. And the blue-grey color refers to the Dutch sky and sea. My work derives from a fascination with the ways people express their energy and canalize this energy through traditions, rituals, treating, and dealing with objects, and in particular jewelry or jewelry-related objects.
I come from the south of the Netherlands, where people celebrate a carnival in an intense way; dressing themselves up and making all kinds of crazy sets they show in a procession. The climate is quite different from what people associate with typical Dutch weather, and so for instance the costume traditions of Marken and Volendam were an exotic discovery for me. I'm attracted to traditions, but more as an observer. They're not mine, but they intrigue me. I think in order to survive, traditions should transform, along with changes in ways of living.
However, with this new work I see something else all together coming into play. It looks like there are primitive influences creeping in. Even the titles Offerings, Jungle Rumors, etc. suggest jewelry with primal spiritual overtones. Where does this come from?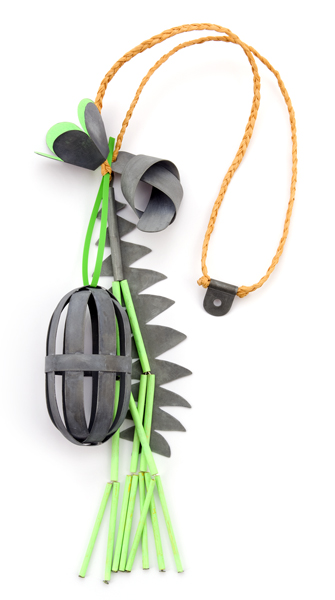 Lucy Sarneel: Amongst other things, it comes from travelling to Melbourne, Australia, and Mexico City, Mexico. In Australia, I became acquainted with Aboriginal arts and the wonderful floral life. In Mexico City, I was fascinated by the religion, superstition, and folklore of daily life. I've been intrigued by non-Western civilizations for some time.
In parts of Africa, for example, the relation between good and evil and the world of the spirits plays an important role. Belief that materials and shapes have power results in mysterious objects made out of daily necessity and without artistic pretention. One example would be power bundles from the Congo. These are filled with magic matter, such as seeds, resin, bones, etc. Although I don't understand the culture (which makes it even more attractive to me), I feel related to the objects in some way.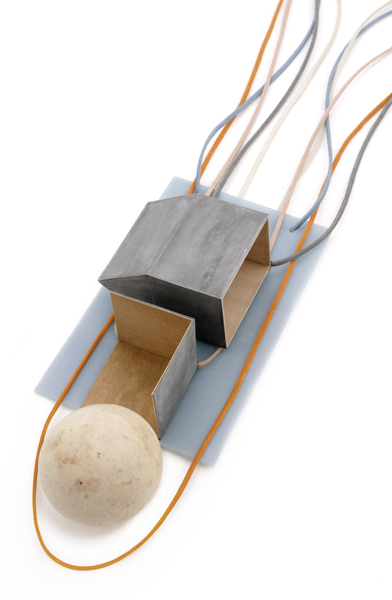 We live in a high tech, efficient, mass orientated, and digitalized world, but due to our nature we have a need for intimacy and for protection of the things we believe in or cherish. I find a jewel an excellent medium for this. It is important to me that a piece of jewelry, in addition to being worn, also gets a place in our house amongst other objects we relate to in a personal way.
You have titled this show Soulmates. Why?
Lucy Sarneel: A soul mate is someone who lets you communicate without words. This also goes for the language I use in my work. It's a visual, intuitive language that attempts to communicate on a non-rational level. With awareness, a jewel can be experienced as a soul mate.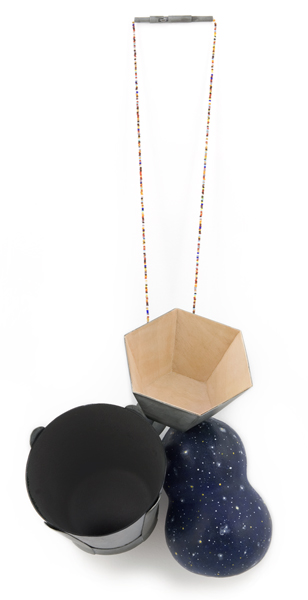 Lucy Sarneel: The jewelry world has grown much bigger over time. When I started my practice in 1989, there were only a few jewelry artists. There was a climate of "owning" certain characteristics in an individual style. Through the years this has loosened up more and more, resulting in much more openness, sharing of ideas and techniques, and in diverse style "trends."
Jewelry initiatives flourished, and galleries arose worldwide. Digitalization has changed a lot, too. It is not only a view to what happens here and there, but it also identifies and positions jewelry in a different way (of course, this applies to many other mediums as well). I see a growth in the development of jewelry artist's initiatives, such as Op Voorraad or B-Side Festival, that I like a lot and in studio presentations such as those during Schmuck in Munich. I hope jewelry will connect more and more in diverse ways with people and be a meaningful enrichment of their lives.
Thank you.
Lucy Sarneel: You're welcome!