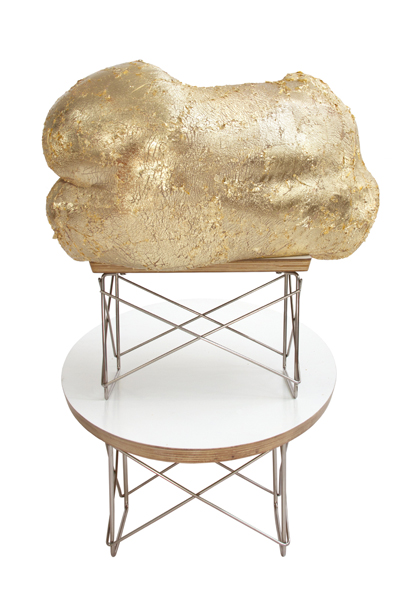 Susan Cummins: Lauren, please tell the story of your background.
Lauren Kalman: Both of my parents were visual artists, and I think that had a huge influence on my development as an artist. My father is an industrial designer who is currently involved in designing and building his house, and my mother was a commercial photographer. They collected design and craft objects and were interested in architecture and design, so my aesthetic influences began very young. More specifically related to But If the Crime Is Beautiful … , we owned reproductions of the Eames recliner and Wassley chair, so Modern design was a part of my environment growing up.
I majored in metals at Massachusetts College of Art, and following that, was accepted into the now-defunct apprenticeship program at the Johnson Atelier Technical Institute of Sculpture. There, I was trained in foundry with a focus in metal chasing and welding.
My MFA is in art and technology from The Ohio State University. This background includes exposure to conceptual practices, physical computing, digital imaging, and digital video, all of which play an important roll in my current practice.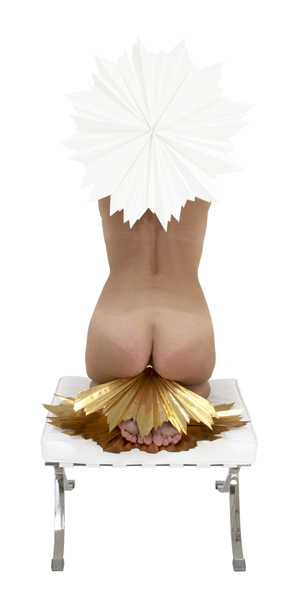 Lauren Kalman: I think as a metalsmith making jewelry, there was a logical transition for me from body as site to body as subject. When I made the move to body as subject, I was considering my relationship to the decorative, which lead to a series of performances using precious material in a way that was ugly or that hindered movement. When I look back on my work, I think my favorite projects come from personal origin or conflict that arises from insecurities or questions about the relationship of my body to consumer culture, sexuality, and gender.
What prompted you to start using photography?
Lauren Kalman: I began using photography because it was necessary to describe how the objects function. Through this necessity, I became interested in aspects of photographic theory and the construction of images. At this point, the images are not documentation but an integral part of the work.
Can you talk about the body of work you are showing with Sienna Gallery called But If the Crime Is Beautiful…?
Lauren Kalman: But If the Crime Is Beautiful … is an ongoing project that will be a hybrid of functional objects, craft objects, sculpture, photography, video, and installation. The first components—Composition with Ornament and Object and Hoods—are on view at Sienna Gallery and consist of fabricated objects and found furniture combined with the body to produce sculptural compositions.
The first image samples in this project were produced in summer 2013 during residencies at the Corporation of Yaddo and Virginia Center for Creative Arts (VCCA) and with support from Wayne State University. Having support from residencies and grants allows me to make work without consideration for making sales, freeing up space for play and failure in my practice. I have also been very lucky to have a fantastic support system of incredibly talented friends, family, peers, and assistants who have contributed to the development of this project.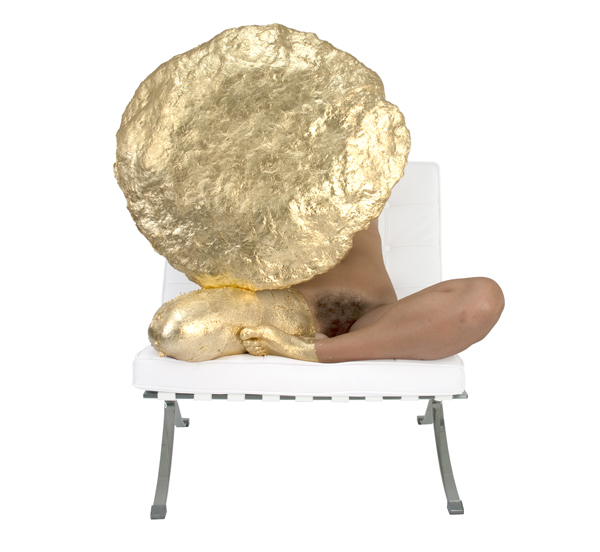 The visual juxtapositions point to a variety of historical, political, and social contexts relating to religious iconography, sex, gender, power, pleasure, and torture. The female figures (the sex reoccurring the most frequently in this work) are depicted as nude, smooth, limbless, faceless, and centralized in the images, referencing the ideal female body in art and advertising in western culture, with the intent of questioning constructions of beauty, the objectification of the body, the power dynamics established by the photographic gaze, and our ability to empathize with the pain or pleasure of the other.
The materials of the fabricated objects, including gold and pearls, are also being used symbolically. Over the course of human history, gold has been a symbol of wealth and power because it has signified purity, immortality, and permanence in many of the world's cultures because it does not tarnish or degrade over time. Gold was used on the body as an aesthetic extension of the desire for perfection. Pearls have represented purity and femininity. In contrast to this historical perspective, I combine handcrafted metal objects and labor-intensive processes with prop-like objects and gilding (a thin layer of gold over an object) to point to façade or performance. The gilding, along with hoods and screening devices, can also be seen both as ways of masking the identity of the figures and limiting their movement or vision.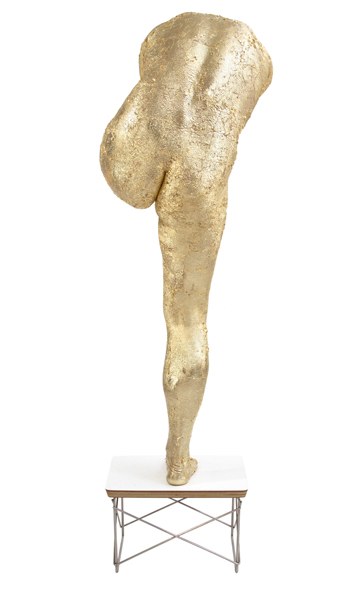 Lauren Kalman: In Ornament and Crime, Loos proposes that ornament is regressive and primitive, and that in (his) contemporary society, only degenerates and criminals are decorated (this includes women). Thus, his comment, "but if the ornament is beautiful," dismisses the popular appeal of ornamentation. The "crime" in my work points not only to the decorated but also to deviant sexuality and female sexuality, especially nineteenth and early twentieth century constructions. Loos's writings on architecture and functional art helped to define the principals of the Modern architecture movement. The influence of this movement permeates the contemporary built environment, and therefore impacts our psychological and bodily relationship to space and objects.
Though Loos's philosophies have been critiqued for decades, we continue to live in environments where Modernist constructions remain and Modernist design objects and future continue to be status items, aligning the owner with the taste level of an educated or elite class. This work is an examination of my personal and interpretive response to these historic spaces and objects. I think this was partially because of my experience growing up with similar objects. I also think that my initial interest in working with Modernist objects was a kneejerk reaction, with the objects being representative of the art patriarchy and the exclusion of difference in Modern art. Of course, there is more to the conversation than just that, because I also find many Modern objects and spaces quite beautiful.
Do you still consider yourself a jeweler? A sculptor? A photographer? A performance artist?
Lauren Kalman: Usually, if asked, I say visual artist. That seems to cover it all.
Where else do you show your work?
Lauren Kalman: I mostly show at nonprofit spaces and educational institutions and have had recent exhibitions at Redux Contemporary Art Center, Charleston, SC; Silber Art Gallery at Goucher College, Baltimore, MD; Grunwald Gallery, Indiana University, Bloomington, IN; Southern Illinois University Edwardsville, Edwardsville, IL; the Museum of Fine Arts, Boston, MA; and the Renwick Gallery, Smithsonian American Art Museum, Washington, DC. I am also excited to have work in an upcoming exhibition at the Museum of Arts and Design in New York.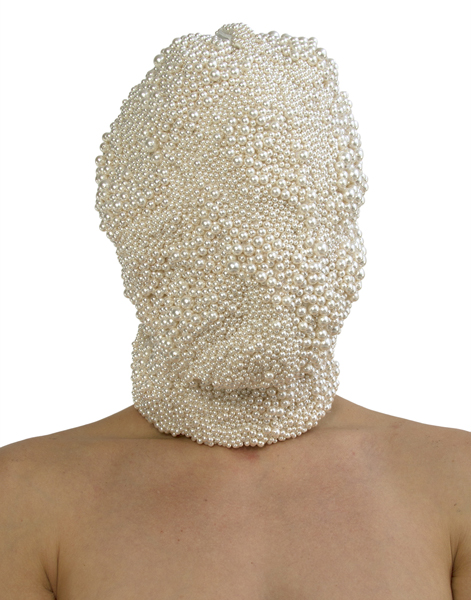 What do you think of the current state of the contemporary jewelry scene?
Lauren Kalman: I am interested seeing the development of artists who investigate the wearing of jewelry as a performative act and also the investigation of technology as a subject rather than as just a medium. My personal interest is in more conceptually-based practices.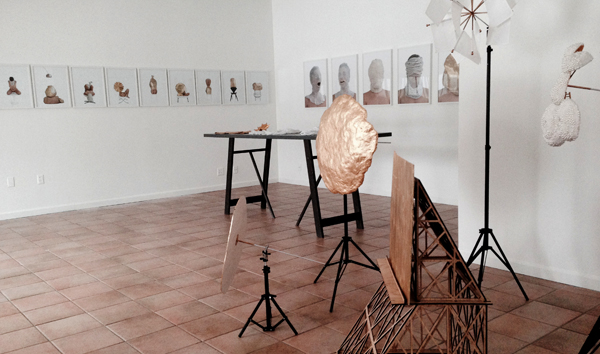 What are you seeing, hearing, or reading that you can recommend?
Lauren Kalman: I just saw a great exhibition of Erwin Olaf's sets, 1:1 Sets for Erwin Olaf by Floris Vos, at Het Nieuwe Instituut in Rotterdam. I am also pretty excited at catching up on reading this summer. On my list are: Hal Foster Design and Crime and "The Art of Fetishism: Notes on Dutch Still Life;" Le Corbusier The Decorative Art of Today; and Glenn Adamson, The Invention of Craft. For this most recent work, I have been re-reading some Susan Sontag, Elaine Scarry, and Michel Foucault among others. As part of my "research," I am also taking circus classes in acro (partner yoga) and aerial apparatuses. These athletic skills are finding their way into the work as much as the texts.
Thank you.