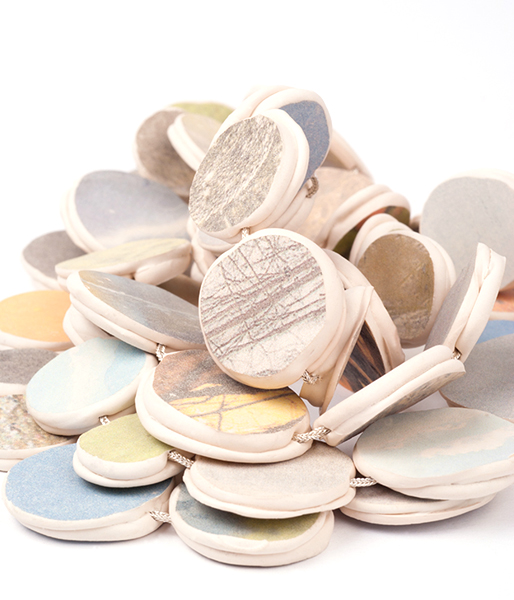 Missy Graff: Please tell me about your background. How did you become a jeweler?
Laura Deakin: My parents have always been a huge influence in my life. My dad is an illustrator and retired graphic designer. He never owned a TV, so weekends at his place were filled with other things. "I'm bored!" I would whine. "Do a drawing," he would say, and with persuasion, I would. I am really grateful for that, as I draw all the time now, and it has helped my development as an artist immensely.
My mum trained as a seamstress but had many jobs. A couple of these dealt with art supplies, so our house always had a healthy supply of good scissors (only to be used on fabric) and colored paper. She has always dressed in fabulous color (this was horribly embarrassing as a teenager), and she wore the first and only pair of ceramic avocado earrings with a matching necklace I've ever known. Her fashion and creativity gave me a lasting introduction to color, form, and composition.
After high school, I studied photography, but after two years, I found myself wandering. I applied to do a jewelry degree because I enjoyed soldering in my metal-tech class in high school. I never wanted to be an artist and never thought I was training to be one, but after learning about the world of contemporary jewelry in my first year with Marian Hosking at Monash University, I was in. I worked part time with the late Mari Funaki at Gallery Funaki, a contemporary jewelry gallery in Melbourne, Australia. There, I began to wear art jewelry and to understand what was possible within the realm of contemporary jewelry.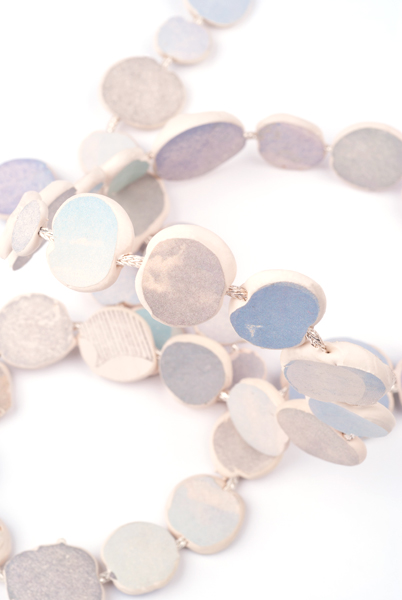 Laura Deakin: Studying for my undergraduate degree in Melbourne, Australia, provided me with a foundation that I could not have done without. Marian Hosking, Mari Funaki, and Mascha Moje were, and remain to be, powerful influences on my development.
Visiting Seoul, Korea, as an exchange student was an experience like none I'd had before, both culturally and educationally. The emphasis was on the technical side of jewelry making. Because I was still an undergraduate, I had to complete all of the required classes. This included everything from hollowware to stone setting. At the time, I found this to be a painful challenge, but ultimately rewarding, as I began to feel more rounded in my skills as a jeweler.
After graduating, I participated in a workshop with Otto Künzli at The Sydney College of the Arts. Upon completing the workshop, he offered me a position to study at the Munich Academy of Fine Art, which I considered a huge honor. Munich was another lifestyle change: new language, new people, new city. The Academy is one of the last "free" study programs. Students sit with no exams and receive no grades. You are on your own, and that prepares you well for the world post-graduation.
Can you please discuss your experience at the Academy of Fine Arts in Munich, Germany? How has your work changed or developed since your graduation in 2010?
Laura Deakin: For the first two years at the Academy, I didn't make much jewelry at all. I was learning German four mornings a week and trying to earn enough money to get by, but mostly I was just terrified of making something without substance. The weekly class meetings were pretty daunting to begin with, especially because they were conducted in a language I could barely understand. However, as I began to make friends and learn the city and the language, everything felt a lot easier.
At the Academy, students are encouraged to think about what they are making and why, then to question that and resolve it. This kind of analysis from fellow students and myself helped me to understand how to make my work and why I make it. Eventually, I made a neckpiece using several different materials titled Assembly, and this piece led to my first series of work The Dishonest Pearls. With this series, I looked intensively at one area of jewelry. It was the first time I became completely involved in a series. Since then, I thoroughly enjoy working on specific series. It gives me time to truly develop an idea. Since graduating, my work has developed into series such as My press. My time at the Academy helped me find my rhythm.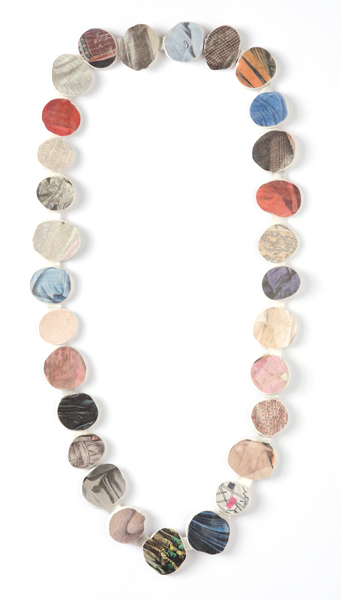 Laura Deakin: The title My press refers to the use of print media and the action I use to press each image into polyester. Each piece is made using the print media from a single day within our recent past. While the majority of work on display comes from the My press series, there are also pieces on display from my previous bodies of work. To tie the work together, the installation at Gallery Loupe includes another print medium: old hardcover books, varied in color as the pieces themselves, without titles or covers, stacked upon one another to create simple shelves. I love the feeling of an old hardcover book. It's somewhere between paper and fabric.
Why is it important to you to preserve moments and stories through jewelry?
Laura Deakin: Preserving a story or a piece of history in a new format gives us the chance to observe it, sense it, and remember it in a new light. My jewelry isn't meant to tell a story as such, but rather I hope it will provoke an emotion or recollection of one's past. Perhaps it will make us think of what it is to view our past in the daily press and move on so quickly.
There was a time, not too many generations back, in which people would leave the world in much the same state as it was when they arrived in it. Advances were gradual. Now, I watch my parents struggle with new technologies, while my grandparents fail to fathom them altogether. What we knew yesterday can be unimportant or obsolete 10 years from now. I find this fascinating.
Storytelling is a huge part of every culture, and our newspapers tell us stories of the everyday. Living in a foreign country, the newspaper is a major part of my language development, and I'm recognizing that printed media will soon also be a thing of the past, for good or bad. The series My press attempts to preserve these moments in time, moments in our time.
Laura Deakin: Like the ring, a long necklace is an unbroken, continuing loop. I have always enjoyed working with necklaces for this reason. It's clean and finished with no messy clasp or clumsy brooch pin. Pearls on a single strand are a classic form. For My press, I wanted each piece to tell an unbroken story. When making a necklace for this particular series, I first chose a theme, for example The Sky. Then, I purchased all the newspapers available on that day. I cut out the images related to my chosen theme (in this case, images of the sky), and I made the necklace by pressing the images into a two-part polyester resin that absorbs the image pigment. The piece must be completed inside three weeks, or the newspapers' ink will dry, and the pigment can no longer be coaxed from its pages. Time appears to play a constant role in this work. The resulting title for the necklace is Our Sky on Tuesday the 21st August 2012.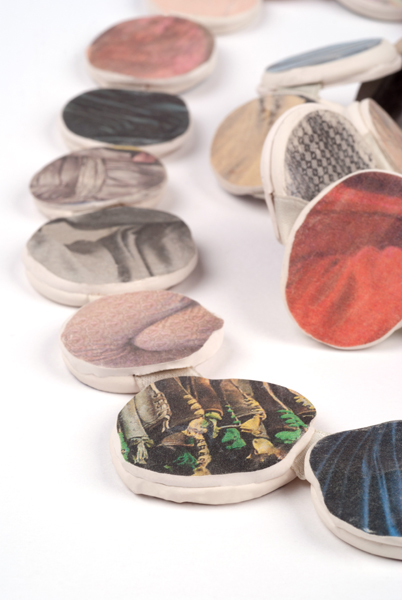 Laura Deakin: It is not important that viewers recognize a particular day or time in this work, but rather I hope the soft colors and shapes printed on each "pearl" weave together to strike a memory, a feeling, or a déjà vu of a time past. We are individual in our experiences, but we can all be triggered in some way or another to recollect the smells, sounds, tastes, and feelings associated with our past. Special dates and forgettable moments are all wrapped up together in packages of memory. My press brings together images of the memorable and forgettable, allowing the viewer to remember pockets of time day-by-day, necklace-by-necklace.
Can you recommend some reading material other than newspapers?
Laura Deakin: Definitely.
The Man Who Mistook His Wife for a Hat by Oliver Sacks (American physician)
The Pearl Chain Principle by Manon van Kouswijk (Dutch contemporary jeweler)
A Short History of Nearly Everything by Bill Bryson (American author)
Dirt Music by Tim Winton (Australian novelist)
Herbei, herbei, was Löffel Sei by Hermann Jünger (German contemporary jeweler)
A Gap in Nature by Tim Flannery and Peter Schouton (Australian naturalist and illustrator)
Thank you.