The moon over Zhuxi
I gaze out the window of a seminar room where masters and officials are discussing the current state of lacquer art. The full moon rises above the mountains of Zhuxi. It silhouettes the trees whose resin is extracted at night to produce some of the finest lacquer in China. Meanwhile, inside, a lacquer master with a wispy beard complains about the prevalence of artificial lacquer in the marketplace. As the honored guest, I am permitted a question: "How do you tell the difference between artificial and real lacquer?" Everyone smiles: trust a foreigner to be so blunt. The response to my question is adamant: "Only the master knows!"
After the forum, over a particularly tasty soup of bamboo skin, I raise this question with my young translator. She whispers the answer to my question: "Darkness is indispensable to appreciate lacquer." She's quoting Jun'ichirō Tanizaki's classic, In Praise of Shadows.
Perfect. We decide that the subtle huī guāng, or glow, of real lacquer might be best appreciated not in the bright lights of a gallery, but by candlelight. The organizers embrace our suggestion enthusiastically and a nocturnal tour of the exhibition is quickly organized. Holding a flickering candle, the master guides us through the gallery. The objects do indeed sparkle and take on a special aura, like nocturnal creatures creeping out under the moonlight. This is the experience of "real" lacquer.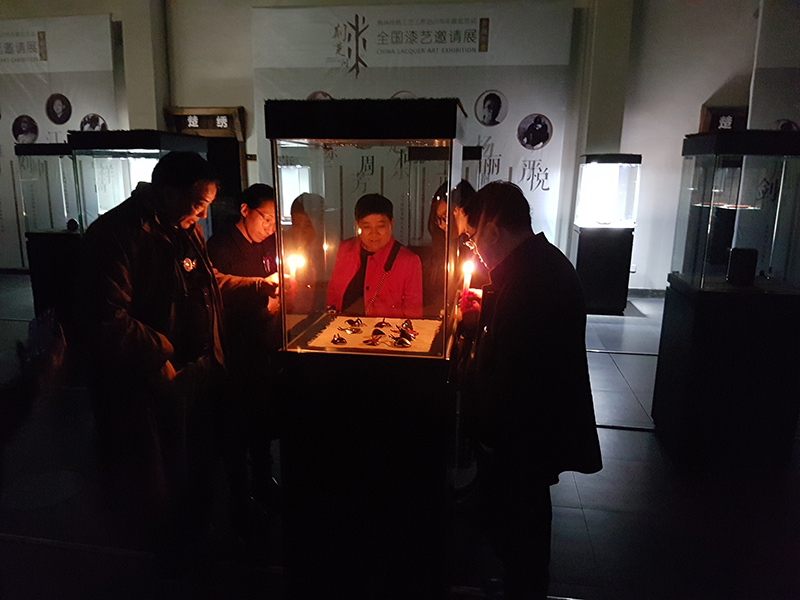 Lacquer in jewelry art
Lacquer is a challenging material for contemporary jewelry. It doesn't fit comfortably in the modernist framework. Lacquer is neither precious metal nor stone, nor a magically repurposed everyday substance like packaging.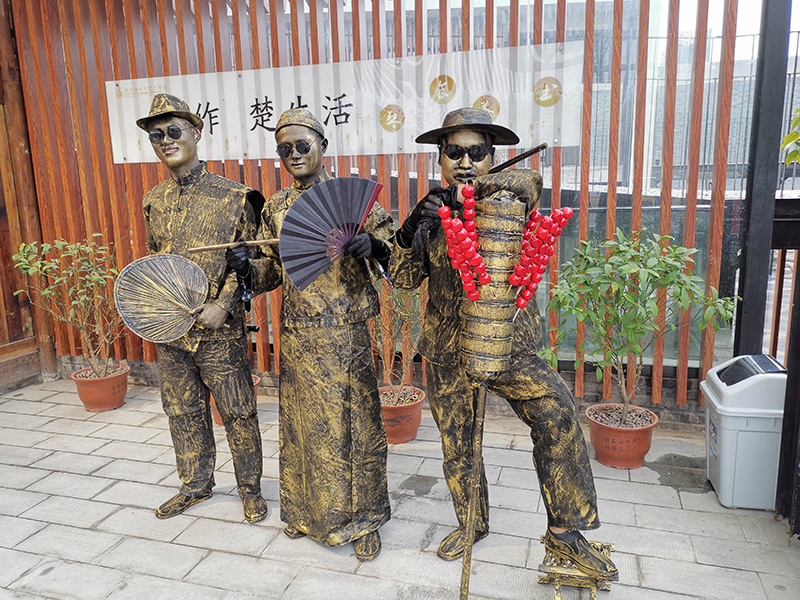 I've been to two China Lacquer Alliance summits in Jingzhou, Hubei Province. They are dazzlingly ambitious events. The last one unveiled plans for a "lacquer city" to be built in the following year (presumably deferred for now due to the coronavirus outbreak). My eyes have been opened to this ancient substance. Lacquer adds a radiance to the objects it coats, imbuing them with a glow like that of healthy human skin. But it also tells us something about the cultures of East Asia that are currently reviving this technique. They have an important lesson to teach us about the poetry of objects.
To understand the power of lacquer in China today, consider the jewelry of Chen Luyin. A recent graduate of Beijing's Tsinghua University, she markets her Tang Hulu range as a source of positive emotion. In a recent WeChat conversation, she says that lacquer "shines from the inside out" and has a "life-shaking force." This was demonstrated during the height of the COVID-19 pandemic, when she went live on the Baidu video platform to stage a "passing of love." Two hundred people participated directly via Baidu chat on the popular Guofeng Channel, while nearly a million viewers watched as she discussed her work for over an hour. Her lacquer jewelry was offered for sale at cost.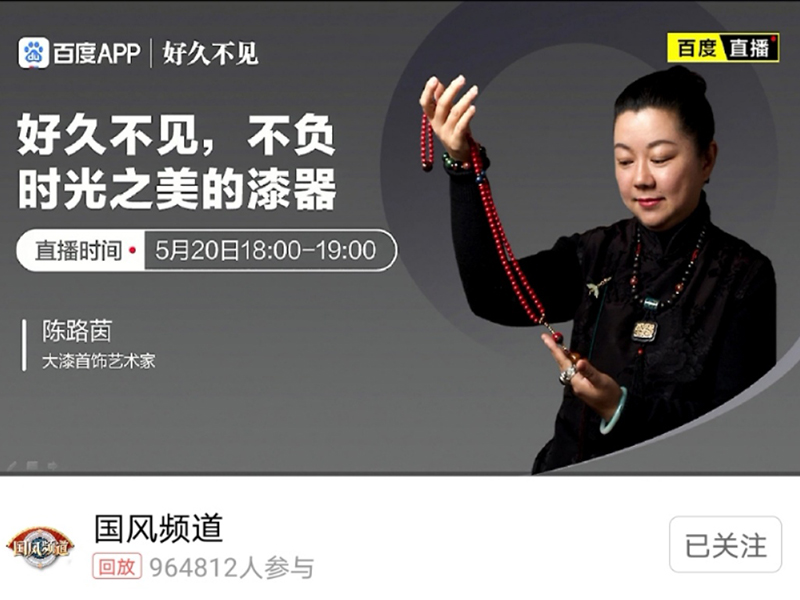 Why name her series Tang—as in the imperial dynasty of China? In talking about the particular Chinese approach to lacquer, my translator referred to the concept of wù gǎn, which loosely translates as "the feeling of the object." This contrasts with the Western way of viewing objects through the lens of subjective values, such as a personal sense of beauty, personal memory, or luxury. According to wù gǎn, it's the objects themselves that create the feeling. This is particularly evident in the poetry of the Tang dynasty, which alludes to emotions heightened in moonlight. Thus the Tang poet Zhang Jiuling conjures a wistful scene:
Over the sea grows the moon bright;
We gaze on it far, far apart.
This meditative sensibility was also reflected in the pendant worn by some attendees, which consisted of a plain square of bone that had been covered in lacquer. This wu shi pai is used by Daoist scholars to contemplate nothingness.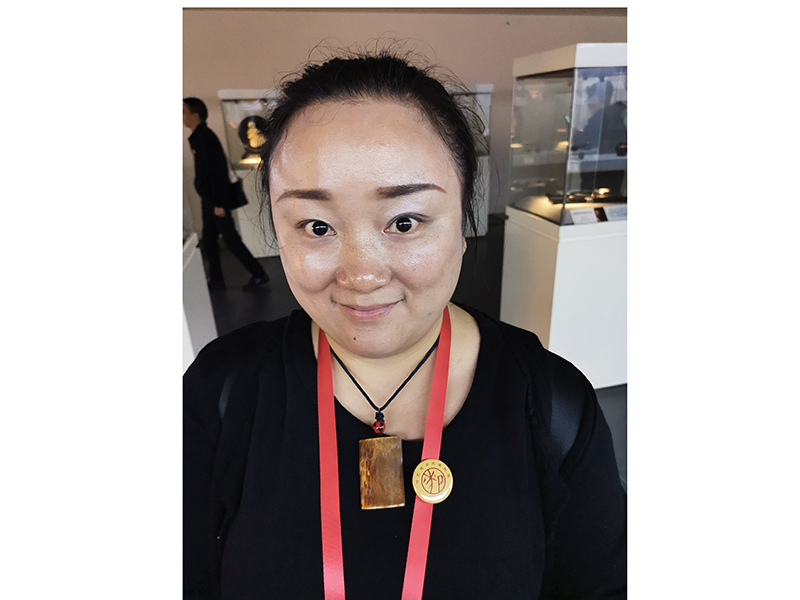 Currently, lacquer is caught up in the revival of ancient culture in China, along with traditional dance, music, and sinewy Han costume. Like much else in the Middle Kingdom these days, it's produced for local consumption and unlikely to have broad appeal internationally. But their rediscovery of lacquer has broad relevance.
Japan, where lacquer is the "real thing"
Lacquer takes on additional meaning when we move across the sea to Japan. Takuya Tsutsumi is an urushi (lacquer) refiner for Tsutsumi Asakichi-ten, a fourth-generation supplier of lacquer. Tsutsumi initiates projects that introduce lacquer to everyday life. The Urushi no Ippo[1] project provides wooden lacquer Hino bowls to kindergartens so that children gain a deep understanding of the beauty of lacquer from an early age. Tsutsumi has even traveled to Australia in order to help make a lacquered surfboard that reflects the beauty of the sun and the water.[2]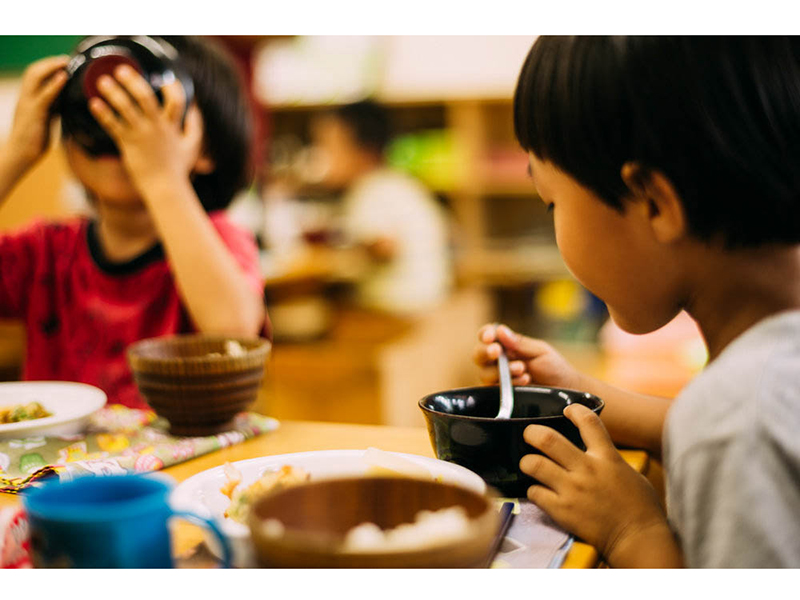 Foreigners who are serious about lacquer make a pilgrimage to the Japanese village of Wajima to be initiated into its difficult mysteries. The Dutch restorer Dave van Gompel reflects on the almost spiritual response to the painful allergies and severe itching that most experience when first working with the substance:
As I went through many sleepless nights to the point where the skin from my wrists was falling off, my teacher took me by the hand and reassuringly told me: "The Lacquer God is trying to connect with you. Stop resisting and you will be fine."[3]
Just as the Chinese masters do, Gompel makes a sharp distinction between the real and fake qualities of objects. Lacquer items are classified as honmono—"the real thing." Introducing these honmono into everyday life reflects the philosophy of "living craft," as epitomized by the tea ceremony. No doubt the most ubiquitous example of this in daily usage today is the nail salons that have proliferated in the West. While they may not use urushi, they reflect the attraction of an intricate numinous surface at hand. And that carefully groomed hand can in turn hold one of the principal outlets for lacquer art—the smartphone case. The Vietnamese studio La Sonmai[4] produces exquisite unique cases that highlight the dazzling color of lacquer.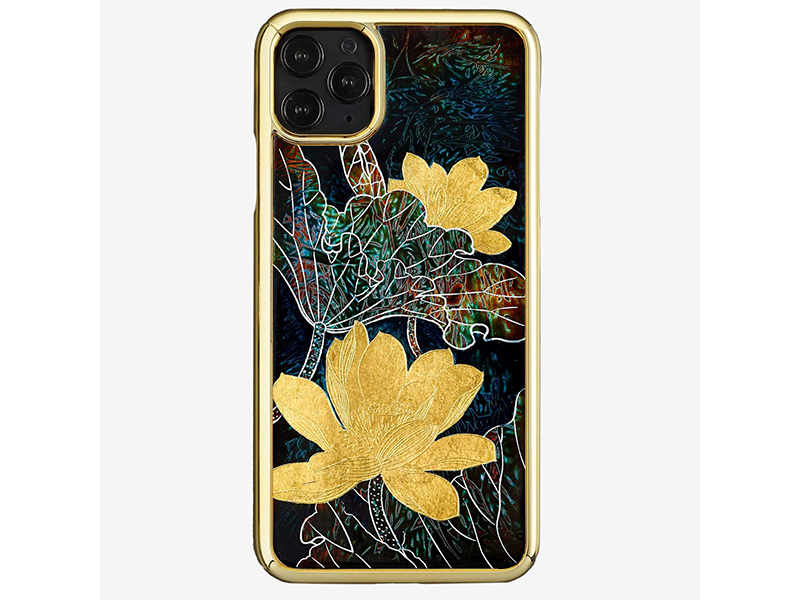 The natural poetry of Japanese contemporary jewelry
There are many Japanese contemporary jewelers working in lacquer. Michihiro Sato's Possession contrasts the milky glow of lacquer with the crisp color of paper, in parallel with the relationship between flower and leaf.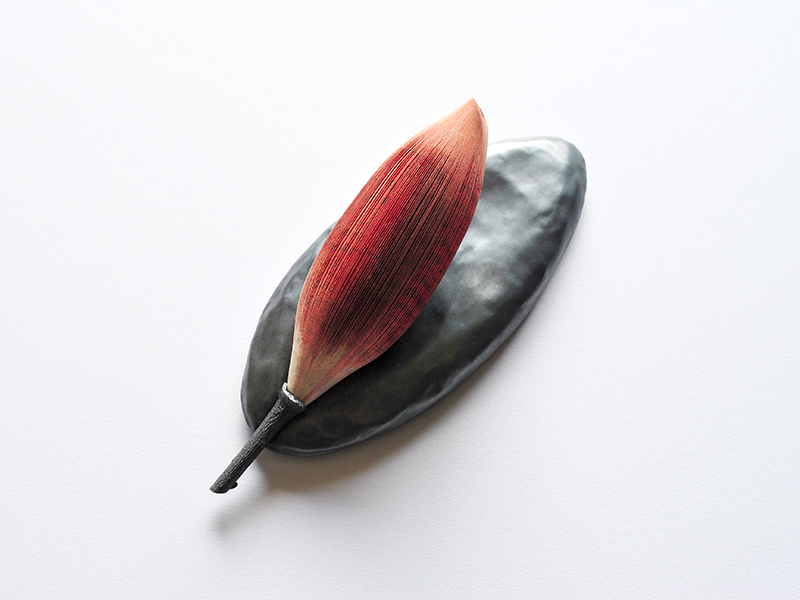 Another artist, Saya Yamagishi, also uses lacquer to evoke the wonder of nature. Her work takes a variety of forms, including objects, pin brooches, and hairpins. The Chrysanthemum Brooch demonstrates the rich texture created through the makiye technique, where gold dust is delicately sprinkled onto lacquer.
Relative to plastics, lacquer proves an enduring substance that preserves ancient artifacts. This quality is used poetically by Kimiaki Kageyama with a series of rings covered with lacquer fragments from a Japanese shrine. This reflects the kintsugi aesthetic, which focuses on the beauty of repair.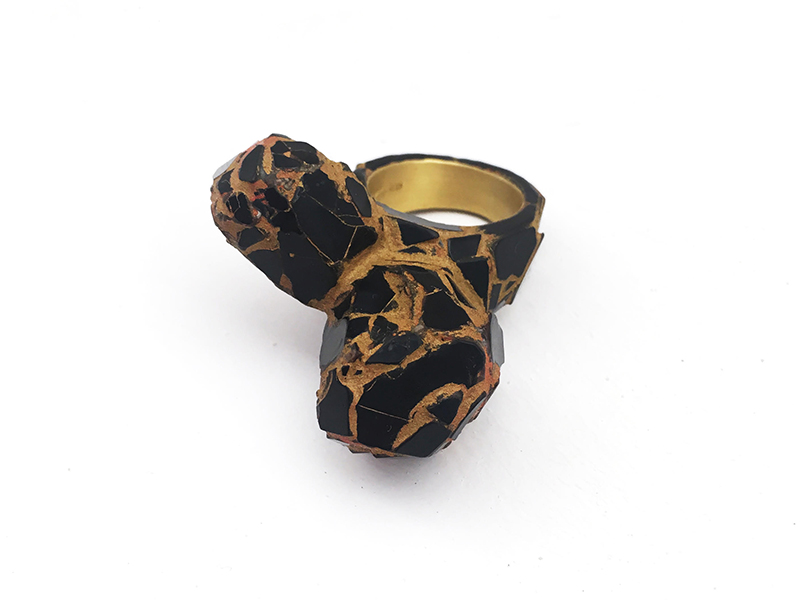 Lacquer demands an expansion of our critical framework for contemporary jewelry, which tends to approach works through the biography of the maker. We might normally ask: How does the work express the artist's identity or experiences, such as working with materials on the bench? In the case of lacquer, we need to reverse the perspective. In a way similar to New Materialism, we can instead view these works through the lens of wù gǎn, as vehicles for the feeling of lacquer to be transmitted. This feeling is itself amorphous and requires a poetic framework to give it meaning, such as the wistfulness of Tang poetry or the enchantment of nature in some Japanese works.
The lacquer diaspora
It's rare to find lacquer used in the West. But Australia, a Western country in the Eastern hemisphere, sometimes produces hybrid cultural forms.
Bic Tieu's grandparents moved from China to Vietnam to escape poverty, and then her parents left South Vietnam for Australia for similar reasons after the war. Her interest in lacquer began with the pearl-inlaid lacquer panels that her family brought back from visits to Vietnam. Driven to learn this technique herself, she, too, traveled to Wajima and studied with lacquer master Kitamura Tatsuo.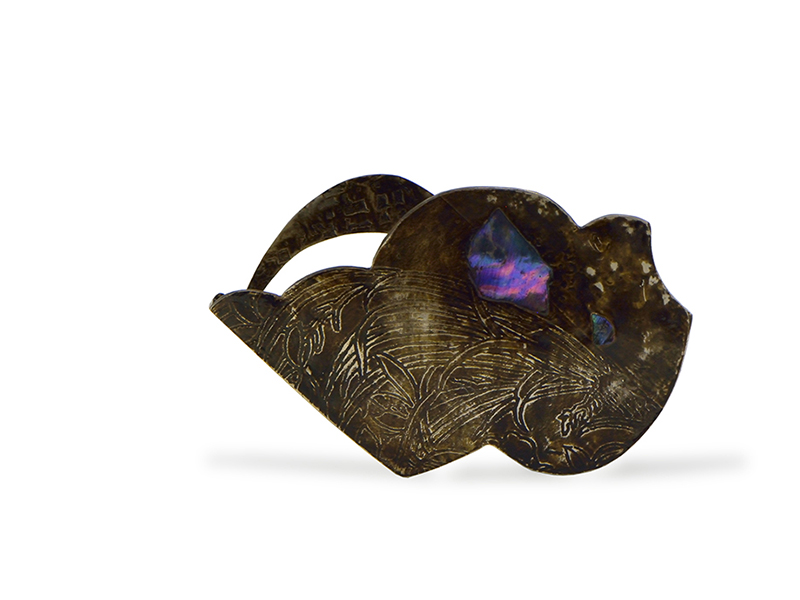 Since then, Tieu's jewelry work has used the language of lacquer to reflect on the experience of migration. This is often narrative-based, such as the Moon Light Sea series, which depicts her parents' original journey. The boat-like form is etched in silver with peonies, featuring mother-of-pearl. Unlike the traditional forms typically used in lacquer work, Tieu's motifs are unfinished and re-sampled, reflecting the experience of living in a mixed culture. She inevitably returns to East Asian cultural designs to tell her story.
Beyond lacquer?
The Eastern techniques and narratives of lacquer play an important role in contemporary jewelry. The slowness of its processes, and its connection with nature and long life, imbue it with an aura that is appreciated particularly at a time when we're aware of the limits of speed and development.
It may seem problematic that its use is articulated through specifically Asian cultural identity. This is at odds with the modernist approach to materials, which ascribes a universal truth to their physical being. It's also at variance with the school of New Materialism, which projects agency onto nonhuman substances as something outside our capacity to understand.
The influence of chinoiserie in Western decorative arts indicates an enduring fascination for Chinese culture, but unless a poetics of lacquer develops in the West, it's likely to remain an Eastern material. This cultural abstraction is key to the concept of wù gǎn.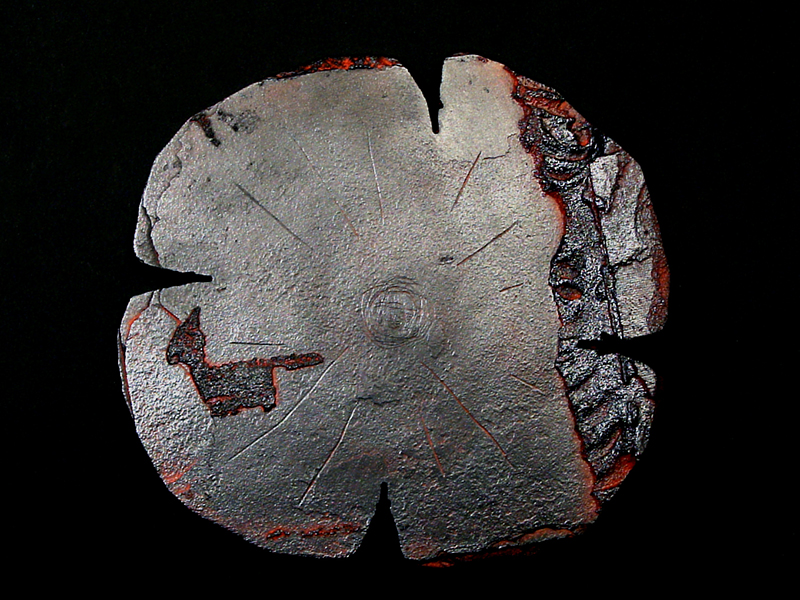 As with the Confucian concept of li, reality is inevitably experienced through a cultural lens, particularly in ritual and poetry. Beyond lacquer, we could take this lens to other materials that have acquired cultural resonances in the West, such as silver or gold. It can help us appreciate jewelry artists like Margaret West, who sought to articulate a poetry of materials such as lead and stone.
At the moment, lacquer appears to be a particularly Eastern material, in practice and meaning. It's intriguing to question whether this is inevitable or an accident of history. The challenge of forging a new poetry of lacquer awaits.
---