Susan Cummins: Julia, first can you give me some idea of where you live and about your background? Schooling? Etc.
Julia Barello: I live in Las Cruces, New Mexico. It is the second largest city in New Mexico and part of a large metropolitan area formed by El Paso, Texas, and Ciudad Juarez, Mexico. Las Cruces is part of the Chihuahuan desert (not the Sonoran desert of Arizona). The city is in a river valley formed by the Rio Grande, and the Organ Mountains form the eastern border.
I grew up in Bellevue, Washington and always considered myself a North westerner, but the Southwest has grown on me! My undergraduate education was at Fairhaven College, an interdisciplinary program housed at Western Washington University in Bellingham, Washington. My degree was formed from research in anthropology, art history, and studio art. For the most part, I worked in textiles, weaving, and surface design, but near the end of my studies I discovered metals. I was taken with the processes and by the sense that I could use them to make anything from jewelry to teapots to sculptures and fit it all under that umbrella.
I grew up with a mother who loved contemporary art and music and was exposed to everything that Seattle had in the 60s and 70s. My grandparents were tailors, so I had that exposure, too. We were all forced to knit.
Julia Barello: I teach jewelry and metalsmithing from introductory undergraduate through graduate level courses. I'm increasingly interested in collaborative work that involves a conversation amongst the participants and takes a tangible, visible form. For a while, I was having advanced students engage in a ring conversation. One student would start by making a ring, and then give it to another student for a set amount of time for a response ring, and this would be repeated up to six times. At the end, there is a linear, tangible example of the conversation and the way it impacted each student's choices in their response ring. It is always fascinating to see how technique, material, and form come in response as opposed to from the vastness of our intellects!
How did you get started using x-rays to make jewelry? What were your ideas behind it?
After graduate school, I became very interested in the political possibilities of jewelry. Aside from the fact that we wear it on our bodies, making its message visible or making its message come to fruition on the body, I was interested in the basic question of gender identity and the body. I did a series using surgical illustrations as part of the installation, and the form and surface image of the jewelry was taken from the exposed under layer the illustrations revealed. The driving idea was to make jewelry that spoke of the interior of the body regardless of gender. This work evolved into the vascular studies pieces that mimicked specific vein patterns in the chest, which led to the use of chest x-rays placed in light boxes to locate the proper position for the brooches on the body.

Julia Barello: I would be doing both if I had enough time. That's the rub. In 2004, I started making wall pieces with recycled medical imaging film. I came to it partly because I had children and found I had such a small amount of time for the studio and less time to be thinking about work. In 2007, Kate Bonansinga invited me to make a piece in the atrium at the Rubin Center in El Paso. I had an unparalleled opportunity to make a two-story-high interior piece. The materials stayed the same—extracted images of the body—but because of the large-scale installations I was able to make something that positioned the body of the viewer in relationship to the body within the images. Different scale than jewelry, yet still body-to-body conversation.
Your installations consist of wonderful organic and naturally occurring patterns. They have titles like Eddy, Swale, and Genome. How do you use pattern research in making these installations?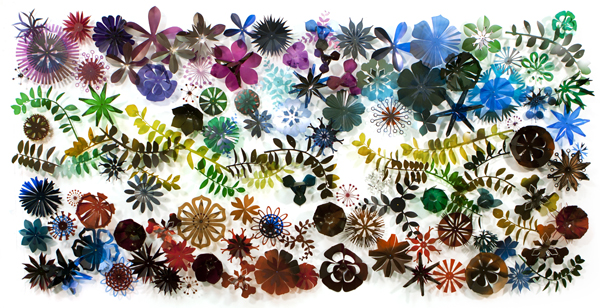 In the second thread of work, my pieces are derived from specific plant forms. I just completed Flotsam, a large wall piece that will be a permanent installation at the Mary Hitchcock Dartmouth Hospital complex. For that piece, I hunted for plants that are native and common to the Northeast United States, photographing them and manipulating them in Rhino for laser cutting. These pieces are much flatter, like silhouettes, and the movement is created through the color and organization of the forms.
Thank you.