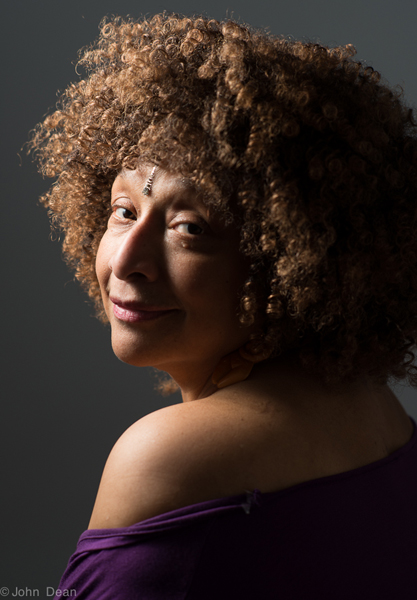 Susan Cummins: Joyce, when did you first know you were going to be an artist?
Joyce Scott: In vitro. I was born with one of the best-decorated placenta.
I know you have repeated the story of your mother and her influence on you many times, but would you mind repeating it for us once more?
Joyce Scott: I wrote this for Harriet Tubman, but I believe the same for my mom.
She didn't need skin and bones, was a hurricane of a woman. Her, sweeping up the weak flying in her skirts to freedom. Her footprints formed highways the color of rushing waters in the deepest of canyons.
Her skin was lava turned to sand.
Seashells her smile.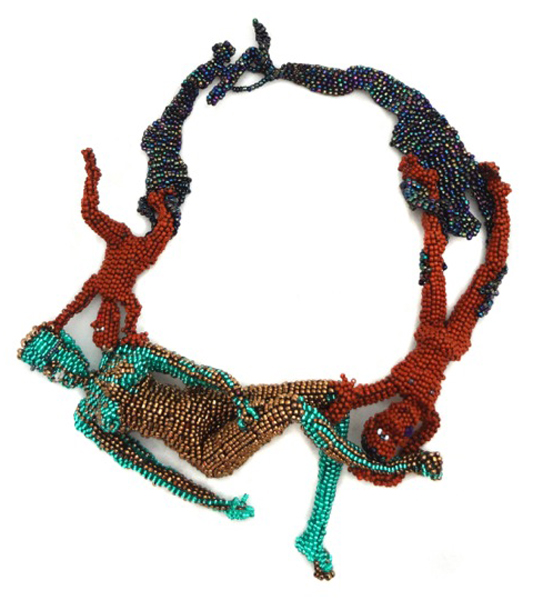 She, the moisture on your upper lip.
Smelly chicken on your fingertips,
The way your toes curl when times are gooood.
The heat from her breath as she blows thunder, warms the chilly bones of those in despair, unfettered.
She can untie knots.
Refry beans.
Reply to sneers.
While pointing out the drinking gourd.
And we rode her, laughing as she breezed sweet. The rustling of her skirts were the clouds on rampage, the sunset her smile.
Her giggles, as she ushers the newly liberated, were the flapping of hummingbird's wings. Her cape was winter's midnight in disguise. A velvet fort in defense.
She was the mother of shadows.
Sister to rain.
Aunt to a rainbow's pink stripe.
Babygirlchild to the moon.
And the patch on a crazyquilt.
You are an artist who uses multiple mediums, such as performance and sculpture, but you have always made jewelry as well. How does it fit into your thinking about making?
Joyce Scott: All share the primary creative impulse sans hierarchy. Exploiting humans as walking billboards for my ideas of beauty, social, and political preference is a sly maneuver.
Much of the work you make is very political. Why?
Joyce Scott: I am a citizen with the same concerns as the broader society. My art is my best voice. I believe artists should create as their muse leads them. I, as an African American Women, nay craggy feminist, desire my voice as an artist to ignite change, no matter how minor.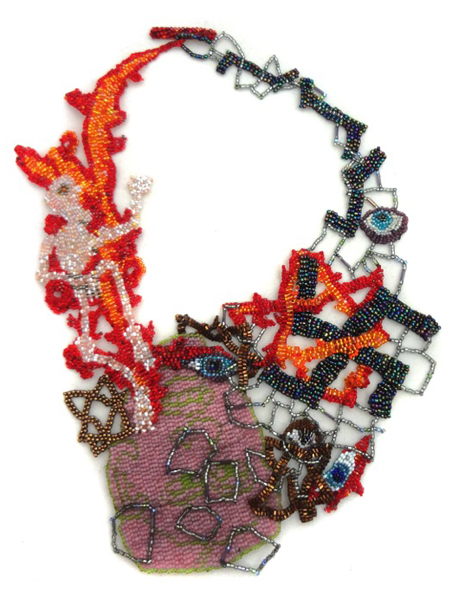 Joyce Scott: Not the wealth so much, as the collusive element. Sometimes this is the easiest way for someone who holds her light close to speak.
During lectures or interviews, you often break into song or tell a story in a specific accent. This tends to focus your audience even if they are laughing. Do you see this as a tactic that you also use in your jewelry?
Joyce Scott: The words, whether whispered, prayed, worn, or danced, are the same. Much of your work seems self created, self generated, as you go.
Do you ever make drawings before beginning a piece?
Joyce Scott: Only if I'm going to spend a lot of money and must conserve funds. Or if I am subcontracting/collaborating/directing. I draw for the gaffers who create my glass art.
Much of your work has the feel of a story or even a backstory. Do you think of your work, especially the work that deals with racial issues, as narrative?
Joyce Scott: Absolutely. I come from a long line of griots/tricksters/storytellers. My family is from the Carolinas, where drinking homebrew, spinning tall tales, and retelling history no matter how brutal, is woven into everyday life.
Thank you.