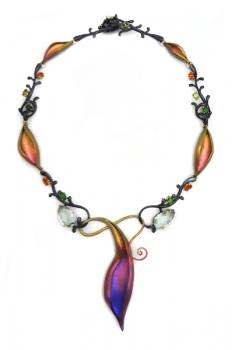 Susan Cummins: Can you tell me the story of how you discovered that you wanted to be a jeweler?
Jose Marín: My father was a goldsmith. In my childhood, at 10 or 12 years old, I used to play in his workshop, which was in our house. That is how he woke up my love for this craft.
Where did you learn to make jewelry?
Jose Marín: At 13 years old, after school and in the early evenings, I went to a jewelry school at the Jewelers Guild in Valencia, Spain. Here, I studied jewelry making for five years, and after that, then four years of engravings and setting.
I have had 3 teachers. My father, until his death in 2006, taught me the jewelry style of Valencia, which is a jewel of floral inspiration and very baroque. It is made with platinum and gold leaves with a very traditional technique unique to this geographical area in Spain. I also learned the art of forging solid gold from him.
Pascua Auñon l was my first boss from 1981 to 1986. He had worked for 15 years in Germany. He taught me to do rivière necklaces and bracelets and all kinds of jewelry made with wire.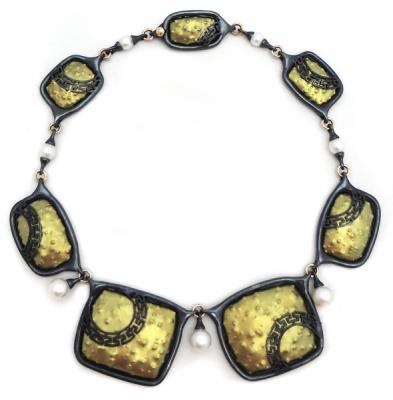 Finally, I studied superior technical design jewelry to become a qualified teacher from 2001 to 2005.
You work in gold, colored stones, and titanium. Why have you chosen these materials, and do you have favorite stones, and why?
Jose Marín: I think it's my Mediterranean character. I love color, and anodized titanium has a chromatic range that I can choose from for each piece. Gold and gems help me turn my jewelry into what I call "High Contemporary Jewelry." My favorite stone is the tourmaline. It is a caprice of nature with colors ranging from blue to pink through yellow, and it has chromatic similarities with anodized titanium. This is amazing.
You are especially known for working with titanium. What is it like to work with?
Jose Marín: For me, it was the biggest challenge I could ever face. My work with titanium combines several different techniques. There was no literature about them, so I had to learn how to give it volume, to join, engrave, cut, combine with other metals, and finally, color it myself. I think I have developed something unique. My titanium jewelry is made by hand with a hammer, so I do not use casting or any other machinery. Other goldsmiths who know titanium and how hard it is to work with appreciate my jewelry the most.
Can you tell me something about the Joya event? What is it, and why have you chosen to do it?
Jose Marín: Joya Barcelona is a unique event. The exhibition space is in an old convent, which generates an atmosphere of peace. It is quiet like a church or a museum. It is a very good opportunity to see the latest artistic jewelry objects for galleries and collectors. The artists went through a juried selection process, and the work was studied for acceptance.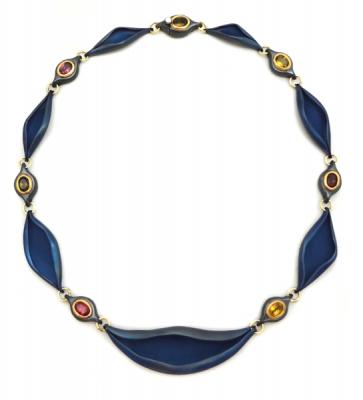 Jose Marín: I have a lot of interest in showing my work in the United States, because I think it is going to be appreciated there very much. Mobilia is a gallery that appreciates the technical work of the artists. It is also in the intellectual heart of United States near its most important universities.
Can you tell me the story of how the arrangements were made?
Jose Marín: Well, really, I wrote to Mobilia Gallery because I had shown in Joya Barcelona with one of their artists named Jee Hye Kwon. She spoke highly of Mobilia, so I wrote them. Simple as that.
Can you recommend a book you have recently read?
Jose Marín: El decálogo del caminante (The Decalogue Walker), Manuel Pimentel
In this book, I see myself reflected. It speaks of the need to be strong and overcome adversity to pursue your dreams and goals. Unfortunately, I don't think it is in English.
How about an inspiring book on jewelry?
Jose Marín: The Life of Benvenuto Cellini by Benvenuto Cellini.
He was a master goldsmith from the Italian Renaissance. For me, it is a great source of inspiration because I am inspired by words more than pictures.
Thank you.