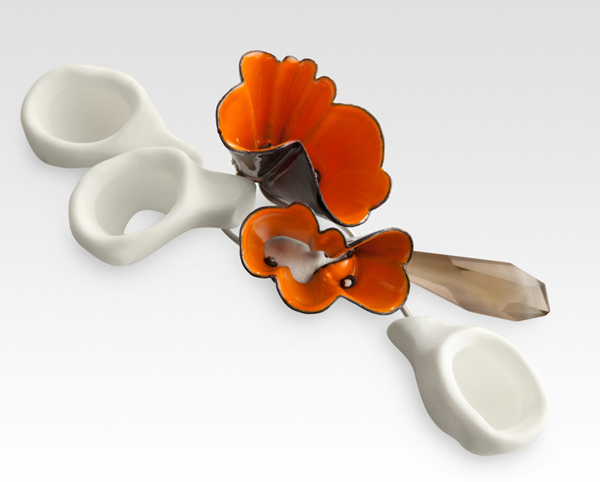 Susan Cummins: Jessica, you have been out of school now for about five years. Since graduating from SUNY New Paltz, have your ideas about making jewelry changed?
Jessica Stephens: I definitely think more about wearability. I think about the viewer's and the wearer's perception and if the pieces are accessible to a broader audience. In graduate school, you are gifted with an educated audience, a group of people who are intense and invested in the same manner as you. Once you leave that world, you realize how different the value system of the general public is, especially with regards to jewelry, craftsmanship, and invention.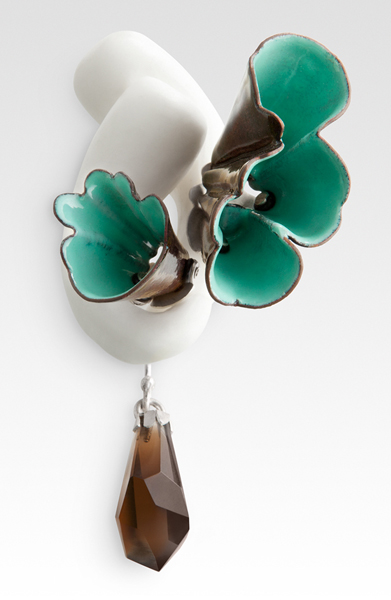 Jessica Stephens: The famous 10-piece project is by far the most memorable and influential assignment. As a jeweler, it's easy to become trapped by your initial idea or weighed down by precision. The nature of the material and the fabrication process is not forgiving. It's not like drawing or painting; you cannot simply erase a mistake or paint over an area you don't like.
For the 10-piece project, we were asked to make 10 pieces in a little over a week, which was initially a daunting task. I had always started pieces with a plan and a sense of finality. The 10-piece project liberated my making methodologies. It gave me permission to experiment and play, enabling my ideas to evolve and material selections to expand. I still use it as a starting point for new work. I take the ideas and move them through a variety of three-dimensional sketches before I start making any finished pieces.
I noticed that, since graduating, you have begun teaching. What kind of assignments are you giving your students? Can you give an example of one that seems to get unexpected results?
Jessica Stephens: I love rivets and cold connections, therefore they always make an appearance in my assignments. I encourage students to diversify their material selection, and at the beginning, level emphasis is put on sheet fabrication.
Belt buckles are my favorite assignments. They are slightly removed from traditional notions of jewelry. Students seem to be more inventive and less attached to convention when they work in this format. The result is always unexpected.
What materials are you combining in the pieces in the Natural Formations show? Why are you using the combination?
Jessica Stephens: In a previous body of work, I created decadent corsages made from sheet foam patterns that I electroformed. They were organic forms saturated with commercial color, and they possessed an intense synthetic quality. The forms were voluptuous and had a sensual presence. In this current body of work, I have attempted to retain those sensuous qualities but to present them in a more refined manner; emphasizing less of the pop culture quality and reintroducing a bit more of the traditional qualities of jewelry. The source of color is enamel over copper, chosen because of its rich historical tradition in jewelry. The stone, the jewel makes an appearance in several of the pieces, while the white forms are cast acrylic plastic. The acrylic components are the connection to the present, referencing production and incorporating a synthetic material where traditionally bone or coral might have been used.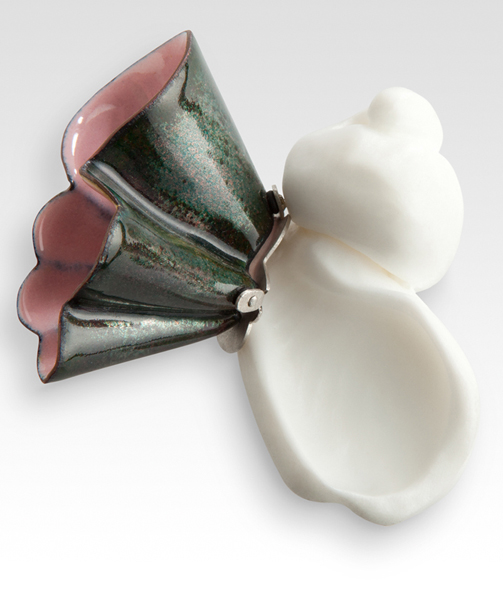 Jessica Stephens: No.
What branding systems seem to work for you best as someone trying to establish a career as a jeweler? Facebook, website development, or something else?
Jessica Stephens: I must admit this is my weakest link. I'm not on Facebook, professionally or personally. I realize the professional benefits are limitless. It's an extremely valuable tool, and I'm on the verge of making that leap. I'm focused on pursuing website development in combination with Facebook. However, up until this point, I've relied primarily on hard work and one-on-one connections.
How do you see your future as a jeweler shaping up?
Jessica Stephens: It's constantly evolving.
Thank you.