Benjamin Lignel and Namita Wiggers, Art Jewelry Forum Speakers Tour, University of Oregon, Eugene, Oregon, 22nd October 2013
In the fall of 2013, several contributors to the AJF book Contemporary Jewelry in Perspective toured North America to present the publication. Editor Damian Skinner spoke at Pratt and at the Renwick Gallery. Museum of Contemporary Craft director Namita Wiggers and I delivered lectures both in Portland and at the University of Oregon. I then ganged up with Dutch historian Liesbeth den Besten for a two-hour session at San Francisco's California College of Arts. The following week, curator, writer, and lecturer Monica Gaspar gave a talk at Cranbrook and another at SOFA Chicago, and Metalsmith editor Suzanne Ramljak spoke about contemporary and commercial jewelry at SCAD. It was, by any account, an intense series of events.
In a few cases, the tour provided the speakers with the opportunity to conduct short workshops. They were often a way to test the user-friendliness and efficacy of Contemporary Jewelry in Perspective and to help participants build some tools to think through their practice.
AJF asked some of these participants to write a report on their workshop and lecture experience. No less than eight writers answered our call. Mimzy Serot-Shore paints Damian Skinner's workshop at University of the Arts as a transformative moment. Olivia Suffern, Odette Channell, Young-Sun Song, and Susannah Stark describe how Skinner's insightful individual critiques provided collective inspiration. Kaiya Rainbolt reports on my lecture and subsequent group crit at San Diego State. Anna Greer gives Namita Wiggers and my workshop and lecture a detached, nay, tongue-in-cheek intern's once over. Courtney Kemp, from University of Oregon, uses our remarks about craft's self representation as a launching pad for her own critical analysis of the field's nostalgic impulses. And finally, Olivia Shih takes her cue from Liesbeth den Besten and my brief visit to CCA to examine art jewelry's relevance to the wider public.
These reports, varied as they are, bear witness to the thoughtful engagements and keen interest of students and emerging artists across North America. We are grateful to them for sharing their thoughts with us.
Ben Lignel, Editor
Last fall, a small group of undergraduate and graduate students at the University of Oregon held a workshop to discuss a short selection of readings from "Contemporary Jewelry in Perspective". Our discussion focused on the chapters called "Bench," "Street," and "Drawer," in which the authors discuss how contemporary jewelry occupies these spaces, and in turn, what being in these spaces does to it. Those chapters are heavily imbedded with conversations on the act of making and presentation of the field of jewelry to the public sphere. A core theme of the workshop that I aim to problematize in this essay is the focus on representations of the "authentic maker" and the ways by which our field uses this theme as a crutch for critical discourse.
The student responses to these segments were broken into two main critical points that I feel acknowledge and question the relevance of these chapters to current members of our field, particularly up-and-coming makers. The "maker's self-portrait" (in "Bench") and social practice (in "Street") both seem to encapsulate the concerns of our group and, possibly in the larger sphere, young makers. The overarching problem with the themes in "Bench" and "Street" is the highlight of the self-validating "I am an Authentic Maker" approach to representing ourselves as craftspeople, and in effect, attempting to prove our field of craft as valid and present.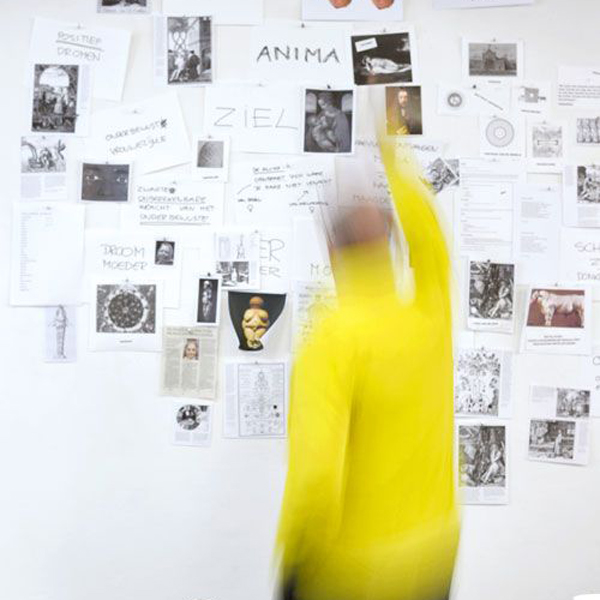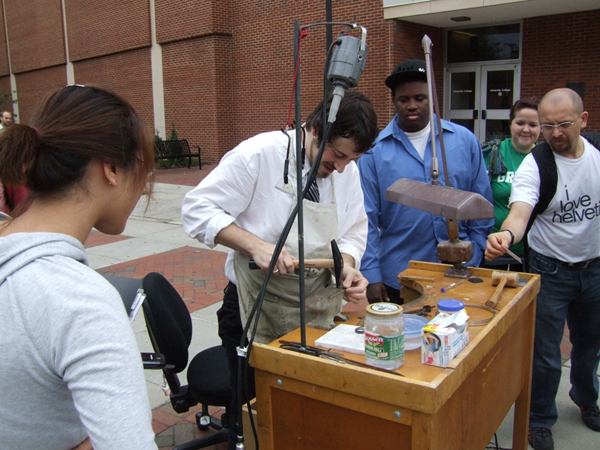 In a similarly self-validating motion, the focus of social practice in "Street" seems to highlight the (semi-)current trend of making in the public sphere: pulling your bench out to the street corner, using park benches as workspace, or encouraging public interaction with the stranger's body through performative acts. As makers, the focus on consistently representing the field of contemporary jewelry as an act of performing our skills to the public, be it via image, street, or bench, seems like a theme we have over-mined. At what point does the conversation about 'the act of making' become blankly nostalgic and trivialize the content of our work? And where are our objects in all of this? In their presentation, Wiggers and Lignel provided a plethora of examples of fantastic makers in our field, but often the over-abundance of jewelers and metalsmiths as avid participants in the field of social practice seems a bit of a cheap trick. By seeking association with the field of social practice, a field which has been heavily present and popularized in mainstream contemporary art since the 1960's, we are applying a mask of content rife with the inner-workings of performance art, while completely ignoring the specificity of that which makes jewelry, objects, and craft on the body so unique. Perhaps the issue lies not with the makers of this work but with the desire for a 'representation of crafting' in the public sphere, making participatory and performative craft appear as though it is the most significant way to validate our field as critical, conceptual, and current. In doing so, our piggybacking on historical conceptual art themes seems to beg for craft-specific criticality that never quite arrives.
In both the images of self in 'Bench' and the nostaglia-laden performances in 'Street', makers attempt to depict their practices and objects as 'authentically crafted', privileging traditional depictions of the hand, the tools, and the act of making. Why are these practices of showmanship and glorification of labor markers of contemporary craft? The manner in which we seek to see ourselves appears to negate the ways in which many of us are actually making, thinking, and reflecting on the field at the present moment. The self-validating images and performances seem a polite and apologetic way to excuse ourselves for utilizing conceptual and technological advancements to broaden our field and include non-traditional materials or processes. By over-emphasizing the methodologies of labor and tradition, and demonstrating craft as merely the act of making an object, we fail to acknowledge the broad horizons of contemporary metalsmithing and jewelry in the present.
Follow the link to see the lecture: Benjamin Lignel and Namita Wiggers, Art Jewelry Forum Speakers Tour, University of Oregon, Eugene, Oregon, 22nd October 2013