Susan Cummins: Helen, can you explain Heterogene as the title of your current show at Galerie Rob Koudijs?
Helen Britton: Heterogene is really from the word heterogeneous and refers to the diverse preoccupations in my work. The exhibition at Galerie Rob Koudijs includes, more or less, five different sections, one quite unrelated to another. There are the Dekorationswut pieces; a new drawing sequence that is autonomous but related to the Dekorationswut theme; a selection of the Industrial works, including what I am calling the New Industrial Gardens; as well as two major archival brooches. Then, there is The Big Ear, and of course a presentation of the Jewellery for T-Shirts project with Justine McKnight. It's a pretty diverse show, and the first time I have presented so many different groups together. I usually have solo exhibitions where I just show one body of related work.
You have said you work in series. What is particular or different about this one?
Helen Britton: I am not sure if "series" is the right word, as it implies perhaps editions of pieces, and I basically only make one-off works. I do work in themes, and as I said, my interests are very diverse. I am often preoccupied with these interests/themes for many years, and it is necessary to come back to a body of work and continue, refresh, or revisit it every few years or however long the preoccupation lasts. The themes are very often unrelated, hence the title of this current exhibition.
You have been busy with numerous projects in the past year or so. Can you reflect on your experiences preparing and setting up your solo exhibition in Nürnberg? What did you learn from it?
Helen Britton: It is a great experience to work with a big museum, such as the Neue Sammlung that curated this exhibition at the Neues Museum in Nürnberg, and to get to understand museum machinery. Although this is not completely new to me, I have never before made an exhibition of this scale.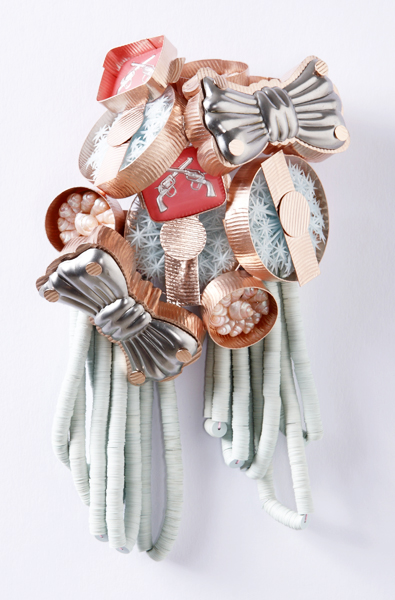 Also, you worked on a touring project called Awkward Beauty at FORM in Australia. Why was this an interesting project for you?
Helen Britton: Awkward Beauty came about when I was doing a residency at FORM's Midland Ateliers in 2010. Justine McKnight and I had been talking about a project like this for a number of years and had already been working on and exhibiting the Jewellery for T-shirts project for some time. Michelle Taylor was documenting our stay (I was there with David Bielander), and it all just kind of happened in the way the best things do. Michelle is an experienced fashion photographer, and so we came up with the idea that I would make five jewelry pieces and give them to Justine. Justine would make five garments and give them to me, and then each of us would respond to the work of the other by making five more pieces of jewelry (me) or garments (Justine). We then gave Michelle the whole collection and an open brief. She shot the work on the site of FORM's Midland Ateliers, where the whole idea started.
FORM was, of course, thrilled to show the resulting body of work in the space of the Midland Ateliers in 2011, and they assisted us also by co-financing the catalogue. We were fortunate to have the good will of Robert Cook, senior curator of photography and design at the Art Gallery of Western Australia. He accompanied the development of the project and wrote one of the most beautiful and sensitive catalogue essays for us that I have read so far. Then, Awkward Beauty travelled to Canberra and Melbourne, and the National Gallery of Australia acquired a section of it. Justine, Michelle, and I are currently working on a new project.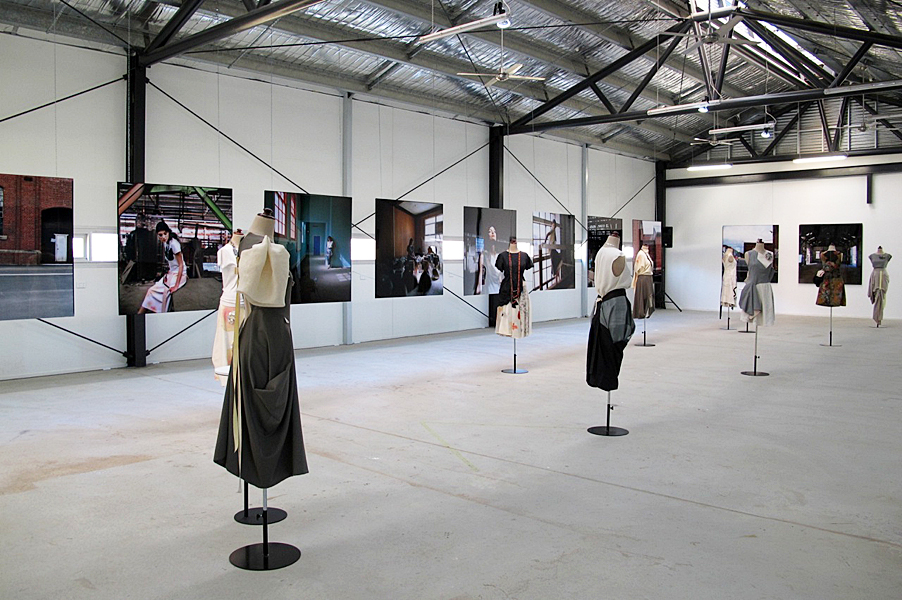 Why is this interesting you ask? Well, I love working with people who have interesting ideas. I am also a jeweler and very committed to making wearable work and very interested in seeing what happens when my pieces are worn and what they are worn on. It was really interesting to work with Justine's garments and her ideas about garments and to make works in such a specific way. It was also really interesting to have Justine make the garments for the works I handed to her—to watch how we both challenged each other and expanded our understanding of what it means to wear something as a result of this process. Then, to have Michelle take all this work and look at it from a completely different perspective was, of course, marvelous.
Helen Britton: Do you mean in the sense of "Divine Inspiration?" I am not sure. I find life in general pretty inspiring. I find other artists very inspiring. Music, fashion, and food as well! I am very touched by everyday human gestures as they appear in popular culture, by their directness and sometimes fragility. This is, perhaps, the most consistent link between the diverse themes of my work. It also has a lot to do with jewelry. But I think of inspiration as an external impetus, and a great deal of what I have experienced in my many years of concentrated creative practice is something more of an internal pressure or drive that certainly feeds on inspiration but also comes from necessity. The works I make demand to be made, and I have little choice in the matter regardless of theme.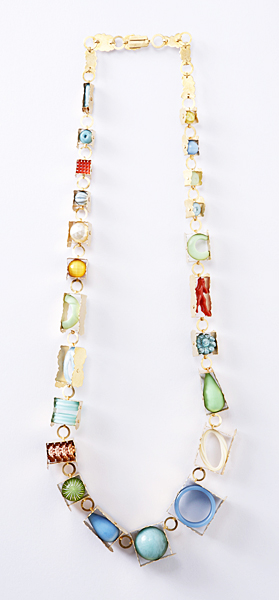 Helen Britton: At the moment, from the top of my head:
Books
Pieter Hugo Permanent Error
Darren Oldridge The Devil: A Very Short Introduction
Michael Chabon Telegraph Avenue
Films
Winters Bone Debra Granik, director
Exhibitions
Aernout Mik Communitas Jeu de Paume (Paris, France), Museum Folkwang (Essen, Germany), Stedelijk Museum (Amsterdam, Netherlands)
Podcasts
The Children of Sodom and Gomorrah
Thank you.