This past June, Sienna Patti, the gallery in Lenox, MA, USA, quietly mounted a monumental exhibition. To mark the 20th anniversary of her eponymous gallery, founder and owner Sienna Patti invited 79 artists to each make two 25 x 25 mm charms. The results ranged from a stainless steel heart neatly tied in a bow by Lola Brooks to a gory right toe crafted by Doug Bucci from biocompatible photopolymers and palladium. The impressive roster included artists that the gallerist has worked with over the last two decades. Perhaps it's not surprising then that 60 are American and two-thirds are women, as these are two types of artists Patti has made a conscientious effort to support over the course of her career. Of the two charms each artist made, one was sold as part of the anniversary exhibition, held June 1–June 30, 2019, and the other became part of an oversized charm bracelet—complete with all 79 charms—acquired, as a gift of Sienna Patti, by the Museum of Fine Arts, Boston (MFA).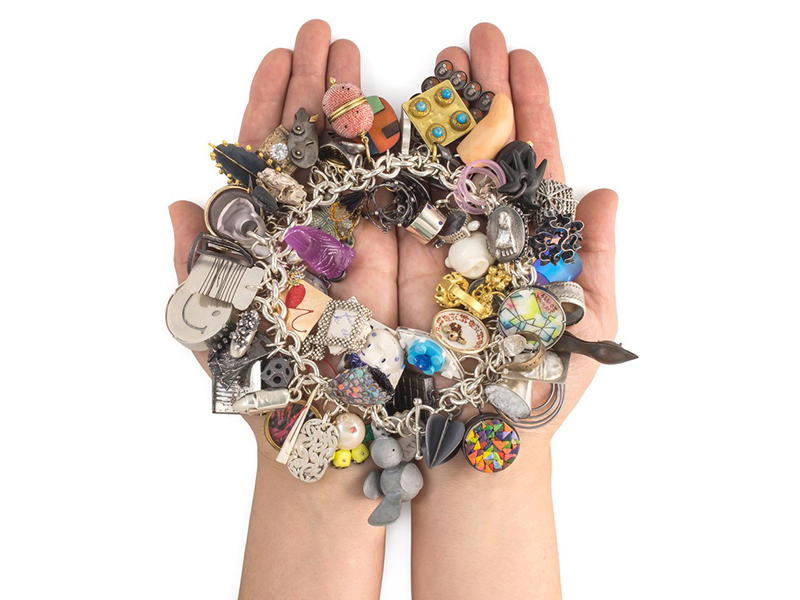 I was thinking, what can I do as a gallerist that could make a difference in some way? It's so tiny but for all these artists to list this on their CV—artists who already have work at the MFA and others who never imagined being part of a museum—is amazing. I like that idea. So many people are connected to it. All of the people related to the gallery are so excited to see this in a museum.
—Sienna Patti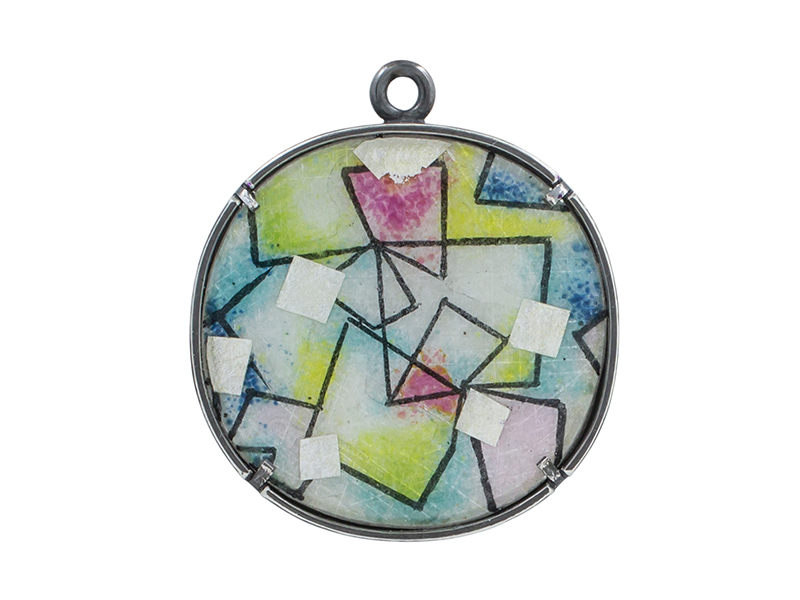 The charms on the resulting Charmed bracelet are incredibly diverse, but symbols of love, celebration, and tenacity are recurrent. They include everything from bugs to body parts: cicada wings, a soybean, a miniature Tupperware lid. Three make reference to a bird in the hand, there is an array of flowers, a prickly pear, a silver bullet, toes, feet, hands, fingers, even David Bowie's mismatched eyes. From graffiti and gold to salt and silver, the charms, considered together, demonstrate enormous creativity and the vibrant range of materials contemporary jewelers are working in.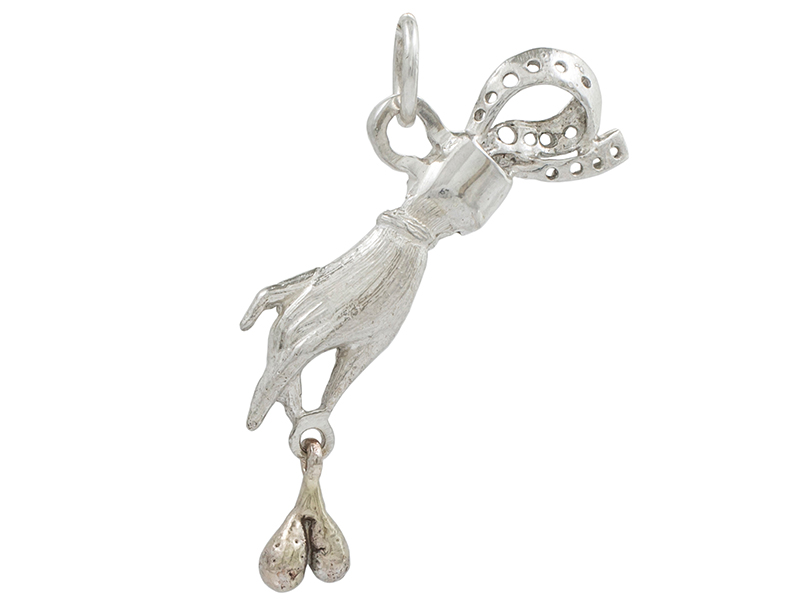 Related: AJF's 2013 Interview with Sienna Patti
Related: Art Jewelry Enclaves in Boston
Related: The Daphne Farago Collection, at MFA, Boston
At the MFA, the charm bracelet joins a global collection that spans over 6,000 years of jewelry history. Thirteen years ago, the MFA received a transformative gift of contemporary jewelry from the late Daphne Farago. That same year, the museum—thanks to the generosity of the Rita J. Kaplan and Stanley H. Kaplan Family Foundation—established a curator of jewelry position, the first (and still the only) in an American fine art museum. Since then, the institution has collected, exhibited, published, and generally encouraged public discourse on jewelry. Building on the Farago collection, the acquisition of this charm bracelet strengthens the museum's position as a leader in contemporary artist jewelry.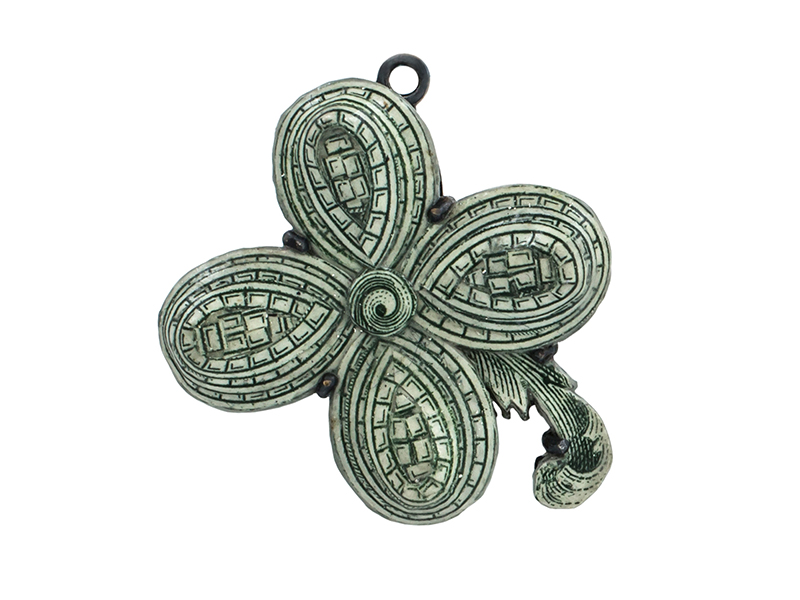 Often autobiographical, charms are typically accumulated over time and collected on a bracelet. Tokens of remembrance, charms often commemorate vacations, anniversaries, and other celebratory moments. Gathered together, charms become tangible vehicles for ephemeral moments in one's life. Personally, the joyful jingle-jangle of a charm bracelet conjures memories of my grandmother. On her silver bracelet were 13 round disks, each with a name engraved on one side and a date on the other. Individually these charms celebrated the births of her children and grandchildren. Collectively the bracelet represented her family. Today, when I hear the gentle tinkle of a charm bracelet, I can't help but think of her. Similarly, the charms offered as part of Charmed tell Sienna Patti's story. I have no doubt that many of the artists whose work is represented in this group are honorary members of her own family. In fact, her father—Tom Patti—contributed a chartreuse fingertip charm made of glass, silver, and gold.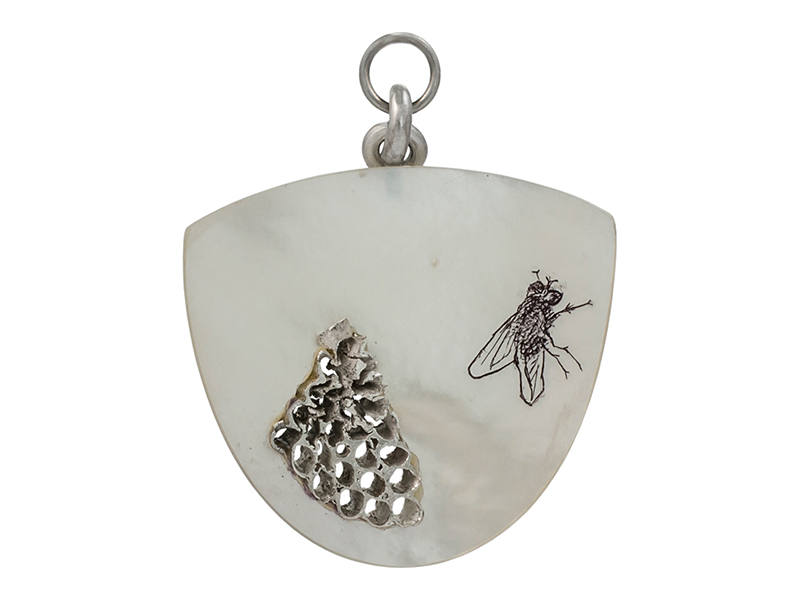 Over the last 20 years, Patti's gallery has been synonymous with creativity and ingenuity. Patti has built lasting relationships with a generation of artists, and furthered her role as a global leader through her work with Art Jewelry Forum. Patti's work propels the field forward, and Charmed—or, as I've come to think of it, Sienna's Bracelet—honors that.
Patti's interest in the art market blossomed at an extraordinarily early age. The child of artists, Patti spent her early life surrounded by art, exploring museums and visiting fairs like SOFA. Today the opening of an eponymous gallery seems like a logical career choice; however, when she chose to attend NYU she had dreams of becoming a film director. She's not sure how jewelry came to be her thing, but in the 1990s she looked around and didn't feel anyone was selling jewelry like it was art. Patti felt that putting jewelry on a pedestal offered a fresh and new approach. A family friend encouraged Patti to think more about jewelry.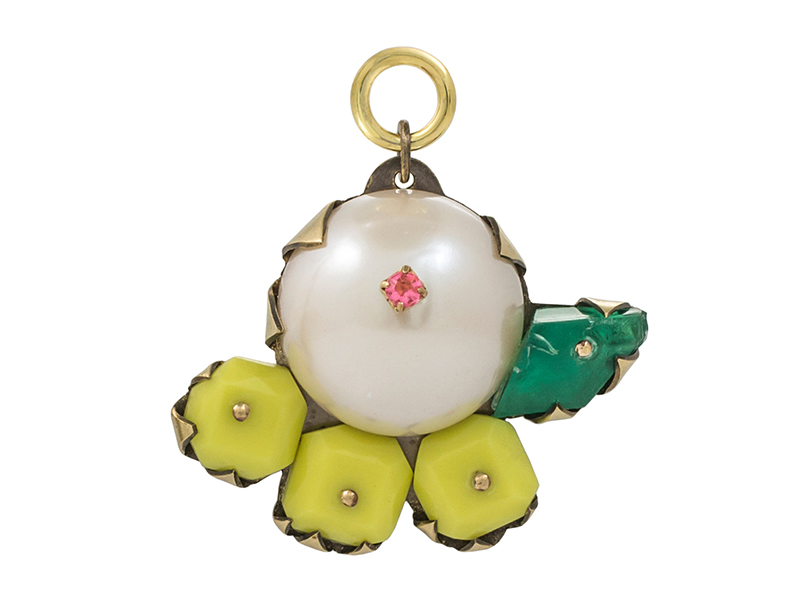 With a background in Shakespearean theater, and an interest in history and costuming, Patti was keenly aware of the body and the performative opportunities jewelry offered, and this intrigued her. Patti says, "What objects mean when they are related to a person matters." For example, if an actor carries a book on the stage, "the title of the book matters to the actress and it matters to the audience." The same can be said of jewelry—what the jewelry is, what it's made of, and who made it matters to the wearer and makes a statement to the viewer. Patti describes one of the most exciting aspects of her work: "Jewelry is art, and I present it that way, but clients have to put it on, and feel better wearing it than they did before they put it on. It's a transformative process. I get to see that on a regular basis." Educating clients on the artist, the materials used, the making process—she loves when "you can see it click."
The idea of sending the charms to the MFA on a silver bracelet came after a series of conversations about charms. While the charms could easily be removed and exhibited individually, the concept was for them to speak to one another on this commemorative bracelet. Once part of the MFA collection, putting all the charms on a bracelet would be more challenging. Because there are so many charms, the bracelet is quite long and oversized. Just like on your own favorite cluttered charm bracelet, not all of the charms are visible at once. Instead you have to imagine yourself flipping through them and the complex wave of thoughts and emotions that each one brings forth—like the madeleine in Marcel Proust's Remembrance of Things Past. Charms belong on a bracelet, or some other piece of jewelry, but they come alive when they're worn, seen, shared.
A visionary, and acutely aware of legacy, Patti recognized the importance of having this work placed in a museum, both for her artists and for the history of the jewelry field. Patti has always had great foresight when it comes to museums. Throughout her career, while building a reputation with artists, she actively sought partnerships between curators and academics. Some may argue that museum collections are where objects go to die. With just 1–3% of the museum's collection on view at any given time, this perspective is understandable. However, in many ways, the jewelry collection is most alive behind-the-scenes, where artists, educators, collectors, scholars, and enthusiasts visit regularly for appointments to see examples from the collection. Here the ornaments spark creativity and inspire awe. With the utmost care, the jewelry collection is closely examined, admired, and talked about, in perpetuity.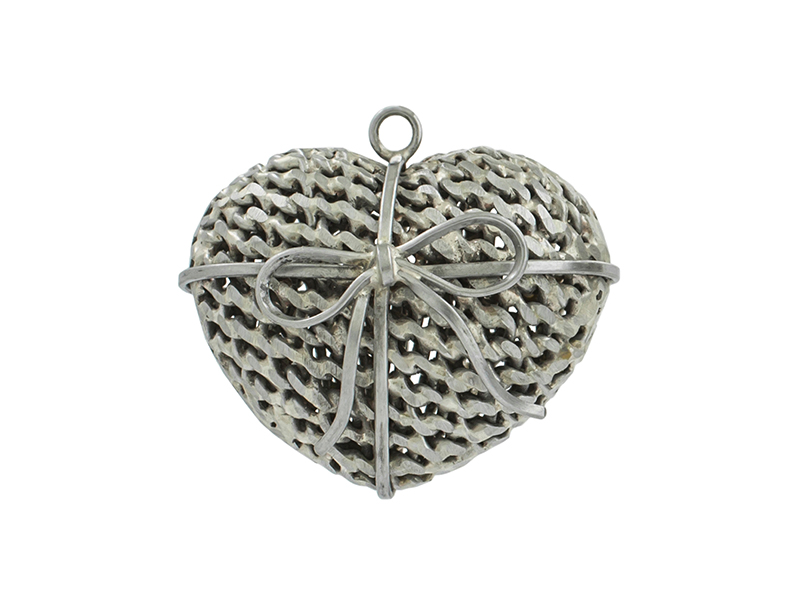 Patti points out that over the last 20 years, museum collections have gotten stronger—Boston has the Farago Collection; the Museum of Fine Arts, Houston houses Helen Drutt's collection; in New York, the Cooper Hewitt recently acquired Susan Grant Lewin's jewelry; and the Met has Donna Schneier's—but in general the pool of collectors is shrinking. The museum offers a way to educate visitors by expanding people's understanding of what jewelry can look like and the wondrous storytelling capabilities it offers. With their interest piqued, perhaps a new generation of collectors will wander into (or, better yet, seek out) galleries like Sienna Patti.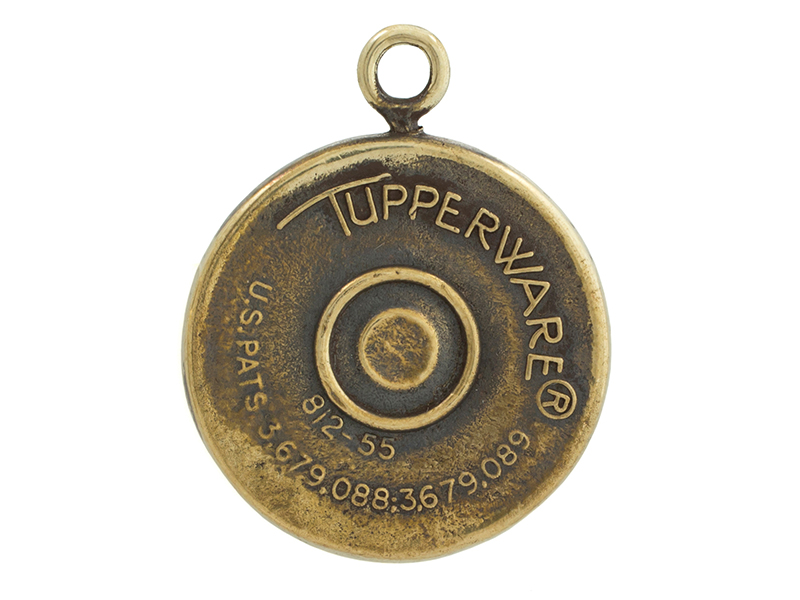 What's next? As Patti strives to educate collectors about the work being done by American artists, she'll soon travel to Schmuck 2020 to showcase the work of 12 American women.
These artists contributed to the Charmed bracelet: Efharis Alepedis, Karin Roy Andersson, Jonathan Anzalone, Giampaolo Babetto, Suzanne Beautyman, Kristin Beeler, Jamie Bennett, Melanie Bilenker, Iris Bodemer, Kristine Bolhuis, Helen Britton, Lola Brooks, Doug Bucci, Raïssa Bump, David Chatt, Sharon Church, Liz Clark, Emily Cobb, Nikki Couppee, Erin S. Daily, Venetia Dale, Noam Elyashiv, Sandra Enterline, Pat Flynn, Warwick Freeman, Donald Friedlich, Susie Ganch, Caroline Gore, Adam Grinovich, Heather Guidero, Gésine Hackenberg, Mielle Harvey, Arthur Hash, Lauren Kalman, Dahlia Kanner, John Kennedy, Janis Kerman, Gabriella Kiss, Anya Kivarkis, Esther Knobel, Monika Krol, Daniel Kruger, Julia Maria Künnap, Akiko Kurihara, Jacqueline I. Lillie, Märta Mattsson, Paul McClure, Bruce Metcalf, Myra Mimlitsch-Gray, Darcy Miro, emiko oye, Seth Papac, Tom Patti, Mary Hallam Pearse, Maria Phillips, Suzanne Pugh, Leonardo Quiles, Tina Rath, Ruta Reifen, Lucy Sarneel, Biba Schutz, Barbara Seidenath, Sondra Sherman, Carina Shoshtary, Bettina Speckner, Tracy Steepy, Lori Talcott, Amy Tavern, Lauren V. Tickle, Amelia Toelke, Julia Turner, Johan van Aswegen, Manon van Kouswijk, Jonathan Wahl, Stacey Lee Webber, Brian Weissman, Mallory Weston, Deb Todd Wheeler, and Petra Zimmermann