Susan Cummins: Why did you choose these particular five artists–Francisca Bauzá (Germany), Lisa Björke (Sweden), Märta Mattsson (Sweden), Deborah Rudolph (Germany), and Nina Sajet (The Netherlands)—to be in this show?
Atty Tantivit: Though I have seen some of their works before separately, I first saw them working as a group at the exhibition Pin Up during Schmuck 2012. Their pieces are different in many ways but are of equal strength in terms of concept, technical quality, and their communicative languages. There was a synergy among them. I think the way they present their works together is fresh and exciting—a group of young female artists in a field that was dominated by men a decade or so ago. Also, all five of them are from northern European countries that are key players in terms of contemporary art jewelry. It was interesting for me to see similarities and differences in their works.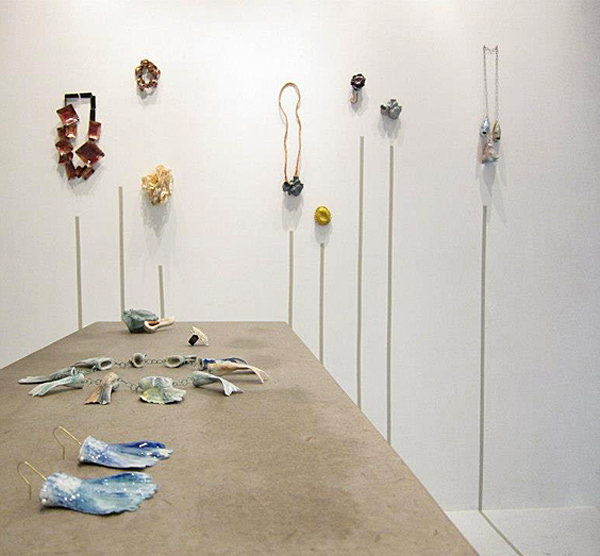 Atty Tantivit: I have worked with a few self-curated groups before, but quite often, the works are too different in terms of strength of concept, quality, and price. Working with this group of artists was different. The five jewelers have been working together for a few years now and have been growing up together both as jewelers and friends. It was a real pleasure working with them. They are very professional even though they are quite young.
Though they all worked separately, not knowing what each other would be exhibiting, the pieces fit together well. The aesthetic, colorations, shapes, and sizes of their pieces allowed them to be displayed next to each other, rather than grouped by artists, while still being recognizable. Moreover, the quality of the pieces and their prices are in the same range which helps unify them as a group. Their works compliment each other really well.
As for exhibiting them together, I see it as a good thing because people can see pieces from different artists at one show. Some feel more strongly toward one artist, while some connect more with another artist. It allows people to search for what speaks to them and to dig deeper into their minds to see what they like the most … to really find themselves! Solo exhibitions might not be able to do this as effectively.
Please describe the idea behind the show Hardware Artware.
Atty Tantivit: It is probably best if you ask one of the artists in the show.
Deborah Rudolph: The title Hardware Artware is meant as a word play. We see our jewelry placed in the field of art. But is art wearable? Does it loose the art aspect by being worn? Does the fact of being wearable change the medium from art to craft or design? Hardware, a store where you can buy different materials, points toward this discussion. Also, you can understand hardware as a computer chip and the information stored inside of it. A computer chip contains a lot of information that is not visible at first, but in function, it has a lot to offer. We feel that it happens to art pieces as well. Sometimes, the tension appears only on the second glance. Artware? Hardware? This is the question. Is art hard to wear?
The gallery press release says, "Their aim is to display their jewelry pieces in new and unexpected ways." Can you explain how the display of the work was new and unexpected?
Deborah Rudolph: We are five jewelers from three different countries and from five different cities. We have all made the decision to make art jewelry. Since the art field in general is not mainstream and is questioning, we felt that our exhibitions should leave the secure playground and should search for other ways of display.
So far, we have made three exhibitions together. The first one was Psycho. It was placed in an old movie theater in Amsterdam. We decided to go out of the galleries and into a public place where people who did not yet have the knowledge or the interest in art jewelry would get a chance to see our pieces.
Pin Up was the second exhibition. We wondered if jewelry pieces needed to be so expensive. We were thinking about the hierarchies of jewelry. Badges are often frowned upon and not really seen as jewelry. Art jewelry is so expensive that hardly anyone can afford to buy it. So, we thought it would be funny to print our own expensive pieces on cheap badges and sell them. The idea was to make our pieces affordable to anyone. We also displayed our real pieces on giant badges that we hung on the wall.
Hardware Artware is the first exhibition placed in a gallery (Atta Gallery, Bangkok, Thailand). It points out that we see our jewelry as art, but we also wanted to face the problem that art is often a hard business.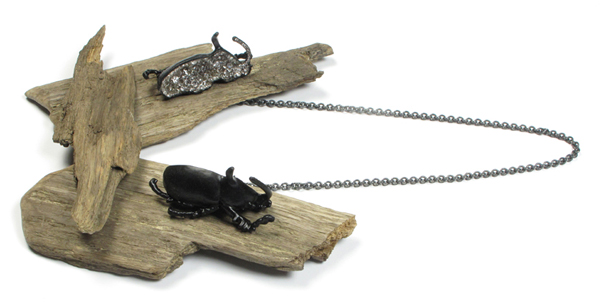 Deborah Rudolph: For me, art jewelry goes deeper than just being decoration. It can change your point of view or make you realize something you haven´t thought about before.
The beetle brooches by Märta Mattsson look scary and ugly and strange from the outside, but if you look closer, you recognize the shiny little stones inside. They are sparkling and beautiful. If you talk to other people about beetles, you will find that a lot of people have a fear of insects, and some will get emotional and open up.
Nina Sajet made fish necklaces. You recognize the fish on the first viewing, but when you wear the necklaces, it looks like the fish are still floundering. They feel real, not artificial or manmade. A strange feeling arises because you are forced to think about life and death at the same time.

Thank you both.