How useful are ideas of discipline in interpreting jewelry? In our increasingly post-disciplinary climate, differentiating between the realms that create and critique jewelry could seem no longer valid. Yet, some jewelry suggests that considering disciplines discretely can still be useful, particularly when authors engage with different disciplines to create objects unusual or overlooked in jewelry history.
Monorecchio is one such object. Created in Italy in 1965 by Italian artist Getulio Alviani, this circular aluminum disc with an ear-shaped hole is neither the work of a jeweler nor an exercise in jewelry. Its rejection of precious materials and uncomfortable design differentiates it from two familiar post-war Italian jewelry experiments—the luxurious trinkets of architects such as Carlo Scarpa and Ettore Sottsass and the golden finery of Mario Pinton and other Padua School maestri. Marginalized in Italian jewelry histories (Alba Cappellieri's writings being one key exception), there are few comparable Italian works, aside from the experiments of artists such as Afro, Dino, and Mirko Basaldella. If Monorecchio resembles anything, it is the work of Dutch conceptualists Gijs Bakker and Emmy van Leersum.
Yet, Monorecchio was not in conversation with a jewelry scene but an art one. Active from the 1950s onward, Alviani is primarily associated with arte kinetica and arte programmata, two 1960s movements united by their faith in technology and concern with how art could transform the viewer's perspective. In particular, Alviani was interested in structure, the primary qualities of geometric forms, and the effect of light on perception. He first explored this in the late 1950s with wall-based aluminum artworks such as the Superfici a testura vibratile ("Surfaces with Vibratory Texture"). Their interrogation of metal's reflective qualities anticipate both Monorecchio and the handful of other jewelry that Alviani created from the 1970s on, which embraced steel as well as plastic and color.
Art provides one interpretative context. Architecture and design provide two more. In the early 1950s, Alviani began visiting the studios of architects and engineers and even collaborated on creating designs for objects such as electrical switches and clothing. The latter come closest to Monorecchio's status as an object to be worn, although Alviani was less interested in design-based questions, such as comfort, than he was in the visual effect of highlighting the geometry of a single ear ("mono orrecchio") within the large, reflective, concave surface.
This short reflection set out to show that thinking about disciplines could still be useful today. This is due partly to Monorecchio's particularity. Authored by an artist who engaged with multiple disciplines to create an object on which little has been written, an understanding of context(s) is key for even partial interpretation. Arguably, the limited literature on Monorecchio is partly to do with Alviani's limited jewelry output, but it also tells much about disciplinary hierarchies and boundaries. Its functionality saw it slip beneath art history's gaze, while its artistic authorship put it outside that of craft or design history. Monorecchio, therefore, shows that thinking about disciplines doesn't mean sticking to one perspective. Rather, it means thinking about the commonalities and differences in attitudes, concerns, and values that different disciplines bring, aspects that inform not just jewelry's creation but also its use and interpretation.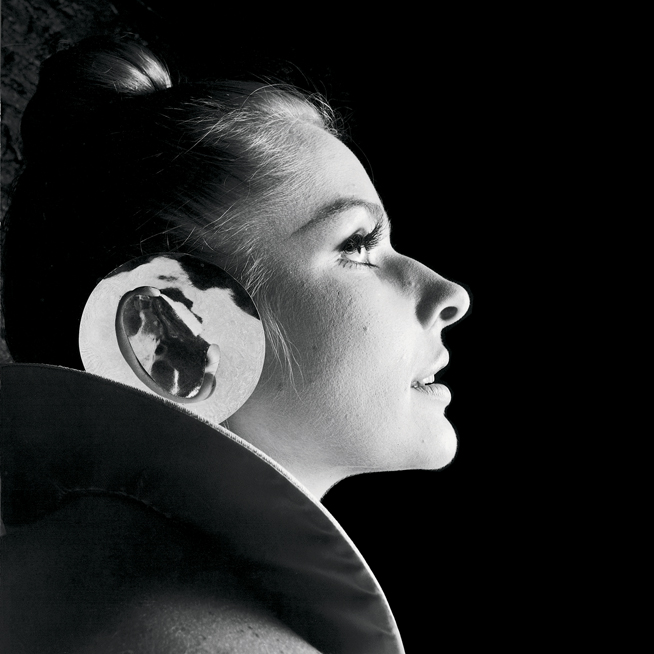 The author would like to thank Alba Cappellieri for her assistance on this article.