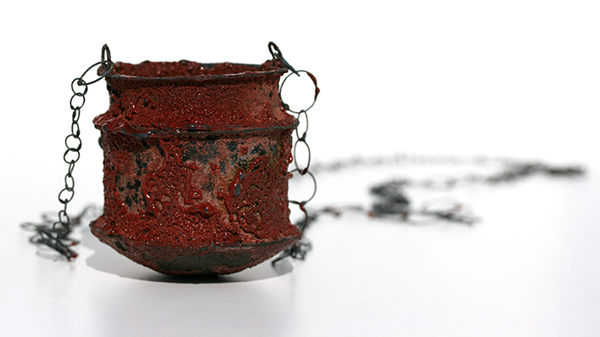 Missy Graff: How did you come up with the concept for this exhibition? What do you feel is the most compelling aspect of the show?
Agita Putane: Everyone seeks after feelings that contribute to their happiness. For me, working in the field of contemporary jewelry creates these feelings. It has been clear for a while that the gallery would expand to include artists from other countries. Early on, we organized group and solo exhibitions exclusively for Latvian jewelry artists. However, we have been cooperating with foreign contemporary jewelry artists for almost six years.
Please describe the Associazione Gioiello Contemporaneo (AGC). Can you please discuss why you decided to collaborate with them?
Agita Putane: Our collaboration with AGC was not pre-planned; it was fate, which took care of itself. Several years ago, we came across some fantastic conceptual jewelry on the Internet and learned that the author was Fabrizio Tridenti. Fabrizio turned out to be the director of AGC at the time. This is how we learned about AGC, which is an active platform for developments in contemporary Italian conceptual jewelry. After attending jewelry exhibitions in Italy for a couple of years, we got to know Gigi, Maria Rosa, and Nicki, who were new members of the AGC board of directors. An agreement about the particular exhibition and its time was born in Munich during Schmuck.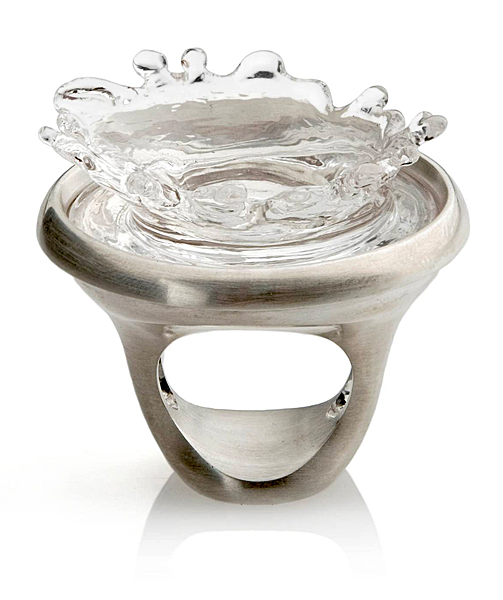 Agita Putane: We have not collaborated with other organizations. We usually look for interesting artists on Klimt02: International Art Jewelry On Line or at the various exhibitions that we visit. Sometimes we purchase the pieces first, and then look for the artist. The gallery already has a sizable collection of works from different artists from around the world.
Did you choose the 22 artists for the exhibition? How do the pieces complement each other? Can you provide some examples?
Agita Putane: AGC sent us their list of participants, but we had also created our own. We selected the pieces, and based on the chosen works, the artists from these lists. We chose pieces that differ greatly from those of Latvian jewelry artists in color, material, and extravagance, as well as those that have an interesting story. I wanted the audience to get the impression of Italy and of Italian contemporary jewelry as a whole by seeing all of the works together. I want the audience to feel these works as a single group, a pulsating organism.
Do you think there is a particular style, look, material, or theme with which Italian jewelers work?
Agita Putane: The exhibition features 22 artists, and each one is completely different. In the jewelry, the artist has a conversation with himself about the most important issues of the moment. The artist then encodes these thoughts in his work until they come alive and are ready to start their life as a work of art and a symbolic item. They are not just pieces of jewelry; they are manifestations of thoughts and emotions. So, I cannot define a universal Italian style of jewelry in terms of look or material. The only thing I can safely say is that the artists are united by the Italian language and their love for jewelry.
What challenges did you encounter while selecting work for this exhibition?
Agita Putane: While preparing for this exhibition, two questions were constantly troubling me. First, will the jewelry, chosen by the artists, address our visitors? The gallery itself did not choose the works for this exhibition. This task was on the conscience of each artist. Each artist and their five works are presented through the perfect medium and communication tool of jewelry. We will see which artists' jewelry the viewer perceives as only an exhibition piece and which they form a relationship with. I secretly wanted the jewelry that was included to be not only emotionally interesting but also wearable. I understand that the artists working on their own jewelry do not see it as a commodity or a source of profit. It is a lively interest in all that is going on inside and around him. It is the art about life. But, I work in the art world, and money is also a consideration. Therefore, it is important to me that the audience can form a personal relationship with the jewelry, which begins by the jewelry finding its wearer and the wearer, the jewelry.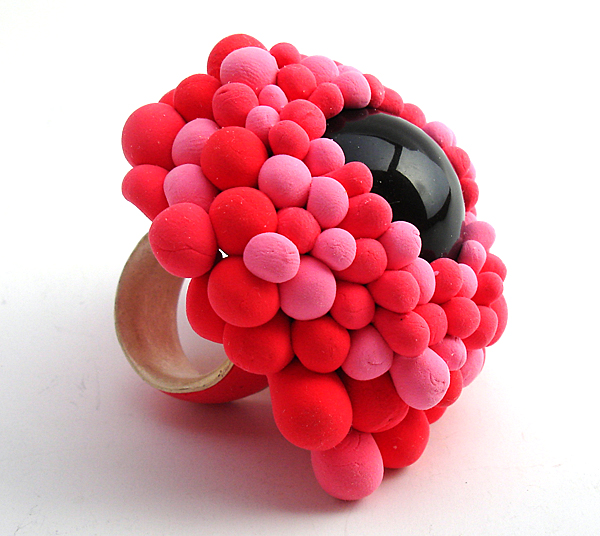 Have you worked with the artists to design the displays?
Agita Putane: Our mission is to exhibit the jewelry in an interesting setting, and the set design will also serve as a source of information. We collaborated on this part of the project with the internationally recognized fashion brand Mareunrol's (Mārīte Mastiņa and Rolands Pēterkops) from Latvia. They have created set designs for operas in Riga, Moscow, and Germany. Their work as fashion designers can be found in the book Pattern: 100 Fashion Designers, 10 Curators. We had already started to think about the scenography this past spring. It is very difficult to describe in a manner that would be fair to its purpose. It is a must see, thus you should visit in order to see it! Welcome!
Is there a catalogue being made for FANTASTICI! Contemporary Italian Jewelry?
Agita Putane: Unfortunately, no.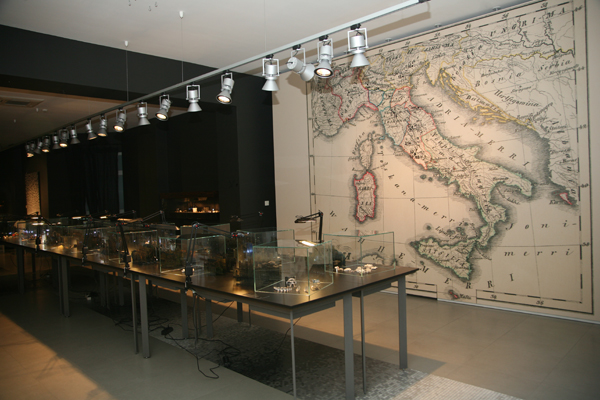 What would you like your viewers to take away from this show?
Agita Putane: I would like to see every visitor engage with the work and become an active participant in the expression of the artist's intention, message, questions, irony, and the attitudes that have gained their shape and physical presence in the form of jewelry. I will leave you with a quote, "It's good to be silenced by the beauty."
Thank you.