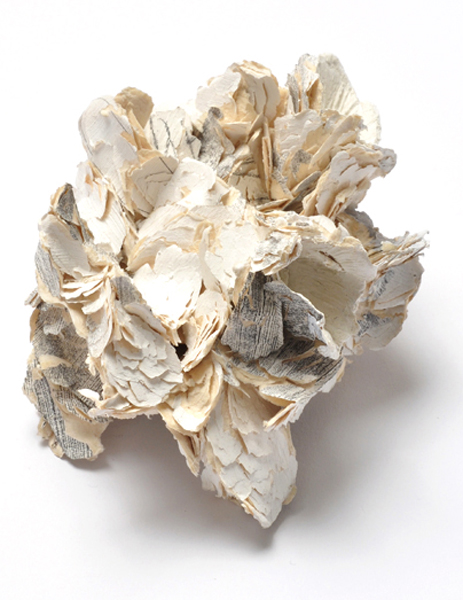 The current jewelry show of Doris Betz and Attai Chen seems a very proper first blog post for Galerie Spektrum. Both jewelers attended the Akademie der Bildenden Küenste and live in Munich. I've asked them to answer the same interview questions, and I like the juxtaposition of their individual thoughts.
Susan Cummins: In your joint show at Galerie Spektrum, there is an undercurrent of similarity as if you were from the same family. Why do you think that is?
Attai Chen: It is a good question. I feel the same way. I can say that we both live in Munich and were students of Otto Künzli. For my first two years at the academy, Doris was the assistant tutor of Otto. In a way, we do come from the same family. I guess that, on some level of our subconscious, in the "Munich style," there is an undefined similarity we all share.
Doris Betz: As a member of this "family," I can't see the obvious similarity, which might be typical of family members in general. Attai and I talked about possible common grounds before we installed the exhibition. There is a certain interest in everything that grows, in the observation of nature, and in the power of life. I would say we have a strong inner need to express ourselves in an uncontrolled, unplanned way. Plus, I see the longing for directness.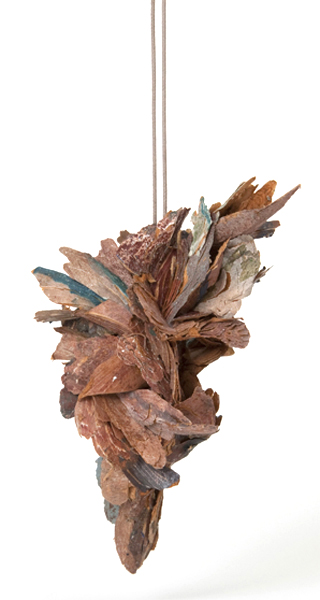 Attai Chen: It is very important. This particular series is made out of drawings. They are my raw material. First, I prepare the cardboard with a layer of white paint, and then I draw on it. Sometimes I draw sketches for my pieces of various images and thoughts that attract my attention. Knowing that I will cut up these drawings later gives me total freedom to draw without planning and to be spontaneous. I cut the drawings into small fragments and start to construct three-dimensional jewelry forms. I do not intend to translate my sketches into 3D form. Rather, I try to capture something from the feel, flow, and composition of the drawing.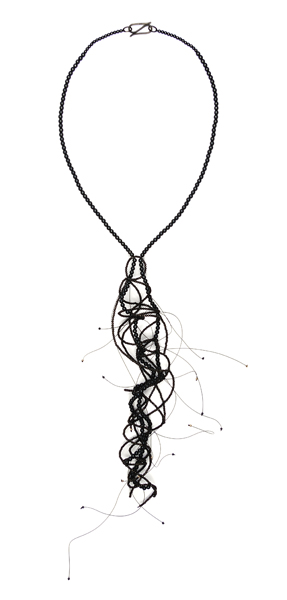 My next steps were to analyze what happened on the paper and to transform the drawings into three-dimensional objects as precisely as possible without loosing the spontaneity and drive. Since then, I've created several different series. Hostaglas (a special type of plastic), shells and beads (after my first stay in Australia), fimo, silver and lacquer, and now in a different way beads and growth. I don't use drawings anymore, almost none, but I still use my experience with drawing. I've learned to work with material as freely as with pencil and paper. It's my special way of liberating myself.
How much planning is involved in making a piece?
Attai Chen: Normally, I do not plan the forms of the pieces much. I plan what type of jewelry it will be (brooch, neckpiece, ring, etc.). I plan the mechanism of the piece—how it will connect to the body—very carefully. I typically have a general sense of what the piece should feel like and what kind of motion it should have.
Doris Betz: Making a piece without a plan is my ideal!
Attai Chen: Yes, all the time. I use nature as my main source, both in the macro and in the micro. I build my forms quoting the way that some forms evolve in nature by compounding and connecting layers of fragments, one on the other.
Doris Betz: My knowledge about plants is the base of my jewelry work. Their diverse forms, surfaces, structures, and colors become my vocabulary to express whatever I want. The statement from my 2011 exhibition Flora et Labora at Gallery Louise Smit mentions my huge collection of dried plants, shells, snail shells, etc. I run workshops on this subject in goldsmith schools.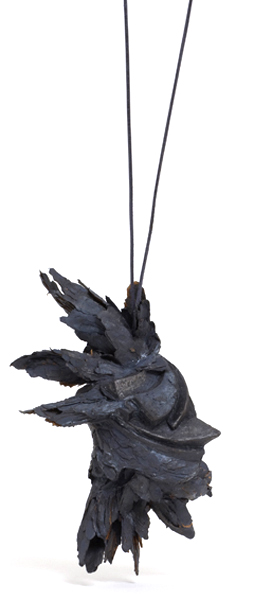 Attai Chen: Each piece expresses two distinct cycles of my work process. Typically, I prepare the raw material first, and then I take it apart. Next, I build a new form from the remains of the two-dimensional material I created. I almost always build my work from many layers of materials.
Doris Betz: I realized quite early that it feels clumsy if I try to define the piece I want to make before it is done. And, if I try, they don't eventuate. I found some tricks to outfox my mind! My head always asks, "What am I doing right now? What is it?" My brain demands quick, simple answers, but the less I know about what I am doing, the more interesting and surprising the piece becomes. If I rely on my instinct and if I trust in what I am doing, then my work combines all the subjects in my mind. In the end, like everyone else, I am engaged in understanding life and myself, and I want to express this.
Where do you live and what is the atmosphere like in your studio space? Messy? Tidy? Music?
Attai Chen: I live in Munich and have my studio there. It is a very nice space that I share with Nikola Scholz and Judit Pschibl, two other jewelry artists . The space is relatively clean and organized, I think mainly because I am sharing it with others. In general, I can be a bit messy. I am mainly working with music in the background, and I am a big fan of audio books and history and science podcasts. The choice of what I listen to very much depends on my mood and on the type of work I am doing.
Doris Betz: I am one of the few jewelers in Munich who was actually born here. I have always lived more or less in the center of the city. Most of the time I have had my studio in my apartment and worked alone. But at one time, I shared a huge atelier with three others. Since 2009, I have lived a bit outside of the center, but still not far away. It is only 15 minutes by the subway to Marienplatz. My partner and I found an old house with a huge garden for rent. Since moving there, I have a more peaceful life. The view from my studio balcony is into a garden with trees and birds. I enjoy this very much. The room is 17 square meters (183 square feet) with three doors so there isn't too much space. I could use a studio twice the size, but it would not change anything in terms of the mess on my two worktables. Most of the time, I am quite happy with the mess because I know that everything I need is on the table. I just have to look for it. I am contemplating if I should make this public with a photo. I have thought about the idea of making a book with photos of my colleagues' work benches. Maybe this is a good project for the future!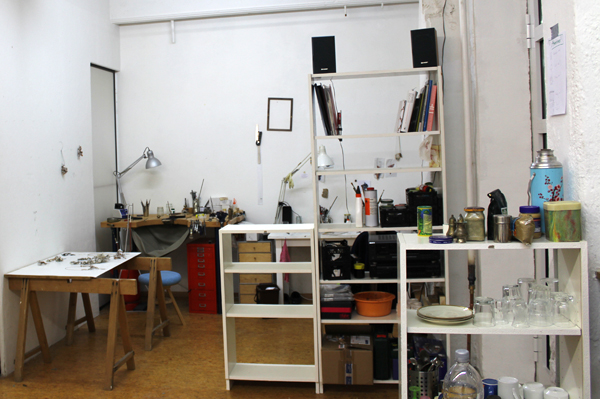 What are you reading?
Attai Chen: I try to read a lot. I love it. But, I am reading less since I started listening to audio books while working. In general, I like novels that are based on real history. I like Russian literature, classics, more contemporary works, and sometimes a good thriller.
Doris Betz: I read what crosses my path with the main focus on fiction.
To underpin this, on my night table is a collection of books: the most recent book from Martin Walser, a famous German Writer; short stories from Haruki Murakami and Yasunari Kawabata; Klaus Modick's Sunset—an esoteric adviser for all problems one might have!!! (laughs); Annika Reich and Iris Hanika, young German authors; Dr. Jekyll and Mr. Hyde in English!; Silvia Volckmann's A Literary Lanzarote ABC because very soon, we will spent time on this wonderful Canary Island.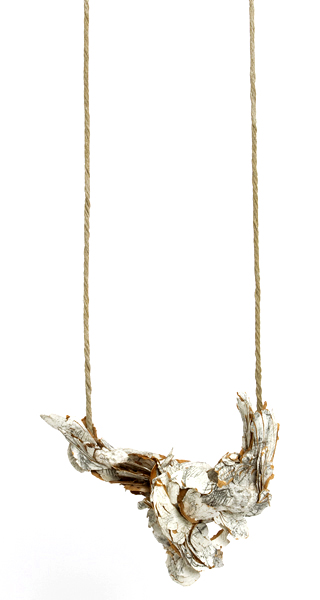 Attai Chen: We all need to promote the field and bring it to the attention of the public as a form of wearable art or design. We need to try and change the public's conception about jewelry and show the world that jewelry is not stagnant (as it would appear from looking at the conventional jewelry market) but renewing itself all the time by evolving new forms, materials, and ideas.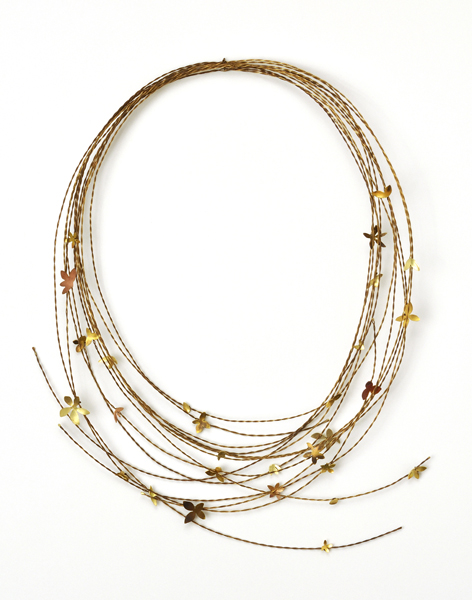 I think the development of the annual Handwerksmesse in Munich is amazing! It's the famous "Saturday evening meeting" but now with hundreds of jewelers from all over the world! Twenty years ago, jewelers met each other at a neighborhood Greek restaurant, and there were only 20 or 30 people. On one hand, uncontrolled growth is wonderful. Nobody should stop this. But, it is also very necessary that good galleries and museums exist to show the red line through the jungle.
Thank you.