Missy Graff: Please tell me about your background. How did you become interested in making jewelry?
Donald Friedlich: In my early 20s, I met a jeweler while ski bumming in Stowe, Vermont. Up until then, I had no interest in art whatsoever. I did like working with my hands, figuring out how things worked, and repairing them if needed, but I was more interested in math and science. Thomas Edison was my childhood hero.
My ski friend started to teach me to make jewelry, and eventually I took classes at the University of Vermont with Laurie Peters. At UVM, I discovered a creative side that had been completely dormant. I took a lot of other art classes at UVM, but eventually I decided it was best to transfer to a school with more resources. I was accepted into Rhode Island School of Design (RISD) and State University of New York (SUNY) New Paltz and decided to go to RISD. It was a very difficult decision, but in the end, I came up with the idea of what my wife and I would call a "cake plan." That's our short version of "have your cake and eat it too." The cake plan was to go to RISD and also to take a workshop with New Paltz faculty member Bob Ebendorf. I took a two-week workshop with Bob at Penland School of Crafts the next summer.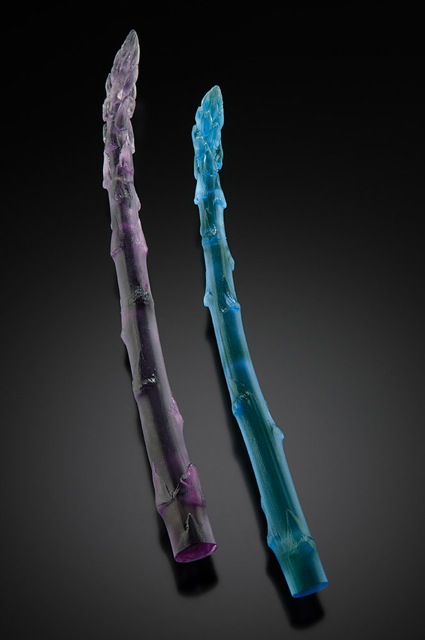 Donald Friedlich: I have two groups of new glass jewelry in my show Organic Matter at Jewelers'werk. The first is in line with work I've done in the past. They are forms carved from blown glass, and then refined. I see them as geometric abstractions of flower petals, but in many ways they are simply a direct and intuitive response to the glass.
The second group is a major departure for me. I have been casting from organic materials, such as apples, oranges, celery, asparagus, and roughly textured pieces of wood. These are things we see everyday. We take them for granted and become blind to the reality that they are sensual, elegant, and beautiful shapes. I have transformed them into glass with the hope that viewers will examine them in a new light. They combine four of my passions: food, humor, jewelry, and glass. The idea of wearing a stalk of celery as a brooch makes me smile.
How does your newest body of work build on what you've done before?
Donald Friedlich: The Flower Petal brooches are a continuation of my exploration of glass that has taken place over the past 15 years or so. I am starting with a chunk of blown glass and working subtractively to refine the final form. From both an aesthetic and a technical standpoint, they are in line with my past work.
The designs cast from food are a major departure from the past. With the exception of some very early production pieces and some Organic Series slate work, I have always work abstractly. I have always intentionally avoided narrative.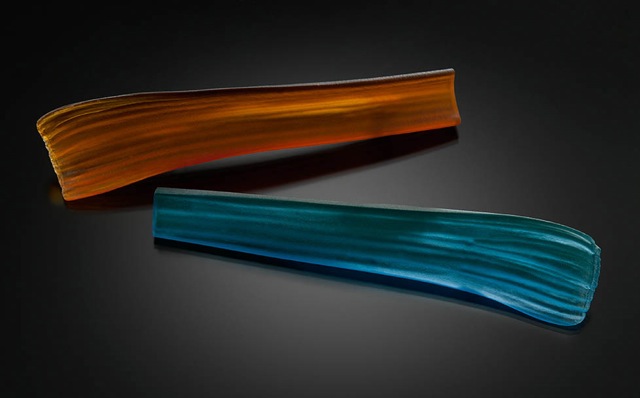 I have done a fair amount of casting of glass but always with some help in the studio of the Corning Museum of Glass. I don't have hot glass facilities in my home studio in Madison, Wisconsin. I was able to work out an arrangement with a local glass shop to have access to their kilns. I did the mold making in my studio, and then did the casting at the local shop.
Why did you choose the brooch as the primary format for the pieces in this exhibition?
Donald Friedlich: I have always loved both wearing and making brooches. It seems to be the way my ideas run, and it gives me the greatest artistic freedom. I do still make earrings and cufflinks in production, as well as an occasional one-of-a-kind necklace. Many of my brooches are designed to also work as pendants.
Can you please discuss your process? What is most appealing to you about working with glass?
Donald Friedlich: I've described most of the process of my current work above, so I will focus on why I work in glass. Glass has such a broad expressive range. It gives me a huge palette of forms and colors. Most glass artists focus on one primary process, such as blowing. Depending on my access and artistic objectives, I can choose many different technical approaches, including blowing, casting, 3D printing, press molding, and others. Regardless, cold working—the grinding and shaping of glass—is almost always vital to achieving my final objectives.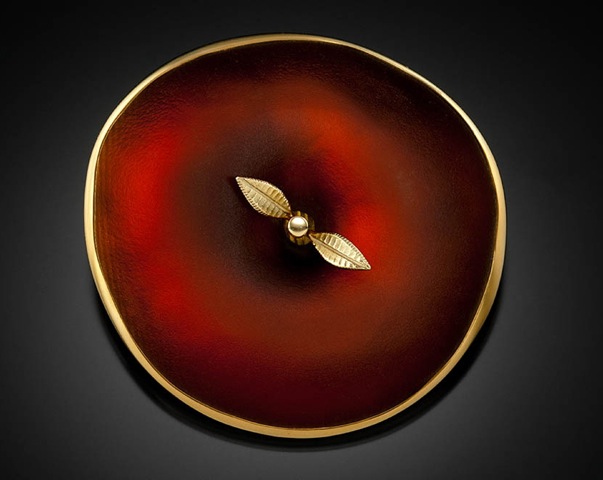 Over the past eight years, the largest body of my work is designed in CAD (computer aided design) software. I then use CNC (computer numerically controlled) machining to carve a graphite mold. We then move to the hot shop where hot glass is gathered directly from a furnace and dripped into the mold. The glass is pressed into the mold with a steel paddle, and then pulled out and put into the annealing kiln to slowly cool overnight. Once the glass comes out of the annealer, I spend hours grinding, shaping, and polishing it. Cold working usually is the most time-consuming part of the process. (You can see a video of the press-molding process on my website.)
What are you currently working on in your studio?
Donald Friedlich: Having just spent very long days for the past few months finishing more than 30 pieces for the show at Jewelers'werk, I am taking a short break. When I get back in the studio, I have work already in progress that is in a similar vein to the Organic Matter jewelry. I plan on pursuing that direction for the foreseeable future.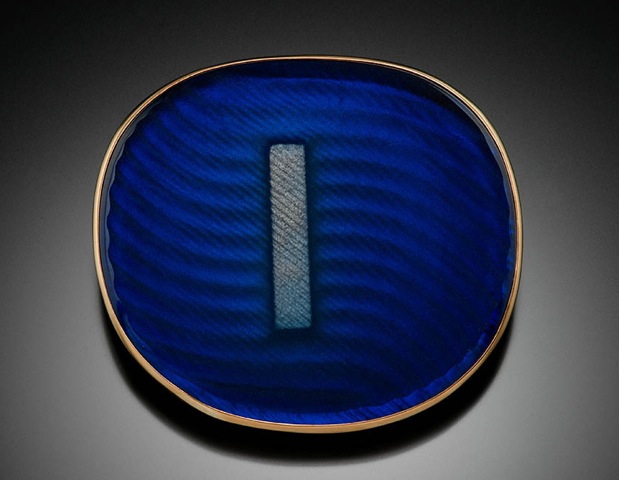 Donald Friedlich: I think it is a closely-knit group of bright and talented people. The Society of North American Goldsmiths (SNAG) has been an important part of my life for many years, having served as president of the organization as well as chair of the Metalsmith magazine editorial advisory committee. I am especially proud of all we were able to accomplish during my term. I rarely miss a conference. Because we are scattered all over the US and abroad, it is a chance to see old friends and always one of the high points of my year.
Did you get in trouble for wearing your food as a child?
Donald Friedlich: My mother died when I was just 15 years old. One of my clearest memories of her was cooking spinach in a pressure cooker that eventually exploded. Fortunately, none of us were near the stove, but we all wore green that day. We found little specks of spinach around the kitchen for years.
Thank you.