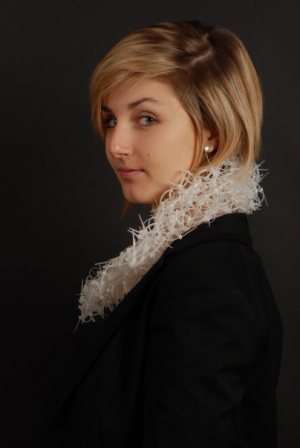 Susan Cummins: Clarisse, what is your background? Where are you from, and where are you now? Where did you go to school, and was there a teacher who was a major influence on you?
Clarisse Bruynbroeck: I'm from Bruges and studied in the jewelry department at Sint Lucas Antwerp. There, I learned that there is more than the common jewel. Sigfried De Buck and Hilde De Decker showed me that, each in their own way. At Sint Lucas, I learned a lot about art, jewelry, and myself.
Clarisse, you are very courageous to depict your emotional response to your sister's anorexia in your jewelry. The body is the ultimate site for jewelry and is therefore a vital area for investigation. How do you understand your sister's struggle? What is she expressing?
Clarisse Bruynbroeck: Sometimes I understand her; sometimes I don't. I hope I can show my feelings to everyone through jewelry, so my sister can see that talking about it is no problem. Everyone has their own struggles, but if you take help from other people, you can be helped! My sister is better now, but she lives in her own world. I don't think I will ever understand her completely, but we are all trying to, and she knows that.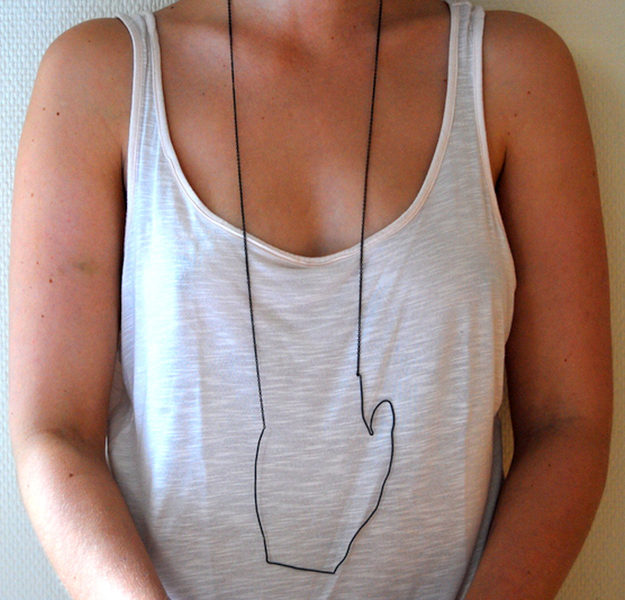 In your statement you said, "I still want to offer help and protection, but I get turned down time and again. This creates an emptiness inside me—one that I wish to externalize. Hands that want to give—in vain. Hands that do not reach far enough …" Why does your sister reject your help?
Clarisse Bruynbroeck: Now she's begun accepting some help, but sometimes she thinks that no one understands her. Then she closes her feelings to everyone and rejects everyone's help.
How do your sister and your family react to this jewelry? Do they understand what you are doing and why you are doing it?
Clarisse Bruynbroeck: They understand. We are all close with each other. Because of the jewelry, we had to talk about this. I was working on it for a long time. I made a lot of my jewelry at home in Bruges, so they saw the collection grow, and they understand it (I think!).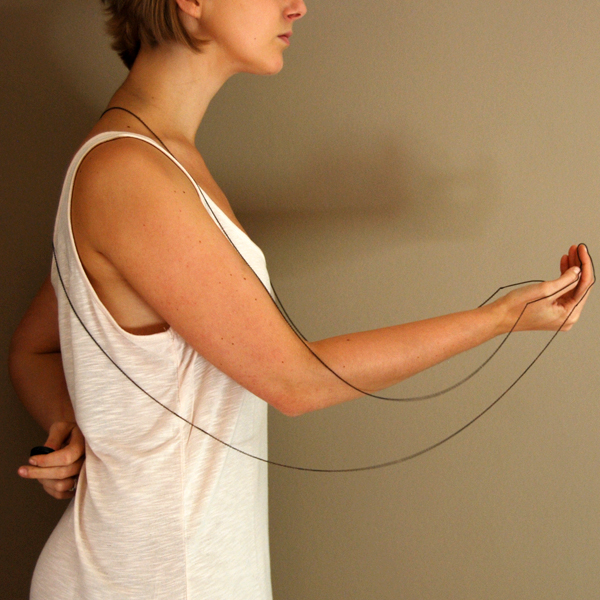 Clarisse Bruynbroeck: Because wounds heal, and there is hope. I know the period was difficult at home, but we got through this. I only want to tell people about it when I want to, not to everyone all the time. What I'm trying to do is show everyone that anorexia is something you can talk about. There's no shame in showing the world that you feel sad or ugly—everyone has such moments.
If making this helps you to understand yourself and your emotions, do you think others can understand what you are trying to say with this work? Does that matter to you?
Clarisse Bruynbroeck: I hope they can feel the emotions I put in my work and see that it helps me personally, so they will think about it and maybe dare to talk about their feelings, too. Everyone has to be able to talk about these things!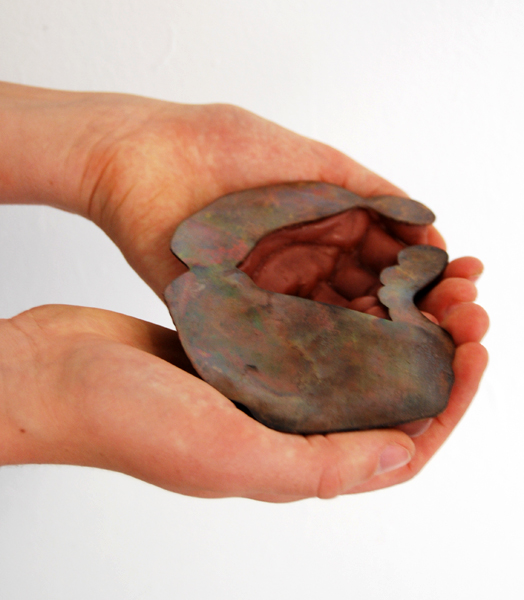 Clarisse Bruynbroeck: Two hands, my hands, are made of wax. I want to express that I would like to give my sister as much help as she needs. I would even give her my own hands. But, the copper on the piece shows her rejection. The copper is something dirty and cold on the soft and warm wax. The more I try to help her, the more the wax will change and the hands will disappear.
Is there a history of jewelry expressing this kind of psychological discomfort, or is this a new concept?
Clarisse Bruynbroeck: A lot of people use jewelry to express themselves. In the past, people also had mourning jewelry. I think expressing your emotions through what you make is a timeless phenomenon. Maybe in a way that's less obvious, but that's something we have to try to do more!
Thank you.