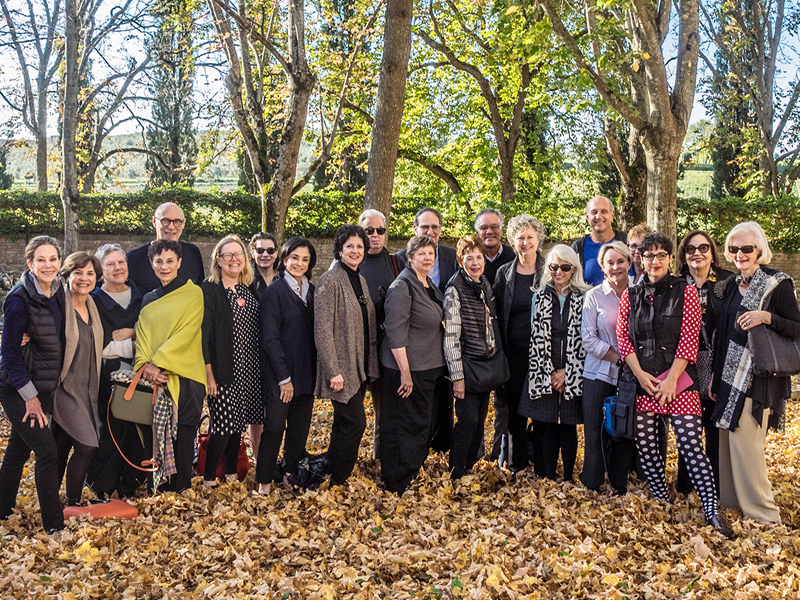 Between October 24 and October 31, 2016, Art Jewelry Forum (AJF) visited Padua, Vicenza, and Florence in order to experience art jewelry in Italy today. The visit, as AJF trips always do, provided collectors old and new with a rich diet of studio and school visits, presentations, and exhibitions, as fueled by lunches and dinners of superlative quality (beans – a mainstay of Tuscan food – would crop up from time to time).
This overview of AJF's trip to Padua and Florence gives you a peek into what we do on our trips. These forays are planned to introduce the participants to the main jewelers in the cities visited, and to give them an idea about the area, the schools, and the galleries as well. The trips also allow for a lot of camaraderie and an exchange of ideas about jewelry and about travel amongst the group. It is a truly enjoyable way to learn and to purchase additions to your jewelry stash at the same time.
The legacy of Italian jewelry is considerable and includes the Etruscan, Roman, and Renaissance eras. Enameling, intaglio, granulation, filigree, niello, engraving, and plating are techniques that were perfected during these periods. Indeed, Arezzo, a city of ancient Etruria, remains today a center of contemporary Italian gold jewelry industry. But Italy also boasts one of the oldest and most vibrant contemporary jewelry scenes in Europe.
PADUA
October 24
Our group first met for cocktails in the hotel. We had the pleasure of having Marie-José van den Hout (Marzee) and Niki Heffels of Galerie Marzee for the Padua portion of the trip. Their gallery represents several of the jewelry artists that we were soon to meet. Our bus took us to dinner in a lovely private room at Antico Brolo, where AJF members reconnected and/or met. Most in the group were veteran "AJF trippers." Three of us—Joan Borinstein, Gary Gartsman, and me—were first timers.
October 25
The day began with a visit to Padua's Liceo Artistico, where Graziano Visintin introduced us to the school, its studios, and his work. The school was previously the Istituto Statale d'Arte Pietro Selvatico, named after a noble historian and art critic who wished to provide training and education for artisans. The institution has since been placed into the Italian public school system (liceo = high school). This has resulted in more academic courses and less studio time for the students; however, art jewelry training, which began in the 1950s, continues to have a fervent following to the present day.
The remainder of the day, we had the pleasure of viewing the works of Barbara Paganin, Piergiuliano Reveane, Stefano Marchetti, and Graziano Visintin. The jewelry we saw continues in the tradition of precious metals, enamels, and niello; the majority was based on geometric forms. One exception was Paganin's work, which included found objects and casts of vegetables from her garden. We experienced Marchetti's work at the home of Annamaria Carrain. She and her husband used to have an art gallery, and Annamaria enthusiastically continues to promote Italian art jewelry. Marchetti talked about the state of contemporary art jewelry in Italy, which seemingly perpetuates a tradition that remains unbroken from antiquity to today—in spite of a few obstacles, mostly in the form of taxes and bureaucratic entanglements created by the government. The visits ended with a big display by a group of jewelers, as well as a wine tasting organized by Gioielli in Fermento.
After a full day, the aesthetic pleasure continued, this time accompanied by culinary delights. We dined at Le Calandre, a Michelin-starred restaurant near Padua. On our way to the tables, a lampshade made from a fish heralded the many surprises in store for us. Every serving was delightful; some could have been made into brooches…
October 26
A portion of our group opted for a self-guided visit to Venice. The remainder traveled by bus to Vicenza, a city known for its Andrea Palladio buildings AND for the Museo dei Gioielli. This is the first museum in Italy dedicated solely to jewelry. It is—of course—housed in a building by Palladio. Its current shows included Il Gioiello e il Viaggio/Jewelry and Journey, as well as exhibits which examined jewelry in relation to the themes of symbol, magic, function, beauty, art, fashion, design, icon, and future. These included objects from ancient times to present day, from utilitarian to fine jewelry to art jewelry. (The exhibition was reviewed in our pages by Silvia Valenti.)
The afternoon was free, and many of us explored Padua. Among this city's beauty and riches is the Cappella degli Scrovegni with Giotto's frescoes (1303–1305) and the anatomical theater (1595) in Padua's medical school.
October 27
In the morning we met with Stefano Marchetti and Marzee at the hotel. They introduced us to Francesco Pavan's jewelry. Pavan was unable to attend, but was kind enough to send some of his creations for us to admire. Marchetti shared his experience as a student of Pavan's; Marzee spoke about working with Pavan through the years. His importance as a teacher at the Liceo Aristico and his continuing mentorship of all of the most active and well-known Italian jewelers was emphasized.
Next we jumped on the bus and traveled through thoroughly gorgeous countryside to Giampaolo Babetto's beautiful home and studio, located in the hills outside of Padua. It was an old and elegant setting in which to meet Babetto, the jeweler who has taught so many of the artists that we met on this trip. His creations showed very meticulous work in various precious metals, some purely geometric, others based on works of the mannerist artist Pontormo. Lunch was at a nearby restaurant, called La Montanella, with a panoramic view of the beautiful country landscape.
In the afternoon, we visited Annamaria Zanella and Renzo Pasquale's home/studio. This husband-and-wife jewelry artist team spoke lovingly of each other's work. Pasquale is known for his work in precious metals and beautifully cut stones. Zanella incorporates found objects and very fluid steel meshes into her work.
FLORENCE
October 28
Miraculously, all of us and our luggage found room in the bus for transit to Florence. Our three-hour trip was sweetened with chocolates and cookies (thank you, Patti and Joan!). After lunch at Portrait, a restaurant with a view of the Arno river, we began our Florence experience with a visit to Alchimia, the contemporary jewelry school founded in 1998 by Lucia Massei and Doris Maninger. Massei's presentation at the school introduced us to work by its teachers and students. We were treated to an exhibit of the work of three of the school's graduate students and to a reception on the school's terrace, overlooking the rooftops of Florence.
Next, we visited the studios of Doris Maninger and Lillian Mattuschka. Maninger's work includes jewelry and sculpture. Her jewelry incorporates fabric, papier-mâché, found objects, and crocheted wire. Mattuschka, a recent graduate of Alchimia, is exploring "weapons of perfection." These include a sculpted wooden board that can be worn behind the back, held by the arms, to guide one to "stand up straight."
After a group dinner, we retired to our hotel rooms. Many of us were at the Hotel Lungarno, sited on the shore of the Arno, steps from Ponte Vecchio. The rooms overlook the river and historic bridge; passing boats, fishermen, and the continuous flow of people provided wonderful scenery.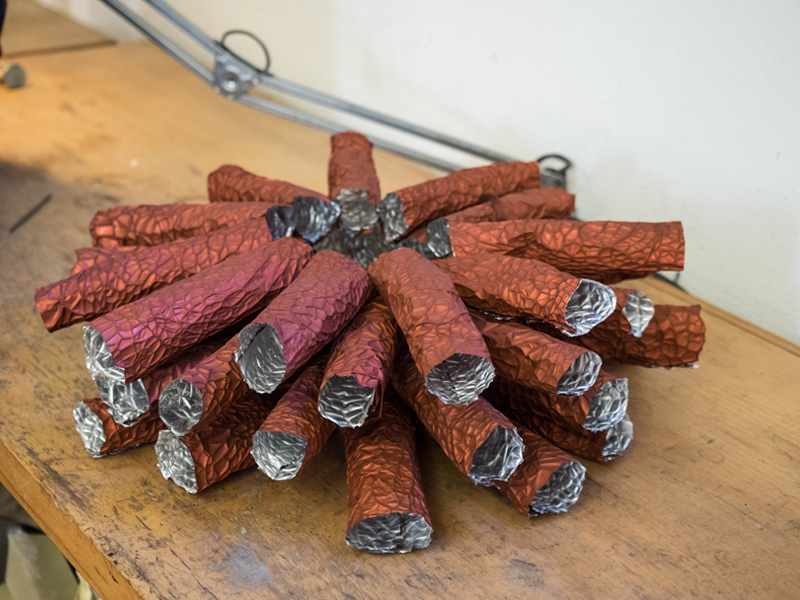 October 29
In the morning we visited two studios, each shared by three artists, all either students or instructors at Alchimia. The first was a small space shared by Francesco Coda, Carla Movia, and Marissa Racht Ryan, the second a really fabulous old Italian space occupied by Lavinia Rossetti, Sanaa Khalil, and Lucia Massei. The work included cuff bracelets woven of decorative elements from military officers' uniforms (Massei); rings of deconstructed, reassembled, and cast friends' rings (Coda); brooches made from food can tops/bottoms (Movia); necklaces of wood, cast resin, and aluminum expressing various emotions (Racht Ryan); and boxes made from the remnant wood from which the pendant was carved (Rossetti).
Our afternoon was free. In the evening, we were graciously invited to a reception at the home/studio of Giovanni Rossi (the brother and son, respectively, of group members Daniella Gori-Montanelli and Barbara Berlin). It was a beautiful space just steps away from Piazza della Signoria. His own work includes painting and sculpture, and he is currently exploring the theme of ballet: A few monumental ballerinas overlooked the festivities as we drank wine and snacked (the truffle cheese!). He had arranged for several local jewelry artists to display their creations for us (including his sister Daniella's felt wearable sculptures).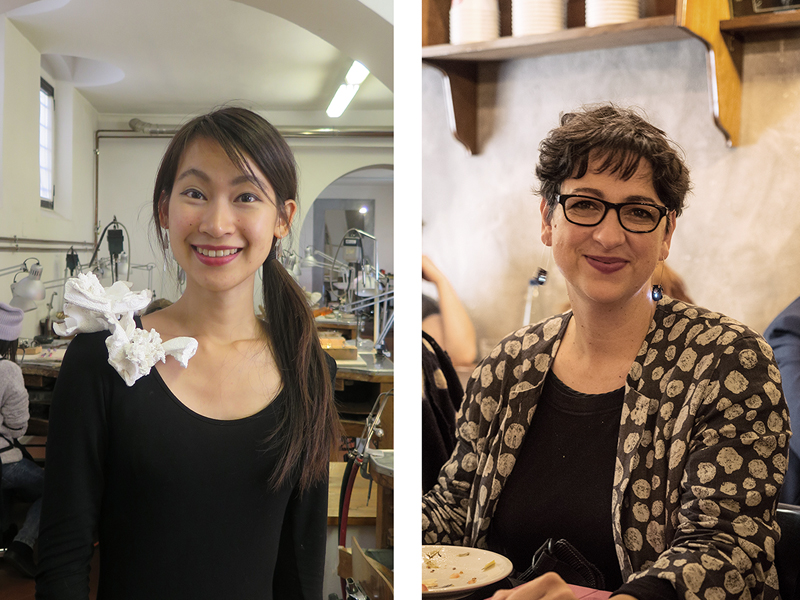 October 30
The morning began with a visit to Antonella Villanova's art jewelry gallery, where the group enjoyed the work of its old and new favorite artists, including Giampaolo Babetto, Manfred Bischoff, Monica Cecchi, Lucia Massei, and Helen Britton. Villanova treated us to this art jewelry breakfast of champions but then went on to very kindly host us for a bus ride and lunch in the country near Cortona. Thank you, Antonella. We lunched in the Tenimenti Luigi D'Alessandro Winery and followed this with a visit to the villa of Giuseppe and Sabina Calabresi, a home with a view of the amazing countryside, a sprinkling of beautiful sculptures and rosemary in bloom included. Inside, the home featured endless art and a small but amazing art jewelry collection.
The feast continued with a visit to Galleria Alessandro Bagnai, Antonella Villanova's husband's eponymous gallery. Here, we saw a retrospective of Mario Schifano's paintings from the 1980s/1990s, as well as Monica Cecchi's tribute to his work. At this gathering, local gallery-goers were witness to the AJF frenzy phenomenon, where a swarm of AJF enthusiasts forms at a jewelry site, and, minutes later—jewelry and members embark on a bus and disappear…
Back in Florence, our group dinner at a trattoria included the famous steak "alla Fiorentina" at the traditional restaurant called Tratorria 13 Gobbi.
October 31
The day began with a visit to Le Arti Orafe jewelry school, founded in 1985 and the first Italian school dedicated to teaching contemporary jewelry art. In contrast to Alchimia, here the focus is on more traditional techniques and materials, i.e., stone setting and precious metals. In the adjacent store, it is visible that the students' work has a foundation in traditional techniques, yet maintains a contemporary aesthetic. Le Arti Orafe organizes an annual event, Preziosa, which promotes its students' work. Next we had the pleasure of enjoying additional work by jewelers from this school (Kellie Riggs, Martina Loncar, Margherita de Martino Norante, et al) at Officine Nora nearby.
During the afternoon, we visited the studios of artists Babette von Dohnanyi, Marzia Rossi, and Yoko Shimizu. Von Dohnanyi's work is sculptural and utilizes stones and oxidized silver. Rossi's work on view was based on bead curtains, with small strung beads creating the necklace, and a silver pendant piece with a repoussé image reflecting the movement of a bead curtain as one passes through it. Shimuzu's series of necklaces, bracelets, and brooches in oxidized silver and gold was inspired by lights reflecting on the river Arno at night … which takes us to our farewell dinner at Fuor d'Acqua, a restaurant which served us an endless array of riches from the sea.
Our whirlwind tour of Italian art jewelry was an incredible opportunity to witness how current art jewelry in this complex and beautiful country flourishes by honoring its history of traditional techniques and materials and cherishing opportunities provided by new materials and influences.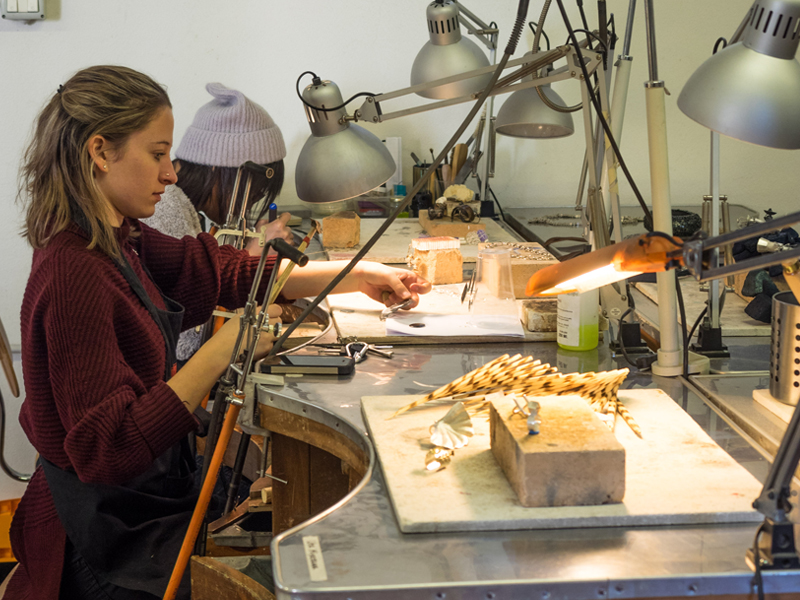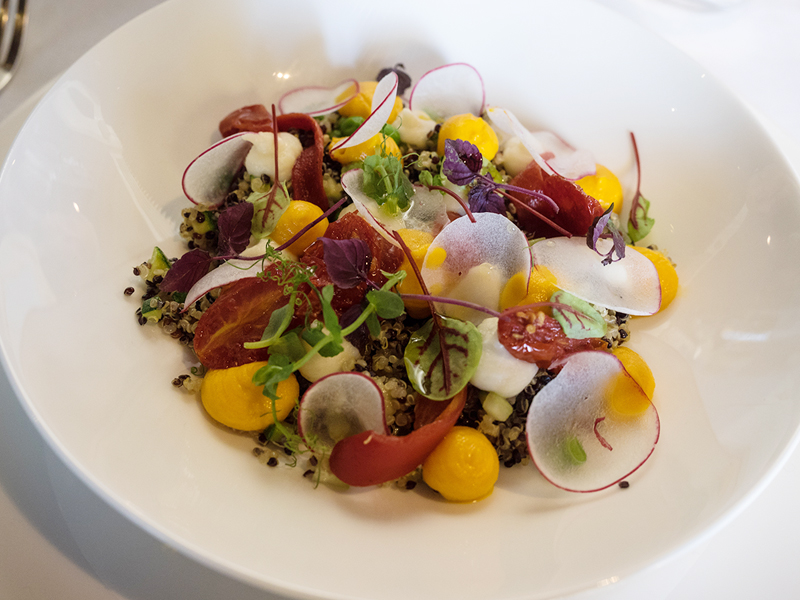 INDEX IMAGE: View of the Arno river, Florence, photo: Joan Borinstein