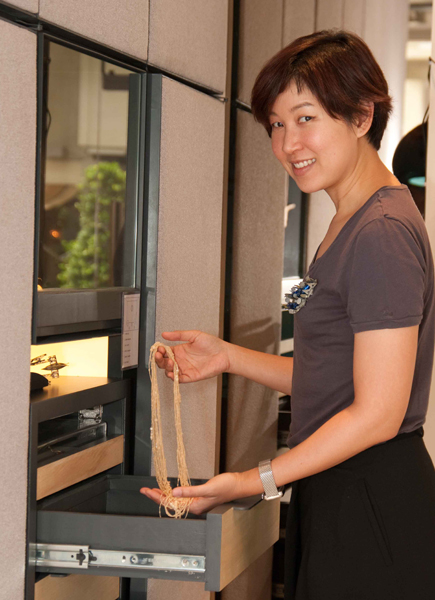 Susan Cummins: What is your background? Where are you from? Where did you attend school? Where do you live now?
Bernhard Stimpfl-Abele: I am a goldsmith and jewelry artist with a master's degree from the Konstfack University in Stockholm, Sweden. I live between Italy and Sweden and I was born in Austria.
Who taught you about jewelry?
I started to get interested in objects by working at my grandfather's workshop in Austria as a young child. Later on I made objects and then finally contemporary art jewelry and corpus.
Could you explain the title of your show? What does Organic Metal – The Old, the New and the Ambivalence in Between actually mean?
As with evolution, I want the new and alive to emerge from the old and dead. Can the living only emerge through the dead? That is how evolution works. At least I hope my pieces would tell a story about the transition from the original object to the new jewelry or corpus. I think about 'a new way of forming' using different techniques of letting the metal grow in an organic way, which was inspired by my old bread work. I investigate all kinds of different techniques and possibilities in and around the galvanic bath. Finding the right balance between too much control and too little very often ends in a lost piece or chaos in the galvanic bath. One of the biggest challenges is looking for that thin line of success. That's exciting since good and bad comes together within a moment. It takes a very long time to learn how to realize not only the good, but some times the bad results can be the best. I try to create a feeling of magic and surprise. When something exceeds our understanding, it becomes magical.
You are clearly interested in evolution or the chemical process of organic materials. Have you ever studied chemistry?
As a child I studied it in school.
In your statement about the show you say, 'There is a huge possibility to show new qualities within material investigations of natural bread dough, lemon or potatoes for example but also in modern time to use materials like polystyrene and metal.' How do you conduct your material investigations?
I let the material experience different elements. I get lost during my investigations, which lead to new discoveries and in the end I am surprised by the outcome.
My interest in metal comes from my background as a goldsmith. My interest in bread comes from working at a bakery. I was born and raised in an Austrian valley called Freudenthal. So up until I was fifteen years old I spent most of my time with activities in the forest, river and lake. All three of them are responsible for my current interests and behaviors.
What are you reading?
The Best of my Grandmother's German Cookery.
What artists do you admire?
I am influenced by Manuel Vilhena, Ruudt Peters, Manfred Bischoff, Johanna Dahm, Karen Pontoppidan, Peter Bauhuis and Austrian goldsmith masters Sven Boltenstern and Franz-Joseph Baischer. When looking for solutions, I imagine each of their approaches and I choose the one that fits best for the situation. I mix it together with my own experience which then automatically leads into new solutions and defines my way.