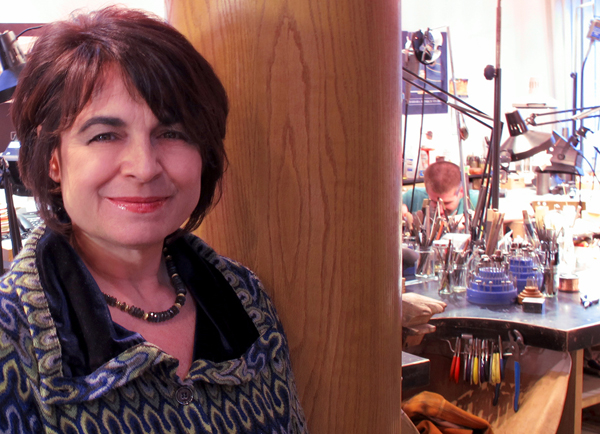 Susan Cummins: Barbara, what is your background, and how did you decide to become a jeweler?
Barbara Heinrich: I grew up on a vineyard in Germany and always made jewelry from the time I was little. When it was time to decide on a field of study, I thought I should study something "harder," such as architecture or product design, but my father convinced me to pursue what was most natural to me, making jewelry.
The title of your show at de novo is Ribbons of Gold. Can you explain the inspiration for this body of work?
Ribbons of Gold was inspired by some experiments I did when I studied in Pforzheim. One weekend, eight jewelry students went to a farmhouse for a retreat. We made jewelry from found objects, and one of my projects was a blade of grass wrapped around the finger, the arm, and the neck. This theme lay dormant until about three years ago when the jump in the price of gold demanded a complete redesign of my work. With the work experience I gained through 25 years of making jewelry, I was able to translate this idea into a series of rings, earrings, bracelets, etc., without losing the fluidity and lightness of the original image.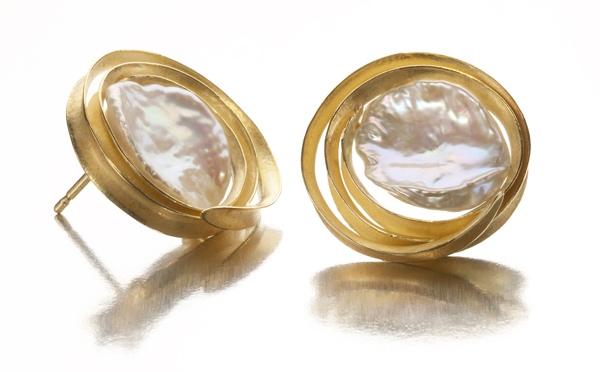 You once told me that you like to design during periods when you don't sleep for a few days. Can you explain why that works for you?
This has changed a little in the meantime, but I used to push my ability to visualize and to work out new designs in a state of overtiredness. I have found a new way of streaming design ideas by putting myself into a wakeful creative daydreaming state. It does not wear me out as much. I take the ideas from there and briefly sketch them before working them out in detail with my jewelers.
Do you think jewelry carries meaning, and in what ways?
Of course! How can it not? It is a language. Forms, colors, and materials are the vocabulary we use to make statements. The meaning needs to be discerned and interpreted, but I have found that many people are able to receive the messages I put into the work. I find that my artistic sensibility and expression speaks rather clearly to the audience.
Can you describe how your studio looks and how it is organized?
I always wanted a studio that is not what most jewelry places are—dark, small, and messy. I wanted a light, neat studio with tall ceilings and a lot of natural light. I was able to build my dream studio more than 20 years ago on our property, and I still like it the same now as I did then.
What is your favorite book about jewelry?
Erhard Brehpol's Theorie und Praxis des Goldschmieds (Theory and Practice of Goldsmithing)
From what I can tell, you work hard all the time. So I am wondering, do you have any guilty pleasures? Can you share one with me?
My most guilty pleasure is my weakness for buying gemstones without restraint. I have to physically give myself a time limit of how many minutes I allow myself to shop. Otherwise, I end up with year's worth of gemstones in a short amount of time.
Thank you.