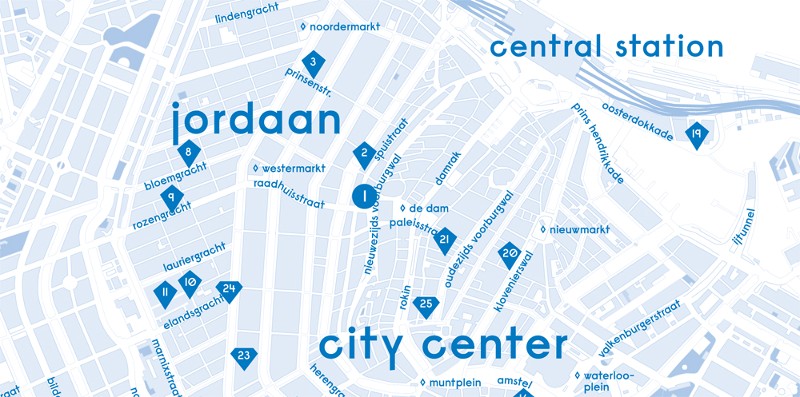 This year the organizers produced a map available at participating venues with event locations, opening times and short statements submitted by each participants. To start, we downloaded a stripped-down printable version of the map from the B-side blog, which, if you were lucky, functioned as a way to find a venue with a real map – or as a handy place to put your chewing gum if you were not. Fortunately, (with the help of some very attractive, young Dutch men) we experienced the former. Upon securing the official B-side map we looked over the participating 25 venues, including the three main jewelry galleries in Amsterdam. With the exception of the established galleries and a few others, most of the statements on the back of the map provided little insight into the anatomy of the show or venue, but rather outlined inspirations or artistic intentions. Although interesting, these blurbs did not make formulating a plan of attack easy. With Sieraad Fair AND the opening of Liesbeth den Besten's show Unleashed! Limitless Jewelry all in the same weekend, our dance card was ridiculously full. So, despite Amsterdam's supreme walkability, excellent public transportation and unseasonably lovely weather, we found it impossible to see everything. As a person who is only newly familiar with the city, the map, which delineated the carriage ways but not the street names, did not always lead us in the right direction. Those that know me can vouch, I have an excellent sense of direction and am a skilled reader of maps, but this map, although a nice piece of graphic design, was not the adept tool it needed to be for efficient art seeing. We WOULD have made it to an impressive 18 out of 25 exhibitions if we had not, on a few occasions, gotten irrevocably lost. In all we saw 16 shows.
HIGHS-HIGHS & LOW-LOWS
ATELIERS
As a trained maker, visiting ateliers proved to be the most enjoyable. There is something exciting about seeing a makers work space, but it also seems that the warmest atmospheres exist in artist studios. They feel at home, they offer you tea, they want to chat. In a word, these spaces were FUN.
Julia invited former studio-mate Antje to mount a show together in her large institutional space. The work was simply displayed on the walls and on makeshift pedestals consisting of crates and boards. Both jewelers work relatively big, both with wood, both with similar color palettes, but with very different aesthetic sensibilities.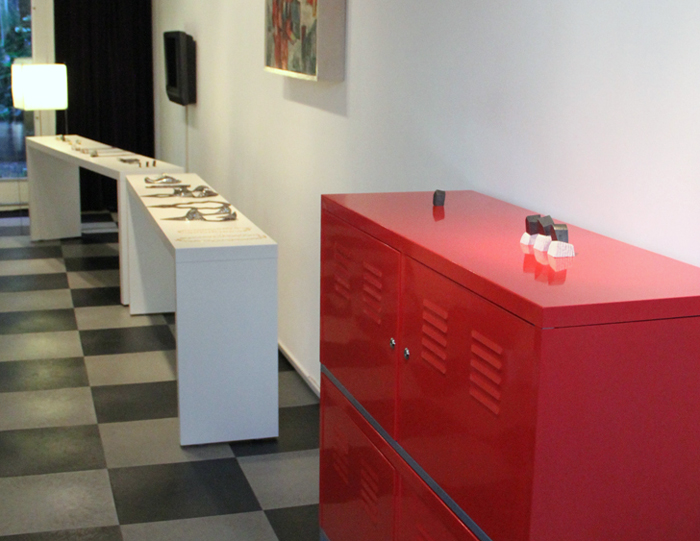 Same same but different, Nolia Shakti and Lucie Zampova
In her studio which boasts excellent skylights, Nolia presented her 'Throw away Gold' collection of necklaces and earrings which are constructed from the colored foil of Nespresso machine coffee capsules and gold. Also on show, the debut of Lucie Zampova's collection of jewelry inspired by the contrasts between the modern and ancient ways of life in Hong Kong.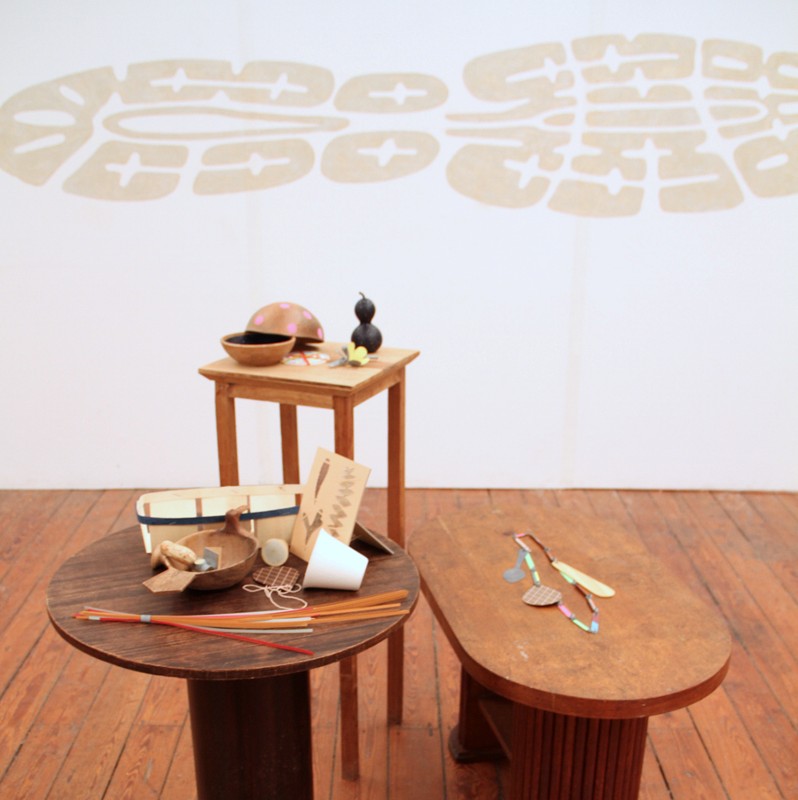 I was a cloud, Vanessa de Gruijter
The front of the space featured jewelry and ceramic sculpture by Vanessa who spent last year in residence at the European Ceramic Work Centre in Den Bosch, NL. Trained as a jeweler at the Gerrit Rietveld Academy, Vanessa has more recently engaged in ceramic studies of the anthropomorphization of the animal kingdom by humans.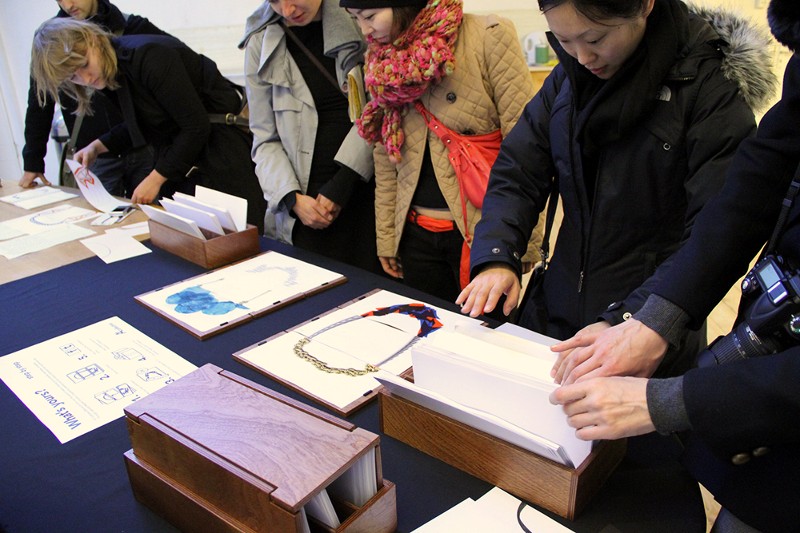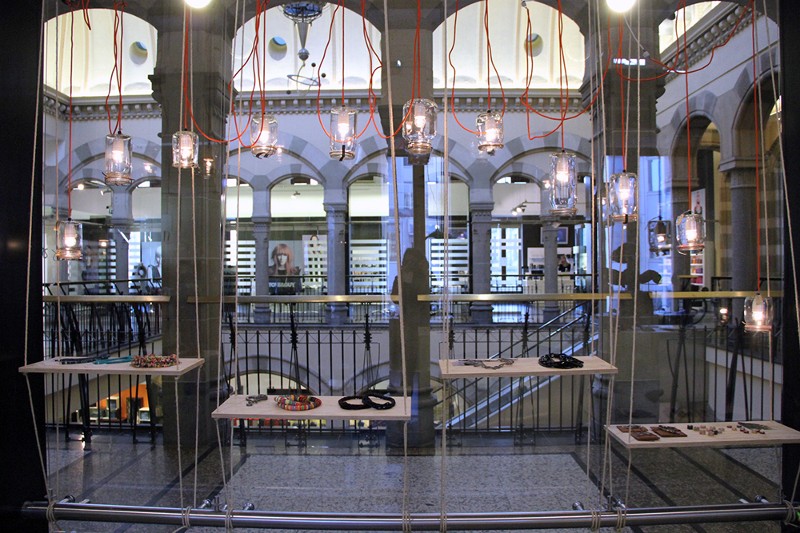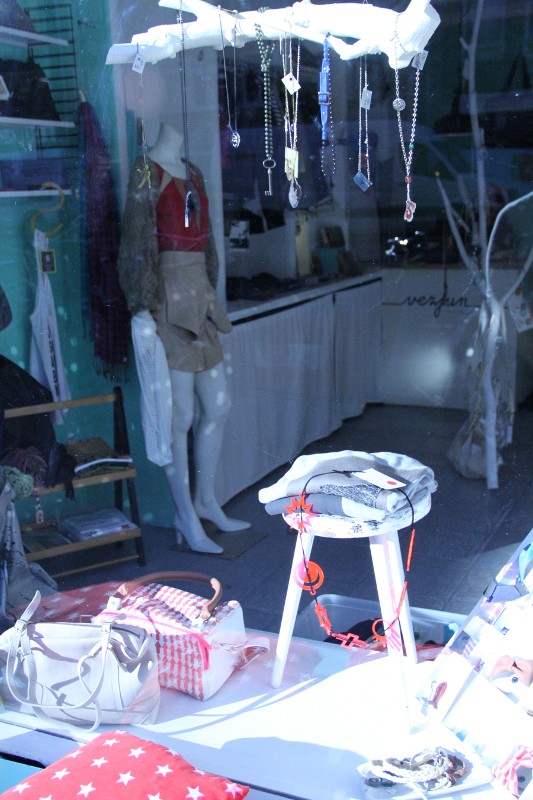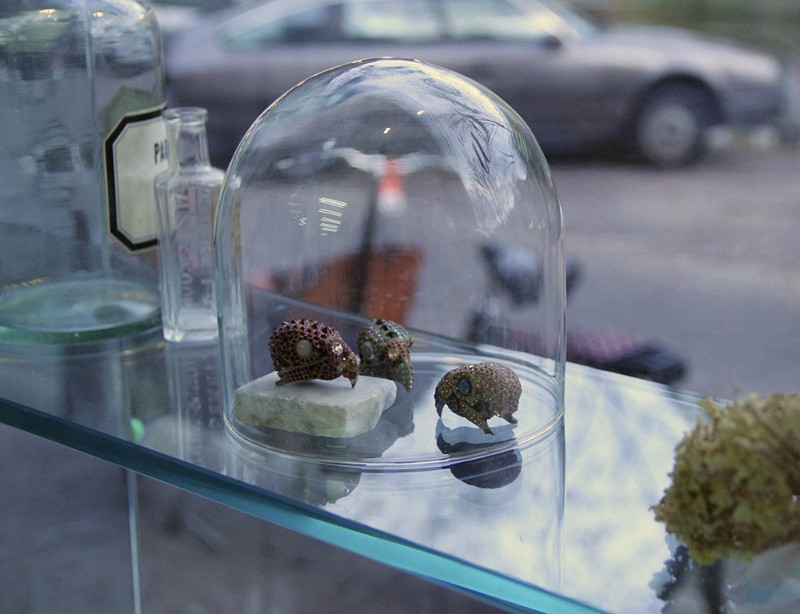 Steinbeisser
Steinbeisser is an organization that describes themselves as, "…a temporary art space that functions as a contact point for diverse forms of artistic expression, a stage for exhibitions, performances and experiments, a store for contemporary jewellery, design and fashion". Several performance events along with the exhibition '10 Years Retrospective of Shoemaker Kei Kagami' took place at the Lloyd Hotel & Cultural Embassy during the B-side festival. Steinbeisser has hosted many events at this location, mostly utilizing the hotel's bar, a bauhausian affair with red and white tiled walls, and a red formica bar.
Performance event 'She decided to by Flowers by Herself', Monika Brugger, Marzena Krzeminska and Simon Tanguy
PUBLIC SPACES
Several performances took place around the city.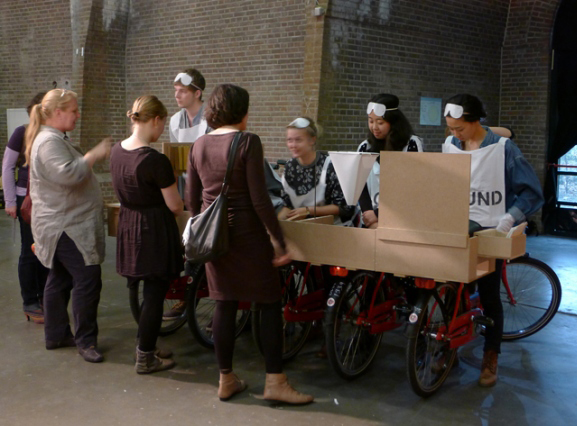 AMAZEMENT & ADVICE
This being only the second year of B-side the organizers have really made something amazing with great potential to grow and improve. The inclusivity of the festival is what makes it special – allowing for a spirit of exploration and experimentation. But, IF the organizers were asking for advice…
First, I would suggest that they consider adding to the artist submitted statements, which mostly function as statements of intent but say little about what it is you are in for as a viewer. With so much to see this makes it difficult to plan a route with much strategy. Some visitors may be interested in more traditional venues or ateliers, while others might be okay with combining their plotted course with some shopping at venue/boutiques or lunch at venue/cafes. Viewer expectations should be critically thought about by both artists and organizers. When viewers are really working hard to see your work, they need to feel rewarded in order to come away with a good feeling about what they see. Giving them a clue is a great way to start.
Second, make a map that is more than good graphic design – with ALL the street names. There were a few exhibitions we really wanted to see but completely missed (Black to Kawaii & Psycho) because we were lost.
And third, keep doing this! The future of the field is recurring topic of discussion. What should it look like? How will can jewelers reach patrons in the digital age? Etcetera. Events like B-side should be part of it, as a platform for discovery for both artists and viewers.
More info and images can be found on the B-side Festival Blog (http://bsidefestival.wordpress.com/) or the MIN-association's website (http://www.min-association.com/).