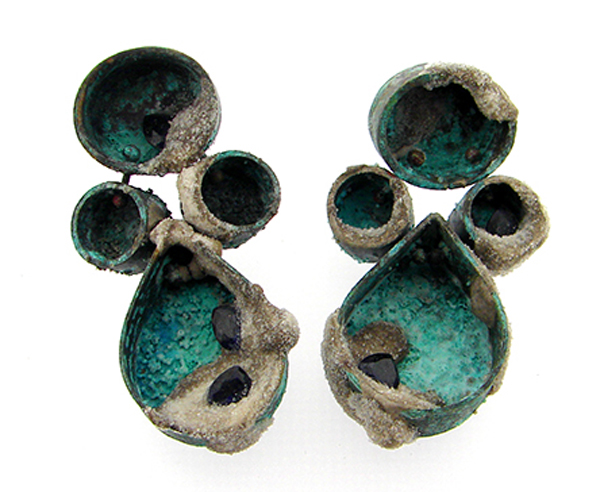 Susan Cummins: Theresa, tell me about your role at the J. Cotter Gallery and the path you took to get there.
Theresa Hauser: I am currently the gallery director of our Vail gallery. In 2010, I received my Bachelors of Fine Arts in Metals from the State University of New York at New Paltz. Since the fall of 2010, I have spent time as a bench jeweler in Jim Cotter's studio and have been a sales associate in our two galleries.
Are you often in charge of curating shows?
Theresa Hauser: This is the first show I have curated. I was at J. Cotter Gallery during two previous shows. The first featured a collection of work by professors from East Carolina University (ECU): Linda Darty, Mi-Sook Hur, Bob Ebendorf, and Tim Lazure. The second was a show of Merrily Tompkins's work. During the ECU show, I was involved in the display and sale of the work. For Merrily's show, I assisted in the display of the work and composed a book to accompany the show, honoring Merrily and her work. Jim Cotter passed the reins to me for this winter's show, after curating the two previous shows.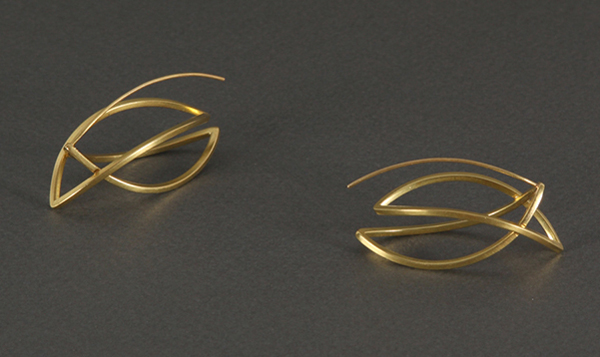 Theresa Hauser: The preliminary idea for this show was to showcase new processes and materials being explored in the metalsmithing world. I was looking for a variety of approaches, so having a uniform format seemed logical. We chose earrings with the winter season in mind. Our winter clients often shop while dressed for the cold. Trying on earrings requires minimal undressing, as opposed to trying on a necklace or bracelet.
You have invited nine jewelers to participate in this show. What were your selection criteria? Can you give examples of the earrings that meet these criteria?
Theresa Hauser: We were looking for work that stood apart from the jewelry we carry in the galleries year-round. Contemporary, bold, and edgy earring designs were what we were seeking. In addition, we wanted them all to be different from each other and to bring something distinctive to the collection. Kristi Sword inlays ball chain within enameled shapes to create a very interesting and elegant look. Caroline Gore uses black materials, such as leather, hematite, jade, and silk, to achieve a very hard and tough look in a lightweight and easy-to-wear earring. Katie Poterala completely transforms nonprecious metals with patinas, stones, and even concrete (one of Cotter's favorite materials). Each creation in this exhibition brings something new and surprising to the gallery and our clients.
Theresa Hauser: All of these artists are new to our gallery this season, and the response has been great. We set out with the intent of educating our audience on contemporary metalsmithing, and it is so encouraging to have them react so positively toward it. The responses have varied, from lengthy conversations about how the artists have created certain effects to head-over-heels-in-love purchases. This is a great way to expand our gallery's boundaries and to see how our clients react to these new artists and designs.
Since Vail is a resort area, are there a lot of jewelry stores? How does J. Cotter Gallery fit in the group?
Theresa Hauser: Yes, there are more than a few jewelry stores in Vail and the small surrounding towns. However, what we offer is different from what the average shopper has ever seen—even in their hometowns and from their travels. Our client isn't the person looking for a Pandora charm. We provide our customers with unique work that is, mostly, made right here in Vail. And we offer them the satisfaction of knowing that they are purchasing one-of-a-kind pieces that no one else will have. We are also the oldest gallery in Vail, so we have many clients who stop by routinely when they are in town to see what's new. Our artists, especially Jim Cotter, are always making new work, so our inventory changes on a weekly basis.
Theresa Hauser: The Fat Booty of Madness: The Goldsmithing Class at Munich Art Academy by Florian Hufnagl.
How's the skiing?
Theresa Hauser: Everyone smiles when there is snow on the ground, and snow is in the forecast. I sure am having fun on my snowboard on my days off!
Thank you.