There were 24 participants on the Barcelona Art Jewelry Forum trip, mostly from various parts of the US, but we had one person who came from Australia for the trip, as well as one person originally from Sweden and one from Romania, both of whom are now US citizens. It was interesting to have a multicultural group in such a multicultural city.
It's hard to even dent the surface of Barcelona and its beauty and wonders in four days, but we certainly tried!
The meeting point for the group was the hotel that most of us stayed in, the Casa Fuster. It is a wonderful example of the Modernista style (called Art Nouveau elsewhere) that Barcelona is so famous for, mostly because of Antoni Gaudí. The hotel was built for a wealthy family by one of the other stars of the Modernista movement, Lluís Domènech i Montaner and, when finished, was the largest single-family home in Barcelona. It was completely restored and converted into a hotel about five years ago.
Our delicious opening dinner was held in the hotel and began with an informative talk by Barcelona native and AJF contributor Mònica Gaspar. Monica gave us an overview of jewelry made in Barcelona from the Modernista period to the present. She also gave us a primer on 20th-century politics in the area.
The first full day of the trip was mostly dedicated to tourism, starting at the recently converted Hospital de la Santa Creu i Sant Pau. This group of Modernista buildings was built between 1902 and 1930 and was designed by Domènech i Montaner as a hospital. It was used as such until 2010, when a new hospital was built and this site was restored to its original glory. In 1997 it was designated a World Heritage Site by UNESCO.
Next was a visit to the well-known Basilica de la Sagrada Familia by Gaudí, the most famous building by the most famous architect of Barcelona. The building was begun in 1882 and is still under construction. It is projected to be completed in the next 10 years.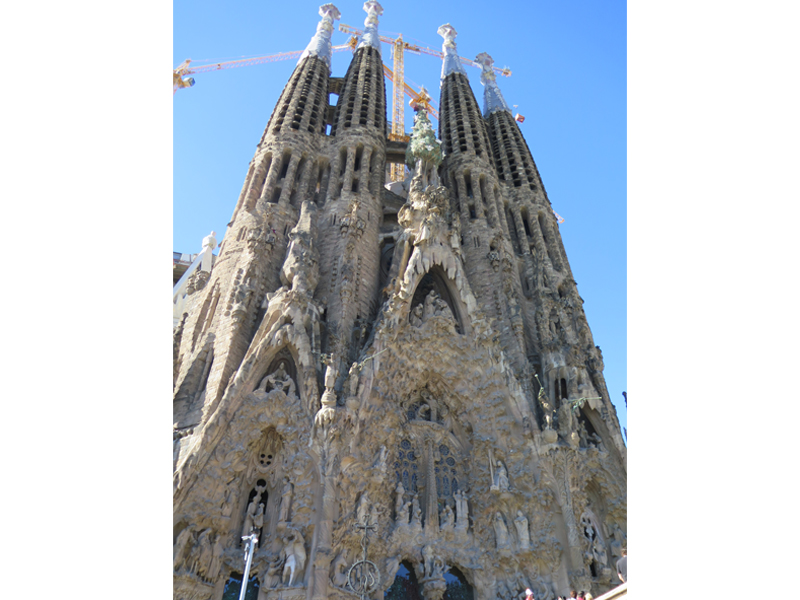 From there we visited the brand new Design Museum and saw its small but interesting modern jewelry collection by artists from Barcelona, as well as a wonderful show arranged by JOYA of the jewelry collection of the Museum of Contemporary Design and Applied Arts in Lausanne, Switzerland. Dressing the Body: Silhouettes and Fashion (1550–2015) was also a fascinating exhibition here.
Next stop was a visit to Nicolas Estrada's studio, which he shares with four other artists who make up a small representation of the United Nations. Estrada, originally from Colombia and recently graduated with a master's degree from Idar-Oberstein in Germany, showed us his new work replete with stones of many different shapes and types. He is also the writer/editor of a series of contemporary art jewelry books.
Dinner at El Principal was another opportunity to try the fabulous cuisine of Barcelona in an exquisite room.
We began the second day of the trip with a visit to the tiny Siesta Gallery and a one-person exhibition by Judy McCaig. McCaig is originally from Scotland (she studied with the famous Dorothy Hogg) and relocated to Barcelona 20 years ago after a short vacation in the city. She was also our fabulous local guide on the trip. This excellent show appealed so much to the group that we very selfishly bought most of the work there. McCaig was a bit stunned.
From Siesta Gallery we went to the Escola Massana. The jewelry department is run by Ramón Puig Cuyàs, and both Silvia Walz and McCaig (among others) teach there. The school is large and sprawling and is located in a building that was originally built as a hospital (is there a theme here?). It coincidentally was where Gaudí died after being hit by a streetcar.
We saw workshops with students hard at work, and an exhibition by the group Borax, all former students of the Massana.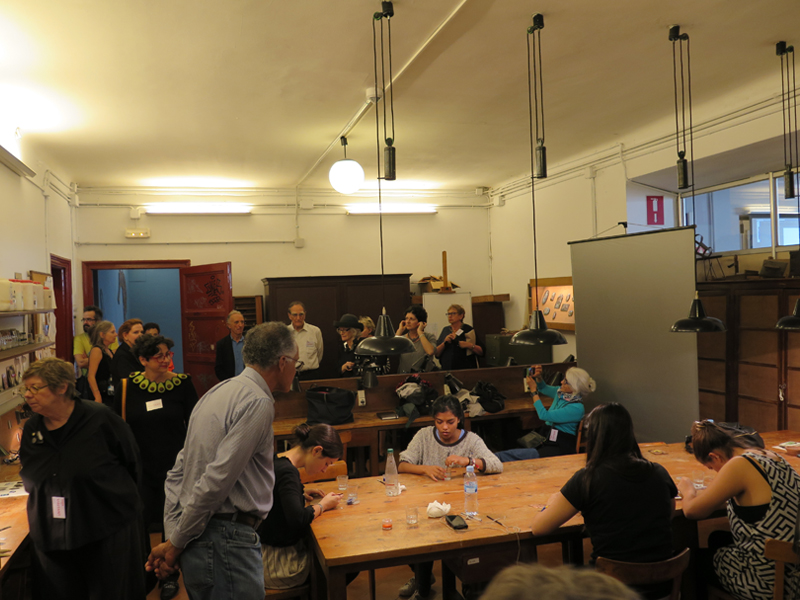 Lunch was close by at another beautiful Modernista building, Fonda España, in the Hotel España. We were joined by Estrada, Puig Cuyàs, and Walz.
The group then had the afternoon free to visit some of the endless sites of Barcelona. We met again for dinner and more wonderful Barcelona cuisine at Tragaluz.
Thursday morning started late with lunch at La Farga near the hotel (yes, another fabulous meal! Good thing we did a lot of walking…)
After lunch we went to the Joya Fair, where we began with a round table discussion organized by AJF. The panelists were our own Susan Cummins, AJF supporter and contemporary art jewelry collector; Michelle Fox; Emily Stoehrer, the Rita J. Kaplan and Susan B. Kaplan Curator of Jewelry from the Boston MFA; and Estela Saez, a maker from Barcelona. The moderator was Benjamin Lignel, AJF's editor.
The discussion started with the panelists giving some background about themselves and their collections, and their reasons for collecting. Cummins talked about her collection and the reasons she doesn't wear jewelry. Fox (who is also a medical doctor) told us she bought pieces that showed her how to work with materials that she wants to work with. She collects pieces primarily because of their materials or because of how the piece is constructed. Wood features heavily in her collection.
Saez likes what are traditionally considered ugly pieces (or ugly by most standards); she feels she can learn from them. She also likes to buy work by younger makers both because she finds good work but also because of the generally lower prices. She also feels it is important to encourage them.
Stoehrer talked about the museum's collection of 1,870 pieces. The museum feels it is important to have a collection that covers all eras. There is a gallery dedicated to only jewelry, but jewelry is also found all over the museum. Emily also told us about some of the specifics of how the museum deals with trying to display its extensive collection and how difficult it is to change exhibitions.
Lignel had examples of different pieces of jewelry, starting with a piece from Man Ray, and asked the panelists if they would add these pieces to their collections and why or why not.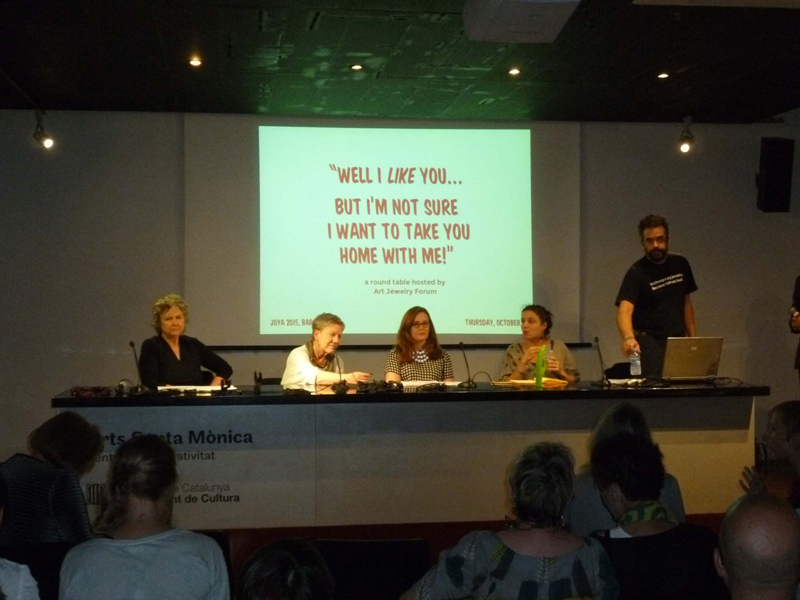 There were then many questions from the packed, standing-room-only audience and we unfortunately ran out of time. The discussion could easily have continued for much longer, but we needed to give up the space for the next event.
We then visited the Joya Fair itself and had the opportunity to see and buy work from 50 international artists. There were many local artists, but we were surprised by the number of jewelers from Greece, Italy, Latin America, Canada, and many other countries. For such a new fair (this is its seventh year), there was a lot of very interesting work.
Then it was on to the Sala Perill, an exhibition space, where we saw work from about 10 jewelers from Barcelona.
The last morning we were again free to explore on our own. We met up in the afternoon to see Klimt02 Gallery and its wonderful international artists. Leo Caballero treated us to an explanation of the artists and their work in his current show.
From Klimt, we visited nearby Amaranto Gallery. Many of the gallery artists were present and were able to talk with us about their work. On our way to our last gallery stop, Taller Perill, we happened upon another small gallery with wonderful work. When we finally made it to Taller Perill, a workshop where classes are given, about 20 of the students and teachers there were showing their work. Again, we had a chance to talk to them and see their collections.
During the free time, we were able to visit some of the many exhibitions throughout the city that had been mounted because of the Joya Fair. And of course, there were all the museums and other tourist sites. From talking to the other tour participants, I think many people were surprised by the scope and numbers of artists making jewelry in Barcelona, as well as by the amazing city itself. I think most people were left with the desire to spend more time in this special place.
Although I helped to organize this trip, I want to give a big thanks to Susan Cummins, our fearless leader; Linda Peshkin, who took care of all the financial details and more; and especially Rose Roven, who spent countless hours finding us the BEST restaurants! So much work by all involved!!! Also, a very big thanks to Judy McCaig, who helped with the planning (she knows everyone in Barcelona), and also helped us find the venues on the tiny, tiny streets of Barcelona; and Alicia Giraldez, whose help with logistics and on-the-ground common sense (and fabulous restaurant recommendations) were invaluable.