Mill Valley, California, USA—Flush with the glow of a successful Kickstarter campaign, Art Jewelry Forum (AJF) is dashing off to Munich to debut its latest publication, Shows and Tales—On Jewelry Exhibition-Making, at internationally renowned annual art jewelry fair Schmuck. This title is the fourth in a steadily growing list produced by AJF, the global nonprofit organization dedicated to supporting the creation, study, and appreciation of art jewelry.
AJF set out to fill a gap in the critical writing, capturing the bubbling landscape of contemporary art jewelry, and to make an authoritative history out of 60-plus years of this fluid discipline. Ambitious undertakings have a way of inviting inevitable surprises, but the biggest surprise for AJF was the overwhelming support for the book project from the art jewelry community, which not only met the organization's $12,000 Kickstarter goal but doubled it. This kind of enthusiasm also conveys a thinly veiled message: This better be good!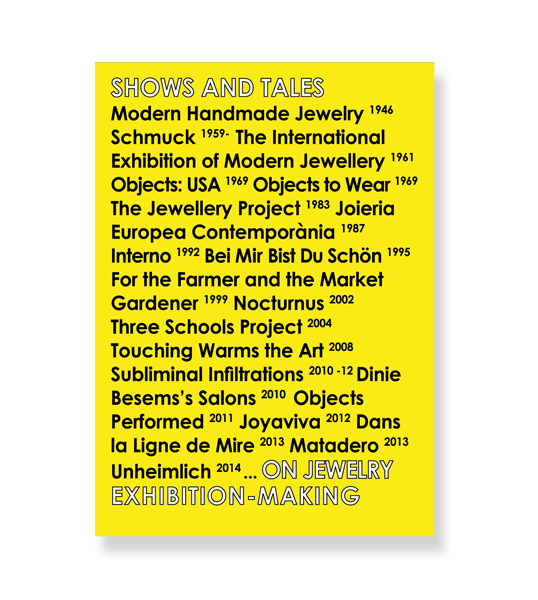 Shows and Tales answers the challenge. Over the past six decades, jewelry exhibitors have played musical chairs to a very D.I.Y. score—artists mount exhibitions in their bedrooms, museums invite amateurs to curate shows from their collections (and let the visitors handle work!), students wearing jewelry parade the streets in white overalls. Despite how extremely busy jewelry curators have been, the variety of their approaches is so rarely acknowledged, or taken seriously, as is the extent to which curation transforms the viewer's perception: until now, there has never been a publication on exhibition-making with jewelry as its focal point.
Shows and Tales remedies this absence by addressing the topic of "exhibiting jewelry" in several ways. It features
a series of commissioned articles on landmark exhibitions
commissioned essays by, and discussions with, curators on the challenges of curating jewelry
select exhibition reviews from Art Jewelry Forum's archives tracking recent experimentation with display strategies
a detailed checklist of more than 30 exhibitions
Toni Greenbaum, a world-renowned art historian and curator specializing in 20th- and 21st-century jewelry and metalwork says: Finally, a book that puts contemporary jewelry in its place! Shows dedicated to modern and contemporary jewelry have a history that spans 70 years. Some of the most authoritative voices in the field today contribute essays that investigate all aspects of this international pursuit. Art Jewelry Forum is on the forefront of cogent publications within the discipline. Shows and Tales is an essential undertaking.
Online purchase of the book is available now; shipment begins March 20.
Specifications:
Paperback with flaps, 264 pages, full-color illustrations.
Editor and designer: Benjamin Lignel.
Release date: March 2015.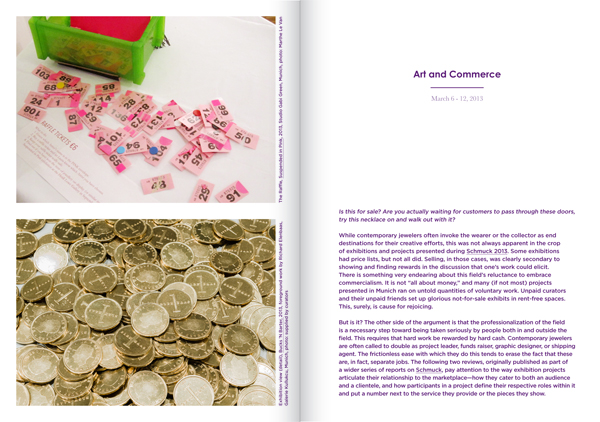 High resolution images available upon request.
###
About AJF
Art Jewelry Forum is a nonprofit organization spreading awareness and increasing appreciation of art jewelry worldwide since 1997. AJF advocates for art jewelry through an ambitious agenda of education, conversation, and financial support. It commissions critical writing that sets the standard for excellence in the field and publishes artjewelryforum.org, an online resource for original content on art jewelry.