FOR IMMEDIATE RELEASE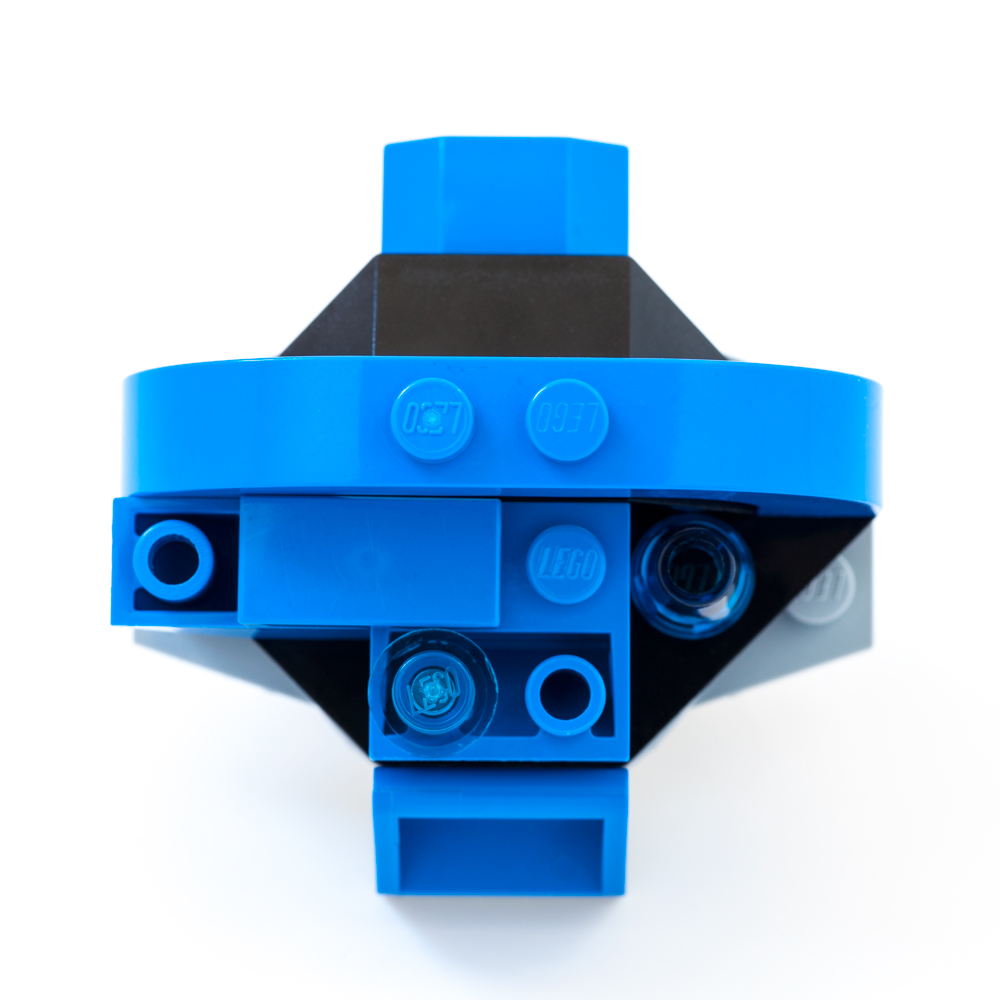 Mill Valley, California, USA—Art Jewelry Forum (AJF), a global nonprofit organization dedicated to supporting the creation, study, and appreciation of art jewelry, is pleased to announce that it has commissioned American jeweler emiko oye to create a limited-edition pin for the organization. The pins will be distributed exclusively to all new and renewing AJF supporters in 2015 as a donor benefit.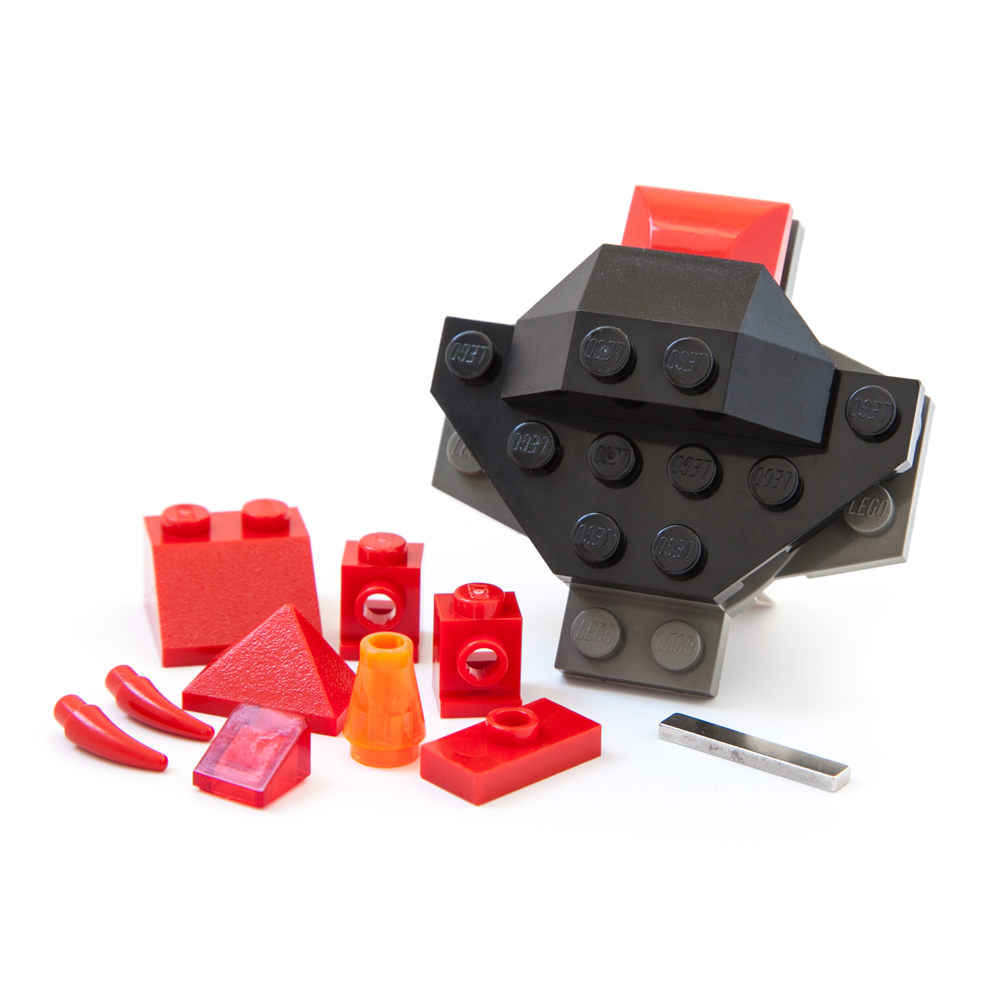 oye explains that because she used as many recycled LEGO® as possible for AJF's pins, recipients will not receive the same components, so "everybody's really is unique." The artist hopes that pin owners will take photos of their constructions and post them on social media. "I'm really excited to see what people will come up with," she says, "and if they'll add pieces from their own LEGO® stash to create something truly personal. I'm encouraging people to bring a sense of play into their daily life, and no matter who you are, you're guaranteed to have a successful result." Because of the magnetized clasp, recipients will be able to display the brooch on magnetic surfaces such as refrigerators or message boards. "Why not enjoy looking at it in your home when you're not wearing it?" asks oye.
oye has long worked with recycled media, and with LEGO® since 2006. She has discovered similarities between the bricks and jewelry. Both have the ability to elicit story-telling from their users; both gain status as family heirlooms and increase in value with age; and both have dedicated collectors. By incorporating this unexpected but familiar material in her jewelry, oye creates an immediate engagement with the work.
Art historian, writer, and curator Liesbeth den Besten is a member of AJF's publication committee. "The use of repurposed materials is a popular crafting technique, born out of need, political aims, or fun. AJF is proud to present emiko's AJF pin that invites the user to re-arrange and play again with the toy that many of us enjoyed as a child, creating a pin after your own taste," she says.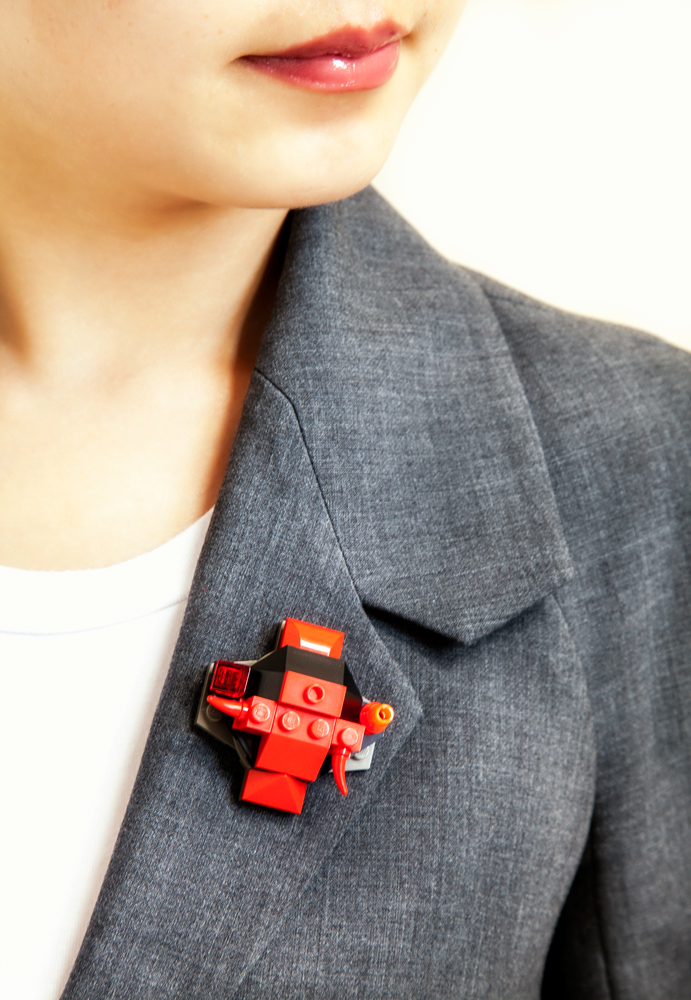 oye makes both production jewelry and large, conceptual, one-of-a-kind work, but she wanted this design to draw from both realms. Given AJF's aims for this year's pin, oye was the immediate choice to design it. "AJF's board wanted to kick up their community participation with a supporter pin with possible interactive aspects and tech overtones, but still handmade. Supporters can get creative with this starter pin," says AJF board chair Susan Cummins.
AJF wishes to thank the following: Doug Bucci for making all the arrangements; Barbara Berlin and Barbara Waldman, art jewelry collectors and long-time supporters of AJF, for funding the project; and Natalya Brooks at Print Group for donating the packaging, which she helped design, for the pins.
While there are five different versions of this brooch available, AJF is not able to honor requests for specific colors. Please take this as an opportunity to meet other supporters of AJF, through social media sites like Facebook and at social events like exhibition openings, to swap brooches and meet each other. We hope this creates a lively exchange among like-minded supporters of AJF.
ABOUT THE ARTIST
emiko oye has shown her work in more than 75 exhibitions across the globe. She has been published in American Craft, Metalsmith, and Jewelry Artist, and her work is in the permanent collections of the Los Angeles County Museum of Art and the Museum of Contemporary Craft.
ABOUT AJF
Art Jewelry Forum is a nonprofit organization spreading awareness and increasing appreciation of art jewelry worldwide since 1997. Its diverse community of artists, collectors, critics, educators, galleries, historians, makers, and writers is united by a passion for art jewelry. AJF advocates for art jewelry through an ambitious agenda of education, conversation, and financial support.
Art Jewelry Forum commissions critical writing that sets the standard for excellence in the field. It publishes www.artjewelryforum.org, an Internet resource for original content on art jewelry, as well as catalogs, blogs, articles, and a monthly newsletter.
####