Pin is fourth in collectible series designed by respected art jewelers
Mill Valley, CA, December 26, 2013—Art Jewelry Forum (AJF), a global nonprofit organization dedicated to supporting the creation, study, and appreciation of art jewelry, announced that distinguished Swiss jewelry artist David Bielander has created the group's 2014 limited-edition membership pin. The brooch, Baby Slug, is the fourth design in this highly collectible series with availability limited to new and renewing donors. Previous commissioned artists include Lola Brooks, Ted Noten, and Arthur Hash.
"There is always something intriguing in David Bielander's work and the membership brooch is no exception," said AJF Board Chair Susan Cummins. "We are honored to have collaborated with such an esteemed artist. Our contributors, who look forward to each year's design, will not be disappointed."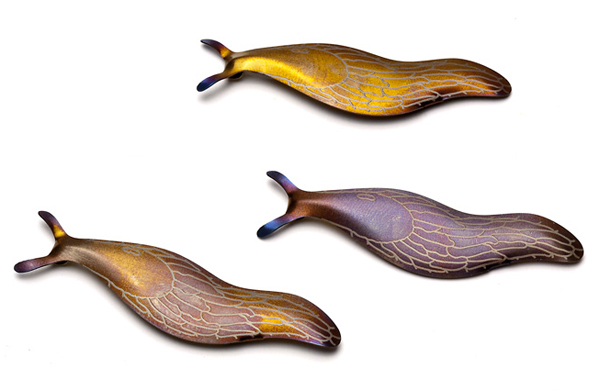 Swiss-born David Bielander apprenticed as a goldsmith in Basel. He then moved to Germany, where he graduated from the Academy of Fine Arts in Munich. In 2012, Bielander received the Françoise van den Bosch Award and the Swiss Federal Design Award, and in 2010, he was awarded the Herbert Hofmann Prize. His jewelry is in the collections of: Metropolitan Museum of Art, New York; Los Angeles County Museum of Art, Los Angeles; Federal Department of Culture Switzerland in Mudac, Lausanne; Fond national des arts contemporain (fnac) in Musée des Arts Décoratifs, Paris; Die Neue Sammlung in Pinakothek der Moderne, Munich; CODA Museum Apeldoorn, Netherlands; Schmuckmuseum im Reuchlinhaus, Pforzheim; National Gallery of Victoria, Melbourne; Middlesbrough Institute of Modern Art, United Kingdom; Hiko Mizuno College of Jewelry, Tokyo; Françoise van den Bosch Collection, Amsterdam; and Collection de la ville de Cagnes-sur-Mer, France.
AJF is a global nonprofit organization dedicated to supporting art jewelry as a collectible art form; encouraging and promoting and jewelry artists; and supporting research and writing in the field. AJF's website—www.artjewelryforum.org—is the most dynamic, timely, and trusted Internet resource for original content on contemporary art jewelry.
# # #
Note to Editor: High-resolution photographs and interviews are available. Please direct inquiries and requests to Marthe Le Van.