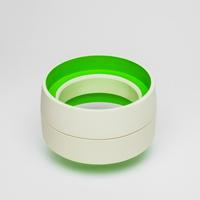 Mill Valley, CA, August 19, 2013—Art Jewelry Forum (AJF) is pleased to announce the finalists for the 2013 AJF Artist Award for Emerging Artists. One winner will be selected from this short list and announced on September 1, 2013. Applications were received from 134 artists in 34 countries. This is the first year a short-list was chosen from which the winner will be selected.
The goal of the AJF Artist Award for an Emerging Jeweler is to acknowledge promise, innovation, and individuality in developing jewelers. The 2013 competition was open to art jewelry makers who have completed their professional training between one and six years prior to applying and who have not had a solo exhibition in a commercial gallery or museum. The winner will receive a $7500 cash award; his or her work will be featured by an AJF-member gallery at a major international art fair; the jeweler will receive a one year professional membership to AJF; and he or she will serve as a juror for AJF competition in 2014.
Criteria used in the judging were originality, depth of concept, and quality of craftsmanship. Jurors for the 2013 competition were Ruudt Peters, prominent jeweler and professor at Alchimia Contemporary Jewellery School, Florence, Italy; Lindsay Pollock, Editor in Chief of Art in America and collector of contemporary jewelry; and Noon Passama, jeweler and 2012 recipient of the AJF Artist Award.
The finalists for the 2013 AJF Artist Award for Emerging Jewelers are:
Nhat-Vu Dang, Åsa Elmstam, Melanie Isverding, Sooyeon Kim, and Wen-Maio Yeh
Finalist Credentials & Juror Statements
Nhat-Vu Dang
Bachelor's degree, Gerrit Rietveld Academie, Amsterdam, Netherlands, 2011.
…what really elevates this work, in my opinion, is the inventive application of neon. Neon, often emblematic of a garish 1980s sensibility, is not an easy palette to work with under any circumstances, and especially here, amid jewelry defined by simple shapes. The color is incorporated not as a burst of color, but as a reflected light, bouncing and refracting on the wearer's light-hued clothing, essentially transforming the wearer into a collaborator or participator who helps complete or activate the jewelry. Lindsay Pollack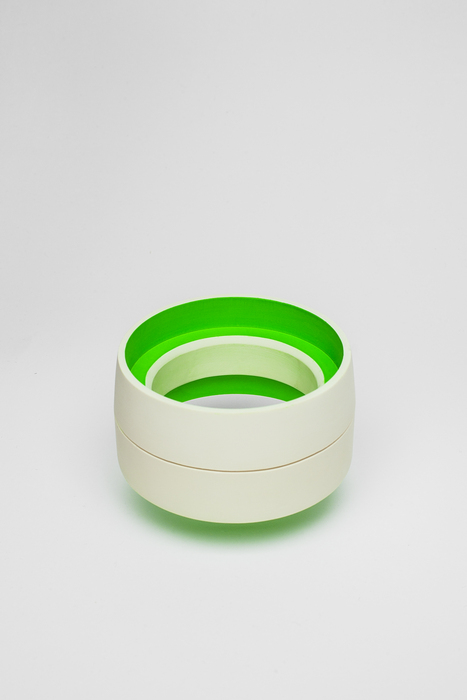 Åsa Elmstam
Bachelors degree, metals, Konstfack University, Stockholm Sweden, 2007.
The ideas driving this group of works are serious—a condemnation of society's obsession with material objects and shopping—and timely against a backdrop of a global fiscal crunch. These themes are addressed with wit and originality. Among my favorite pieces from the group, amusingly titled Things, are accumulations of 3D doll-sized chairs and an avalanche of other everyday objects like hairdryers, wine bottle openers, and rugs. There is also the obvious delicious irony of using a necklace to protest consumption. Lindsay Pollack
Melanie Isverding
Masters degree, Academy of Fine Arts, Munich, Germany, 2011.
The juxtaposition of complexity and simplicity in Isverding's pieces creates strong tension and attention. The caged crushed gemstones add a meaningful layer to the meticulously made works. Noon Passama
The world of Melanie Isverding brings us to an abstract nowhere land. It looks as if we are on Mars or Jupiter. The materialization of the creatures is confusing. We can't get a grip on this, but on the other hand, the works are real jewelry that is very wearable. Ruudt Peters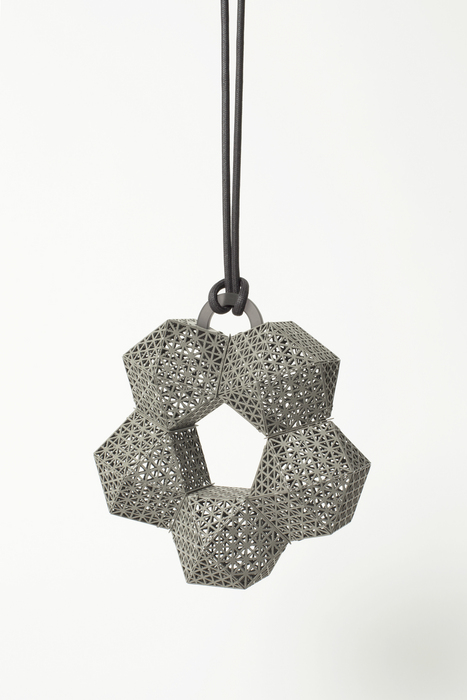 Sooyeon Kim
Master of fine arts, jewelry and metalsmithing, Rhode Island School of Design, Providence, Rhode Island, USA, 2010. Bachelor of fine arts, ceramics and metal, Sookmyung Women's University, Seoul, Korea, 2007.
Kim's pieces are wonderful translations of how jewelry can connect to memories of places and moments. Her way of applying photographs in jewelry is far from literal. Noon Passama
These very intriguing photo works offer a new view on jewelry. The memories of a particular place are frozen in photos in such an abstract way that the viewer can dream his or her own dream through them. The personal memory becomes universal. Ruudt Peters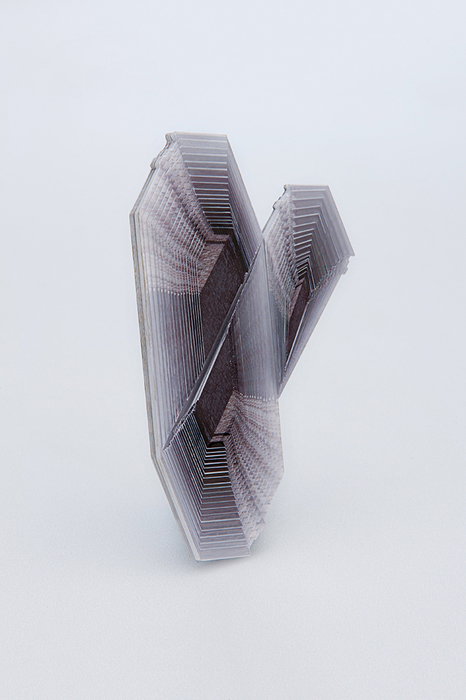 Wen-Maio Yeh
Masters of arts, jewelry, silversmithing, and related products, Birmingham City University School of Jewelry, United Kingdom, 2012. Bachelors degree, design/product design department, Ming Chuan University, Taiwan, 2009.
Wen-Maio manipulated her impressions of architectural spaces and bodies into stunning jewelry pieces, transitioning from two to three dimensions. The peculiar colorful shapes stir up imagination and wonder. Noon Passama
Where do we look? Is this a personal dream in 3D, or do we look in a mirror? Is this a tri-dimensional watercolor with different patterns, or is this an underwater world? The works are inviting a younger generation to wear these pieces to great parties! Ruudt Peters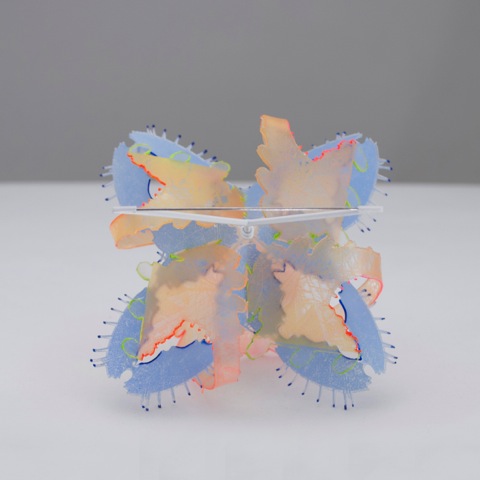 Art Jewelry Forum is a nonprofit organization spreading awareness and increasing appreciation of art jewelry worldwide since 1997. It is a diverse community of artists, collectors, critics, educators, galleries, historians, makers, and writers united by a passion for art jewelry. AJF advocates for art jewelry through an ambitious agenda of education, conversation, and financial support. It commissions critical writing that sets the standard for excellence in the field and publishes artjewelryforum.org, an Internet resource for original content on art jewelry.
CONTACT
Marthe Le Van, Communications Director
Art Jewelry Forum
(828) 575-2294
####